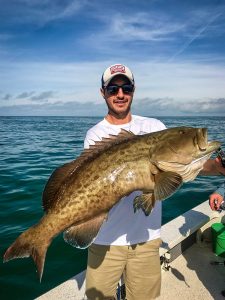 Angler Recognition Coordinator
Nick Haddad grew up in a small town in Pennsylvania where his passion for fishing originated. He moved to Florida where he earned a B.S. in Marine Science & Biology, and a minor in Environmental Science at the University of Tampa. Soon after, he relocated to Louisiana State University where he completed his M.S. in Renewable Natural Resources with a concentration in Fisheries and Aquaculture Management. His past research has involved analyzing the gut content of invasive pike killifish in Tampa Bay, as well as examining post-harvest procedures in the Louisiana commercial shrimp industry.
Haddad has been a fisherman for 20 years and caught over 70 species of fish. His favorite type of fishing is light tackle inshore fishing for trout, redfish, snook and tarpon and is keen to fish anytime and anywhere.