Prospecting a Future for Golden Dorado
By Dr. Andy Danylchuk, Nadia Fernandez, Dr. Ezra Markowitz, and Dr. Lisa Komoroske,
University of Massachusetts Amherst. Photos by Jim Klug / Yellow Dog Flyfishing and IGFA Representative Juan Pablo Gozio.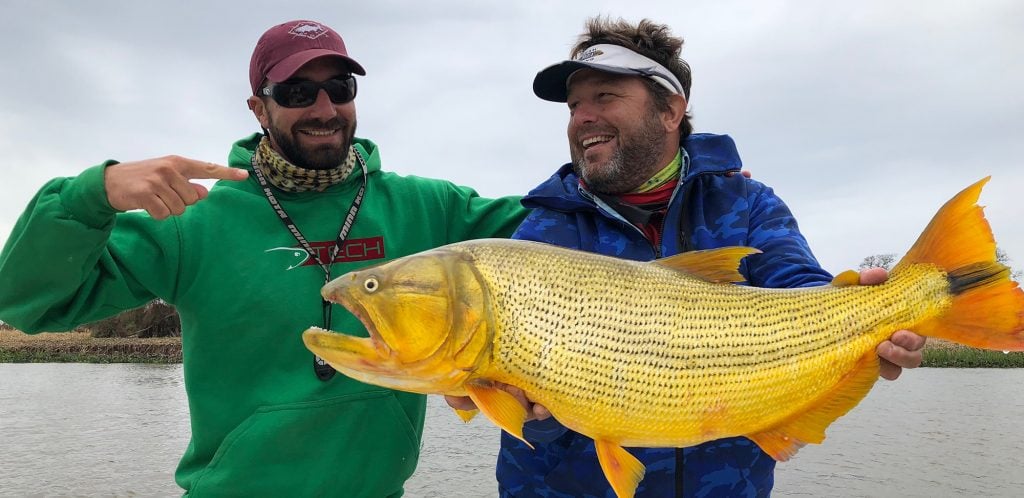 When many think of South America, their minds wander to the dense jungle rainforests of the Amazon Basin, the majestic Andes mountains, the great expanse of Patagonia region, the diversity of Indigenous and contemporary cultures, or the flavors and excitement of dynamic cities such as Buenos Aires. Simply, it is a continent of natural and cultural richness that is hard to ignore. Unfortunately, riches are relative, and across South America there are countless examples of how development and the tendrils of global industrialization have resulted in the loss of forests for timber harvest and agriculture, the carving up of the ground for mining, the damming of rivers for irrigation and electricity, and the suppression of local communities. This is not to say that all progress and development is evil and unjust, but when it creates more harm than good, including to the natural heritage, biodiversity, and cultural roots, it can pose a considerable threat to long-term sustainability and prosperity.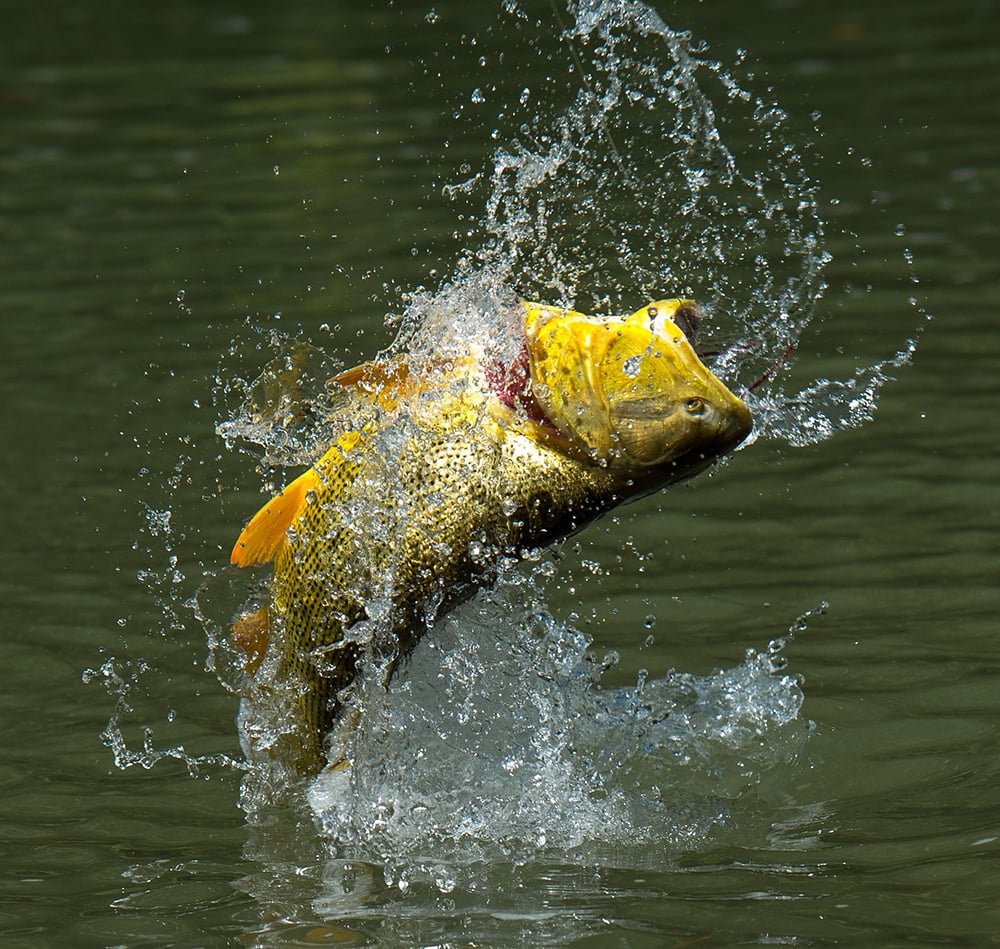 Jumping golden dorado photo by Jim Klug / Yellow Dog Flyfishing.
Neotropical fishes are true gems to the streams and rivers that are so prominent across much of the South American landscape, and golden dorado (Salminus brasiliensis) has become the focus of a rapidly growing recreational fishery, attracting the attention of anglers from around the world. Sometimes known simply as dorado or dourado, golden dorado are native to Brazil, Bolivia, Uruguay, Paraguay, and Argentina. Adult golden dorado are typically top predators in the rivers they inhabit, made apparent by their sharp teeth, powerful bite, and what sometimes seems to be a disproportionally large head. Their attitude on the end of a fishing line also provides some clues into their dominant role in the aquatic ecosystems they reside in. If the water is clear, it is not uncommon to see golden dorado competing with each other for a strike at the bait or fly. Once hooked up, the fight is dramatic and resembles a mix of what anglers are more accustomed to experience with some other popular game fish species they target – golden dorado can 'bulldog' like a redfish, jump like a small tarpon, and headshake and dart for cover like a largemouth bass.
If they manage to stay hooked up and brought to hand, anglers get rewarded with a striking golden-yellow body coloring (hence their name), but also need to be aware of their 'pit bull'-like reaction of biting and not letting go, including to pliers or fingers! Coupling all of this with the breathtaking environments where they reside, along with amazing cultural experiences and culinary delights of the region, and it is no wonder that golden dorado are a huge draw for anglers and the foundation for guiding and lodge activities. Given that the golden dorado recreational fishery is catch-and-release, there is a great opportunity for this to be an activity that becomes a fundamental cornerstone of sustainable economic growth for local communities, and entire regions, but only if threats to their populations and habitats are reduced, mitigated, or even eliminated. For instance, a dammed river could have considerable detrimental effects on golden dorado if it impedes how they move through their environment, reproduce, and influence the structure of their populations.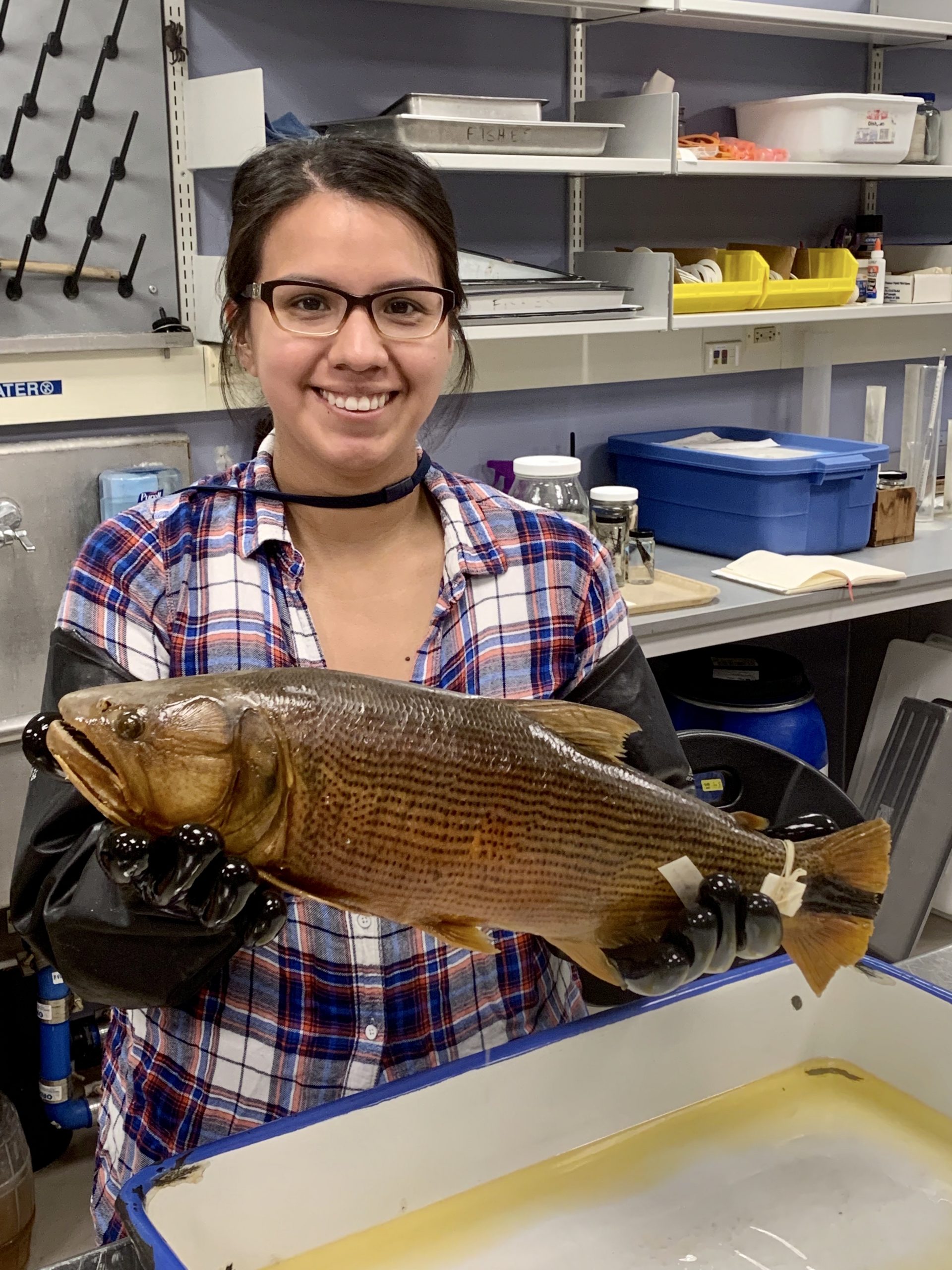 Nadia Fernandez, PhD student at UMass Amherst, with a museum specimen of Golden Dorado.
Despite their ecological and economic importance, there is still much to learn about the basic biology and ecology of golden dorado – knowledge that is fundamental for their effective management and conservation. Unfortunately, the geographic distribution and remoteness of areas where they reside makes traditional tracking studies to examine movement patterns difficult, while detailed biological sampling can be laborious and also require sacrificing a large number of fish. With this in mind, IGFA in collaboration with scientists from UMass Amherst are embarking on a study that uses advanced genetics to develop an understanding of golden dorado population structure, gene flow, and the susceptibility or resiliency golden dorado have to the human-based disturbances.
"Despite their ecological and economic importance, there is still much to learn about the basic biology and ecology of golden dorado – knowledge that is fundamental for their effective management and conservation. "
The research project is also working to develop a better understanding of local, regional, and global perceptions, demands, economic potential, and perceived threats to a catch-and-release recreational fishery for golden dorado. An earlier study from our group at UMass Amherst showed that handling practices can greatly reduce the impacts of catch-and-release on golden dorado, paving the way for best practices that can be learned and adopted by recreational anglers, guides, and lodges in the fishery, but also included in our strategies when sampling fish for the current study.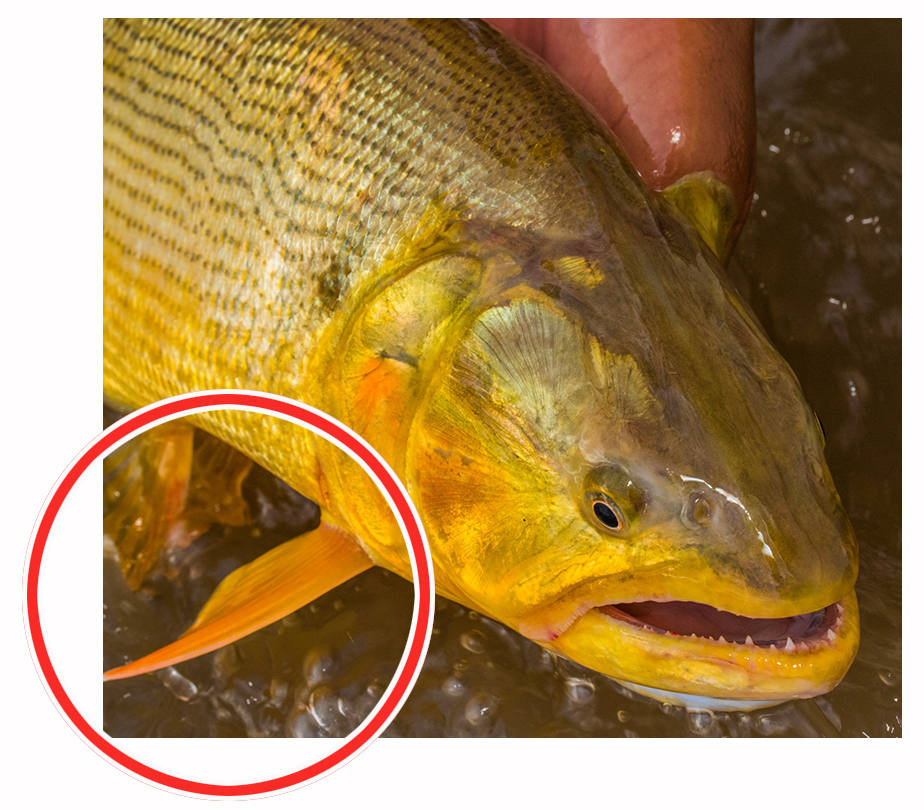 For the genetic aspect of our study, we rely on anglers and guides to collect non-lethal samples in the form of small fin clips. Over the past few months, we have refined the sampling protocol, conducted beta-tests with regards to sample preservation and storage, and have built a network of stakeholders that are willing, able, and anxious to help our study. To date, we have samples from parts of Argentina and Bolivia, but there are still many more fin clips that need to be collected and from throughout the entire geographic range of golden dorado. We also need fin clips from their related species, particularly picuda (Salminus affinus) from Colombia. Although progress has been impeded by restrictions imposed related to the COVID-19 global pandemic, we are developing strategies that will allow for more sampling once recreational angling becomes allowed and prevalent once again.
We are also continuing to build greater awareness for the opportunities and threats related to golden dorado, the recreational fishery anglers are becoming so excited about, and that local communities are depending on. With recreational angling becoming the 'sport of the pandemic', we will not be surprised when the allure of targeting golden dorado continues to grow, which also escalates the need to better understand how their populations can be maintained in the face of environmental disturbance, whether it be for future generations of anglers to enjoy, or to contribute to sustainable livelihoods and preserving cultural heritage in local communities.
For more information on this program, or to learn how you can get involved, please contact IGFA Conservation Manager Bruce Pohlot, Ph.D., at [email protected].