New Shimano Stella SW Models
The new re-designed Stella SW 8000PG, 8000HG, 10000PG, 14000XG boast Shimano's proven cold-forged HAGANE Gears for lasting durability and smoothness and ultra-durable HAGANE Body. The four new Stella SW reels also introduce Shimano's new Infinity Drive technology and HeatSink Drag to serious saltwater anglers. Infinity Drive improves the winding experience of these new Stella SW reels through the use of a new main shaft supporting structure to eliminate friction within the pinion gear. Shimano's HeatSink drag – offered on the Stella SW 10000PG and 14000XG helps dissipate the heat build-up when hooked into a big fish to a special "heat sink" insulation sheet, keeping heat away from the spool surface and drag washer. Featuring Shimano's proven Cross Carbon Drag, the Stella SW 8000 size reels, both the 4.9:1 gear ratio PG version and 5.6:1 gear ratio XG version, are designed for use with braided line. To handle the effects of saltwater on the reels, the new Stella SW models feature an IPX8-reated waterproof body. Both handling up to 215-yards of PowerPro braid, the Stella SW 8000PG reels in 37-inches of line per crank, while the faster 8000HG cranks in 42-inches. The Stella SW 1000PG has a 4.9:1 gear ratio to retrieve in 40-inches of line per crank and can handle up to 215 yards of 80-pound PowerPro or 220 yards of 20-pound mono.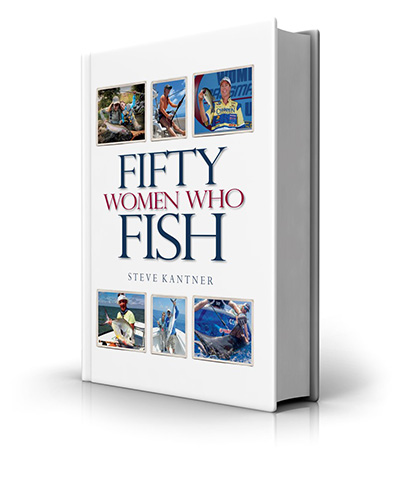 Fifty Women Who Fish by Steve Kantner
Florida angler Steve Kantner spent two full years speaking with dedicated women anglers far and wide for his new book called Fifty Women Who Fish. The International Game Fish Association plays a central role in the narrative, from the days of pioneer fisheries scientist Francesca Lamonte in the 1930s, through the extraordinary sea-going adventures of Sara Farrington, Helen Lerner, Gene DuVal, Kay Rybovich, and Helen Robinson.
Seventeen of the contemporary anglers in Fifty Women Who Fish have held an astonishing number of IGFA world records. Counting the doyens —with whom the author sets the stage for the history of the role of women in sport fishing—the women profiled here have over the years since IGFA's founding held 916 world records.
Kantner sought out a wide range of female anglers, age 20 to 90, from the Florida Keys all the way to Alaska. They fish is fresh and saltwater, with lures and bait on multi-million-dollar sport-fishing yachts to beaches. All are passionate about their favorite outdoor sport. Their personal stories are fascinating. Their accomplishments are inspiring.
Fifty Women Who Fish is a gorgeous large-format hardcover production of more than 300 pages with hundreds of color photos. It sells for $59.95. The book is proudly printed in Michigan by skilled American craftsmen on paper milled in Wisconsin.
For a preview and to order your copy go to: www.whywomenfish.com
PELAGIC's New Touchscreen Capable Gloves
PELAGIC presents to you the End Game Pro Fishing Gloves. Now featuring thumb and index finger smart touch technology making the new End Game Pro gloves touchscreen capable! Ideal for fishing heavy mono or fluorocarbon, spectra, or wire leaders, these heavy duty "Sure Grip" gloves are Kevlar reinforced (and have closed smart touch fingertips for maximum protection and convenience. You're in good hands knowing that our End Game Pro Fishing Gloves prevent line cuts, protect and eliminate blisters all together, and increase angler performance. Whether you're fish handling, gaffing, removing hooks from a toothy predator, bill grabbing, or even fish filleting, these gloves are the real deal! Velcro secured and stamped with the PELAGIC Deluxe Logo, you'll finally be ready to catch that fish of a lifetime.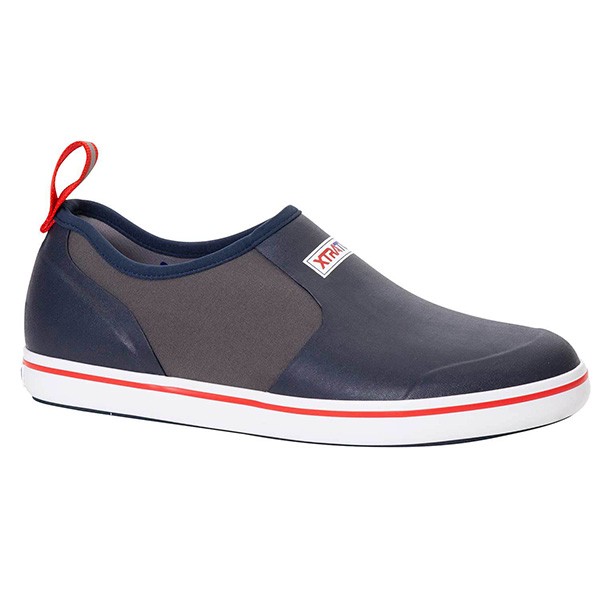 Waterproof Slip-on Deck Shoes
Inspired by the popularity of Xtratuf's ankle deck boot, Xtratuf has lowered the height on the Men's Waterproof Slip-On Deck Shoes to provide a secure fit that helps prevent water dripping into your boot. Perform at your best with this shoe that boasts the same slip-resistant chevron outsole that can be found on the Xtratuf Legacy Boots.
Monofilament that Thinks it's a Braid
Sufix® Advance™ Monofilament features a combination of high-modulus polyethylene (HMPE) and Hyper Copolymer™ creating superior abrasion resistance, low stretch and sensitivity that has never been seen before in other monofilament lines. Expect to find 50% lower stretch and UV absorption than standard monofilament with excellent abrasion resistance, low memory, unmatched knot strength, and superior sensitivity.