Fishing for the "Rain Trout" of Northern Japan
By IGFA Representative Tomonori "Bill" Higashi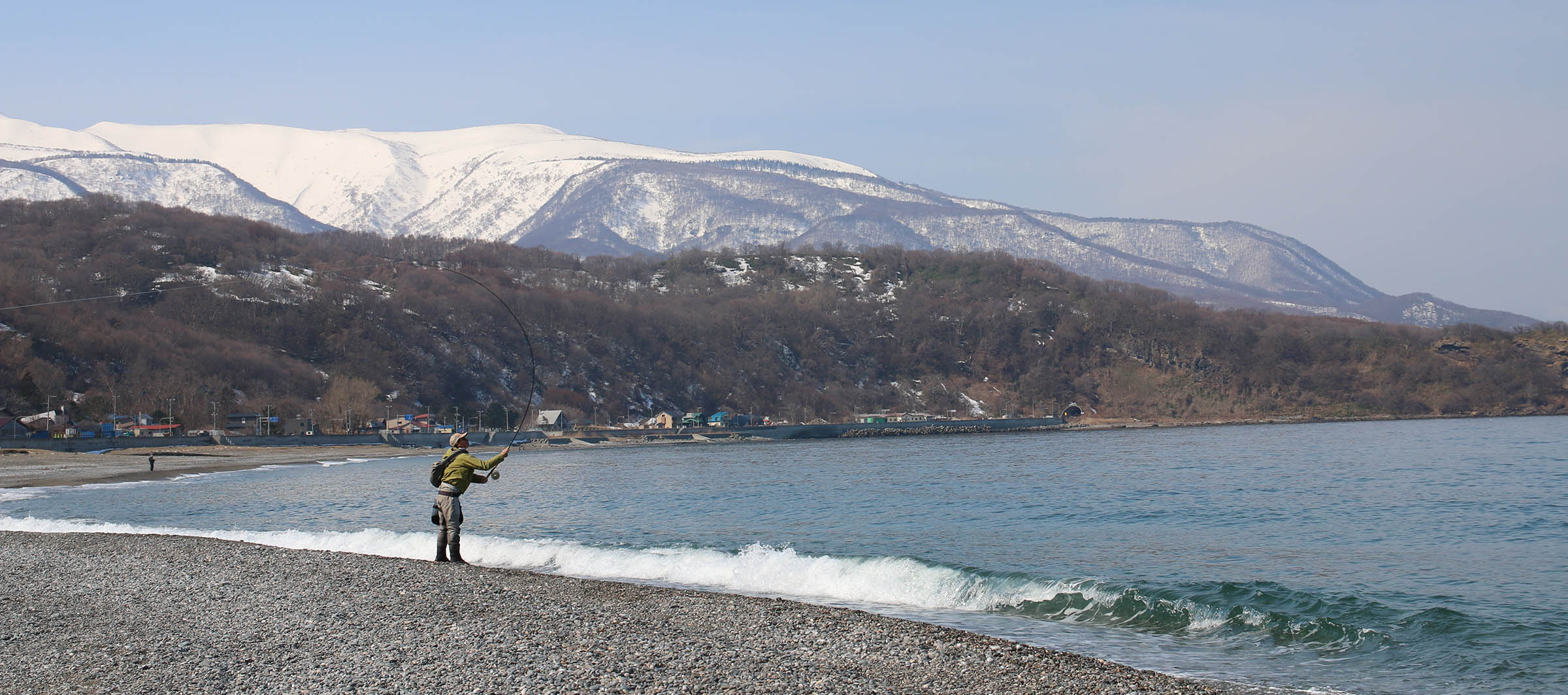 Among the four major islands that make up Japan, the northernmost one is called Hokkaido, meaning "The northern land mass where foreigners live." Now a very popular tourist destination in summer and winter alike, Hokkaido offers a plethora of great angling opportunity. Rainbow and brown trout were introduced long ago and have since become widely established. Additionally, Spring sea-run taimen are an attractive native game fish in the brackish water close to the northern tip of the island. Hokkaido does have decent salmon runs, mostly pink, chum and cherry, but they are mostly closed to recreational angling due to the old fisheries management policies that date back decades.
That said, my favorite game fish in Hokkaido is amemasu. It translates as "rain trout," maybe because of its active feeding habits on rainy days, or perhaps because of the white patches along the side of the fish that resemble raindrops. This ocean-going species is a member of the char family, are native to Hokkaido and are almost 100% wild - something that is very special in the days of hatchery raised and stocked trout and salmon.
The amemasu is a mysterious fish; they migrate up and down the river and into the sea, and although they seem to follow a seasonal pattern, their movements can be tough to predict. The amemasu are widely distributed throughout Hokkaido, and the life-cycles differ greatly. In Spring you can oftentimes sight-fish the amemasu in rivers with glo-bugs and catch a dozen a day. Another popular method for targeting amemasu in rivers is to swing steelhead flies using spey rods. However, perhaps my favorite method of targeting the amemasu is from a beach during the Spring run, casting from shore beyond the breaking waves.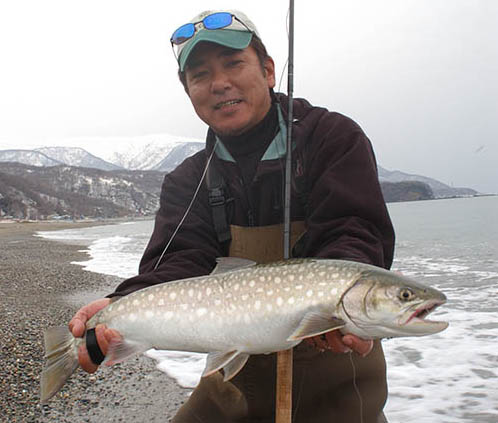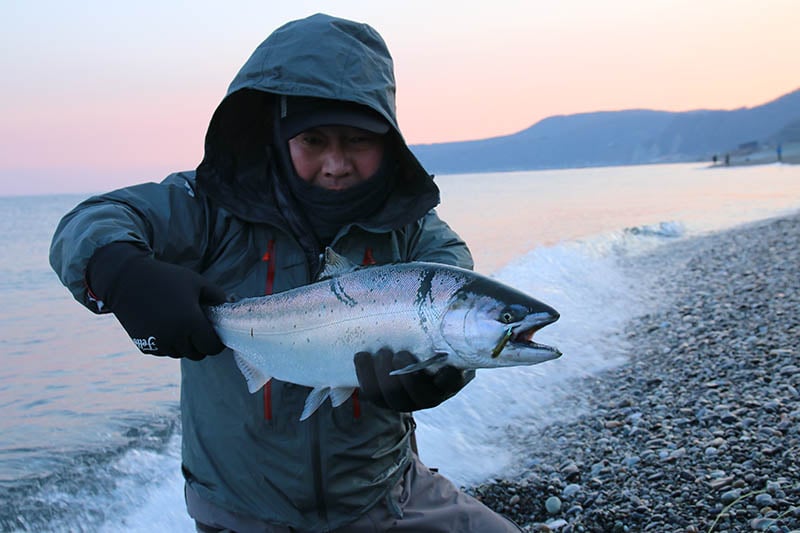 The most popular area for this kind of surf-fishing is near the village of Shimamaki, which is a short 2.5 hour drive from the major cities of either Sapporo or Hakodate. The peak season of amemasu fishing in saltwater is December through March. It is wintertime during those months, and you have to be prepared for rough weather coming down from Russia. I tend to go in the tail-end season of March to combine the opportunity with possibly catching cherry salmon running at the same time.
The cherry salmon Oncorhynchus masou, known as the masu salmon, masu, or the cherry hybrid salmon, is a species of salmon found in the northern part of the Pacific Ocean along East Asia, ranging from the Kamchatka, Kuril Islands, Sakhalin, and Primorsky Krai south through Korea, Taiwan, and Japan.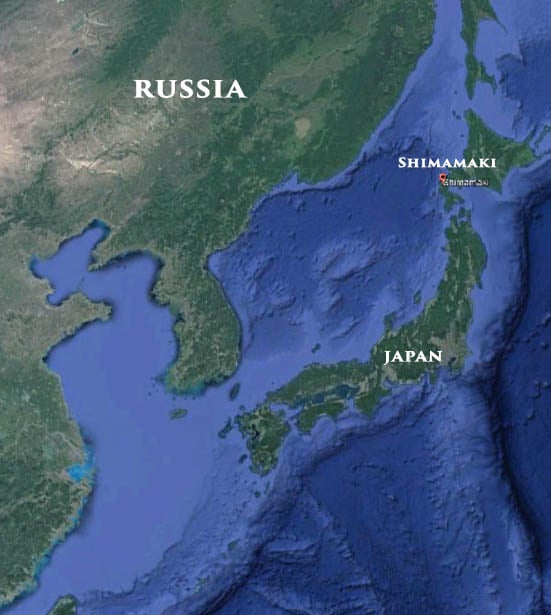 The most popular area for this kind of surf-fishing is near the village of Shimamaki, which is a short 2.5 hour drive from the major cities of either Sapporo or Hakodate.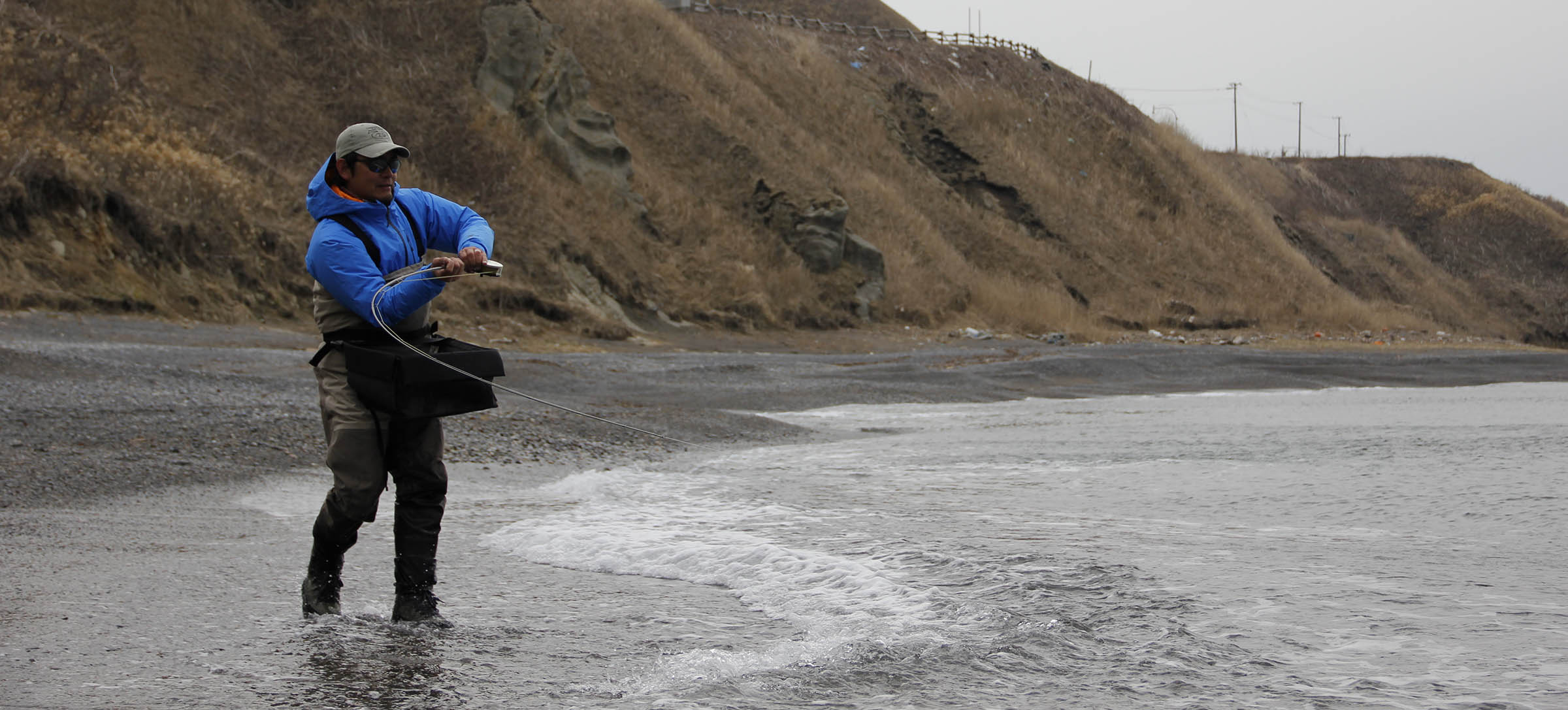 Hooking a good-sized amemasu is a reward to 100 casts.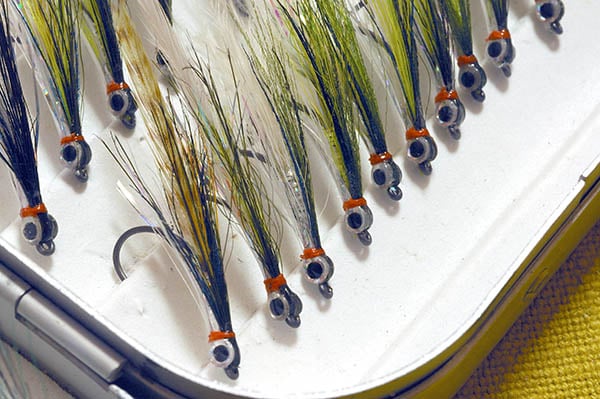 The tackle for targeting amemasu from the shore really depends on your preference. Both single and double-hand rods, from seven-weights to ten-weights, seem to be the most practical. If you are competing with other anglers casting distance is a large factor, and the use of longer rods prevent the breaking waves from affecting your retrieve which should be of medium speed, with distinct pauses between pulls. My tackle of choice is 15' #8, fast action two-hand graphite rods, spooled with a fly line boasting a long shooting head and of intermediate density. My preferred leaders are not complex, and generally consist of approximately 10 feet of monofilament, followed by a few feet of 12-pound fluorocarbon tippet. The most popular flies include small streamers and scud imitations in #1-#6 hook sizes.
There are no guide services Shimamaki so you are on your own. It's totally doable though without one and you don't have to get up super early; just find other anglers and join them, or follow your hunch and find a beach to your liking. There are several local AirBnB inns within the village where you can stay during your visit, so you do not have to go far in the morning to start fishing. My personal favorite is a place called the Takada Ryokan, which serves plenty of local seafood, cooked authentic Japanese-style.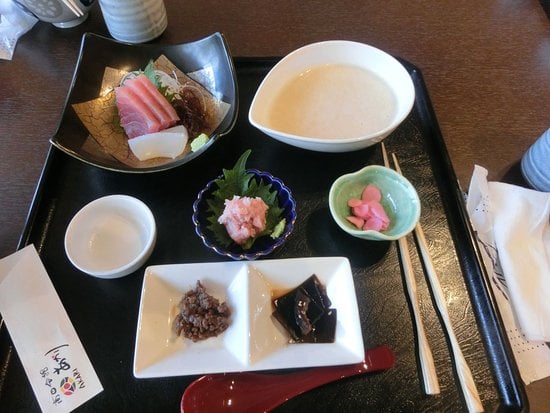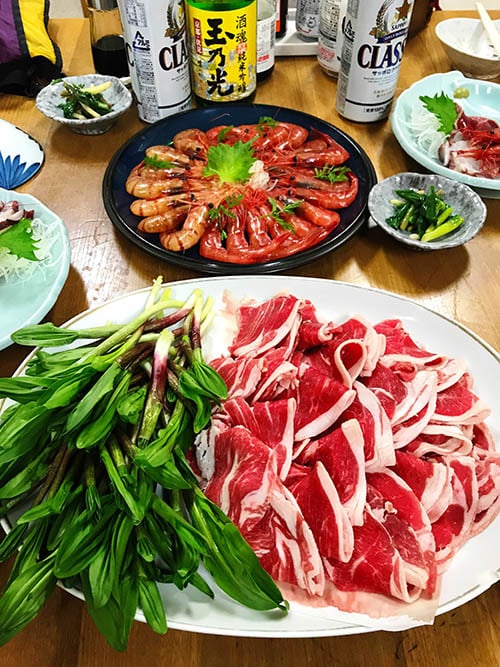 The peak seasons and the angling styles may vary depending on where you fish exactly and advanced research is necessary for visiting anglers. However, the extra effort is well-worth it. Once you've experienced it firsthand, catching these wild amemasu in Hokkaido will forever be etched into your memory.
Know the Local Fishing Regulations
During the salmon season which starts in August, river mouths and areas adjacent to them with a radius of one kilometer are closed to recreational angling. This is a very strict rule, and the penalty for violating it can be severe. Hiring a guide is always a good idea in unfamiliar waters, and following are some established outfitters in the Hokkaido region.

If you fly into Obihiro Airport:
Poroshiri flies
https://www.poroshirifliesandguide.com/
Calico Guide Service
If you fly into Monbetsu Airport:
Wildlife
http://guide.wildlife-t.net/index-e.html
If you fly into Sapporo:
Iwao Shimoyama (Fly Shop Dolly Varden)