Two New Forage Fish Research Fellowships to be Funded in 2019

In 2016, the IGFA, PEW Charitable Trusts, the Florida Wildlife Federation and the Snook and Gamefish Foundation created the Forage Fish Research Program. This program is a public-private partnership between Florida Wildlife Research Institute (FWRI), leading academics, and non-governmental organizations-led by the IGFA designed to provide Florida much needed analysis of existing data and foster the development of the next generation of marine scientists.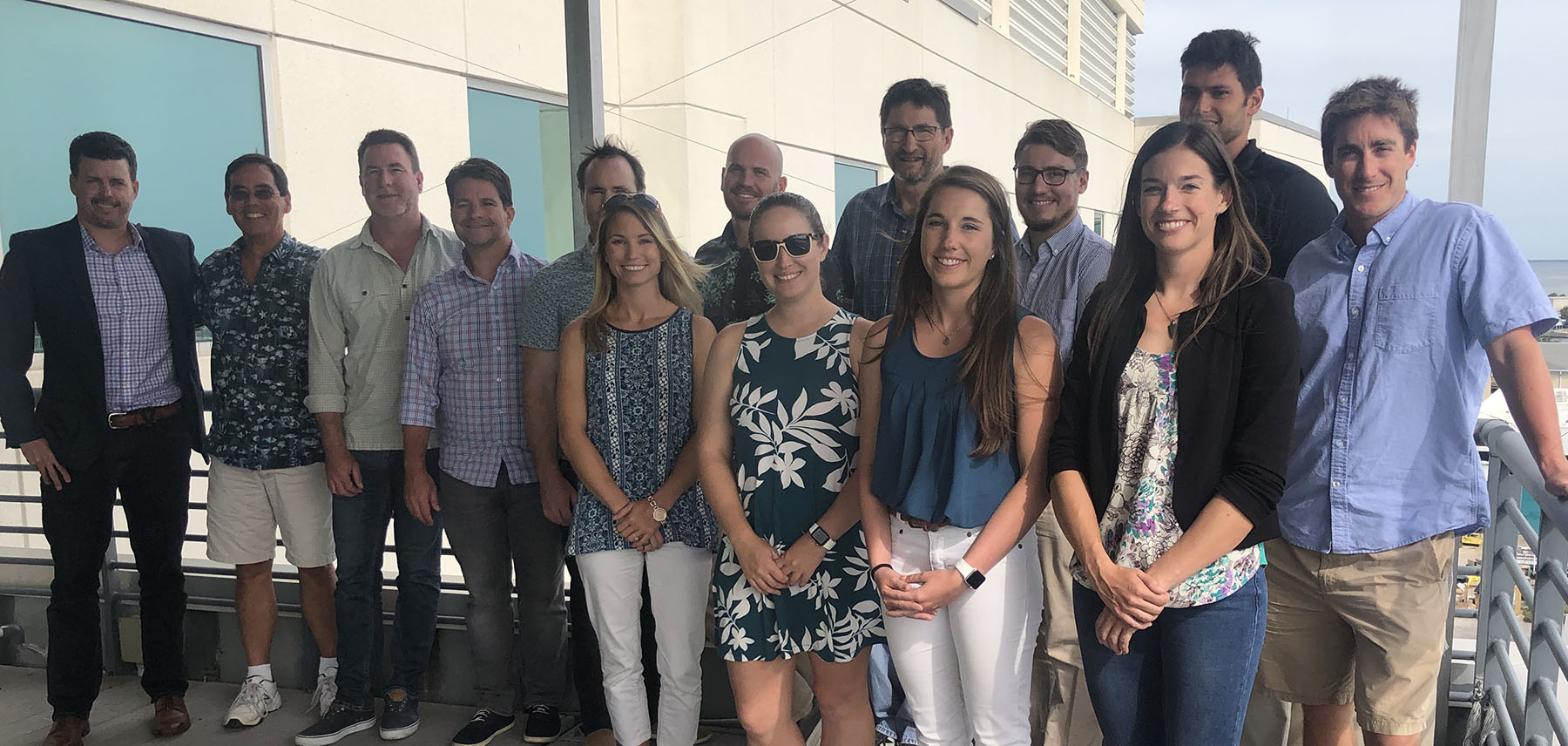 The Third Annual Forage Fish Data Workshop was recently held on May 6th, where the second year Research Fellows presented the results of their research.
Once a year, the program provides fellowships to graduate students in marine sciences at Florida universities to work hand in hand with scientists from FWRI, one of the United States' leading state institutions, to answer some of the most pressing questions regarding forage fish and their relationship to Florida's marine habitats and predators. During the process, Research Fellows get real world experience by working with researchers at FWRI and FWRI staff get much-needed support in answering important research questions.
Tim MacDonald, Senior Research Scientist at FWRI reports "Animals in lower trophic levels are vital in developing ecosystem management plans, but funding is not typically available to address them. Many important ecosystem questions can be addressed by short-term, graduate student led analyses. The fellowships provided by the Forage Fish Research Program provide a wonderful avenue for cooperative research between FWRI and academic institutions that address these questions."
The inaugural Forage Fish Workshop was held in 2016 and subsequent workshops have been held in 2018 and 2019. To date, the Florida Forage Fish Research Program has awarded four fellowships with funding provided by The International Game Fish Association, The Pew Charitable Trusts and individual donors.
The first two Fellowships in 2017 were awarded to Meaghan Faletti and Ed Camp: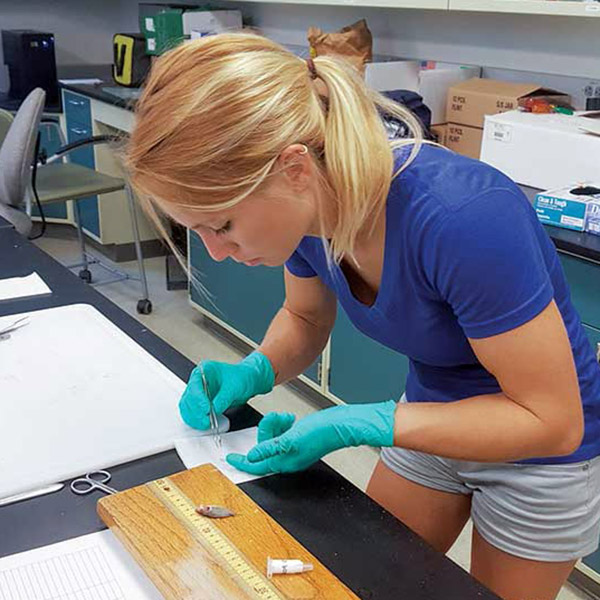 Meaghan Faletti assessed the population dynamics of pinfish in the eastern Gulf of Mexico using new methods including a stable isotope analysis on eye lenses from pinfish collected in four estuaries on the west coast of Florida.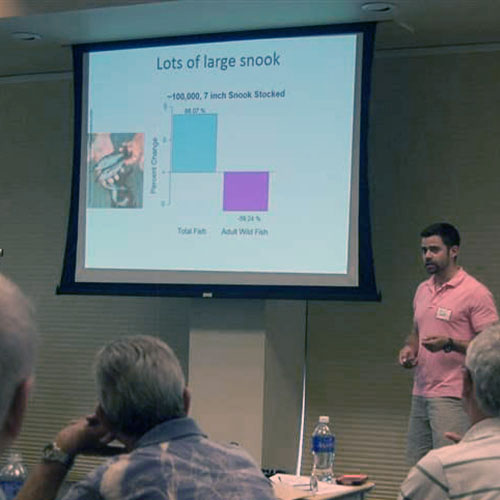 Ed Camp identified potential forage fish populations whose abundance may limit recruitment of red drum.
Second year Fellowships were awarded to Brittany Troast and Jonathan Peake in 2018: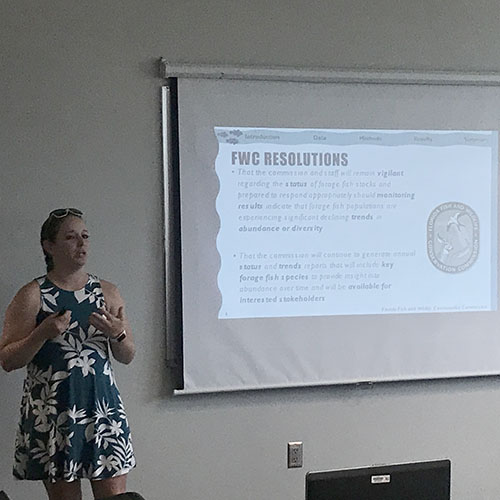 Brittany Troast completed a comparative analysis of forage fish community dynamics in Florida's east coast estuaries including the Indian River Lagoon.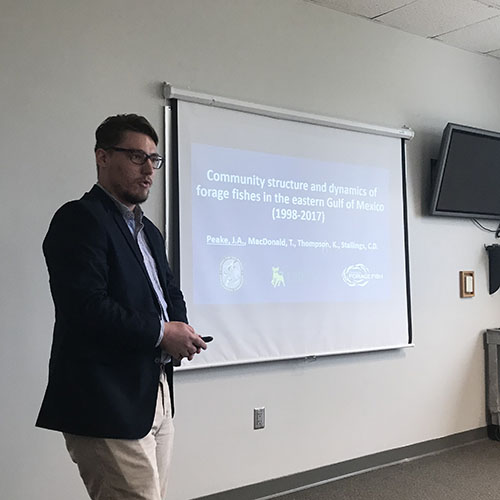 Jonathan Peake similarly investigated community structure and dynamics of forage fishes in the eastern Gulf of Mexico among Florida's west coast estuaries.
The Third Annual Forage Fish Data Workshop was recently held on May 6th, where the second year Research Fellows presented the results of their research. In addition, it was reported that both first year Fellows have submitted manuscripts for peer-review publication. It is also anticipated that the second year Fellows will be submitting their research for peer-reviewed publication later this year. With the assistance of the PEW Charitable Trusts and the American Sportfishing Association's Fish America Foundation, two new Research Fellowships will be funded in 2019 to continue answering pressing questions about what drives forage fish abundance and diversity and their linkages to game fish.
In just three years, the Forage Fish Research Program has produced top-level research that may ultimately help guide management for critical forage fish species and their dependent predators. According to Associate Research Scientist Dr. Kevin Thompson, "One of my main responsibilities is providing trophic data to support ecosystem modeling and management efforts in the Gulf of Mexico and South Atlantic. When paired with monitoring data, the diet information we have can further inform critical ecosystem questions and emerging management issues in the state of Florida. With the help of the Forage Fish program our research capacity has increased by working with our academic partners to analyze our data to address these key questions and issues in a collaborative, informative manner."