Cape Verde Blue Marlin Mecca
By IGFA Captain Bertrand Bouchard, Makaira Adventures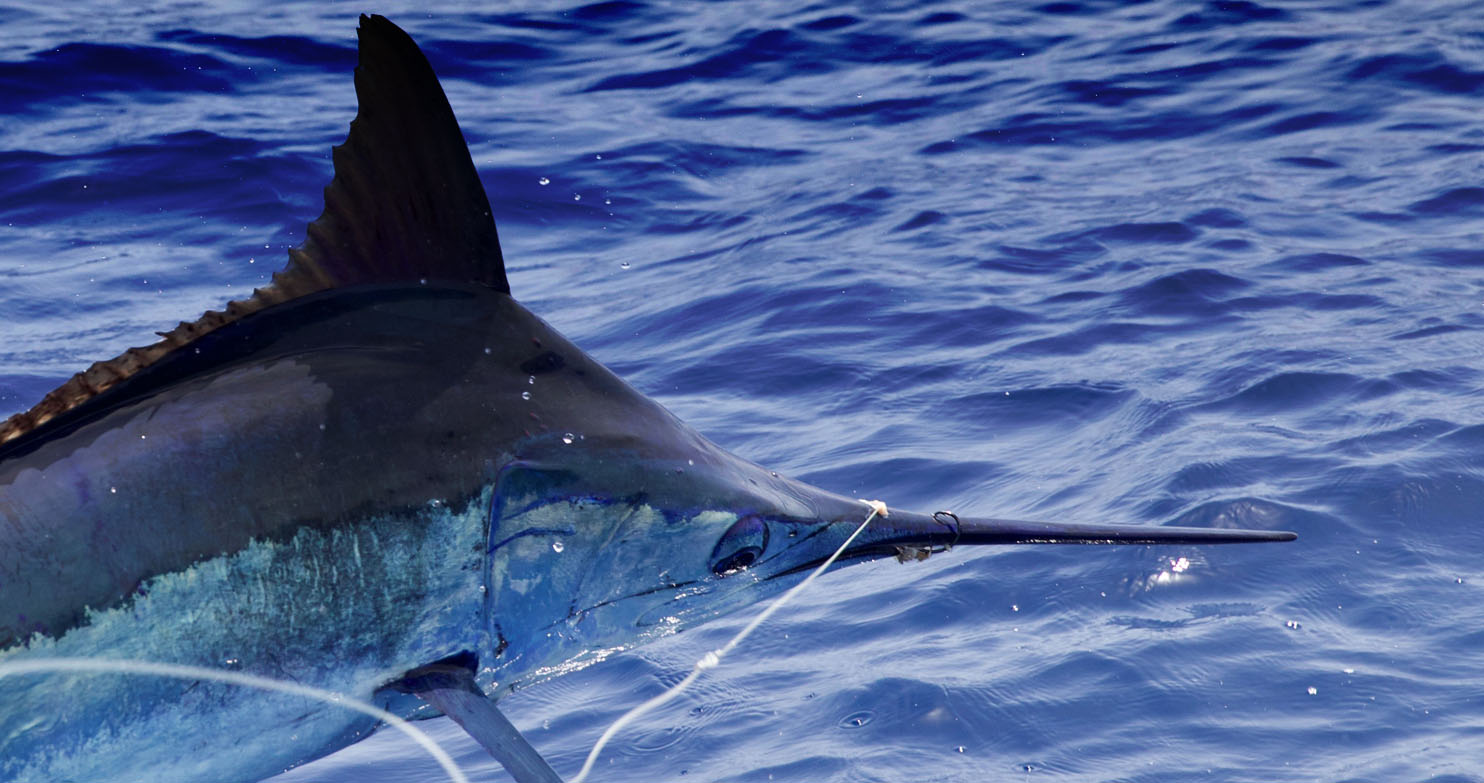 A DIFFERENT ANIMAL
The incredible 2019 season we are currently experiencing proves once again that Cape Verde is the world's premier destination for Atlantic blue marlin. The social media channels of the boats fishing Cape Verde this season are routinely posting insane reports of over 20 bites and a dozen or more releases per day by the fleet.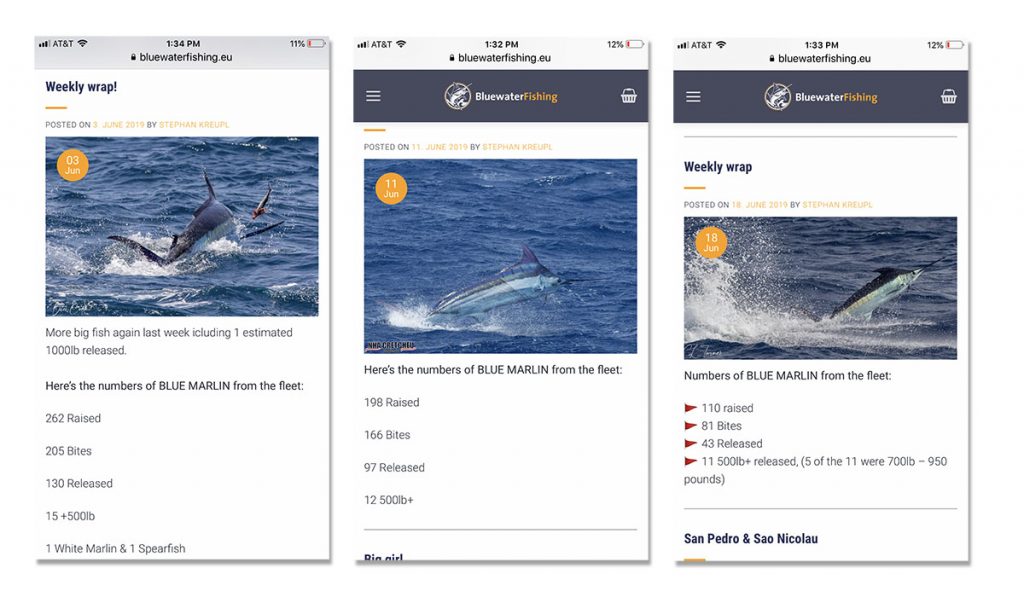 While there are a handful of blue marlin destinations that can compare with the numbers of fish produced in Cape Verde, what sets this fishery apart from others is the consistency of large fish encountered. There are few other locations in the world where you will have shots at fish over the 500-pound range on a regular basis. The 2019 season has been no different, with the fleet releasing plenty of fish over the 500-700 pound mark on what seems like a daily basis.

HISTORY
These once uninhabited, desolate islands were discovered by the Portuguese in the 15th century, and only gained their independence in 1973. With the assistance of foreign investments, hotels were built to accommodate the increasing numbers of tourists but today Cape Verde has become a premier destination for anglers wishing to experience epic blue marlin fishing.
The captains who are credited with helping to put Cape Verde on the world's blue marlin fishing map include Berno Niebuhr, Olaf Grimkowski, Marty Bates and Zak Conde.
To date, the waters off Cape Verde have produced more than 20 blues weighing over the coveted "grander" mark, with many more released in the same range. Gray Ingram's Big Oh, captained by Ronnie Fields accomplished perhaps one of the most impressive feats in Cape Verde angling history when they released over 400 blue marlin during a three-month period in 2014. The 2010, 2006 and 1998 Blue Marlin World Cups were also won with fish caught in Cape Verde, including the 1,097-pound fish weighed by Captain Berno Niebuhr in 2010.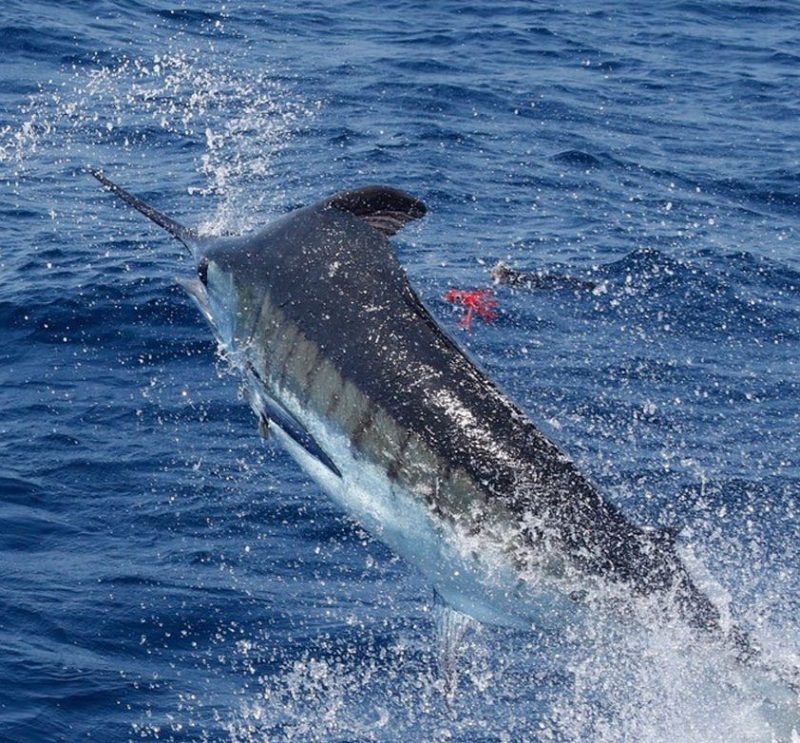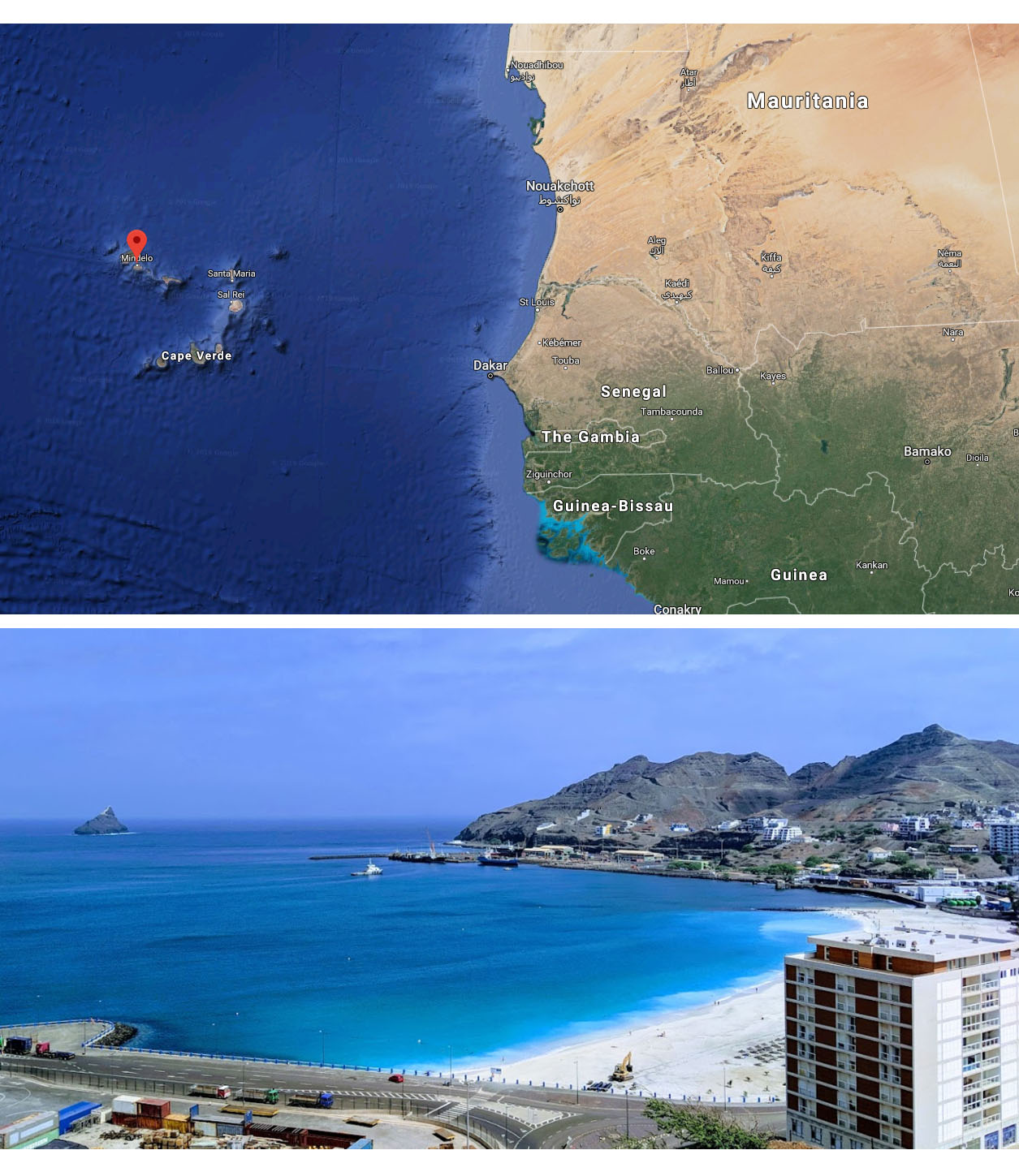 FISHING CAPE VERDE
For charter boats and crews, there are many options available from 28 footers to 46 footers to fit most budgets. While the techniques vary from live-baiting to pulling lures, by far the most common (and exciting) technique is bait-and-switch on stand-up gear.
The island of Sao Vicente is the Cape Verde blue marlin hotspot and, coinciding with the development of a marina in the Mindelo Harbour, the charter fleet has increased to over a dozen world-class boats. Mindelo is also the second-largest city in Cape Verde Islands.
Most charter operations leave from Mindelo Harbour Marina and, after just a few miles, begin trolling dredges in hopes of raising a blue that's hungry for a pitched bait. We fish mainly around São Vicente covering it from North to South and the other side of the channel towards Santo Antão, depending on the level of activity. The channel between São Vicente and Santo Antão is a well-known marlin spot that has given the Cape Verde Islands its reputation, with the chance of raising 400-700-pound blues, with even the potential for a grander. It is also possible to change locations and fish all the way to Sao Nicolau island if conditions warrant it.

While the techniques vary from live-baiting to pulling lures, by far the most common (and exciting) technique is bait-and-switch on stand-up gear.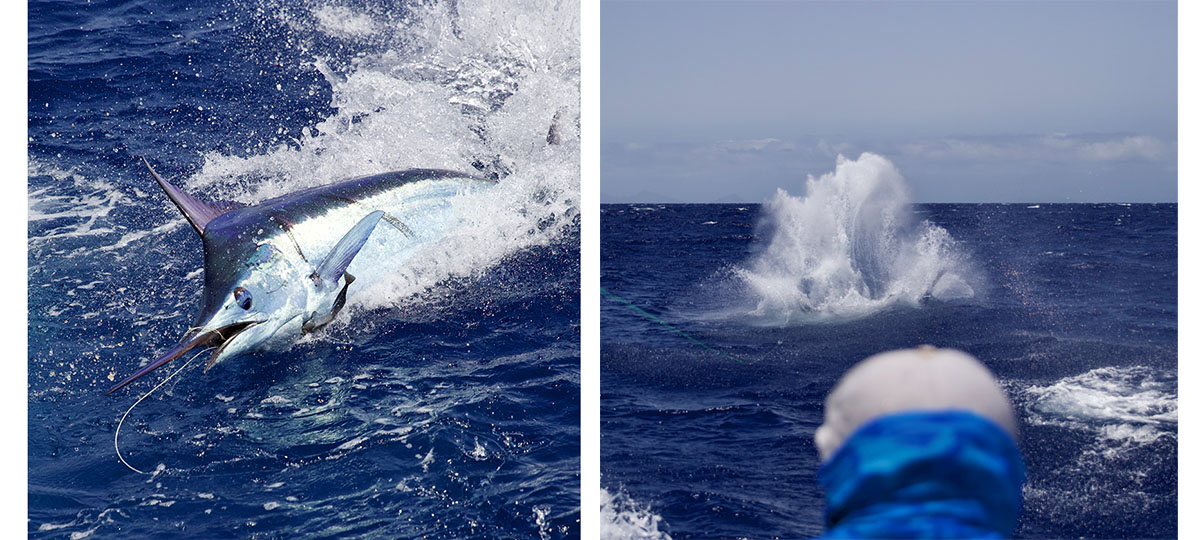 The Cape Verde stereotype of strong wind and bad weather should be set aside, as the past three years have produced very good weather, offering even more potential for light line fishing. It should be noted that even in the case of strong winds, there are always sheltered areas to fish due to the topography of the Cape Verde island archipelago.
Marlin are caught all year but the majority of crews tend to concentrate their season from March to end of August. However, September and October can also be very productive and offer a broad spectrum of possibilities.
The climate in São Vicente is mild and dry with the average annual temperature in Mindelo being 23.2 °C (73.8 °F). The island is very arid with only 80 to 130 mm (3.15–5.12 inches) falling annually, somewhat higher only near the tops of the few mountains. Sea surface temperatures range between 22 °C (72 °F) and 25 °C (77 °F). There are two climate seasons: December through July is mainly dry, cool and windy, while August through November is both warmer and wetter. Always bring a layer of warm clothing for the common cool evening.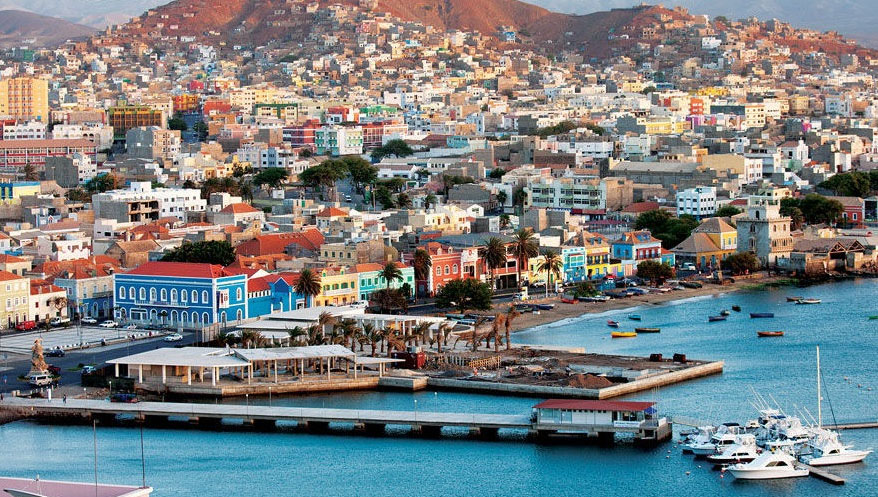 Fishing the Cape Verde Islands one has a good chance of raising 400-700-pound blues, with even the potential for a grander.
GETTING THERE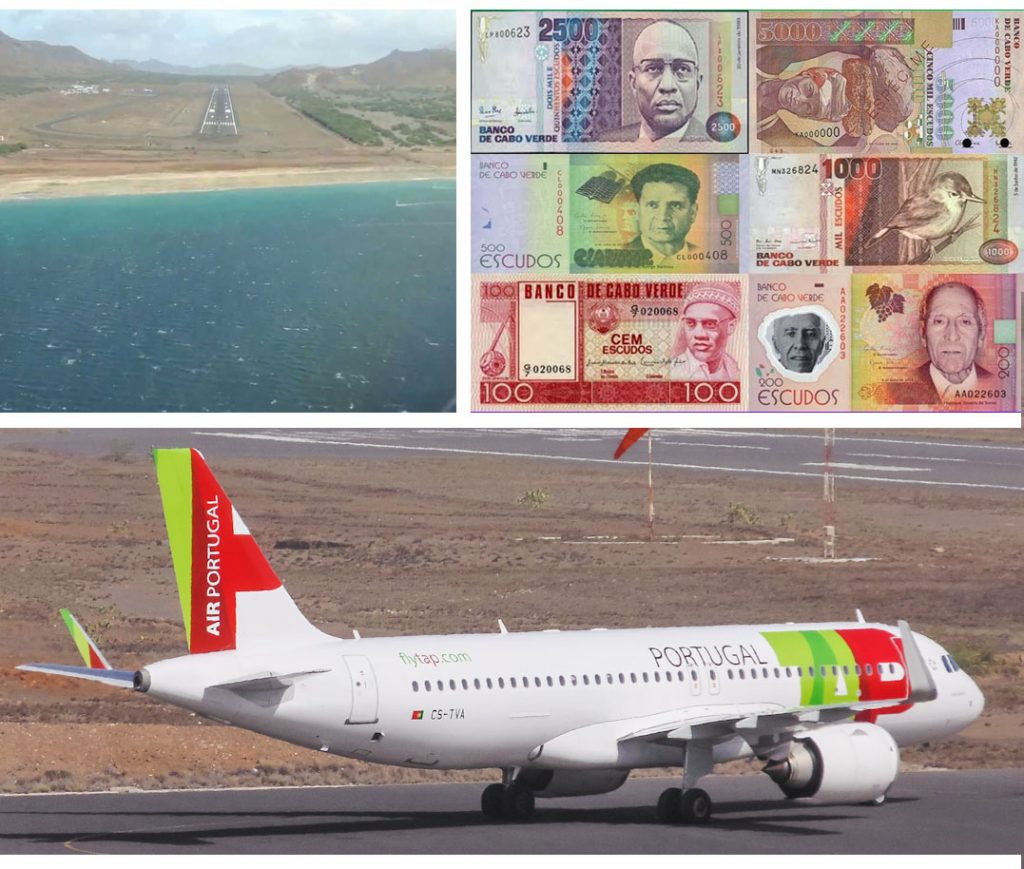 Despite its remote location, getting to Cape Verde is relatively simple. The main airport hub is via Lisbon, Portugal if one is coming from Europe, Australia or the United States. From Lisbon the flight is a little over 4 hours direct to the Island of Sao Vicente. Coming from South Africa the best option would be to travel through Luanda's International Airport for a more direct route. Other inter-Africa flights are also available.
A travel Visa is required and can be acquired on arrival at the airport (for 25€) or at the nearest Cape Verdean embassy. Keep in mind a passport must be valid for at least six months to travel to Cape Verde.
The currency is the Cape Verdean Escudo but the Euro is also accepted in most places. US currency can be changed to local currency in some banks.
The official language in Cape Verde is Portuguese, Cape Verdean Creole is used colloquially and is the mother tongue of virtually all Cape Verdeans. English and French are also spoken by some.
Hebe Makaira Adventure
IGFA Captain Bertrand "Bert" Bourchard – Hebe
Email: [email protected]
www.marlincapeverde.com
Marlin Cape Verde
Captain Exequiel Conde – Amelia
Email: [email protected]
La Onda Pesca Deportiva
Capt Martin Bates – La Onda
Email: [email protected]
www.fishing-capeverde.com
Bluewater Fishing
Capt Marco Canu – Sambo
Email: [email protected]
Dona Pi Big Game Jigging
Capt Migual Gamito – Dona Pi
Email: [email protected]
www.fishing-cape-verde.com
Billfish Club Cabo Verde
Capt Berno Niebuhr – Happy Hooker
Email: [email protected]
www.capeverde-fishing.com
Atlantic Fishing Charter
Capt Matthias Henningsen – Smoker, Hooker and Sambo
Email: [email protected]
www.atlanticfishingcharter.com
Mystic Blue
Samir Rahal - Mystic Blue
Email: [email protected]
www.capeverdebluemarlin.com
West2East Marlin Charters
Stuart Simpson - Nha Cretcheu
Email: [email protected]
www.west2eastmarlincharters.com