Mustad 6.5" Titanium Plier
Mustad recently unveiled its Black Line of tools with top-of-the-line titanium pliers built for rough use in all seasons. Designed with toughness and comfort in mind, these pliers are built with high-quality titanium in an ergonomic design. Carbon inserts within the handle support the heavy-duty construction for an even stronger bite. On the side, you'll find a scissor-style clipper designed to cut lines without switching tools. When in waiting, these pliers rest in a leather sheath easily attached to a belt.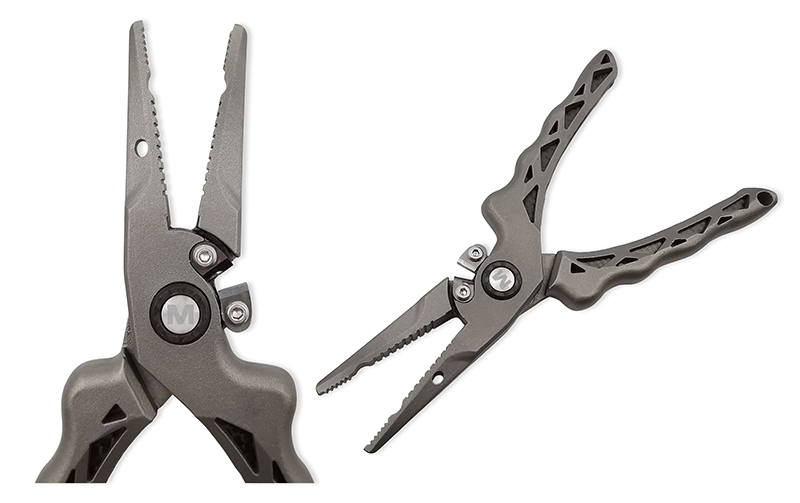 AFTCO Saiko Pro Fluorocarbon Leader
AFTCO Saiko Pro Fluorocarbon Leader is a 100% custom formula fluorocarbon leader developed with Sunline Japan for optimum leader performance. This leader has a supple yet hard finish that provides supreme abrasion resistance and knot strength. It is up to 20% stronger after abrasion than leading competitors. The AFTCO name reflects a 60-year+ history of manufacturing precision built, high performance offshore fishing tackle, clothing and fishing gloves. The legacy continues with AFTCO's Saiko Pro 100% fluorocarbon leader.
New Shimano Stradic FL Spinning Reel Series
Even smoother rotation, added durability and enhanced casting distance are all part of the 'continuous evolution' in spinning reel technology Shimano brings to its newly-designed Stradic FL reels. The new Stradic FL recently won "Best Saltwater Reel" in the 2019 ICAST New Product Showcase awards and is offered in five sizes to cover nearly all types of freshwater and saltwater applications. The new Stradic FL series of reels include the following sizes: 1000HG, 2500HG, C3000XG, 4000XG and C5000XG.
Plano® EDGE Tackle Storage Solution
Plano's all-new EDGE is a completely redesigned tackle storage solution which only Plano could provide. Offering both general purpose utility boxes as well as lure-specific storage solutions, this new line has been scrutinized down to the finest detail and re-imagined from the ground up to keep water out, prevent rust and organize like no other tackle box ever has.
From bass to redfish, Northern pike to speckled trout, many predators rely on some blend of vision and smell to locate prey; but across the board, vibration and water displacement play a significant role in forage location. Savage Gear capitalizes on these predatory instincts with the new family of Pulse Tail soft plastic baits.
Comprising of the Pulse Tail Bluegill, Pulse Tail Shiner, Pulse Tail Mullet and Pulse Tail Baitfish, this innovative lineup excels at stimulating a predator's feeding instinct. The first three baits are designed after particular forage, while the Pulse Tail Baitfish presents a more broadly applicable form that easily resembles a wide range of freshwater and saltwater bait fish. For each of these models, the split rear fin design creates a realistic pulse swimming action that mimics the surge of a fleeing bait fish.
Each body style is available in two primary styles: a Loose Body (LB) with a rapid interchange hook system and a Ready to Fish (RTF) version that's perfectly fitted with a custom, heavy duty EWG hook. The RTF models also include foam integrated rattles and lead harnesses. The Pulse Tail Mullet and Pulse Tail Shiner are also available in Line Through (LT) models that allow anglers to add their choice of treble hooks.