Newly Approved Slam & Trophy Fish Clubs
To see all newly approved IGFA Slams & Trophy Fish clubs since June 21, 2019 please view this PDF.

Pelat Sola's Inshore Grand Slam
Renaud Pelat Sola had a day to remember on the final outing of his fishing trip in Bahia Solano, Colombia. Not only did he earn himself an IGFA Inshore Grand Slam, but he caught some trophy-sized fish while doing so. Renaud caught an impressive roosterfish and snook using live herring, and capped off his day by catching his personal best tarpon.

Corey's Fantasy Trout Slam
On July 5, 2019, Corey T. Brown traveled 248 miles through the Uinta Mountains of Utah to achieve this IGFA Fantasy Trout Slam. He caught and released a cutthroat, rainbow, brown, brook and golden trout, all while fly-fishing. Of the five different species he landed, only two were caught in the same body of water!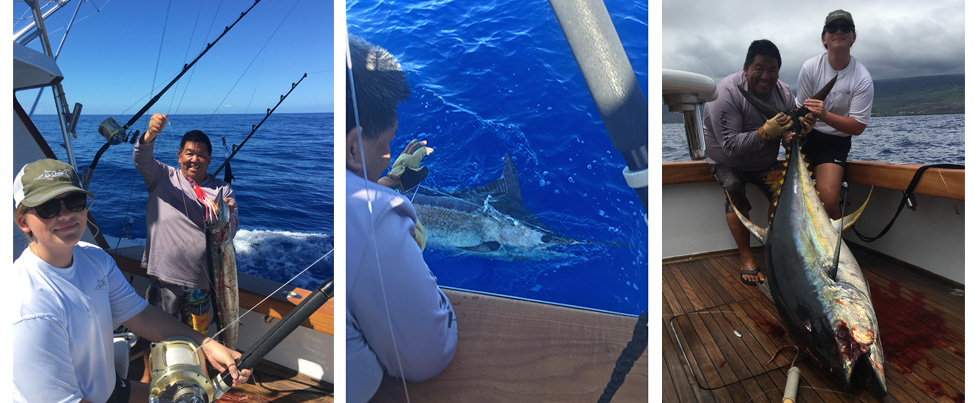 Marsolais' Offshore Grand Slam
Emily Marsolais took to the water on June 1st, 2019, aboard the Ihu Nui and caught a wahoo, yellowfin tuna and blue marlin while trolling lures. This exceptional day of fishing off Kona, Hawaii, earned Marsolais an IGFA Offshore Grand Slam.

Small's Inshore Grand Slam
Texas angler Kevin Small traveled to Cuba's fabled Jardines de la Reina and scored an IGFA Grand Slam with a tarpon, permit and bonefish that were all caught and released on fly tackle.