IGFA Partners with Boy Scouts of America
in Youth Angling Education at the 24th World Scout Jamboree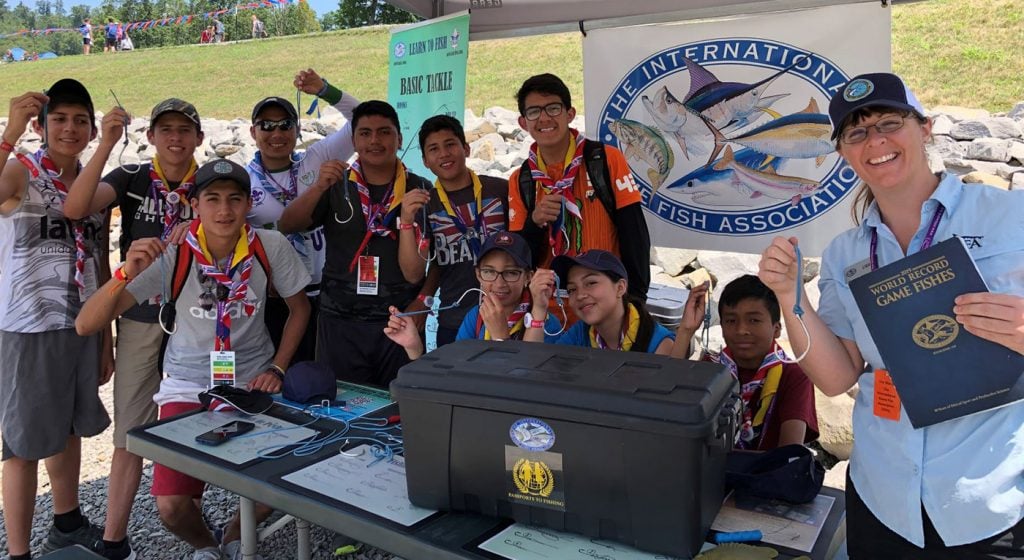 In late July, the IGFA Education team traveled to The Summit Bechtel Reserve in Glen Jean, West Virginia, to participate in the fishing activities at the 24th World Scout Jamboree. This was first World Scout Jamboree held in the United States since 1967, bringing together over 41,000 scouts from 167 countries.

Over a nine-day period, IGFA staff worked with more than 5,000 scouts learning to fly fish and spin fish during the Jamboree. IGFA's Education team provided hands-on education in basic tackle, knot tying and catch-and-release techniques through IGFA's Passports to Fishing program.

By the end of the event, nearly 7,000 fish were caught-and-released back into Goodrich Lake. For most of the scouts, this was their first introduction to fishing and many recorded their very first catches during the event!

During the Jamboree, the IGFA and the Boy Scouts of America (BSA) also officially announced a new partnership focused on youth angling education. Through this collaborative effort and the significant reach of the 24th World Scout Jamboree, the recently signed agreement between the IGFA and BSA is off to a great start! By introducing youth to the joys of fishing and educating them on how to be ethical anglers, the IGFA and BSA are creating the next generation of environmental stewards.
Thank you to the supporters of IGFA's Teaching 100,000 Kids to Fish Initiative
If you'd like to be involved with this initiative, please contact IGFA Youth Education Manager Lisa Morse at 954-924-4340 or email [email protected].