Future Casts - IGFA Passports to Fishing in Baja, California Sur

In conjunction with the celebration of its 80th Anniversary, the International Game Fish Association (IGFA) launched an educational initiative with a stated goal of teaching 100,000 kids to fish. Their flagship program, a hands-on tool called Passports to Fishing, is a fishing clinic in a box, created specifically to reach budding anglers across the globe.

IGFA Representative Gary Graham, aka That Baja Guy, is a member of the Stars and Stripes Charity Tournament team and member of the Sportfishing Association of California team. He is also essential in promoting the IGFA's mission and recently assisted in growing the project.
He introduced the Passports to Fishing concept to Luis Andres Cordova Urrutia, the Secretary of Fisheries, Aquaculture and Agricultural Development (SEPADA) and Luis Antonio Garcia Rodriguez, Director, Protection of Marine Resources (FONMAR), both of Baja, California Sur. The two were organizing a youth fishing tournament, and Graham thought the IGFA's educational program would fit nicely into the competition.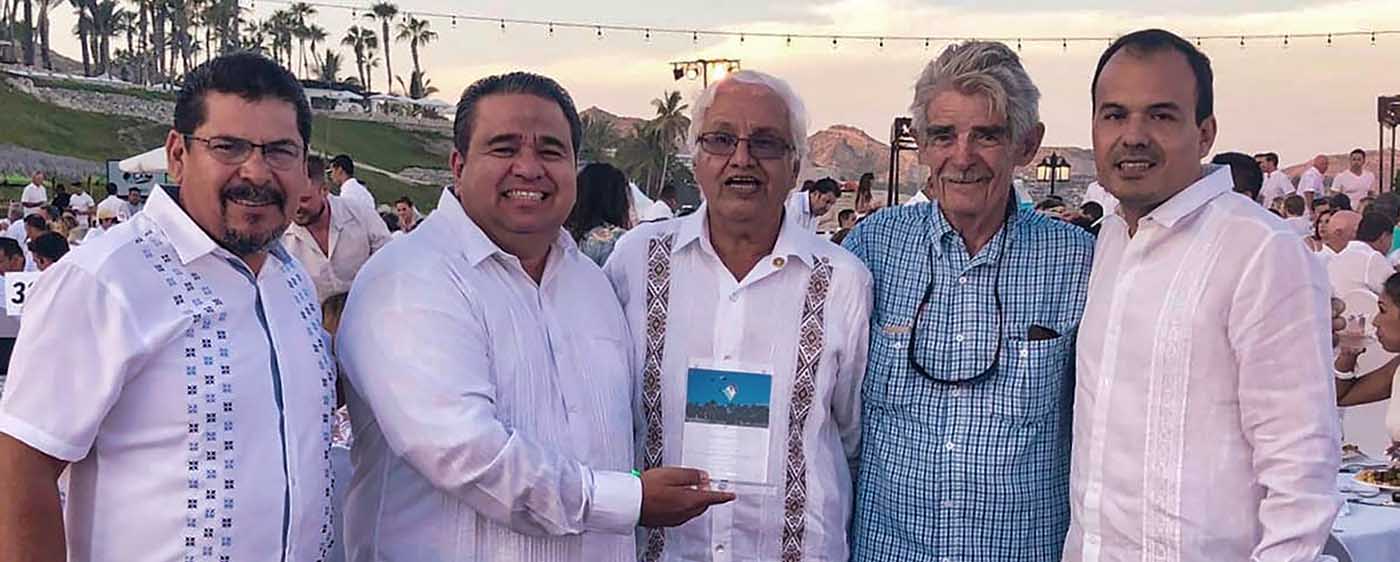 From left to right: Gonzalo Alamea Camacho - Sepada, Andres Cordova Urrutia - Sepada, Clicerio Mercado - Bisbee Tournament Liason, Gary Graham- That Baja Guy, IGFA Representative and SAC, Luis Antonio Garcia - Fonmar.
The Stars and Stripes Charity Tournament and the Sportfishing Association of California soon joined in as well. Clicerio Mercado, a local representative of the Bisbee Tournaments in Cabo San Lucas also came on board to support the program. Gonzalo Alamea Camacho, the coordinator for both FONMAR and SEPADA, enthusiastically embraced the Passports to Fishing concept. His support ensured that the effort would be successful.

The Passports to Fishing program, designed for young anglers and their families, introduces ethical angling tactics to participants. The initiative is an integrative way to acquaint audiences with fishing and foster relationships with like-minded individuals in the community. Tournament organizers recruited local fishing captains or experienced anglers to host the one-day teaching session. Upon completion of the clinic, each participant received an IGFA "Passport."
The clinics taught each youngster the basics of tackle, knot tying, conservation, casting, safety, as well as the importance of protecting and conserving the resources for future generations.

Since its inception, eight government-sponsored tournaments have hosted the Passports to Fishing program. Those include tournaments in Loreto, La Paz, Santa Rosalia, Punta Chivato, Puerto San Carlos, La Ventana, Bahía Asuncion, and Lopez Mateos. In total, that is nearly 500 kids from ages five to fifteen.
In June, participants in the Stars and Stripes Charity Tournament were presented with a complimentary fishing rod. Following the tournament, Graham graciously conducted a casting clinic.
Ethical angling and mindful conservation ensure that fishing has a future. Programs like the IGFA's Passports to Fishing ensure that future generations will continue the tradition.
Thank you to the supporters of IGFA's Teaching 100,000 Kids to Fish Initiative
If you'd like to be involved with this initiative, please contact IGFA Youth Education Manager Lisa Morse at 954-924-4340 or email [email protected].