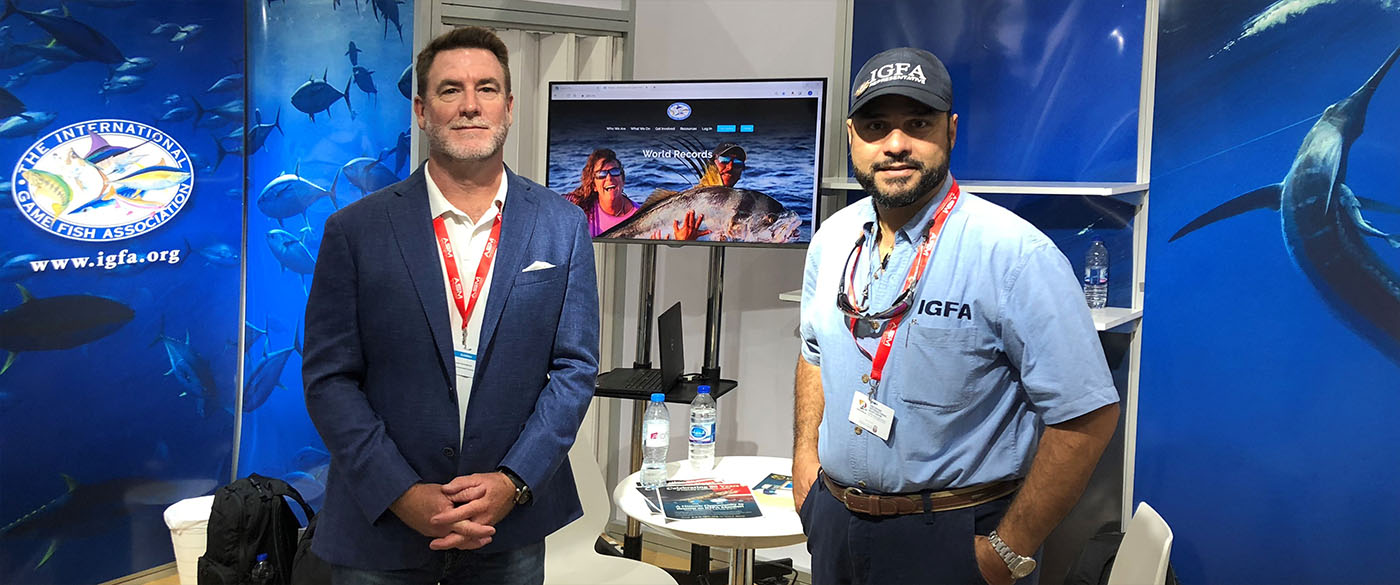 IGFA Acting President Jason Schratwieser with IGFA Rep Ahmed Shaker.
The IGFA recently attended the second annual Abu Dhabi International Boat Show (ADIBS) in an effort to further spread the organization's mission and reach around the world. Thanks to the help of IGFA Representative Greg Heinricks of Abu Dhabi, the IGFA had a strong presence at this exciting event which took place on October 16-19, 2019.

IGFA Marketing Director Jack Vitek talks about IGFA's three-year strategy and conservation initiatives.
In addition to networking with passionate anglers from the region, Jason Schratwieser, IGFA Acting President & Conservation Director and Jack Vitek, IGFA Marketing Director & Chief of Staff, gave numerous seminars on a variety of IGFA-related topics, including the IGFA Great Marlin Race, how to submit and document an IGFA World Record and more.

IGFA Acting President, left photo, congratulates another young angler completing the the IGFA Passports to Fishing clinic. IGFA Rep Ahmed Shaker, right photo, also congratulates a young angler.
Additionally, the IGFA added another country to its growing list of locations where we've helped educate the next generation of anglers! On Friday, October 18, 2019, the IGFA hosted a highly successful Passports to Fishing clinic during the ADIBS, which attracted dozens of young, enthusiastic anglers.
The IGFA would like to thank everyone who helped make this such a productive visit, including IGFA Representative Greg Heinricks of Abu Dhabi, IGFA Representative Ahmed Shaker of Saudi Arabia and IGFA Member Greg Tordjeman of France.