IGFA Representative Jan Forszpaniak
Jan Forszpaniak is a man of many talents. The IGFA is lucky he shares many of them with the organization.
Jan has fished and interfaced with nature from a young age. While growing up on his grandparent's ranch in Poland, he helped raise fish. Family members joked that he was "half-fish, half-surgeon," fitting for the boy who would become a specialized cancer surgeon and avid outdoorsman.
Growing up in post-WWII Poland, Jan witnessed increasing environmental pollution. "I remember millions of dead fish floating in the rivers due to a massive release of chemicals by negligent factories. I knew this needed to stop," said Jan.
Luckily, his father, an environmentalist and legislator, imposed hefty fines and prison time for some of the individuals responsible for the pollution.
Half Surgeon, Half Fish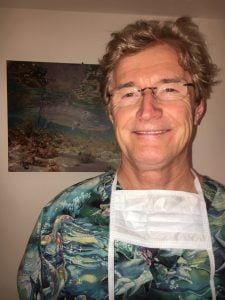 Though Jan pursued hobbies like music, language (he speaks a dozen languages) ichthyology and biology, the art of surgery took center stage. After graduating from medical school and completing a surgical specialty, he immigrated to New York and completed his second surgical specialty in some lauded New York hospitals.
He invented new surgical instruments and procedures for the treatment of breast cancer, provided consultation to scientists, published various scientific papers, and taught medical students. In 2006, he served as Vice Chairman of the Physicians Advisory Board under US President George W. Bush.
"At that time, I had very little free time for my family and none to fish," he said. After completing the cancer research program, he relocated to the Florida Keys, where he spent two years working as a surgeon.
Education-Minded
"Back in the late '80s," he says, "many recreational anglers saw increased damage to the ecosystem in the Keys." Pollution was a big issue, as was reef bleaching, seagrass loss, and the decline in bonefish populations. The last item hit Jan hard; bonefish are his favorite species to catch.
While living in the Keys, he became passionate about saltwater fishing, a new side of the sport to him. "All I know about saltwater fishing," says Jan, "is what I have learned from top professional captains, guides, and because of my insatiable drive for improving my fishing skills."
He settled in Naples, Florida, and opened a state-of-the-art breast cancer center. "I remember days after leaving the operating room late, at 5 am exhausted. But I could still grab my fly rod and go to the beach to fish before going back to the operating room at 6:30."
No Slowing Down
"Anyone who is driven, committed, and passionate about what he loves can always find the time," says Jan. He currently holds around 80 IGFA World Records and found them challenging to achieve. "I pushed myself to the limits while staying busy, and because I was able to fish only during the off-season when things were slower."
Since retiring in 2018, Jan has become more active as a representative participating in fishing clinics for children and educational activities. "I am very proud, privileged, and honored to represent IGFA as a lifetime member, ambassador, and international representative," says Jan.
"Frequent travel to remote locations has opened my eyes to illegal overfishing and destructive exploitation of oceans. I better understand the importance of IGFA conservation efforts."
During trips, he meets with locals, captains, and governmental authorities. But one thing is always the same. "Whichever country I visit, I always spread the IGFA message and encourage people to join our organization," says Jan.
Avid Traveler
In the last few years, he's made trips to Siberia, Russia, South Africa, Zambia, Papua New Guinea, Gilbert's Archipelago, Christmas Island, the Cook Islands, French Polynesia, New Caledonia, and Turks and Caicos. Turks and Caicos is a frequent trip for him: it's an ideal spot to fish his beloved bonefish.
"In the United States, we are fortunate to have environmental organizations to address issues. In remote territories, these are rare," he said. The language barrier can be difficult, so before traveling, he creates a pocket dictionary with essential words and phrases in native languages.
"Locals have more respect to you if you at least try to say even a few words in their languages," Jan says. "Besides, I love to learn."
Continuing Contributions
In the past years, he has contributed to scientific research on bonefish by collecting hundreds of fin samples in different locations. The research and genetic studies were conducted by Florida Fish and Wildlife Institute in collaboration with the Bonefish and Tarpon Trust, which led to the identification of five new species of bonefish.
With the help of his wife Joanna, who works for the Florida Conservancy and holds few records herself, Jan is planning to establish Youth Fishing and Educational Center in Naples, Florida. "The IGFA has helped me to understand better the importance of protecting declining fisheries and how crucial it is to educate younger generations about angling ethics and conservation," he says.
Also, with the guidance of the IGFA, he plans to organize fishing camps and promote Passports to Fishing programs. Additionally, he is also collecting materials for his future book about bonefish behavior and cookbook. "Now, since I am retired, I expected to have more free time, but actually, it is just the opposite. And I have a vital mission: to help promote IGFA goals and its presence around the globe."