Tommy Gifford Awards Wrap Up
Presented by Smith-Merritt Insurance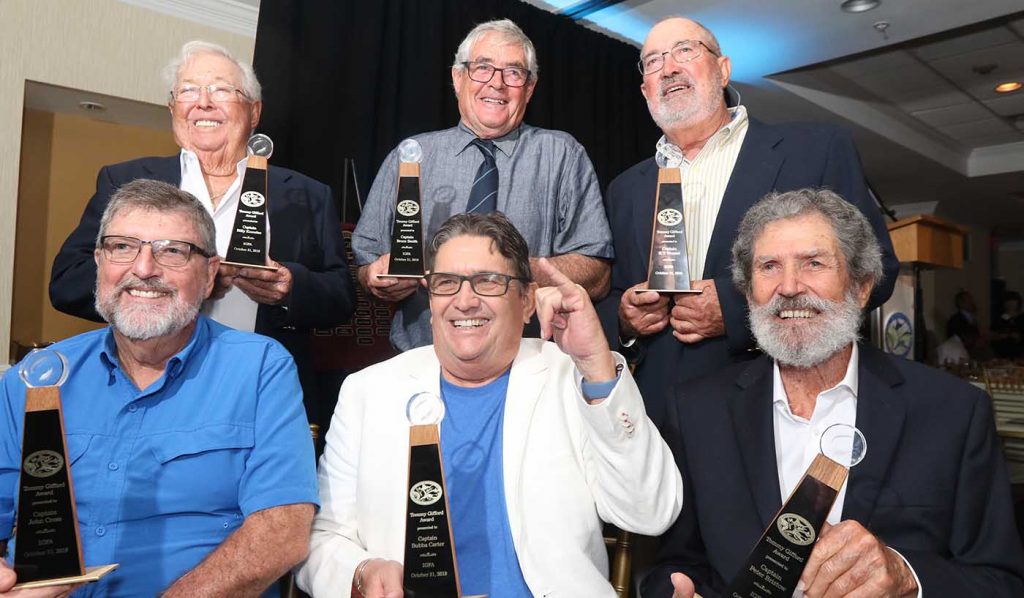 On October 31, 2019, The International Game Fish Association (IGFA) hosted the Annual Tommy Gifford Awards Ceremony at the Riverside Hotel in Fort Lauderdale, Florida. Sponsored by Smith-Merritt Insurance, the event honored outstanding captains and crew members who have made significant contributions to sport fishing. The sold-out ceremony took place during the 60th Annual Fort Lauderdale International Boat Show.
The 2019 recipients were selected by the IGFA Legendary Captains and Crew Committee, a distinguished panel of internationally renowned captains and mates chaired by Captain Skip Smith. "It is such an honor to be able to recognize these captains, guides, and crew members from around the world every year," said IGFA Legendary Captains and Crew Chairman Skip Smith. "We need to keep this history alive and honor the contributions these greats have made to our sport."
The 2019 honorees are Captain Peter Bristow, Captain Bubba Carter, Captain John Cross, Captain Billy Knowles, Captain Bruce Smith, and Captain R.T. Trosset.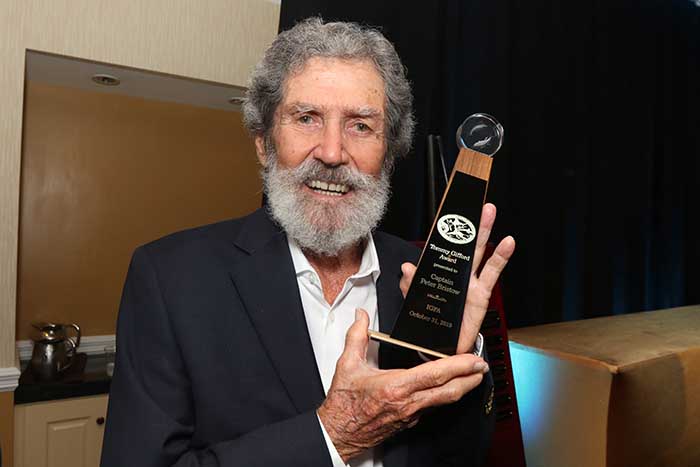 Captain Peter Bristow
Born in Brisbane, Queensland, in July 1938, Peter Bristow has long been a famous figure in local and international game fishing circles. In 1968 he moved to Cairns, Australia, to begin work on big game fishing vessels. The following year, he built the Avalon, a 38-foot sportfishing boat and operated out of Cairns for 23 years. He is credited as being one of the early pioneers that established Cairns as the world's epicenter for giant black marlin. In 1996, Peter turned his sights to blue marlin in the Atlantic and began a successful charter operation in Madeira, Portugal, fishing on the Katherine B that continues today.
_____________________________________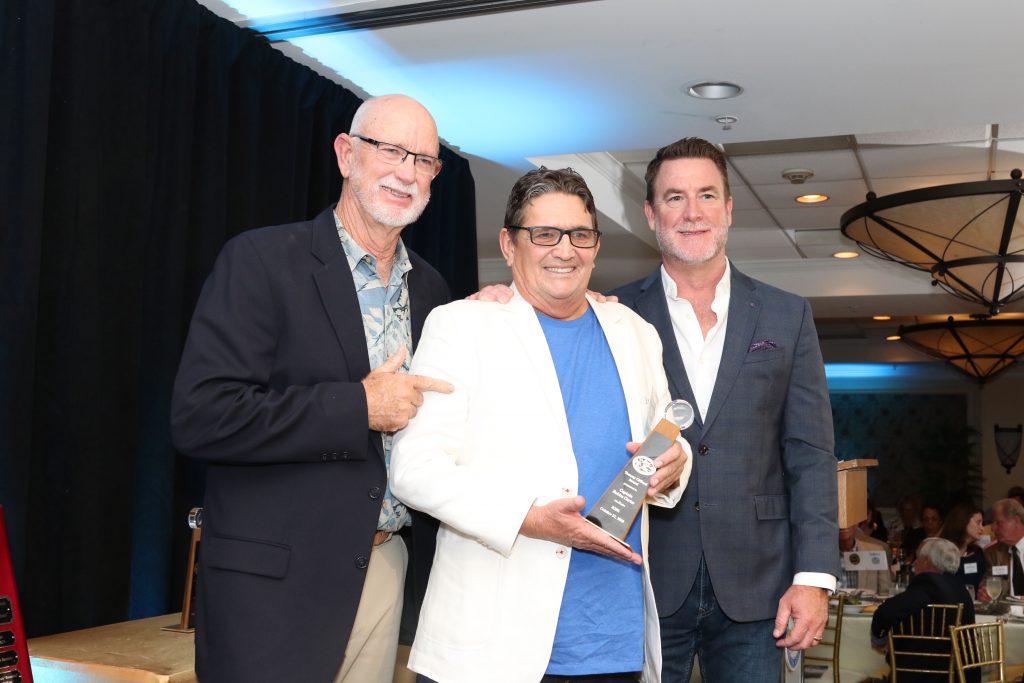 Captain Bubba Carter
South Carolina native Bubba Carter first fished offshore at the age of six and received his captains license two days after turning 18. He has been a prominent figure in destinations including Cairns, St. Thomas, Isla Mujeres, Venezuela, and Costa Rica. He has released over 20,000 billfish, caught 11 over 1,000 pounds and has several IGFA World Records to his credit. Today, Carter is based out of Los Suenos, Costa Rica, where he captains the Tijereta.
_____________________________________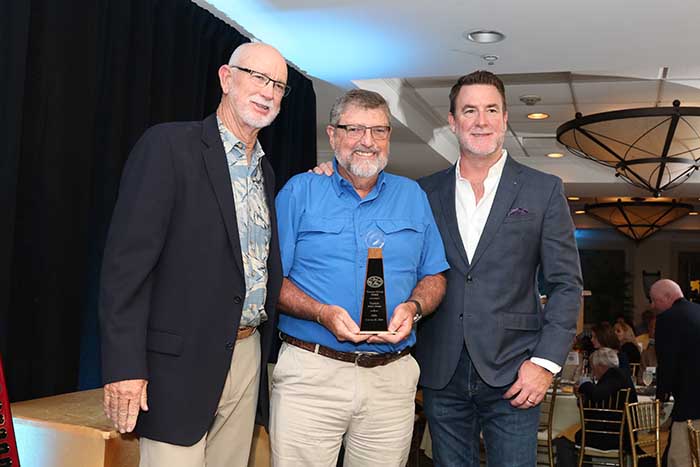 Captain John Cross
Born in Australia in 1954, John Cross moved to Cairns and established a charter operation with his brother. Among other accolades, he is credited with pioneering the popper fishery for giant trevally on the Great Barrier Reef. Cross relocated to Papua New Guinea in 1991 and began exploring its inshore and offshore waters. He later served as the President of the Game Fishing Association of Papua New Guinea from 1996-1998, where he brought the club into the modern age.
_____________________________________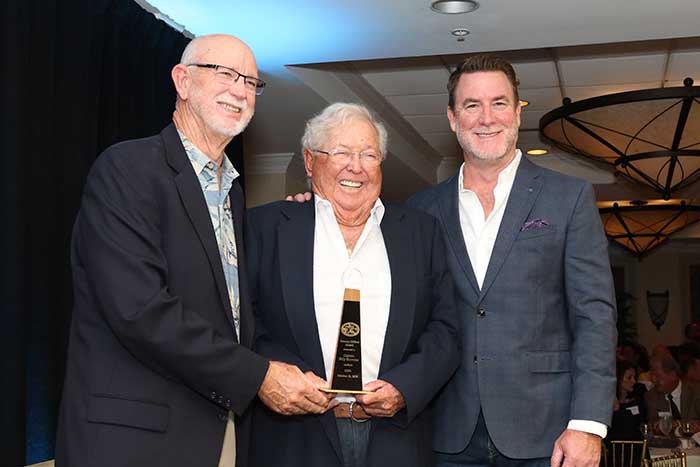 Captain Billy Knowles
Billy Knowles is a fourth generation captain and one of the best-known names in the Florida Keys. He received his captain's license in 1961 and the list of notable people he has fished includes the likes of Ernest Hemingway, Grace Kelly, President George H.W. Bush, President Herbert Hoover and Ted Williams. Knowles has dozens of tournament victories to his credit including the Gold Cup Invitational Tarpon Tournament, Don Hawley Tarpon Tournament, Spring Fly Bonefish Tournament and Fall All-Tackle Bonefish Tournament. He still is actively guiding clients in the Florida Keys at the age of 78.
_____________________________________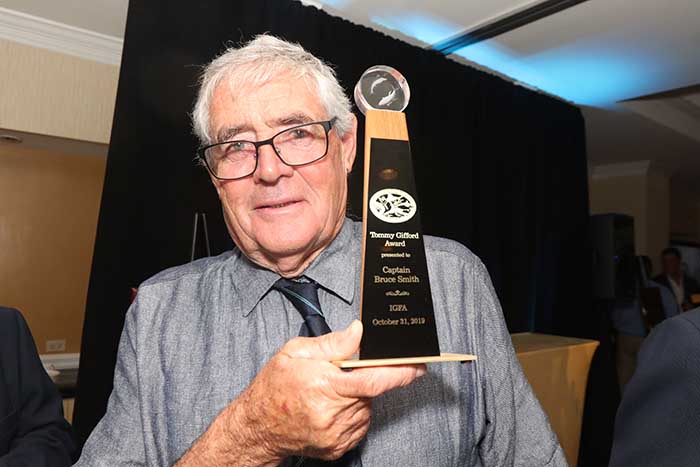 Captain Bruce Smith
Bruce Smith came to the Bay of Islands, New Zealand, in 1977 with the idea of working for a few weeks as a deck hand, but never left. Smith honed his craft under the mentor-ship of Tommy Gifford Awardee Snooks Fuller on the Lady Doreen, which he later went on to captain himself. He is well-known as an accomplished billfish captain in New Zealand's waters and helped pioneer its swordfish fishery. He later became the President of the prestigious Bay of Islands Swordfish Club.
_____________________________________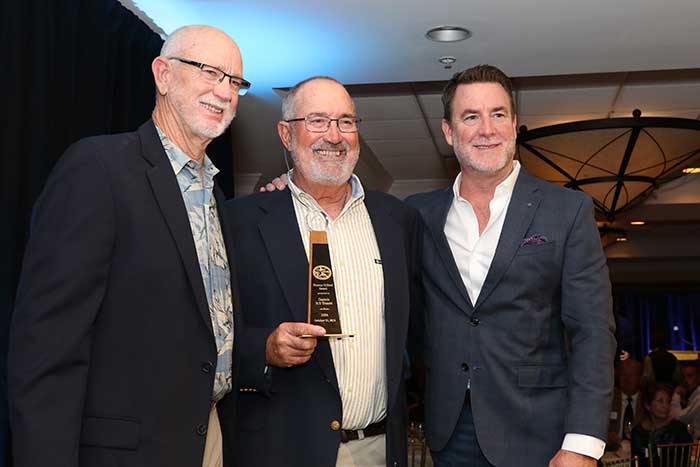 Captain R.T. Trosset
R.T. Trosset has been guiding anglers to scores of IGFA World Records catches in the Florida Keys for more than four decades. Trosset excels in fishing with conventional and fly tackle and is a master at catching everything from tarpon to tuna. His client list is impressive and not only consists of notable IGFA World Record holders such as Dotty Ballantyne and Gene DuVal, but also prominent figures including Andy Mill, Don Shula and Dick Butkus. During the height of his career, Trosset was booked as many as 285 days a year, and he still guides anglers to "the fish of their lifetime" 130 days a year.
About Smith-Merritt Insurance: SMI agents possess the experience and skills needed to identify the appropriate coverage for each risk. With 50+ years of combined marine insurance expertise, SMI is second to none. http://www.smithmerritt.com