The IGFA Holiday Gift Guide for inshore, offshore, and just about any other shore.
We asked some fishing enthusiasts about the products they wanted. Here's what they came up with.
Costa Diego Sunglasses

Costa® Sunglasses' most advanced sport performance sunglasses yet. Diego features an innovative vented spring hinge system to maximize airflow and enhance fit, plus sweat management channels that wick away moisture to cool and ensure all day comfort. Diego includes flexible, strap ready temple tips, and top and side shield details to eliminate light leak. Paired with coloring enhancing polarized 580 lenses that provide 100% UV protection, Diego is the next evolution in performance sunglasses. With a name inspired by San Diego, one of our favorite places to fish, Diego will stop at nothing to keep you out on the water longer whether you're chasing yellowtail or bluefin.
To learn more please visit here.
Support the Bahamas by Wearing the Costa #OneCoast Short Sleeve Shirt

All proceeds from your purchase of the Costa Sunglasses #OneCoast Bahamas T-Shirt will go directly to the IGFA's Worldwide Anglers Relief Fund to benefit the victims of Hurricane Dorian in the Bahamas.
To buy your shirt please visit here.
IGFA/PELAGIC Conservation Collaboration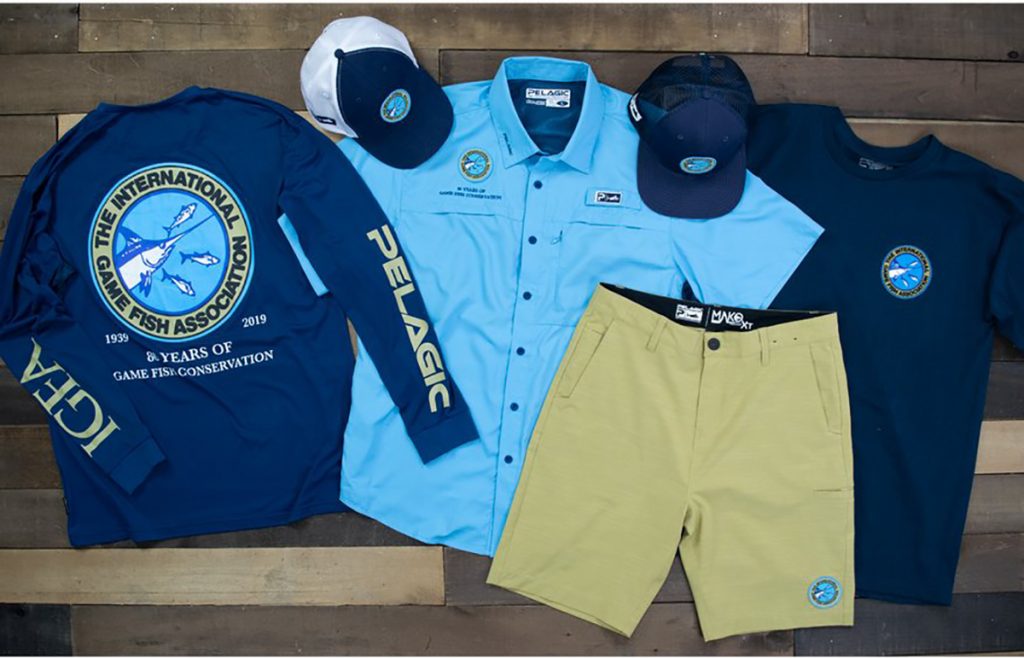 In celebration of IGFA's 80th Anniversary, PELAGIC has partnered with IGFA to introduce a limited edition line of high-performance apparel products. The Conservation Collaboration celebrates the rich heritage of sport fishing while encouraging the importance of respecting our oceans for future generations to enjoy. For each product purchased, a portion of the proceeds will be directly donated to support the IGFA's outstanding work in the field of game fish conservation.
To view all the items please visit here.
Bodo Muche Perpetual Trophies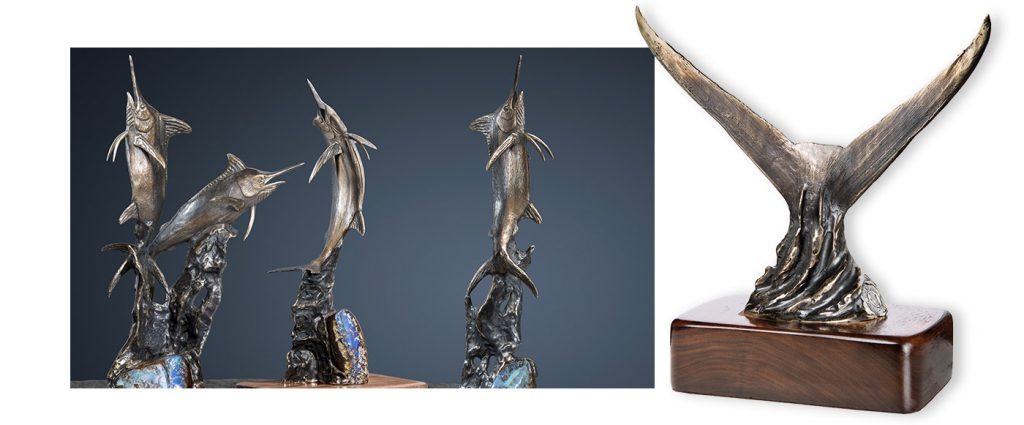 Bodo Muche Studio Foundry has been proudly been associated with IGFA and creating game fish sculptures and trophies for over 20 years. Robyn Muche, Carley Muche Walker and Tania Muche carry on the tradition of the family's studio in honor of their late husband and father, master sculptor Bodo Muche.
In addition to existing Bodo Muche editions, new works have been in progress including including the Marlin Tail design for the Bodo Muche Perpetual Trophy for Champion Junior Angler Overall, with matching individual trophies. The large perpetual trophy in stainless steel features a stunning Australian opal, stands on a double base of American walnut while the smaller individual trophy is in bronze.
Bodo Muche Studio also presents the recent Blue & White Marlin trophy editions in bronze featuring brilliant blue Australian opal.
Contact Robyn Muche by email [email protected] or phone + 61 427739420 or please visit their website here.
Landmark New Book Focuses on Women Anglers, Including IGFA Stars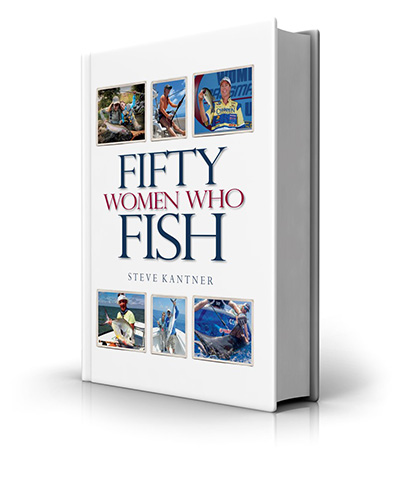 Florida angler Steve Kantner spent two full years interviewing dedicated women anglers for Fifty Women Who Fish –published by Wild River Press.
The International Game Fish Association plays a central role in Kantner's narrative, from pioneers like scientist Francesca Lamonte, through the extraordinary adventures of Sara Farrington, Helen Lerner, Gene DuVal, Kay Rybovich, and Helen Robinson.
Kantner sought out a wide range of ladies who fish for every conceivable species. They fish out of multi-million dollar sport fishing boats to kayaks from oceans to lakes. All are passionate, each story is unique, and their accomplishments are inspiring
Fifty Women Who Fish is a large-format hardcover production of more than 300 pages with hundreds of color photos.
To order your copy go to: www.whywomenfish.com or telephone Wild River Press at 425-486-3638.

YETI SILO 6G Water Cooler

The YETI® Silo® 6G is what a water cooler should be: a hardworking hydration station that keeps water cold for hours, tough enough to take a tumble, and built to deliver more than just drops at a time. With these critical qualities in mind, we called upon the legendary cold-holding power and rotomolded armor of the Tundra® and fused it with an ultra-strong spigot to create a remarkably insulated, quick-to-pour, easy-to-clean powerhouse of a water cooler.

To learn more please visit here.
Organize your Crankbaits with Plano EDGE Crank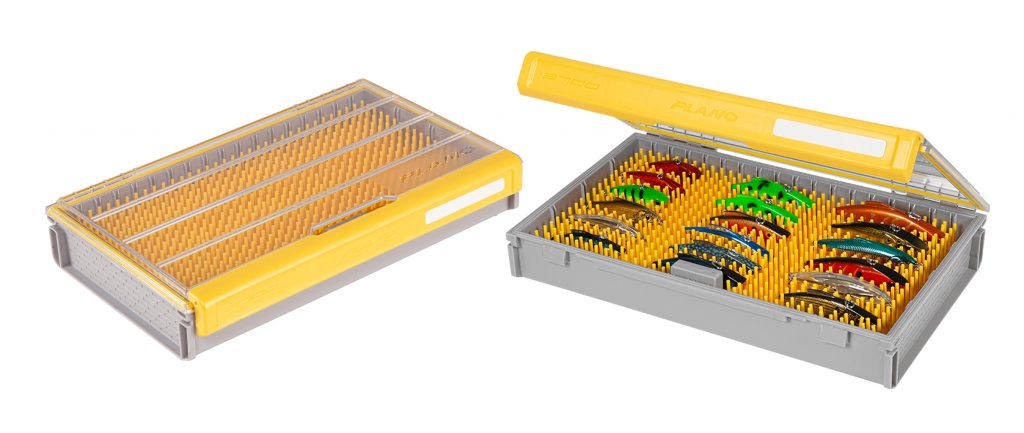 Over two years in the making and countless hours of research and development has led to a tackle storage system that solves every major problem anglers encounter. Every feature on Plano's new EDGE series is part of a well thought-out system to help you be a better angler.
The EDGE™ Crank features the patent-pending Crankbait Catcher™ – a system of silicone pegs that hold crankbaits securely to prevent hook tangles. This is the first crankbait storage solution of its kind and you'll only find it from the fishing experts at Plano! The shallow depth of the EDGE Crank - Small provides the perfect protection for finesse baits, jerk baits and slim-profile lures. Also available in an extra-large size for deep-diving crankbaits.
To learn more about EDGE Crank please visit here.
Rapala BX® Big Brat Crankbait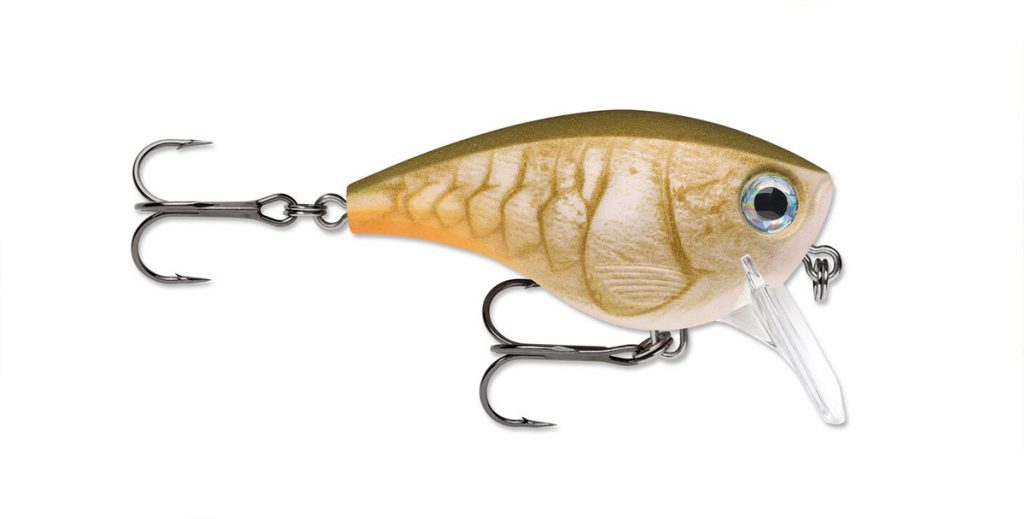 The BX® Big Brat has a balsa wood inner core with an armor coating of rugged copolymer, making it one of the most durable, fish catching square-bill designed lures ever. The body length is 2 3/4 inches and running depths is 6 feet.
To learn more please visit here.
Boat Outfitters YETI Side Mounted Fishing Tackle Unit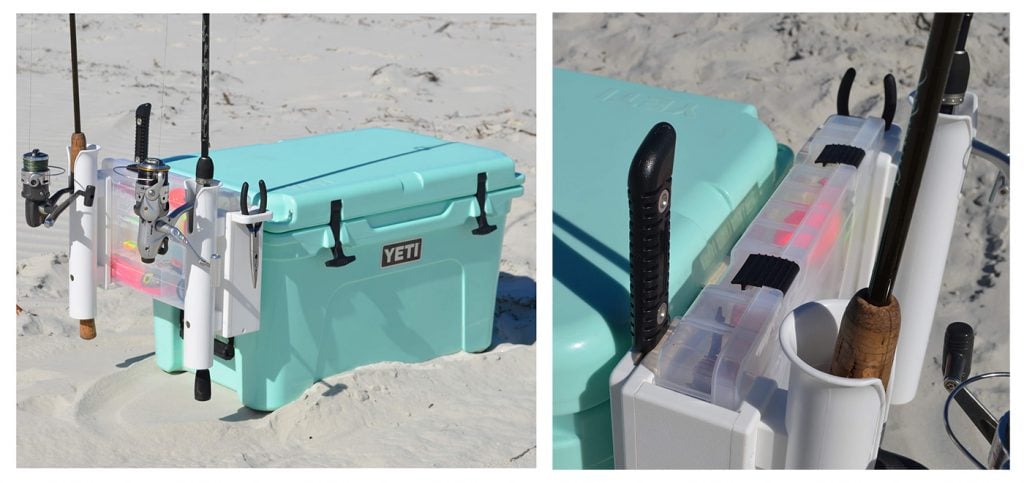 Perfect for beach fishing, paddle board fishing, and boat tackle storage, the Boat Outfitters YETI Side Mounted Fishing Tackle Unit stores one 3700 Plano box, two fishing rods, pliers and a knife. The unit mounts vertically to your YETI cooler without losing your tie-down slot. The dimensions are 16.375" x 12" x 6"
and extends 6" out from cooler at farthest point.
To learn more please visit here.
Halco Slidog 125 Stickbait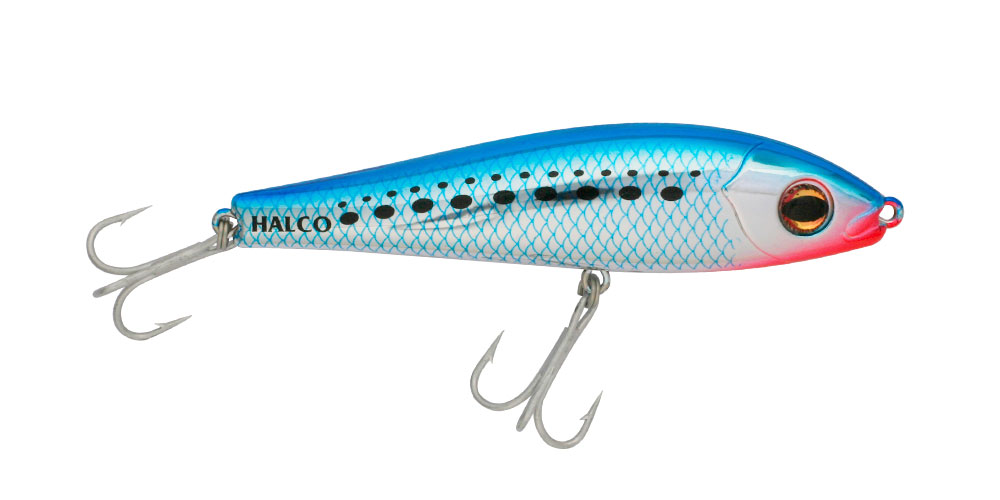 The new Slidog 125 joins the Halco stickbait pack just under the large sized Slidog 150. Featuring the same highly versatile action that attracts beasts from the deep, the 125 is packed into a compact body profile that will be applicable in countless shallow and mid-water situations. The lure is in its element being belted out over bubbling bait schools to entice pelagic species at pace, but is just as deadly being slowly twitched among shallow patch reefs.
To learn more please visit here.
Tibor Adds Lemon Lime & Sunset Orange Color Choices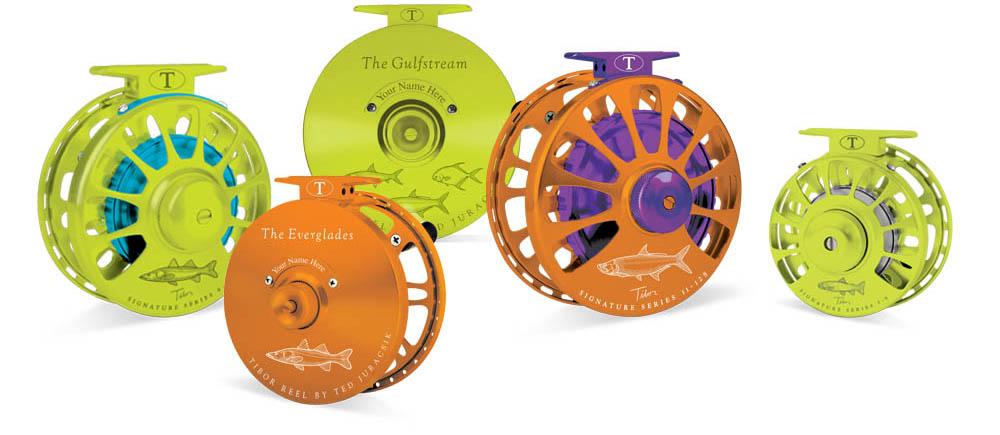 Tibor fly reels, in the relentless pursuit of enhanced design and durability, marches on with the introduction of their latest color choices to the reel line up: lemon lime and sunset orange.
To learn more please visit here.
Mercury Marine 9.9-15hp Pro Kicker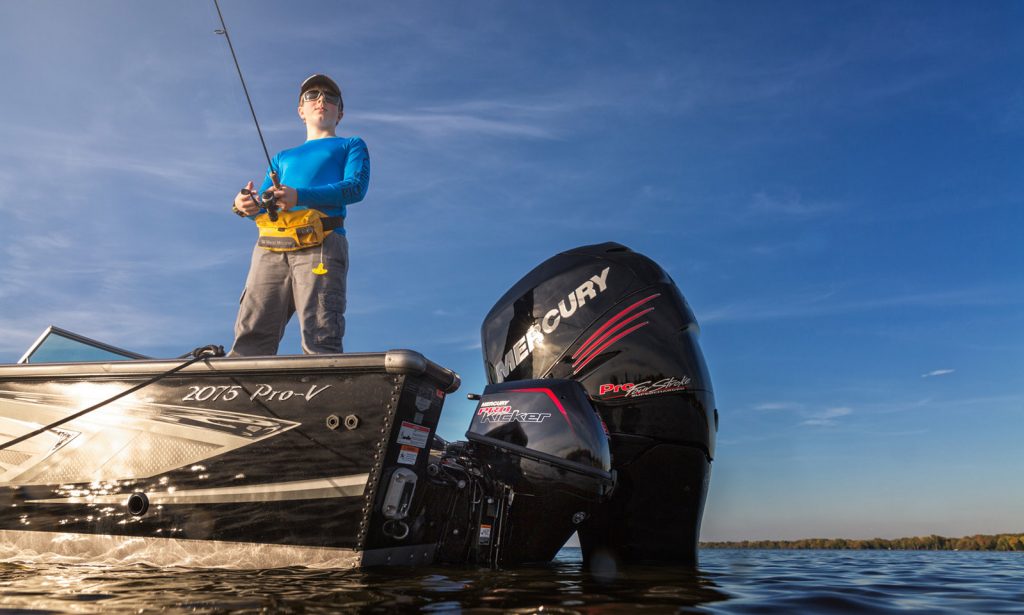 Mercury ProKicker is the world's first portable-outboard tiller that offers ambidextrous operation. These outboard motors deliver superior torque for greater acceleration control, fast, reliable starting and controlled throttle response in all weather. They also have a deep gear-case and four-blade, high-thrust propellers with matching gear ratio for precise trolling control. These motors are made for rugged durability with robust gears and bearings and a heavy-duty skeg. They also feature the fastest power tilt in the industry and are ideal for aluminum, inflatable, utility, and sail boats.
To learn more please visit here.
Boone Kayak Fishing Bags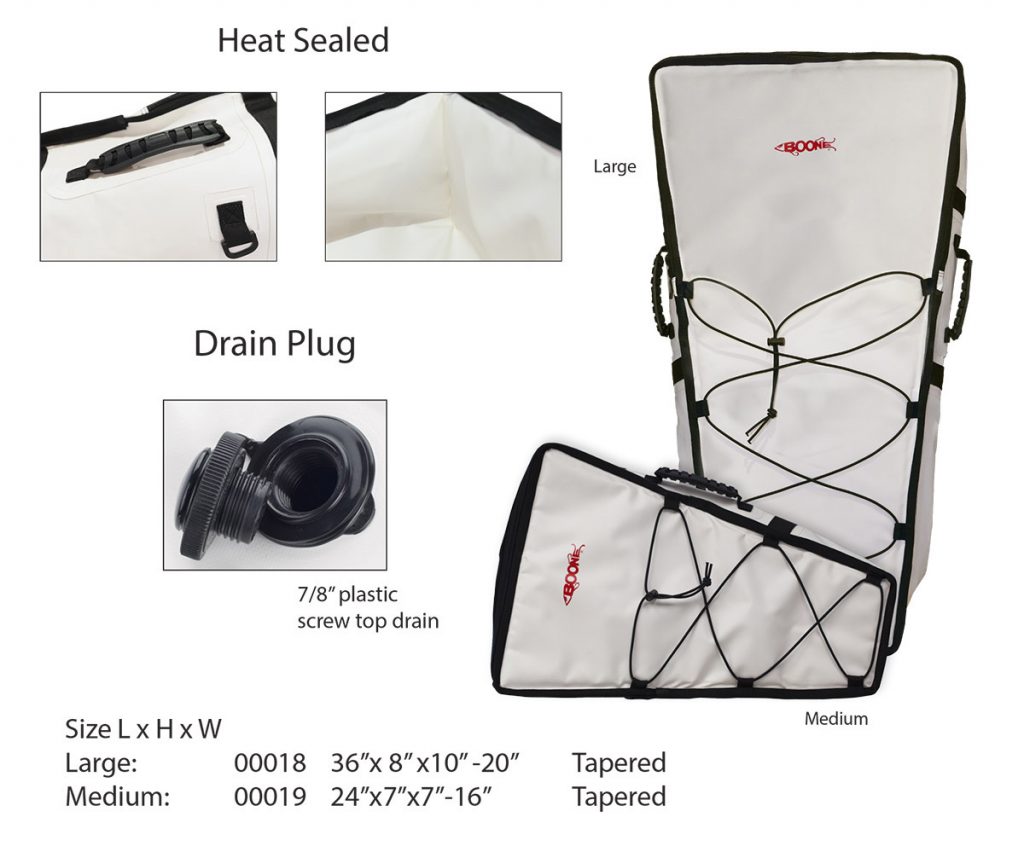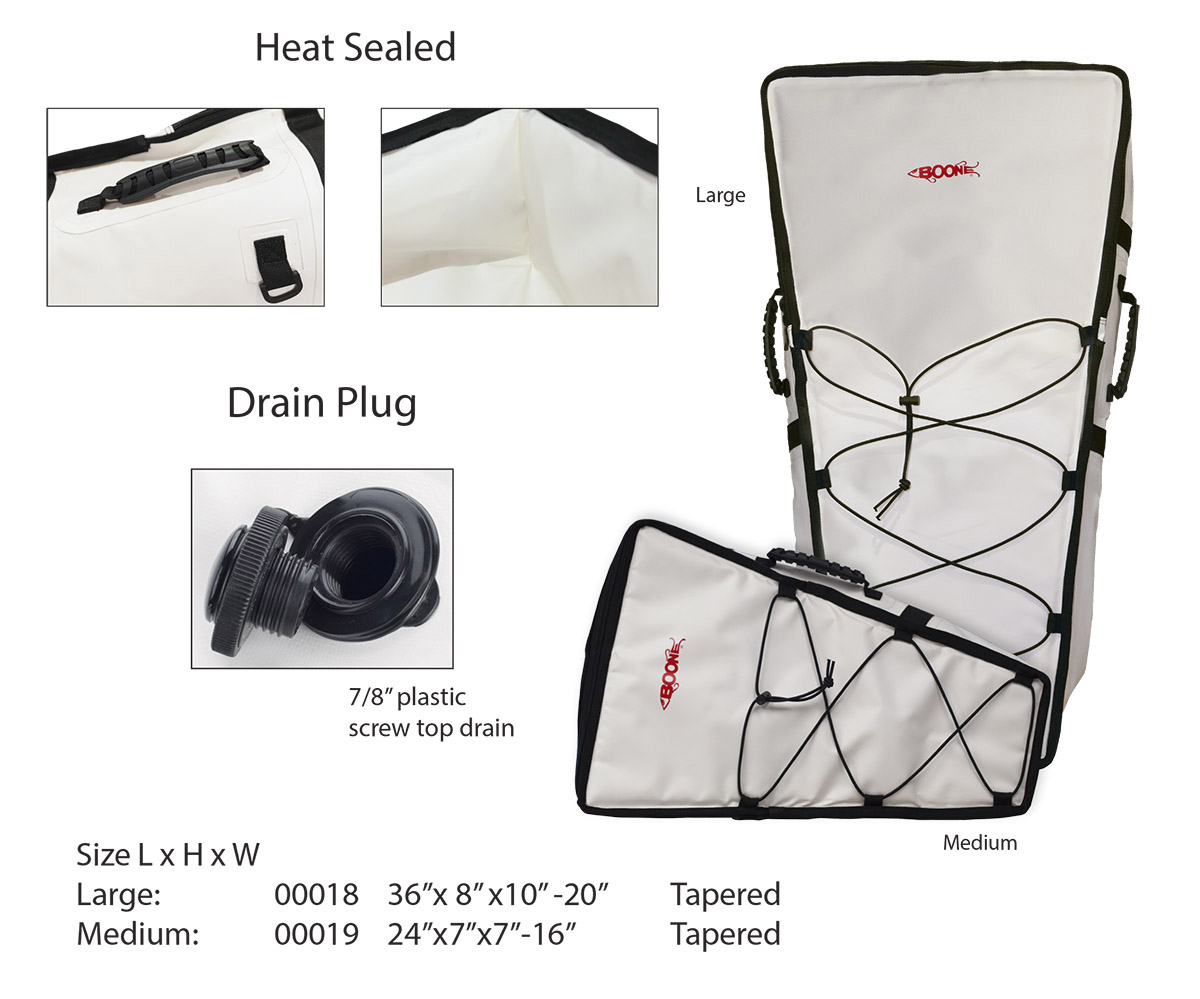 Boone Kayak fish bags are insulated and the only bags on the market that have heat-sealed seams. This prevents brine solution from leaking and contaminating the bags' insulation. The kayak bags are made with six tie downs, two handles, and webbing that are also heat sealed to bags for added strength. The kayak bags have a screw cap drain and the bag material is 1000 denier vinyl with nylon fibers to keep the bags integrity
To learn more please visit here.