IGFA Fishing Hall of Famer Billy Pate's Fly Leader Stretcher Box
IGFA Fishing Hall of Famer Billy Pate was one of the world's foremost big-game fly anglers, and his numerous contributions and innovations to the sport paved the way for modern day saltwater fly fishing.
When Pate passed away in 2011, the IGFA acquired one of his wooden fly leader stretcher boxes with a few of his favorite tarpon flies. The IGFA reached out to Sandy Moret and IGFA Trustee Andy Mill - two icons in the fly fishing world - to learn more about his timeless piece from the IGFA's archives.
"Although they're not used as much these days, Pate and others used boxes like these to stretch and store fly leaders, which helped with minimizing leader curling and coiling," said Sandy Moret, owner of the renowned Florida Keys Outfitters in Islamorada, Florida. "As a dinosaur, I still use a stretcher box and many serious tarpon anglers continue to do so but they are certainly not as common as they once were. I personally find them very convenient in the boat."
"Most anglers are using fluorocarbon for shock or bite tippets these days, which is less prone to coiling than monofilament," continued Moret, "stretching the shock is not needed as much to keep the fluorocarbon leaders straight."
Echoing Moret's insights, Andy Mill also added "many anglers today fishing oceanside for tarpon in the Keys, where Pate did the majority of this fishing, use only 40- or 50-pound shock tippets. These are much easier to straighten than the 80 or 100 pound monofilament shock tippets that were used in the past."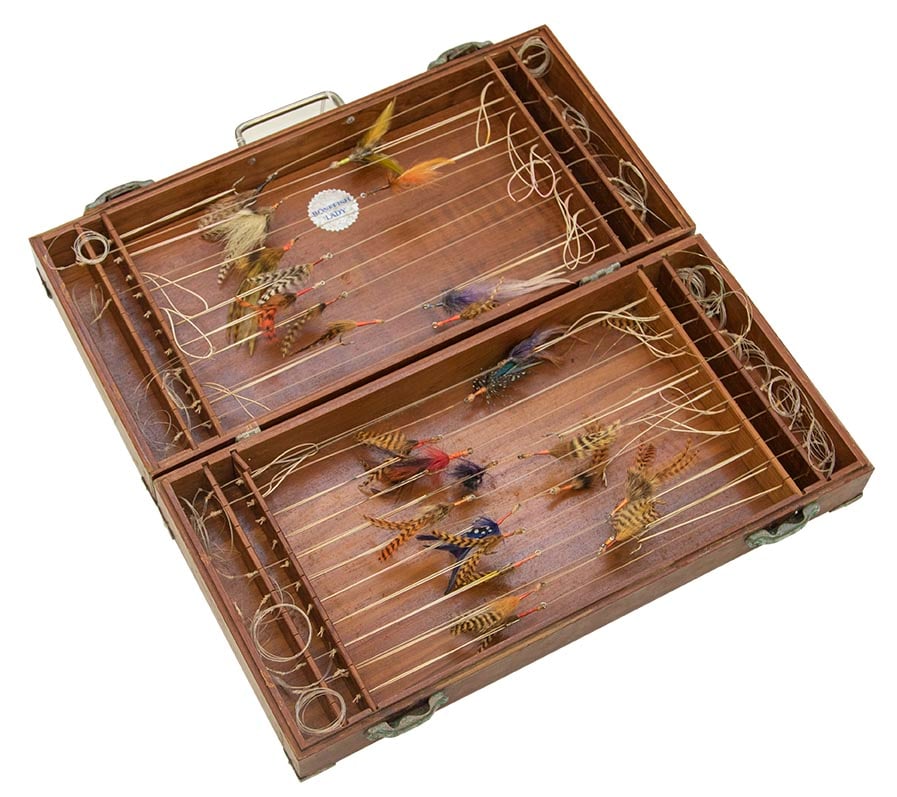 When IGFA Fishing Hall of Famer Billy Pate passed away in 2011, the IGFA acquired one of his wooden fly leader stretcher boxes that is now on permanent display in IGFA's E.K. Harry Library of fishes.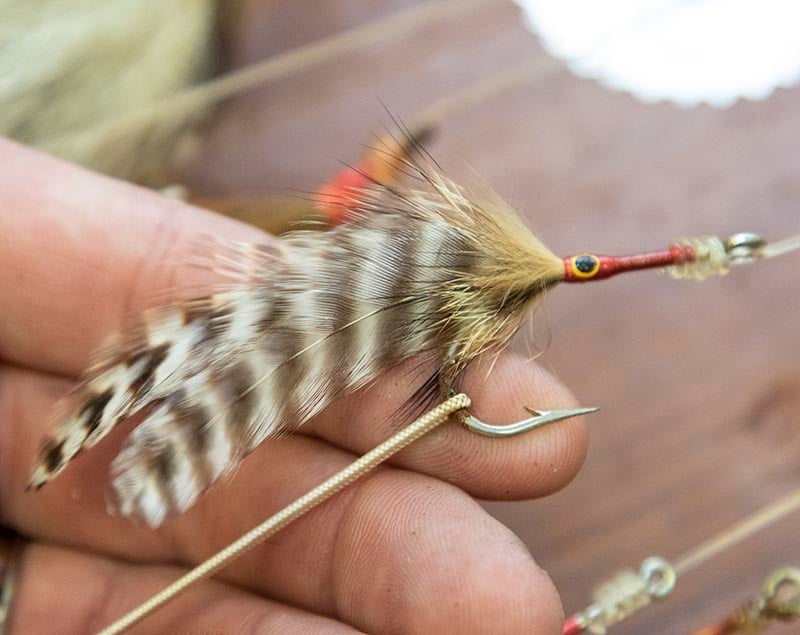 Tarpon flies have gone down is size over the years.
As for the size of the tarpon flies, both Mill and Moret agree that the flies have gone down in size over the years. "Today's hooks are stronger and laser sharpened in sizes 2 up to 2/0, which are the most common sizes for tarpon flies," stated Moret. "When Pate was fishing, tarpon fly anglers needed double thick, super-strong hooks to sustain the pressure exerted in fighting bruiser tarpon. Common sizes were 3/0 and 4/0 with the occasional 5/0, which required much more material to tie a balanced fly."
"Much of the oceanside, clear-water tarpon are more likely to take smaller flies as well," says Moret. "Another change as a result of the shrinking flies and hooks is that 11-weight has become by far the preferred rod/line size over 12-weight," he adds. "The fly line mass required to cast these smaller flies is less, and often the more subtle presentation of a lighter line is preferred."
The IGFA would like to thank both Andy Mill and Sandy Moret for providing valuable insight and additional color on this impressive piece of angling history from the IGFA's archives.
As you see in this photo of Mill's boxes below, many of the current tournament anglers have gravitated from original stretcher boxes to using PVC pipes to contain pre-tied leaders.