Bodo Muche - Naturalist and Master Sculptor - A Retrospective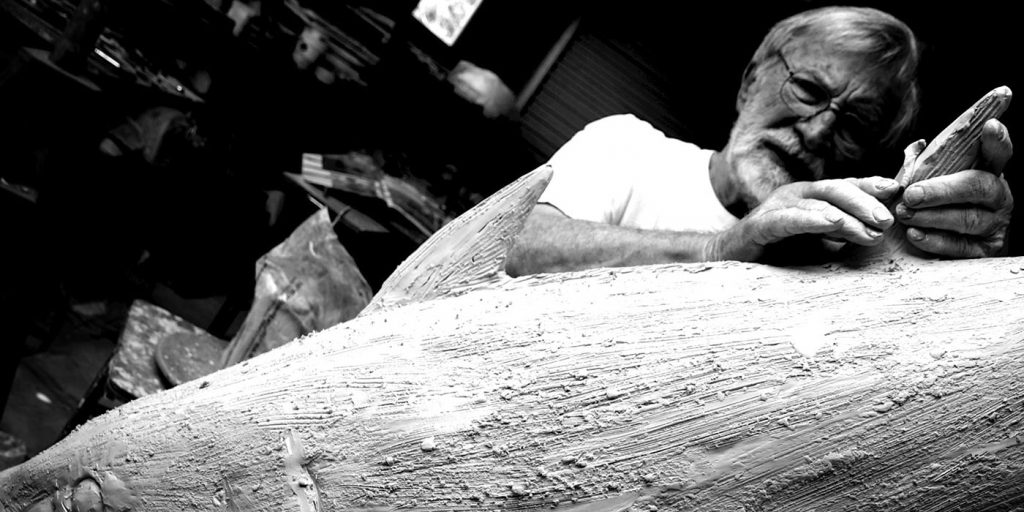 The IGFA and Bodo Muche are of the same vintage, both having started life in 1939.
Born in post-war Germany, his father a renowned entomologist, Australian sculptor Bodo Muche enjoyed a life long passion for classical music, nature and the arts.
Muche was a man of natural confidence, sharp wit, and humor. Throughout his time and travels, he made great friendships with adventurers of similar interests. They explored, hunted, fished, climbed mountains, created masterpieces, worked hard and, of course, played hard. He was a perfectionist, tough, determined, inspiring as well as a loving family man.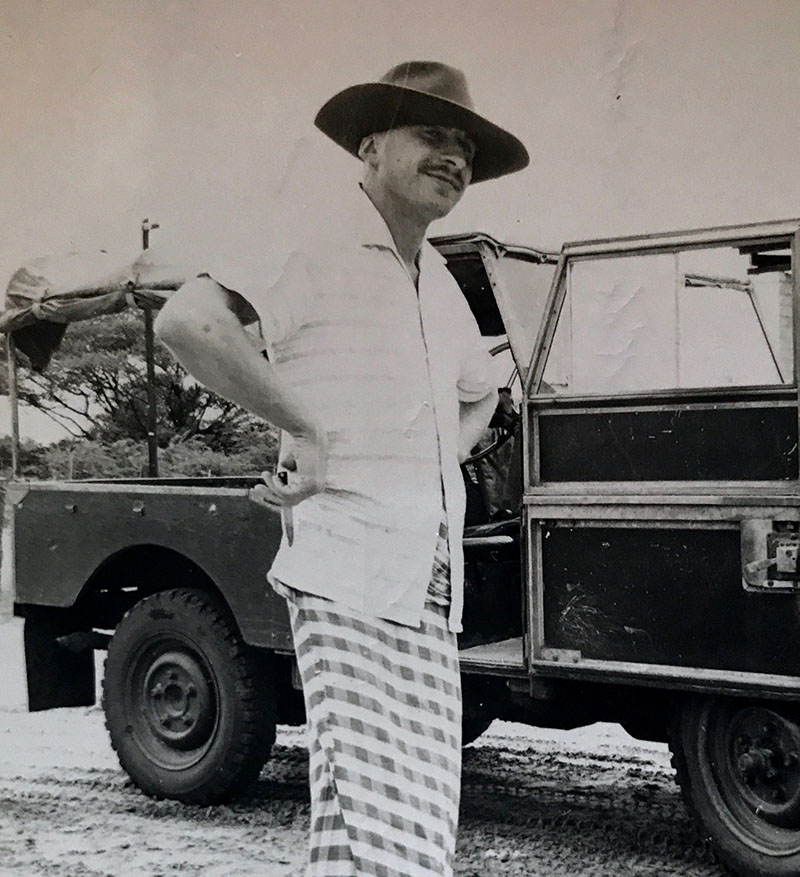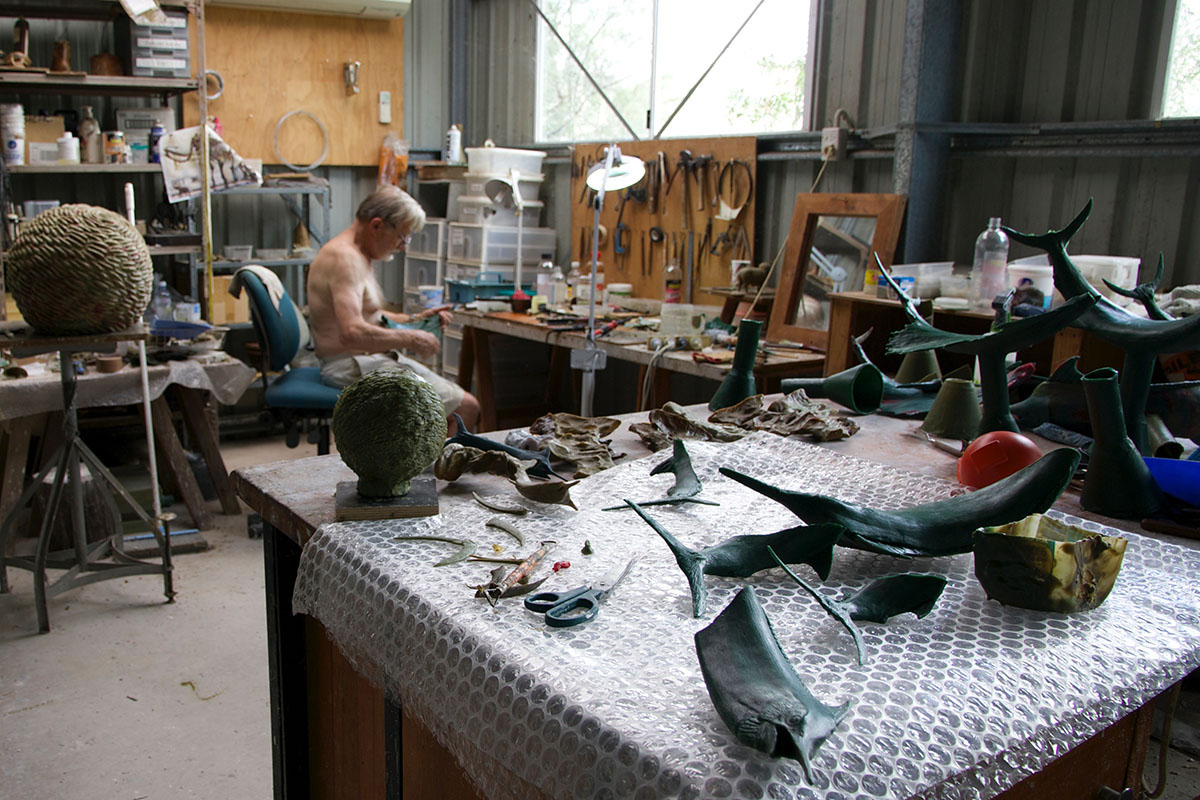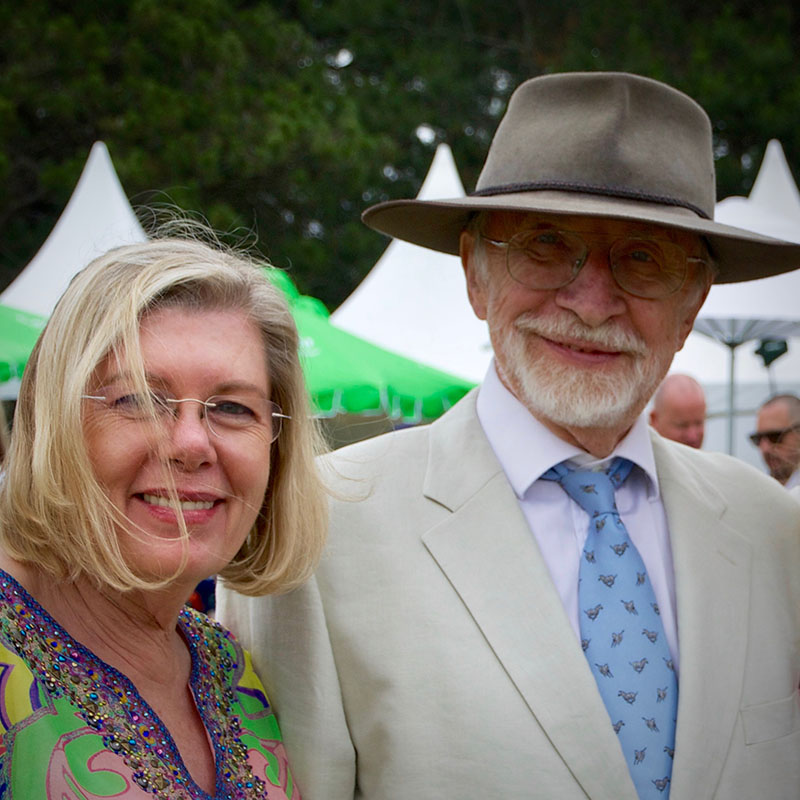 The Bodo Muche Studio - Foundry was established by Bodo and artist wife Robyn Muche in 1978.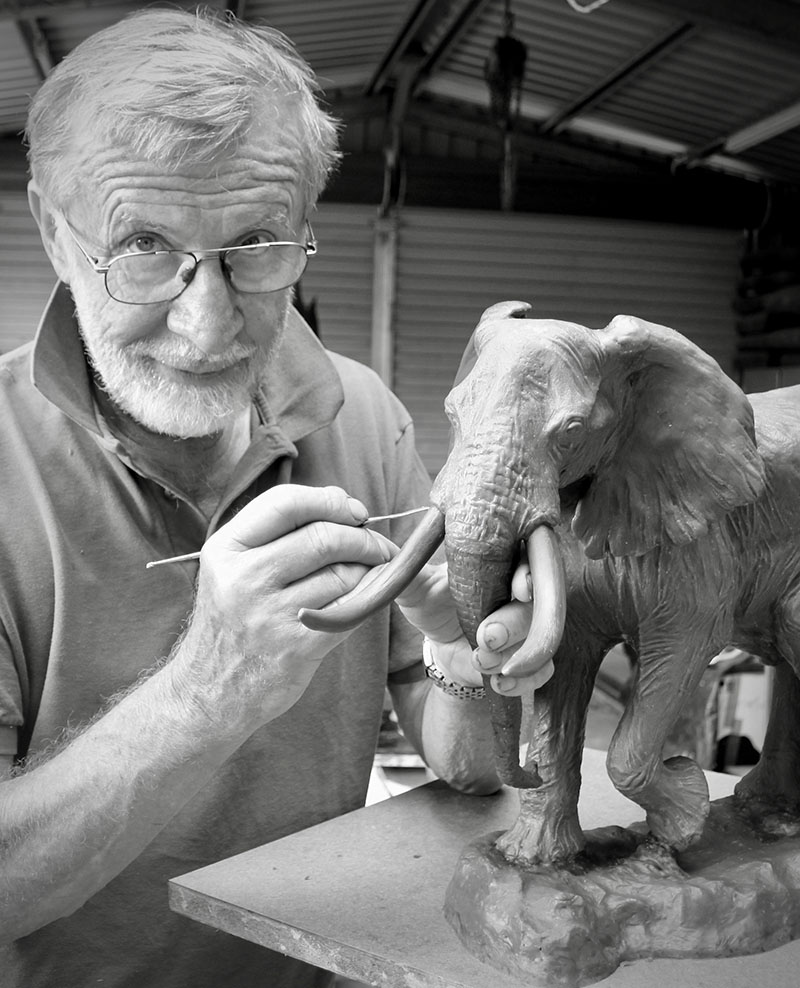 Bodo's education at the Berlin Museum of Natural History included zoology, animal behavior, anatomy, art and design, as well as techniques of modeling and casting. Melding his talent and studies with his passion for the outdoors and seeing the world, the Bodo Muche Studio - Foundry was established by Bodo and artist wife Robyn Muche in 1978. Their idyllic family home and studio based in the Australian bush and his many years of extensive travels formed an integral part of Bodo's development as a contemporary naturalistic sculptor.

2010 IGFA Featured Artist
Bodo's enduring works including the Game Fish series sculptures are found in collections the world over and continue to inspire generations of anglers. Muche's involvement with the IGFA dates back 25 years with his stunning work first taking center-stage at IGFA's l International Auction in 1996. Muche was also the IGFA Featured Artist at IGFA's 2010 Inernational Auction & Banquet at The Breakers Hotel in West Palm Beach, Fl.

IGFA proudly featured Bodo Muche bronze marlin trophies as prizes for the IGFA Offshore World Championships.
For ten years, the IGFA hosted the Offshore World Championship, first in Kona, Hawaii then ultimately in Cabo San Lucas, Mexico. During this time, the IGFA proudly featured Bodo Muche bronze marlin trophies as prizes for the victorious international champions. Though the IGFA Offshore World Championship was not a prize money tournament, winning one of Bodo's trophies signified excellence and a championship well-earned. Dozens of tournaments represented at the Offshore World Championship were eager to upgrade and join the IGFA in celebrating their champions with the unparalleled quality of Bodo Muche's fine art works.
In 2012, IGFA embarked upon a new era in fisheries conservation, the IGFA Great Marlin Race (IGMR). A tournament within a tournament, if you will, the IGMR deploys satellite tags on marlin during world-class billfish tournaments. The goal of which is to learn more about these iconic species and how they utilize their open ocean habitat. The angler that sponsors the tag for the billfish that travels the farthest distance wins the annual IGMR. When the IGFA asked if Bodo could provide trophies for the IGMR winners, there was no hesitation and he created a signature bronze and Australian opal, "Marlin Rising" sculpture for the generous patrons of the IGMR who have helped advance our knowledge of billfish.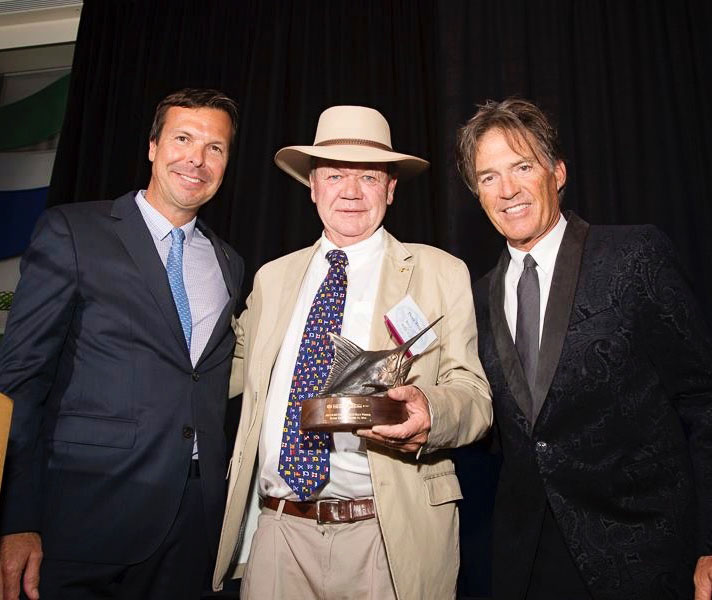 Peter Teakle, winner of the 2015-16 IGFA Great Marlin Race, took home "Marlin Rising" by Bodo Muche.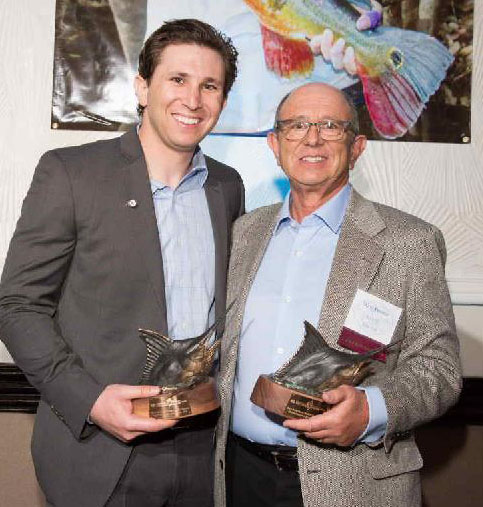 Marty and Mitchell Firestein's tagged blue marlin won the 2013-2014 IGMR and they each took home Muche's "Marlin Rising" sculpture.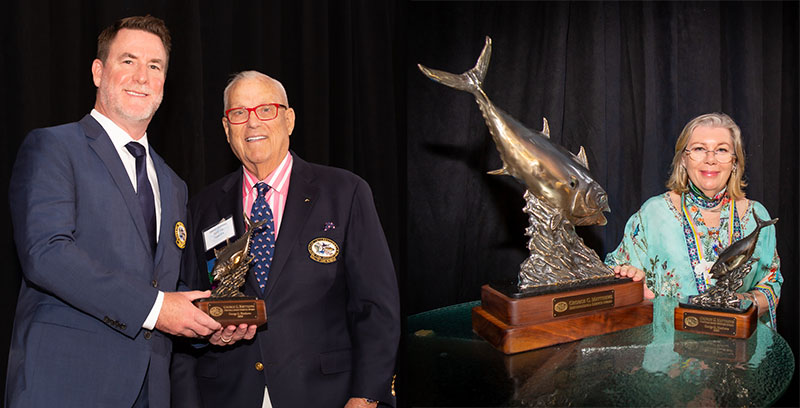 The perpetual George Matthews Distinguished Service Award created by Bodo Muche Studio was presented to George Matthews at the 2020 IGFA International Auction.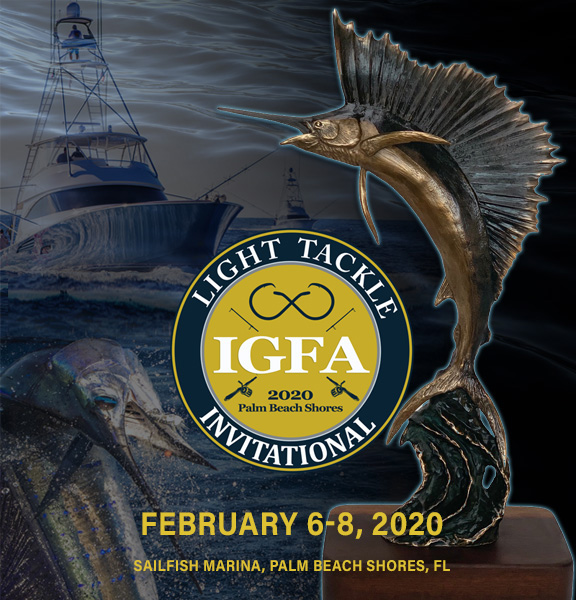 IGFA Light Tackle Invitational perpetual trophy.
Most recently, Bodo's works have been used as the perpetual awards for both the Inaugural George Matthews Distinguished Service Award to George G. Mathews who has stood out for his unparalleled and distinguished service to the organization. Additionally Bodo's large bronze sailfish piece was used to create a perepetual trophy for the Inaugural IGFA Light Tackle Invitational Tournament.

Robyn Muche with IGFA Fishing Hall of Famer Deborah Dunaway.
IGFA Headquarters proudly houses numerous Bodo Muche works, none more impressive than the "IGFA Billfish Royal Slam" sculpture that decorates the IGFA's headquarters lobby and greeting area. This unique piece features the nine billfish that make up the IGFA Royal Slam adorned with opal and granite on walnut. This commission celebrates the catches of Deborah Dunaway who was the only person to catch all nine billfish necessary for the IGFA Billfish Royal Slam that were also IGFA World Records at the time
"The founders of the IGFA laid the cornerstone for the IGFA to be the leader of past, present and future generations of sport anglers to catch fish by fair means and to harvest sensibly," said Muche at his 2010 IGFA Artist of the Year speech.
Sadly, Bodo Muche passed away in late 2017 and is survived by his wife Robyn, daughters Carley and Tania, and grandchildren Saxony, Elsa, and Tasman who continue to carry on Bodo's love of the arts, nature and the outdoors.
"I can vividly remember meeting Bodo for the first time in 2004 during the Offshore World Championship," said IGFA President Jason Schratwieser. "He was an incredibly interesting person that led an amazing life, which he continues to share through his wonderful sculptures."
The IGFA is proud to continue working with the Bodo Muche Studio-Foundry family and display many of his life's works at IGFA Headquarters.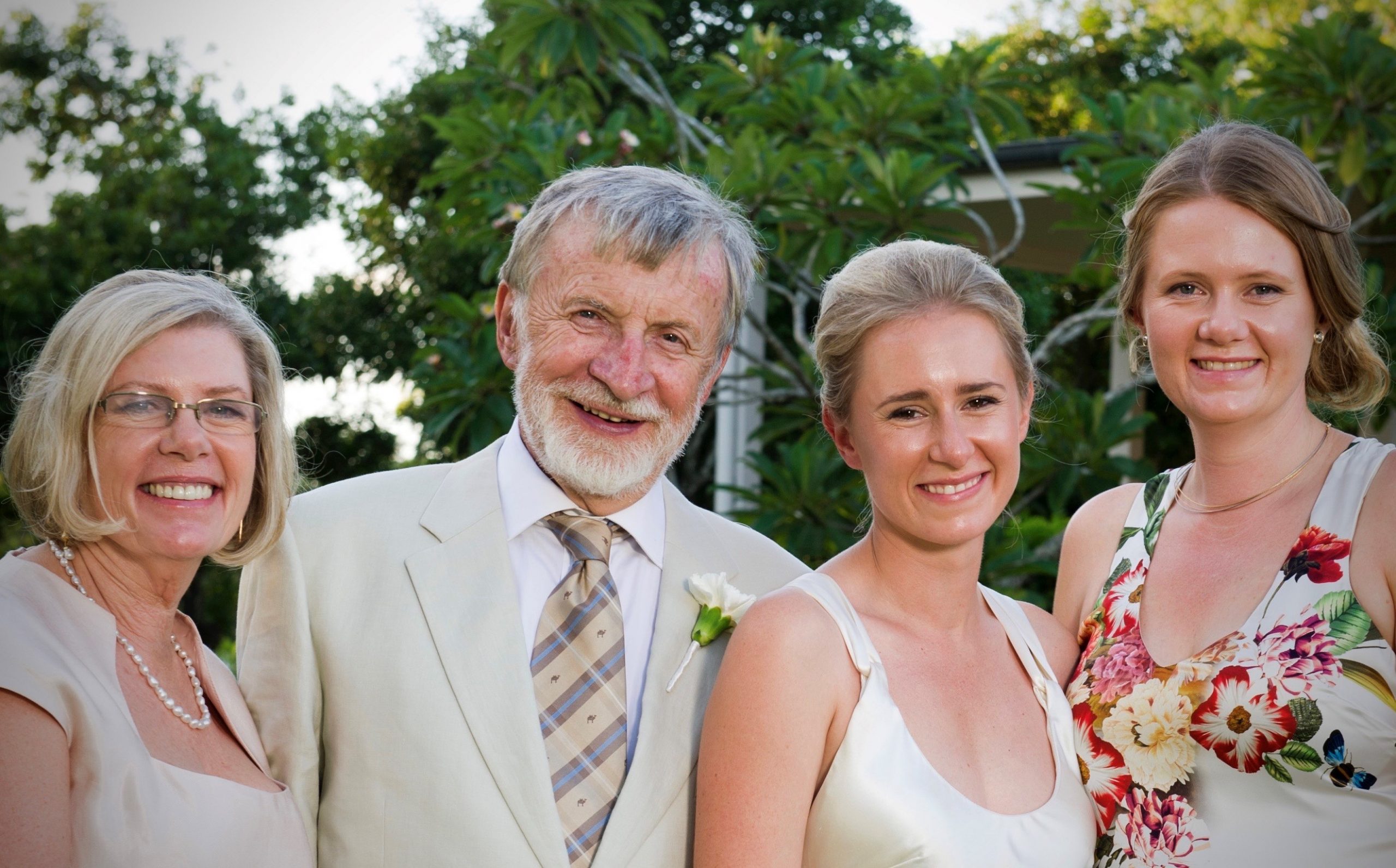 Robyn, Bodo, and daughters Tania and Carley.