The 4th Annual Forage Fish Data Workshop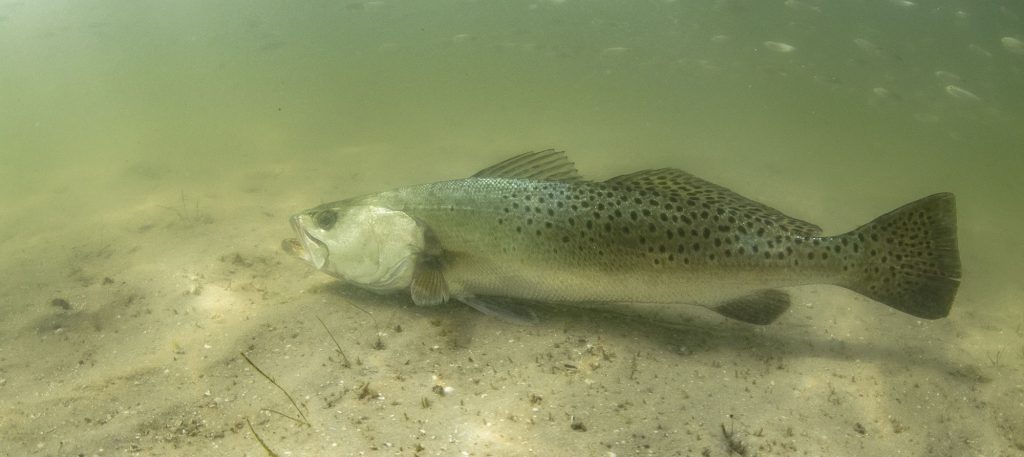 The 4th Annual Forage Fish Data Workshop held on April 27, 2020, via a virtual 4-hour Zoom conference, was a major success. Each year, members of the Florida Forage Fish Coalition (FFFC), led by IGFA, organize a data workshop to disseminate progress made by the Florida Forage Fish Research Program (FFRP) which funds two annual graduate research fellowships. The FFRP fellows seek to answer important questions about forage fish species and their habitats as well as their link to recreationally important game fish such as snook, tarpon, red drum, and seatrout.
IGFA President Jason Schratwieser and Conservation Manager Dr. Bruce Pohlot hosted the workshop along with IGFA Representative Dr. Justin Grubich from Pew Charitable Trusts. This year's virtual workshop had our largest participation to date with 28 attendees including graduate students and academic advisors, past and current Florida Forage Fish Research Program (FFRP) fellows, our partners at Florida Fish and Wildlife Research Institute (FWRI), and members of the Florida Forage Fish Coalition consisting of the American Sportfishing Association, Florida Wildlife Federation and Wild Oceans.
Presentations were given on the background and current status of the Forage Fish Research Program by Schratwieser and Grubich, followed by an update on the Fishery Independent Modeling (FIM) and diet databases as well as current research priorities by Dr. Kevin Thompson from FWRI. Attendees of the workshop were then treated to outstanding presentations by 3rd-year FFRP fellows Dylan Sinnickson, a Ph.D. candidate from the University of Florida, and Michelle Shaffer, a Ph.D. candidate from the University of Central Florida, that presented their research results.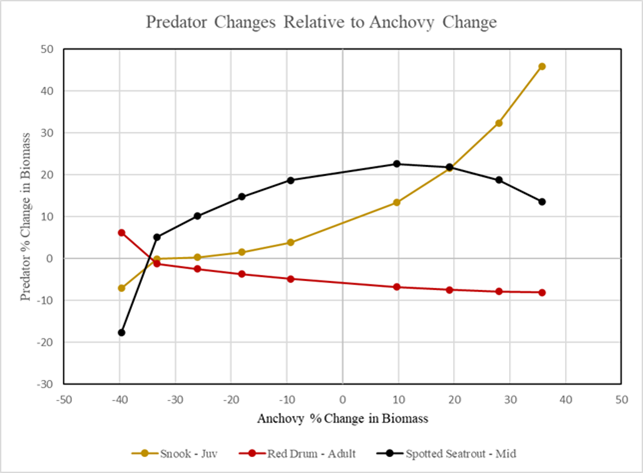 Highlights from Dylan Sinnickson's research include the implementation of complex modeling techniques such as Ecosim with Ecopath and empirical dynamic modeling along with FIM and diet databases to examine the effect of freshwater flow on forage fish and coastal food webs. Dylan used anchovies in the Suwanee River Estuary as a case study and found a variety of important results. He found anchovy productivity and abundance is significantly impacted by changes in flow, particularly very low flow, in the Suwanee Estuary with drought conditions resulting in as much as a 30% decrease in anchovy biomass. Dylan's modeling results revealed previously unknown food web dynamics among popular game fish such as snook and seatrout where snook can outcompete seatrout and eventually switch to predation on young-of-year seatrout when anchovy abundance is high (Figure 1).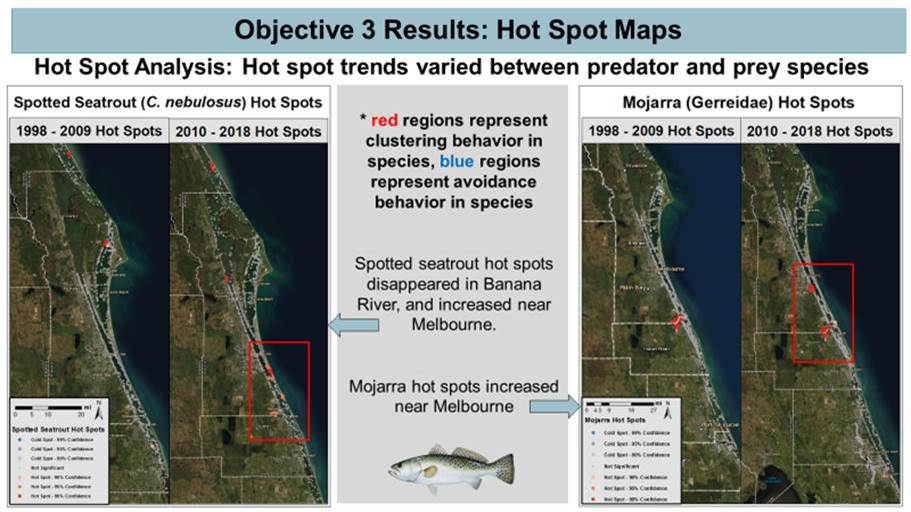 Highlights from Michelle Shaffer's presentation include the use of FWRI's FIM and diet databases to discover the extent of predator and forage fish abundance along with diet overlap among red drum, seatrout, and snook in the Indian River Lagoon. She found that red drum have less diet overlap than spotted seatrout and common snook and that all predators show the capacity to switch between forage species from differing bottom habitats (sand, seagrass, etc.). An especially interesting result for recreational anglers is as seagrass dies off, seatrout switches their diet away from seagrass associated prey such as pinfish to new regions and prey species such as mojarra which associate more with sandy bottoms (Figure 2). Michelle intends to develop an interactive web-based tool to show "Hot Spot Maps" for each species spatial abundance over time, allowing users to track changes and determine drivers of fish abundance.
An important part of the FFRP fellowship program is fostering the next generation of marine conservation scientists by facilitating networking and training opportunities. This endeavor has proven successful and we are excited to announce that previous fellows now find themselves in promising career positions. First-year fellow Meaghan Faletti from the University of South Florida is now an Information Specialist for United States Geological Survey Coastal and Marine Science Centers. First-year fellow Ed Camp from the University of Florida is now an Associate Professor there working on fisheries strategies and management. Second-year fellow Brittany Troast from the University of Central Florida now works as an Ecosystem Assessment Scientist at NOAA/University of Miami RSMAS Cooperative Institute for Marine and Atmospheric Science.
The FFRP Data Workshop concluded with a roundtable discussion where prospective fellows were given the opportunity to ask questions related to future research. The 2020-2021 FFRP fellowships have been funded and 2 new fellows will be chosen to begin their fellowships in June 2020. We expect FFRP fellowship research to continue to produce high-quality science that improves the ability to manage both forage species as well as their associated predators.