Newly Approved Slam & Trophy Fish Clubs
To see all newly approved IGFA Slams & Trophy Fish clubs since May, 2020 please view this PDF.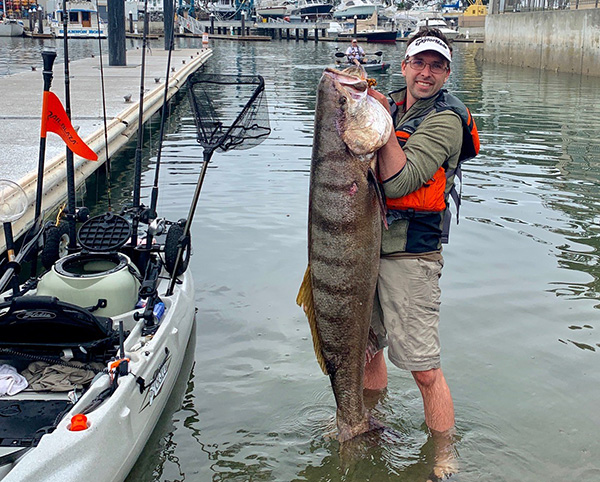 Beam's Trophy White Seabass
On May 9th, 2020, Brian Beam ventured offshore of Dana Point, California, on his Hobie Outback kayak and dropped down a live sardine to a school of fish he found on his fish finder. After a few minutes, he hooked up to a monster fish that towed him around for over an hour! When the huge white seabass finally came to the surface, he knew it was truly a special catch. Although Brian could not locate an accurate or certified scale, it weighed between 77-85 pounds on his bathroom scale and was likely close to an IGFA World Record. The catch became the first entry into the newly created IGFA Trophy White Seabass Club and was entered at 59-inches fork length. Congratulations, Brian, on an incredible story and catch!

Mora-Tapia's Bass Grand Slam
Bryan Mora-Tapia had a goal of completing an IGFA Bass Grand Slam. On May 25th, 2020, he was able to quickly catch both a striped bass and a smallmouth bass in Port Deposit, Maryland, but the largemouth bass eluded him. After traveling to several fishing spots, fishing from 6 a.m. to 6 p.m., and moving over to Delaware, Bryan was finally able to catch a largemouth to complete the slam!

Hawk's Trout Grand Slam
Just before the new year, TJ Hawk and his father Thomas were fishing on the Bull Shoals Tailwater, White River, Arkansas, when Thomas completed his first IGFA Trout Grand Slam. He caught this beautiful rainbow, brown and cutthroat trout all while fly fishing with midges!