Big Macks
Eleven monster mackerel from the IGFA World Record vault
Mackerel are some of the most widely targeted game fish species on the planet and the tactics for catching them vary from trolling high-speed diving plugs to live baiting. Yet, despite their global presence and popularity, many anglers are unaware of the variety and scope of the mackerel family. If you thumb through the All Tackle records in IGFA's World Record Game Fishes book you'll notice a list of at least 20 mackerel species from around the world with some exceeding 200 pounds!
Let's take a look at some of the most impressive mackerel catches on the books, including some species that you may not have known existed!
Chinese Seerfish
(Scomberomorus sinensis)
On October 6, 1982, Boo-Il Oh was trolling a live yellowtail in the waters off Kwan-Tall Island, Korea, when he hooked a massive Chinese seerfish. After enduring a 52-minute fight on a Fenwick rod and Penn International reel spooled up with 80-pound Dacron line, Boo hauled the 131-kilogram (288-pound, 12-ounce) beast aboard. The fish was brought back to Seoul, Korea where it measured eight feet in total length and received its official weight. For over 20 years this record was misidentified as a dogtooth tuna; it was not until 2007 that it was correctly identified as the Chinese seerfish. It still stands as the IGFA All-Tackle World Record today.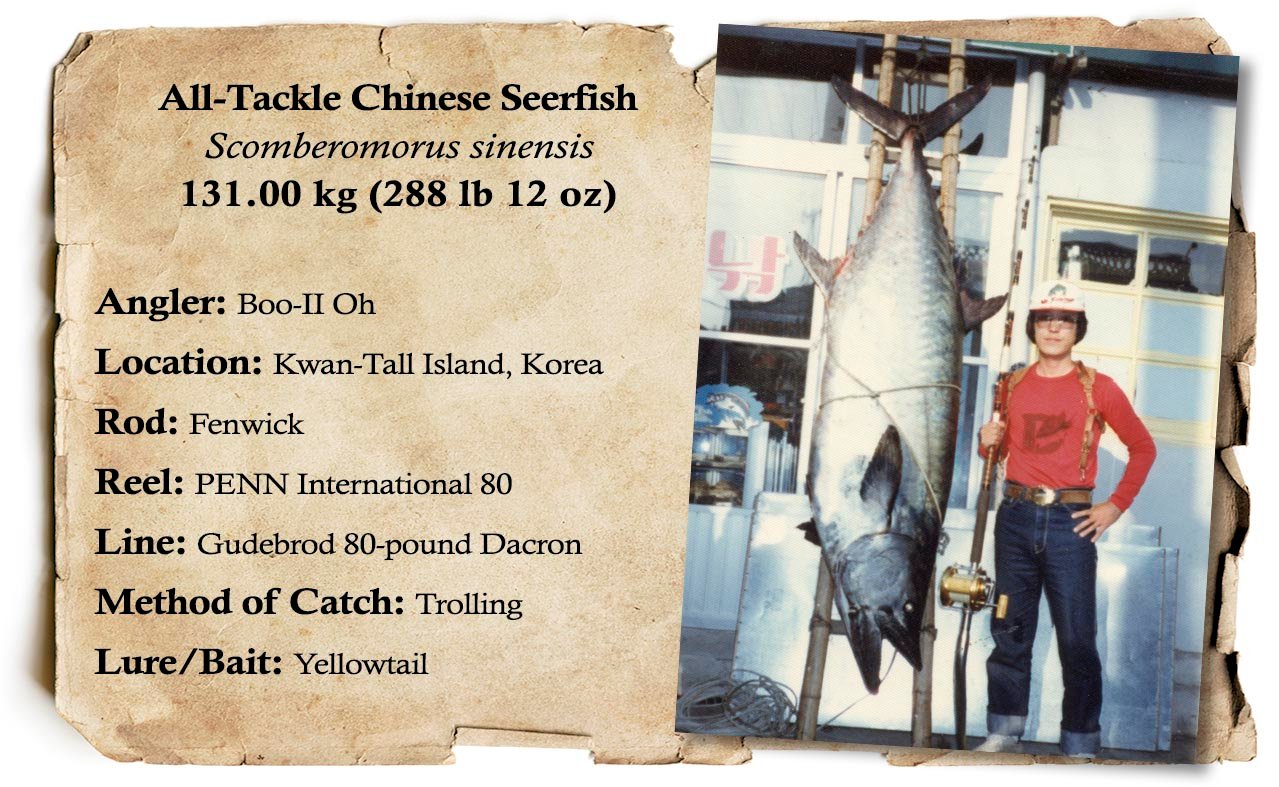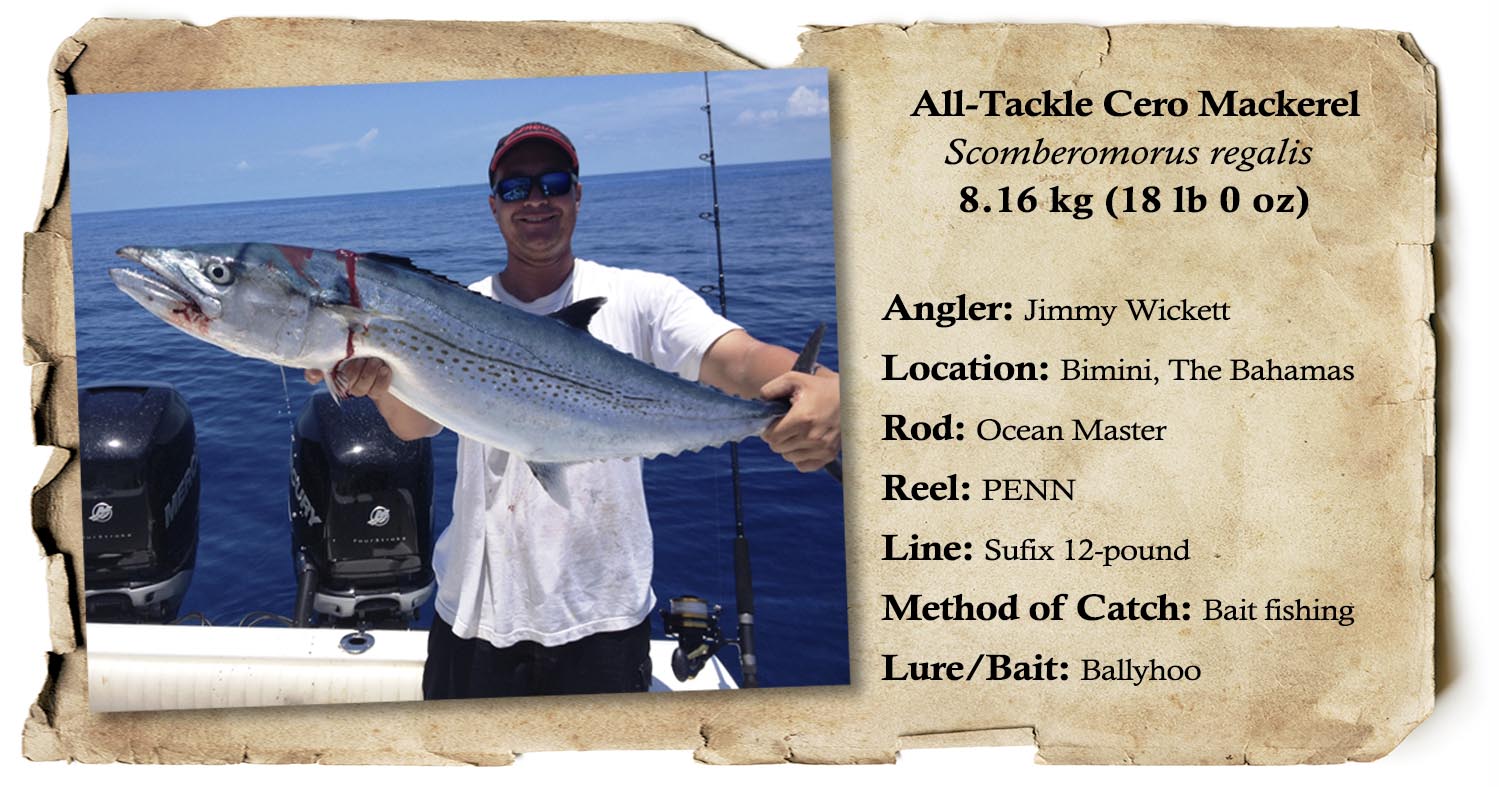 Cero Mackerel

(

Scomberomorus regalis)

On June 8, 2013, Captain Jimmy Wickett was fishing the reef for yellowtail snapper off Bimini, The Bahamas, but landed a trophy mackerel instead. Upon returning to Fort Lauderdale, Florida, Jimmy brought the fish into IGFA headquarters to confirm it was the new world record at 8.16 kilograms (18 pounds). Seven years later the record still stands as the IGFA All-Tackle and Men's 8-kg (16-pound) Line Class World Records.
Japanese Spanish Mackerel
(Scomberomorus niphonius)
On December 27, 2015, Isamu Kinoshita caught an impressive 10.57-kilogram (23-pound, 4-ounce) Japanese Spanish mackerel to set the IGFA All-Tackle World Record. He dropped down a vertical jig off the Goto Islands, Nagasaki, Japan, and felt a thump while cranking it up. Fifteen minutes later, Isamu was able to net the fish and could tell it was a potential record. After receiving an official weight at the Kibachi Port, Isamu scored his first IGFA World Record which still stands today.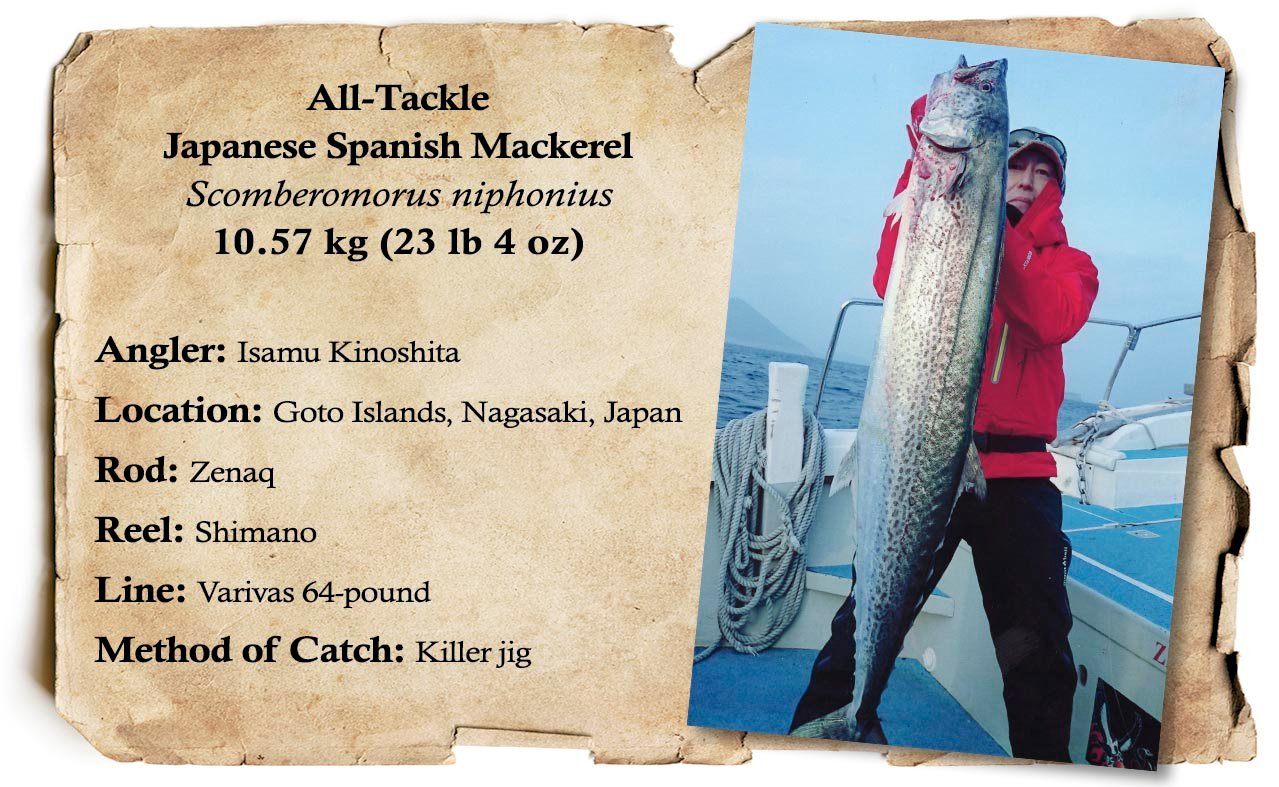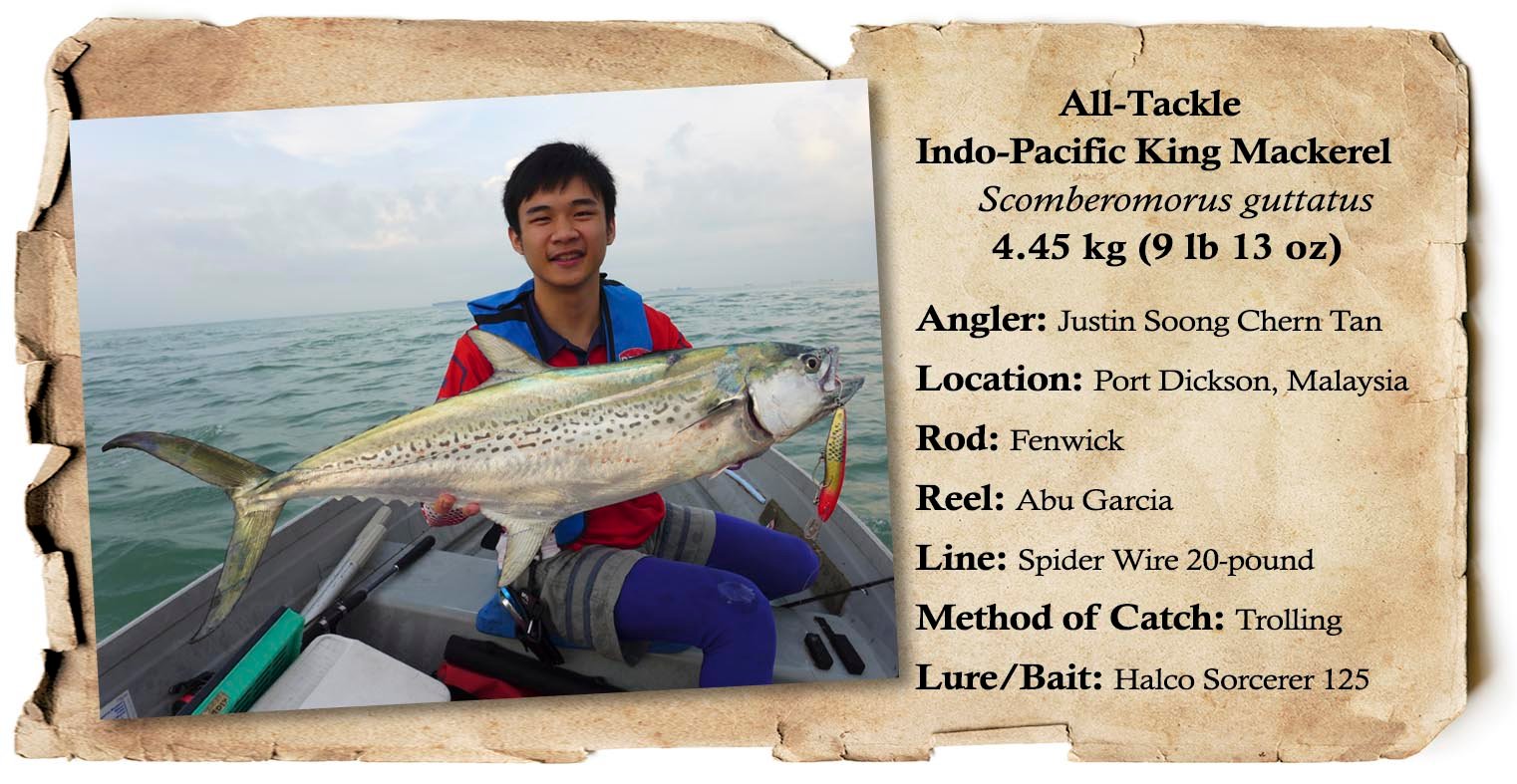 Indo-Pacific King Mackerel

(Scomberomorus guttatus

)
On January 12, 2020, Justin Soong Chern Tan caught a 4.45-kilogram (9-pound, 12-ounce) Indo-Pacific king mackerel that set the first IGFA All-Tackle World Record for the species. Justin was trolling a Halco Sorcerer 125 out of Port Dickson, Malaysia, and landed thisrecord after a five-minute fight. This fish is also referred to as "Tenggiri Papan" and is thought to have a maximum fork length of around 76 centimeters. Justin's fish measured 72 centimeters, making it a worthy specimen to beat.
King Mackerel
(Scomberomorus cavalla)
The IGFA All-Tackle king mackerel record was set on April 18, 1999 by Steve Perez Gaulau in San Juan, Puerto Rico. Steve set off from the Cangrejos Yacht Club around 5:30 a.m. and endured a rough, windy day of fishing on the Mr. Fisherman skippered by IGFA Fishing Hall of Famer Jose Campos. While trolling back to port, one rod went off and Mike Furia grabbed the rod and hooked a large cero mackerel. While Mike was fighting the fish, both rigger baits started to scream and Steve was hooked up to the record king. After 10 minutes and multiple gaff attempts, the crew hauled the fish aboard but were not aware of its record size. Once they got back to the yacht club, they weighed the king on their certified scale at 42.18 kilograms (93 pounds)-- the new All-Tackle and IGFA Men's 37-kg (80-lb) Line Class World Records.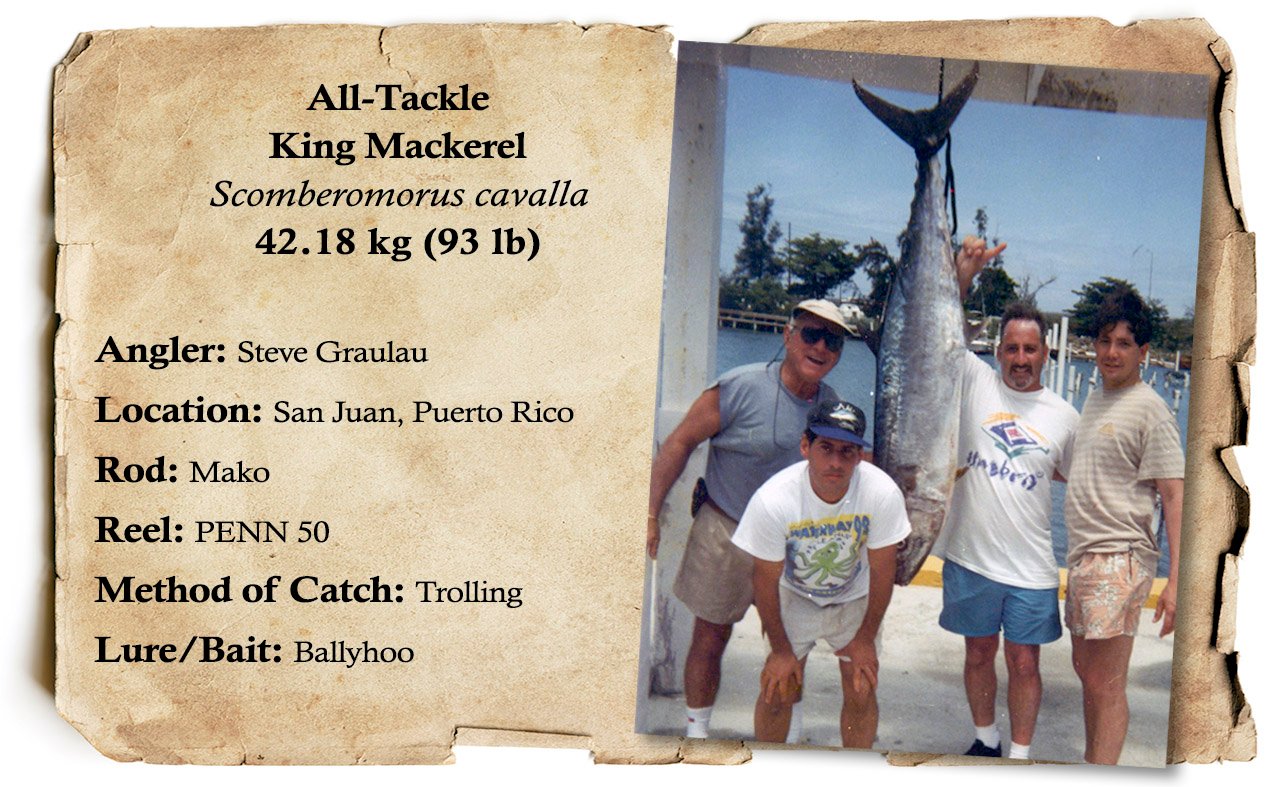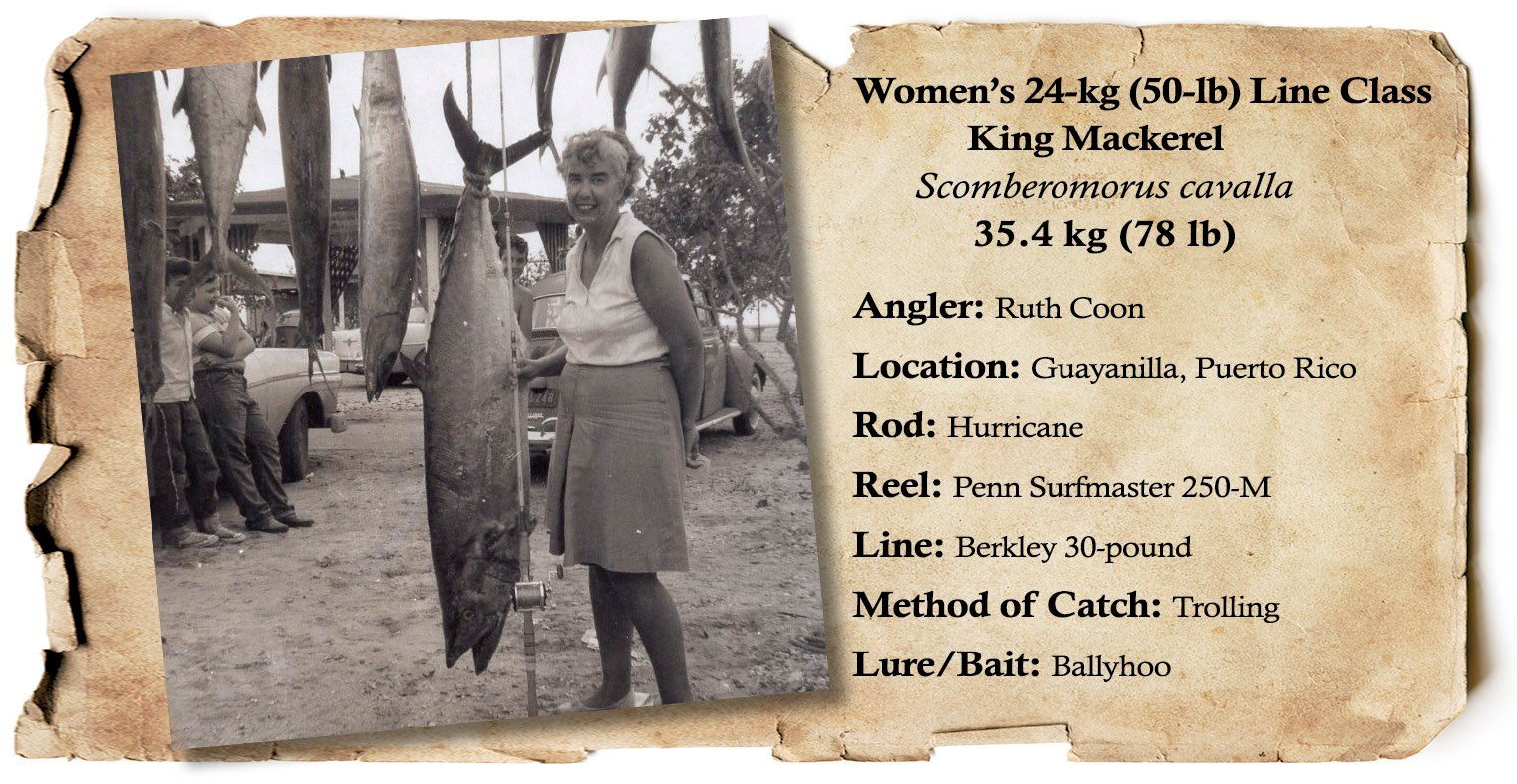 King Mackerel
(Scomberomorus cavalla)
The IGFA's second-oldest king mackerel record belongs to Ruth M. Coon and her incredible 35.38-kilogram (78-pound) fish that set the IGFA Women's 24-kg (50-lb) Line Class record back on May 25, 1963. Ruth was trolling ballyhoo behind the Shasta off Guayanilla, Puerto Rico, and landed the massive king after a 35-minute fight on her Hurricane rod and Penn Surfmaster reel. Ruth and the crew brought the record fish back to Ponce Yacht and Fishing Club for a certified weight which secured her first and only IGFA record that still stands 57 years later.
Narrowbarred Mackerel
(Scomberomorus commerson)
On March 14, 1982, Michael John Wilkinson caught an enormous narrowbarred mackerel weighing 44.91 kilograms (99 pounds) that set the IGFA All-Tackle and Men's 24-kg (50-lb) Line Class World Records. He set out that day on the 16' Lorna Lee and was quite surprised at the size of the mackerel that struck a Rapala lure he had been trolling. After a 15-minute fight, he was able to gaff the narrowbarred mackerel, also known as Tanguigue. He did not rush back to shore and had no idea that he had caught the new World Record until days later. Luckily for him, he weighed the fish on a scale that turned out to be accurate and had all the necessary requirements to claim the record.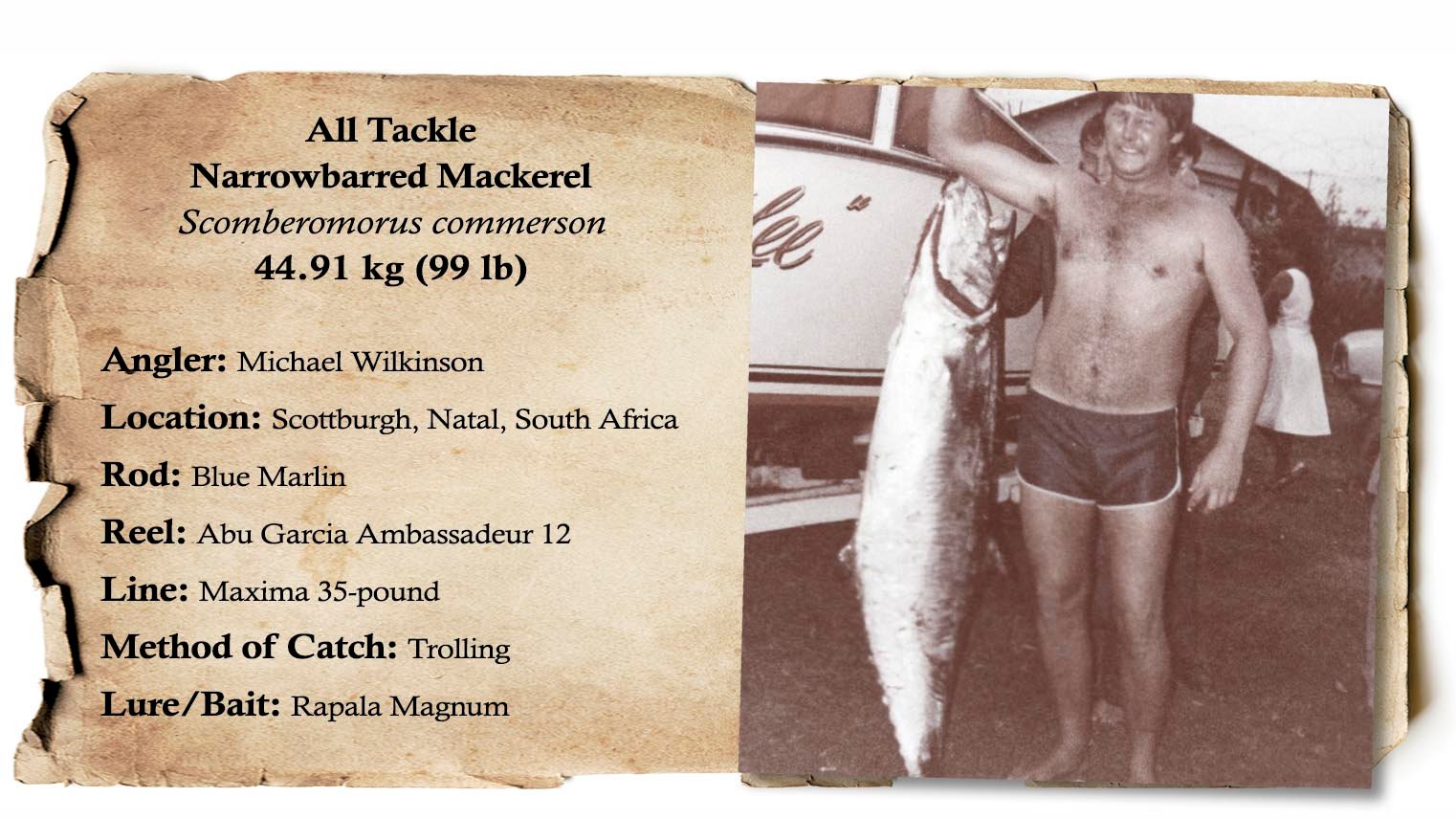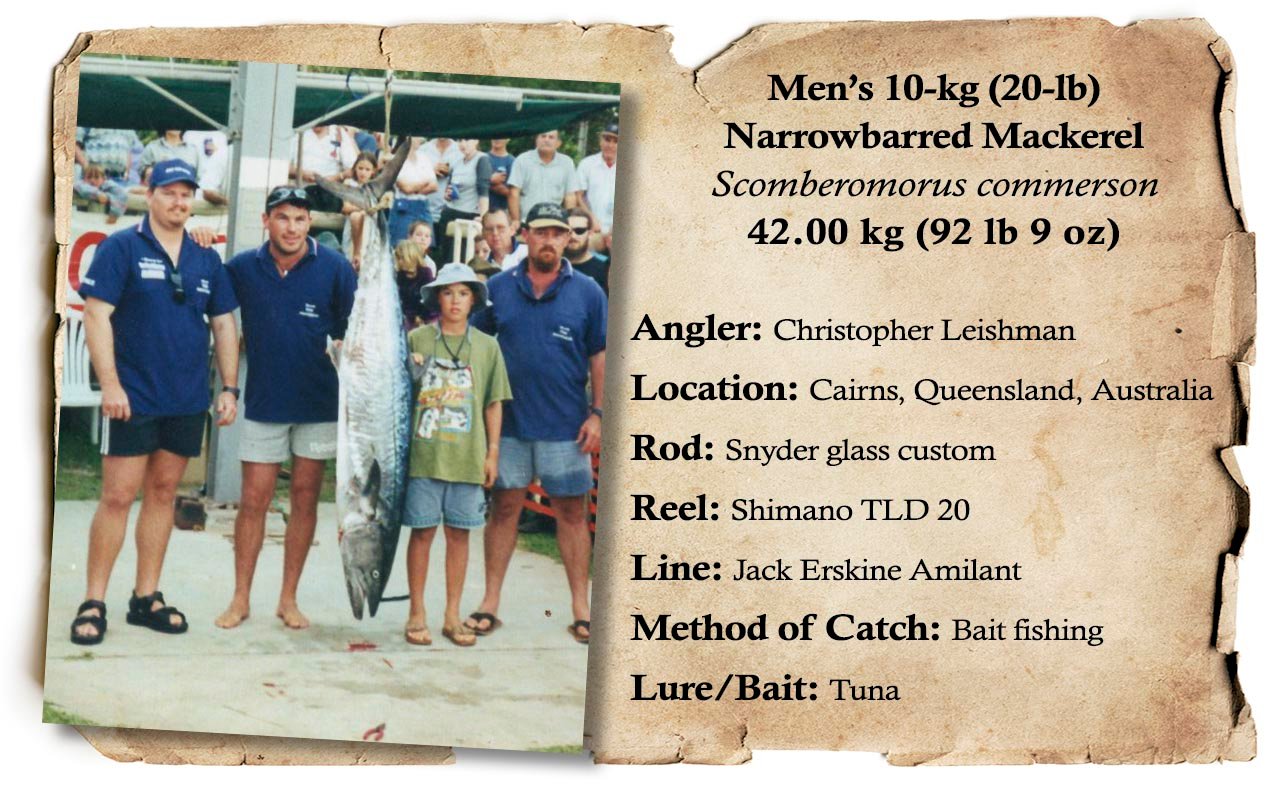 Narrowbarred Mackerel
(Scomberomorus commerson)
IGFA's second-largest standing narrowbarred mackerel record belongs to Christopher Leishman and this incredible 42-kilogram (92-pound, 9-ounce) fish that set the IGFA Men's 10-kg (20-lb) Line Class World Record. On August 9, 1993, Christopher was anchored up out of Cairns, Australia, when he felt something strike the tuna he was using for bait. After an 18-minute fight on a Snyder Glass Custom Rod and Shimano TLD20, Chris was able to bring the fish to gaff and secure his first IGFA World Record. The catch measured 163 cm in fork length and 174 cm in total length, with a girth of 81.5 cm.
Narrowbarred Mackerel
(Scomberomorus commerson)
One of the most impressive mackerel records in the IGFA record books is this massive 36.4-kilogram (80-pound, 3-ounce) narrowbarred mackerel that set the IGFA Men's 3-kg (6 lb) Line Class World Record. Wayne Brown was fishing out of Dampier, Western Australia on August 6, 2000 when something struck a garfish (ballyhoo) being trolled behind The Mistress. He picked up the rod and carefully played the record mackerel for 25 minutes on a Shimano TLD 10. The potential record was then brought back to King Bay Game Fishing Club for an official weight, securing Wayne his first and only IGFA record that still stands two decades later.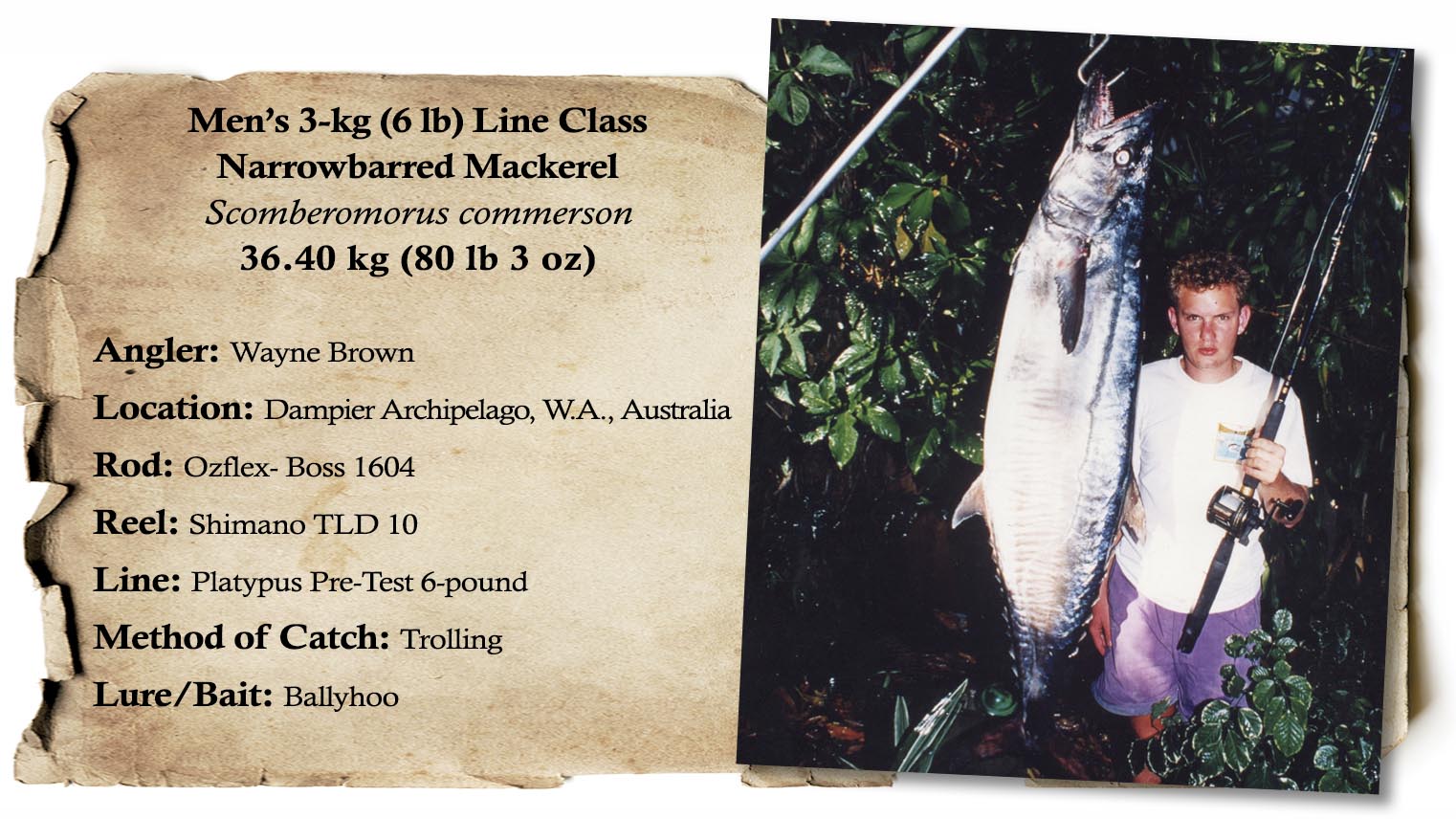 Pacific Sierra Mackerel
(Scomberomorus sierra)
It is rare for IGFA to have ties for All-Tackle Records of popular sport fish. In the case of the Pacific Sierra Mackerel, 1990 was an incredible year off of Ecuador. On March 24, 1990, Jorge Begue set the new IGFA All-Tackle World Record after landing an 8.16-kilogram (18-pound) mackerel. Jorge was trolling an L&S Mirrolure III MR in the waters off Isla de La Plata, Ecuador, and landed the record fish in eight minutes. Approximately six months later, Luis Alberto Flores tied the record with another 18-pound catch out of Salinas, Ecuador. He landed the record mackerel in six minutes after it struck a trolled lure. Twenty years later, both of these records still stand as the largest Pacific sierra mackerel in the IGFA books.
Don't Lose a
Big Mack Record
Don't use treble hooks in conjunction with natural bait
When it comes to catching mackerel, it is common to use treble-hook stinger rigs with live or dead bait. Keep in mind that under IGFA rules the use of double or treble hooks with any natural bait is prohibited.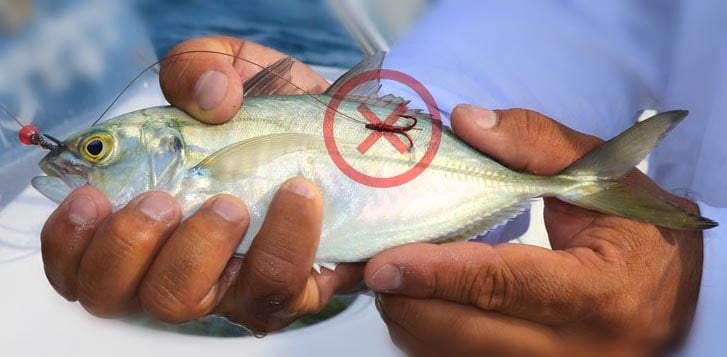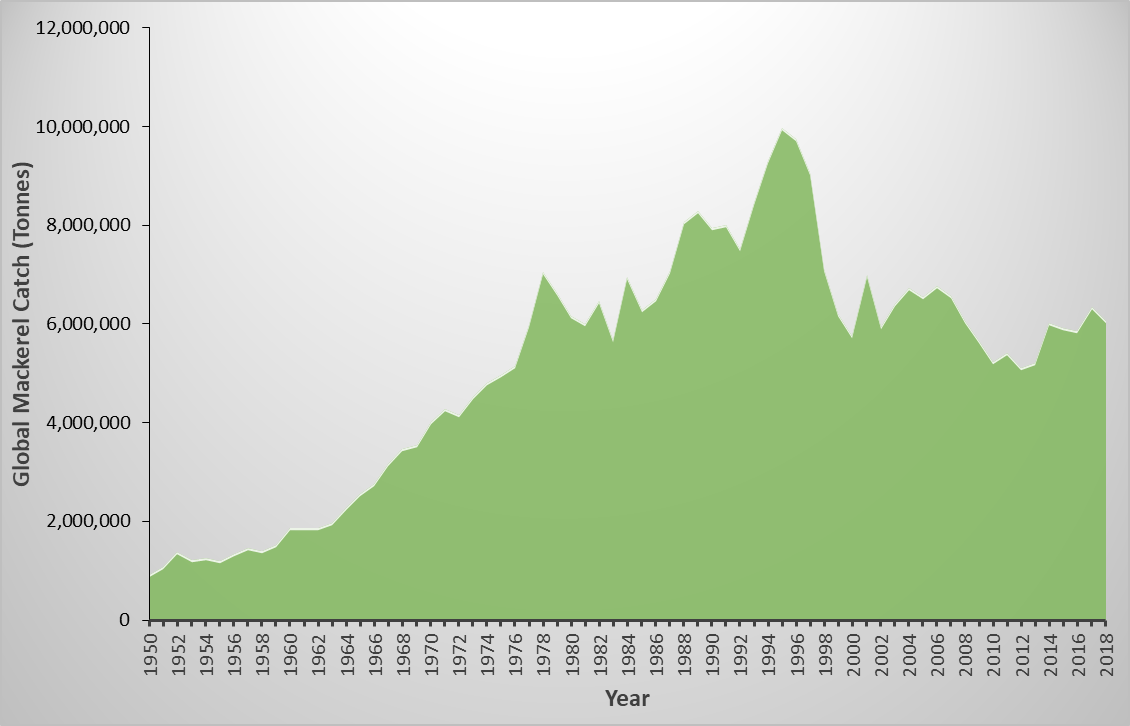 According to the Food and Agriculture Organization of the United Nations, more than six million tons (over 13 billion pounds) of mackerel were caught globally in 2018 (figure below) with chub mackerel in the Atlantic and Pacific totaling 2,067,758 tons and Atlantic mackerel at 1,046,660 tons.
Beyond the Recreational Value
Mackerel are a popular game fish, no doubt, but did you know that they also play a significant role as a forage species for game fish and a commercial food source for much of the world? You may not know, but the IGFA has been advocating for proactive measures to protect bullet and frigate mackerel off the east coast of the United States because they are a prominent forage species for dolphinfish, wahoo, tuna and billfish. Protecting the food that our game fish eat is equally as important as protecting our gamefish, themself.
.