David and Goliath!
An angling adventure beyond compare
By Jeremy Block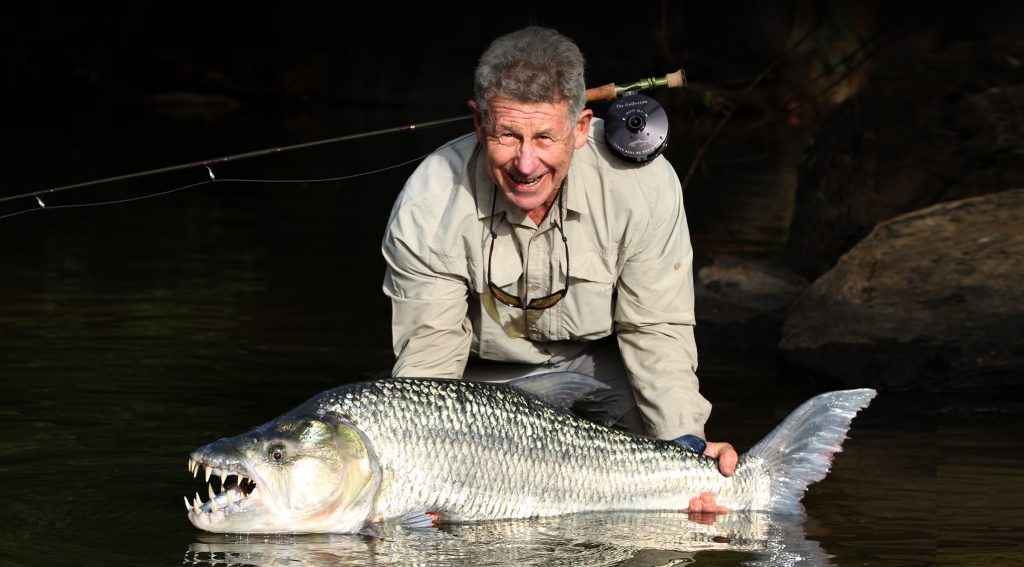 The story begins in the extreme north-west of Russia on the Kola Peninsula in the main tent of Rybaga camp with Ilya Sherbovich. It was 2017 and we were fishing for salmon on the Ponoi River and Ilya told me that he wanted to be the first man to catch a giant tigerfish (Hydrocynus goliath) on fly under IGFA regulations. He asked me if I knew anyone who could make this happen.
As it happens, I did.
I'd discussed the catching of giant tigerfish extensively with my long-time friend and adventurer, Ed Ghaui. "I think I know just the person," I said. And so Ed was given the task of combing the Congo River Basin for an area of water that was in pristine condition, large enough to hold a giant tigerfish but small enough to allow for fly fishing. It also had to be a location that offered a real chance of hooking one of these prehistoric monsters.
Finding such a stretch of water wasn't easy. Not least because the nations through which such rivers flow are not what one would call stable or places where personal safety is guaranteed. Quite the opposite. There was also the fact that, since the giant tigerfish is found only in the Congo River Basin, Ed's options were limited. The river had to be in the Central African Republic (CAR), the Democratic Republic of Congo (DRC), Congo Brazzaville or Northern Angola. None of which stood high on anybody's bucket list because all of them featured considerable civil strife and nearly impossible logistics.
Ilya's dream of facing his Goliath seemed distant indeed.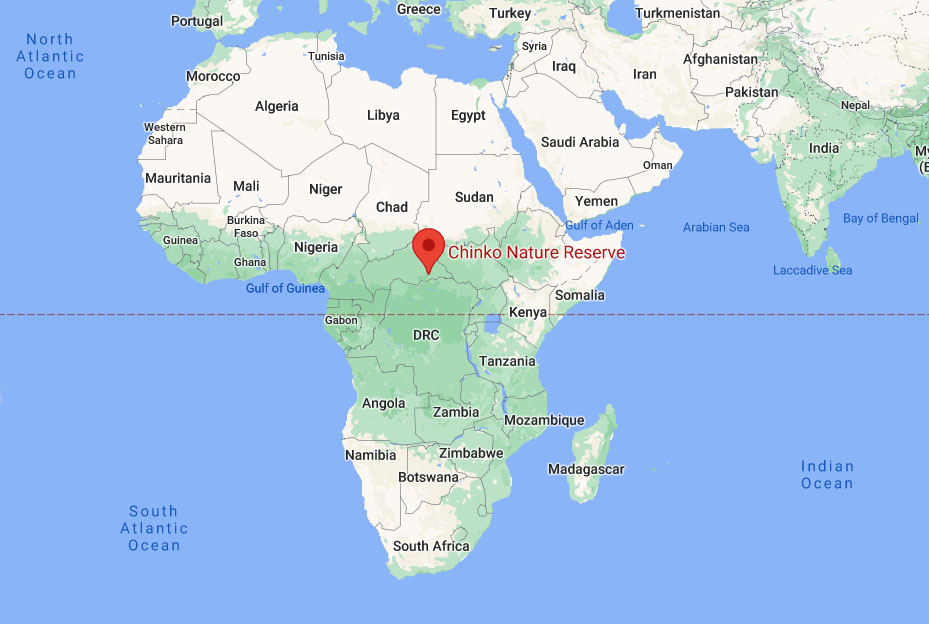 But luck intervened when the Chinko Reserve appeared on my radar screen. A former hunting reserve located deep within the rainforests of the Central African Republic, the Chinko Reserve had come under the governance of the African Parks Network in 2014 and was now a 50,000-square kilometer wilderness zone entirely free of human interference. What's more, Ed had somehow managed to ship a container of camping equipment and boats into the reserve. Surely this would be the ideal base from which to track down the elusive giant tigerfish.
Unfortunately, Ilya Sherbovich, the originator of the mission, was not able to join us due to an unfortunate series of events involving a group of Russian journalists. But Ed did succeed in convincing me to visit this utterly forgotten corner of the world. February 2021 was not an ideal time to venture into the Congo. But despite COVID-19 restrictions and ongoing civil strife, I safely managed it.
It was quite an adventure.
In the first place, Ed had to fly our supplies from Kenya to the CAR in a rented Cessna 180. A journey of approximately 1500 km across east and central Africa, the flight took him via Kisumu and Entebbe to Bangui. The challenges were many with weather, flight clearances and fuel supply to name but a few. And, while the first two legs of the flight were relatively uneventful, the last leg proved challenging indeed. An hour from his destination, Ed experienced an engine failure.

Luckily, it occurred while flying over a mixture of tropical rain forest and patchy savannah that the engine began to sputter. But, choosing a clearing, he managed to put the plane down without damaging it – miraculous indeed since the clearing was riddled with rocks and termite mounds. After fixing the engine problem, which turned out to be an airlock in the fuel supply, the next major issue was that he required a runway to take off.
And there wasn't one.
Undeterred Ed used a satellite phone to contact the African Parks Headquarters to ask for help, a plane was dispatched carrying all the tools necessary to clear a useable runway.
Ed and Greg fixed up an impromptu runway and were able to get airborne again. At park headquarters a local engineer checked the aircraft and he then flew on to Bangui where I joined him a week later.

There are no roads in the Chinko Reserve so we had to walk from the airstrip to Ed's fly-camp, which lies on the Vovado River about a mile from its confluence with the Chinko River. The walk took us through semi-savannah and virgin tropical rainforest. It was stunningly beautiful with amazing trees, butterflies and birds. The camp itself was located by a clear, cool stretch of river with a sandy bottom. Breathtaking. We took in an immediate dip and a few cold beers. Then we rigged up for the mission.
On the first evening, we tried fishing in the pool close to the camp but with no success. It was disappointing but we had many more days to go. The following morning, we took to our boat and headed up the Vovado River where I managed to notch up a personal 'first' with a sighting of a Cassin's Spinetail (similar to a swift but minus the tail). The next likely Goliath pool we encountered was over 30 feet deep and encircled by rainforest. The air was filled with the sound of birds and monkeys. I stripped out some line to make a cast. (For those who'd like the technical details I used a tan streamer, about 3 inches long, with large eyes and a billfish 600 grain sink tip line with about 20 yards of 50 lb mono behind it. All this on a Tibor Gulfstream reel and a G-Loomis GLX 10-weight rod).

I let the fly sink for between five and ten seconds before starting to retrieve, using fairly long, medium fast, strips. Suddenly I was connected to a fish. It came towards the boat. I reeled. It took off. I let it take line. It jumped. My heart almost stopped. And…there was our quarry: the mighty giant tigerfish at the end of my line, jumping, its vast mouth wide open to display a set of fearsome teeth.

The next ten minutes seemed like an eternity and, thinking back, I realize we were nowhere near as prepared as we should have been. The killing of fish is strictly forbidden in the Chinko Reserve. And we'd come without a net. All we had was a sling into which we had hoped to land the fish with. This meant that first we had to find a branch from which we could hang both the sling and the scale. There was a lot of swimming, a lot of diving and a lot of dropping and losing of the fly and tippet (fortunately found again). One camera was nearly lost in the water and one phone was submerged. Eventually, however, we triumphed and the goliath was in the sling. Ed and I carefully revived the beautiful monster. Then we took lots of pictures. Finally, after a few minutes, with a kick of her great tail, she swam back into the murky green depths.
Mission accomplished.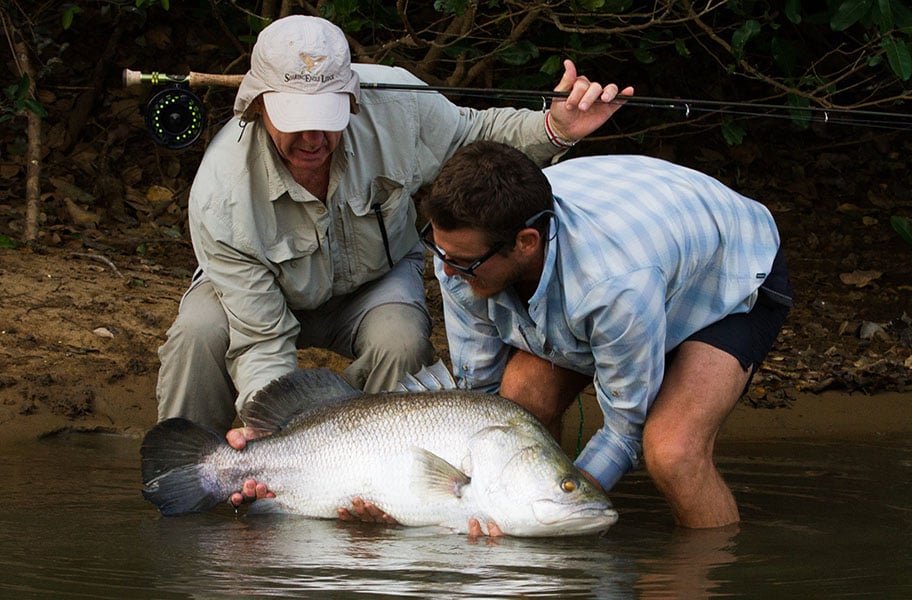 Thereafter began an unforgettable few days on the river. Despite the monumental luck of our first day, however, the giant tigerfish remained resolutely absent. Nile perch were plentiful, as were the smaller "common" tigerfish (Hydrocynus vittatus). There were butterflies and wildlife everywhere and the birdlife was stunning, but the giant tigerfish were not to be found. After a few days of disappointment, we decided to move camp downstream. Here, or so Ed claimed, lay an absolute certainty of hooking a goliath. He said that a lot. It was a long hard day and, as evening fell, certainty had given way to despair. But then my line went tight. On it was a small tigerfish, maybe three pounds. Then the line went so tight that it burned through my fingers. Then it went slack. The remains of a tigerfish came to the surface. It had fang marks piercing its body. The goliath was there. But …we couldn't entice her with a fly.
"Giant tigerfish are, arguably, the most difficult freshwater fish on the planet to catch. For many years it was considered impossible to catch one on fly. The handful of people who have caught a giant tigerfish on fly belong to a very lonely club. To catch one on fly using IGFA tippet of no more than 10-kg adds another layer of complication due to it being so hard to set the barbless hooks adequately."
I did, however, have several other strikes throughout the remainder of the trip. One fish pulled nearly 200 meters of line in one run. "Must be a monster", I thought. But she turned out to be a mere 25 pounder hooked in the anal fin. Had she just eaten the fly, like any normal fish would have done, we could almost have notched up another record. I say almost because Ed fumbled during the unhooking and the fish escaped before we could even snap a picture. The pool where we found her is now known as "the a******e pool" (though Ed is not sure whether this refers to him or the part of the fish where the fish was hooked). Thereafter, time and time again, I'd have a good strike followed by a great run. But it would always result in a jump or a headshake and out would come the fly.

The last day was one of the most frustrating days of freshwater fishing I can remember. We were on the confluence pool as the sun rose – it was the eleventh hour for confronting goliath. I had two strikes, one of which looked to be a real monster. But no luck. "Jeremy we really must be airborne before 8 am," said Ed, "You've got 5 more minutes. So, make them count old man." Goliath, however, was not inclined to be counted.
But, as the plane banked high over the Chinko River and wheeled off into the harmattan haze of Central Africa, I consoled myself with one thought. Adventures really do still exist.
For more information on the Chinko Reserve www.africanparks.org.
Ed Ghaui runs safaris throughout Africa and can be contacted on: [email protected]