Registration Open for the Inaugural IGFA SoCal Swordfish Open
Celebrating the iconic broadbill swordfish and the rich angling history of Southern California
Registration is officially open for the inaugural IGFA SoCal Swordfish Open, which will take place from November 12-14, 2021, in Southern California. For more information and to register online, please click here.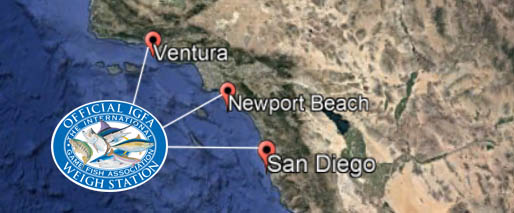 The inaugural, two-day tournament will require strict adherence to IGFA Angling Rules and will have both weight and release categories. To encourage maximum participation throughout Southern California, the tournament will offer three official weigh stations: The Marlin Club in San Diego, the Balboa Angling Club in Newport Beach, and the Pacific Corinthian Yacht Club in Ventura. The awards ceremony will take place on Sunday, November 14, 2021 at the Dana Point Yacht Club.
"Southern California is the birthplace of big game fishing and that tradition continues today," stated IGFA President Jason Schratwieser. "We are very excited to expand our tournament reach to Southern California and engage with the passionate anglers in a fun and competitive tournament, pursuing one of the most iconic game fish of all time."

There is a maximum of four anglers per team, and the "early bird" entry fee is $300 per angler. Beginning September 1, 2021, the entry fee will be raised to $350 per angler. The entry fee covers all tournament awards and includes your ticket to the awards ceremony featuring free food and beverages, as well as an impressive tournament bag filled with quality gear from tournament sponsors.
"As a Southern California native, I'm particularly pleased to see the IGFA launch this new tournament," said IGFA Vice Chairman and Tournament Committee Chair Chase Offield. "The IGFA and big game angling have deep roots in Southern California and I think this tournament will help reinvigorate the IGFA's presence and relevance in the area."
For more information or for any questions, please contact IGFA Events Coordinator Michelle Andersen at [email protected] or 954-924-4315.