IGFA Funded Forage Fish Research Explores Impacts of River Discharge
on Forage Fish and Predators

For the past five years, the Florida Forage Fish Coalition (FFFC) made up of the IGFA, Pew Charitable Trusts, Wild Oceans, American Sportfishing Association, Florida Wildlife Federation, and Angler Action Foundation, has selected and funded up to two graduate student fellows to conduct forage fish research as part of the Forage Fish Research Program (FFRP). Fellowship research is conducted in partnership with Florida Fish and Wildlife Conservation Commission's Fish and Wildlife Research Institute (FWRI), implementing robust databases of fish survey information from their Fisheries Independent Monitoring (FIM) program. Using this FWRI data and some impressive modeling procedures, Dylan Sinnickson, a fourth year FFRP fellow and University of Florida graduate student recently published the article, Exploring Impacts of River Discharge on Forage Fish and Predators Using Ecopath with Ecosim in the journal Frontiers in Marine Science.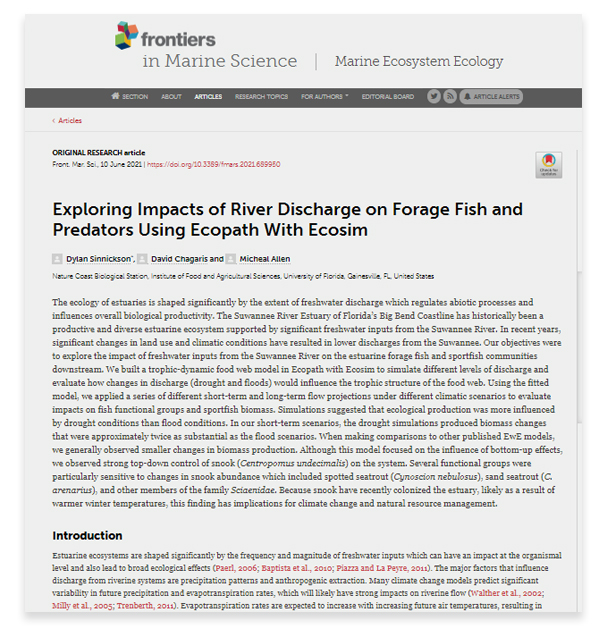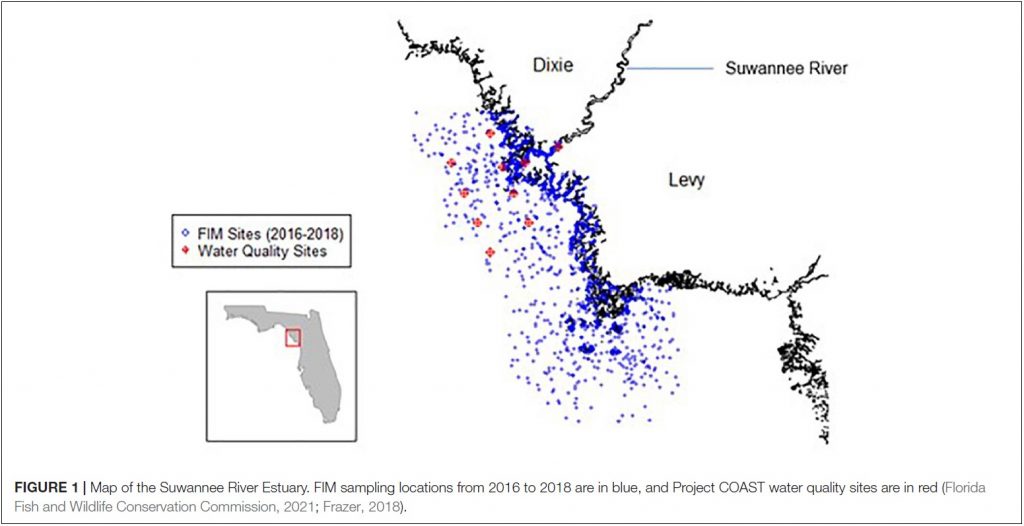 Dylan's article focuses on the impact of different levels of freshwater discharge on the ecology of estuaries using the Suwannee River Estuary in Florida as an example. River discharge can impact estuaries in a number of ways including changes in the amount of available nutrients that can have dramatic effects on the ecosystem as a whole, including those to forage species and our beloved game fish. Understanding what these effects might be is critical to proper management as well as the conservation of species within the estuary. To learn more about these effects, the study uses a complex food-web model to simulate varying levels of river discharge and evaluates how changes to these levels influence the structure of the food web.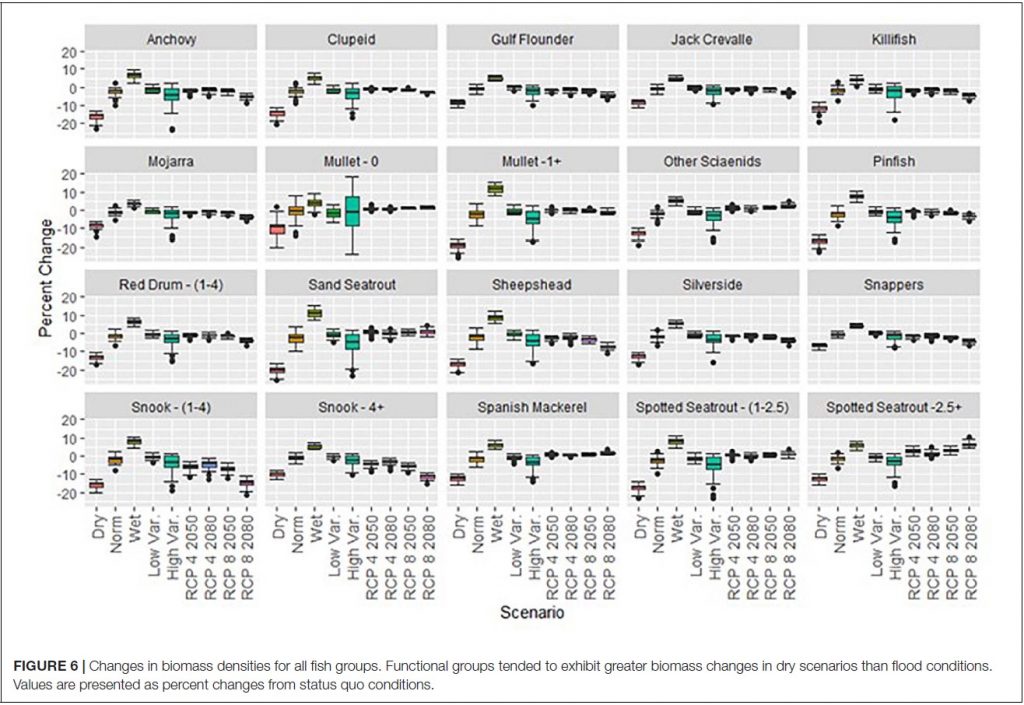 The study's results found that drought conditions (low river discharge) had twice the impact on ecological production with larger decreases in mean biomass of both forage and game fish species than during conditions of high river discharge. Some species responded differently to varying levels of discharge with snook, sheepshead, snapper, Gulf flounder, red drum of ages 1-4, and jack crevalle all showing decreases in biomass in long-term climate scenarios. In these long-term scenarios, some fish groups showed increases in biomass including spotted seatrout, sand seatrout, Spanish mackerel, and other species of drums and croakers.
Another interesting result of the study was the effect of the newly arrived snook on the ecosystem, with several of the fish groups being sensitive to the amount of snook in the estuary. These species included spotted seatrout, sand seatrout, and members of the drums and croakers family of fish species. With snook only recently arriving in the estuary due to warmer temperatures resulting in snook range expansion, these results are an important consideration for future fishery management in the region.
The results of this study have strong implications for water and resource management in Florida relative to drought conditions and minimum flow requirements. The study also has implications for fisheries management relative to harvest levels during drought and flood conditions.
The IGFA and the rest of the Florida Forage Fish Coalition would like to congratulate Dylan and his co-authors David Chagaris and Micheal Allen on the great work done to perform this study. We also thank the FishAmerica Foundation for providing funding for Dylan's research.