The IGFA Creates New Record Opportunities
All-release category expands to fly fishing and new line classes added
The International Game Fish Association (IGFA) today announced several changes to its angler recognition programs, including the addition of a fly-fishing category to the All-Tackle Length record program, and the expansion of line class categories for those freshwater and saltwater species eligible.
"Since 1939 the IGFA has recognized outstanding angling achievements and set the standard for angling rules and world record catches," said IGFA President Jason Schratwieser. "With the expansion of our all-release All-Tackle Length record category to fly fishing, and the logical expansion of our line classes to match our minimum ratio requirements, we will continue to make participation in the IGFA's angler recognition programs more accessible and understandable to anglers around the world."
Additional details of these recent changes are listed below. For more information or specific questions, please contact IGFA Angler Recognition Coordinator Zack Bellapigna at [email protected] or 954-924-4247.
IGFA All-Tackle Length Record Program Adds Fly Fishing Category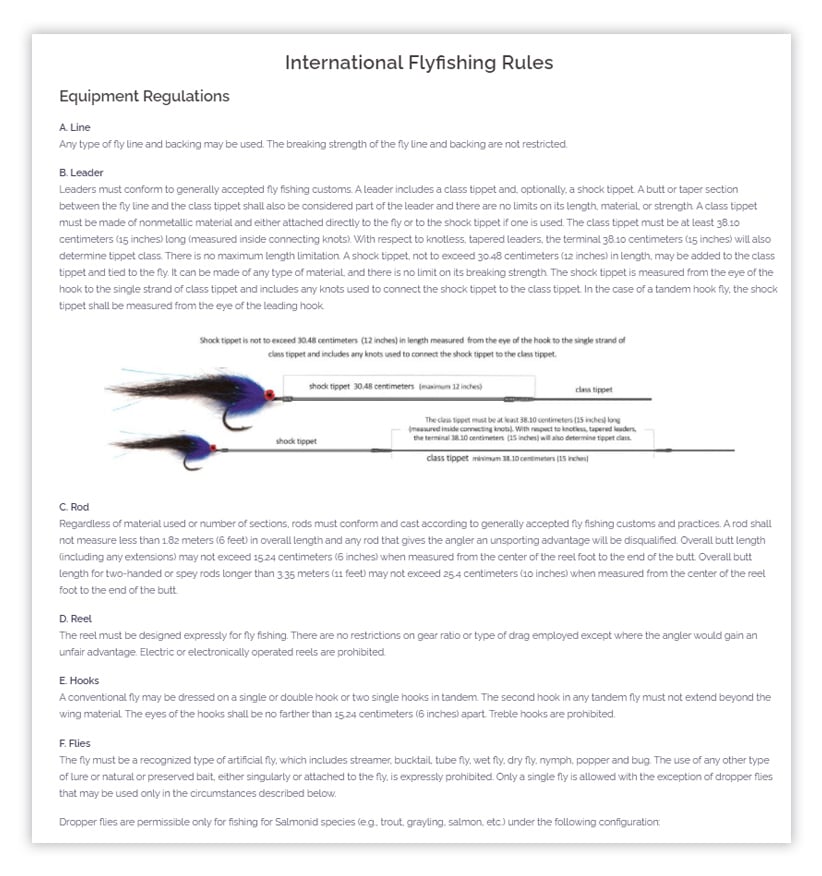 The IGFA All-Tackle Length Record program was launched a decade ago in 2011 and requires the safe release of the fish to qualify. There are currently 117 eligible species for this program in both fresh and saltwater, chosen specifically for their ability to be safely handled and released alive.
Until this recent rule change, there had only been one category for this program, which did not differentiate between conventional and fly-caught fish. Due to the growing popularity of this program and the request from numerous IGFA constituents, the IGFA is expanding this popular program by adding a fly fishing category, therefore creating both conventional and fly fishing categories.
To qualify for the fly fishing category, the catch must comply with IGFA International Fly Fishing Rules and the heaviest class tippet permitted is 10-kg (20-lb). Any current All-Tackle Length World Records caught on fly tackle that is IGFA-legal will be automatically transferred to the fly category, therefore creating a new vacancy in the conventional category. The minimum lengths for the eligible species will not change and are the same for both conventional and fly-caught fish. The minimum lengths can be found here.
Expansion of Maximum Line Class Categories
Several years ago, the IGFA changed its World Record Requirements for line and tippet class records so that fish had to weigh at least half as much as the line or tippet class it was being entered for. For example, a fish must weigh at least 10 pounds to qualify for a 10-kg (20-lb) Line Class category.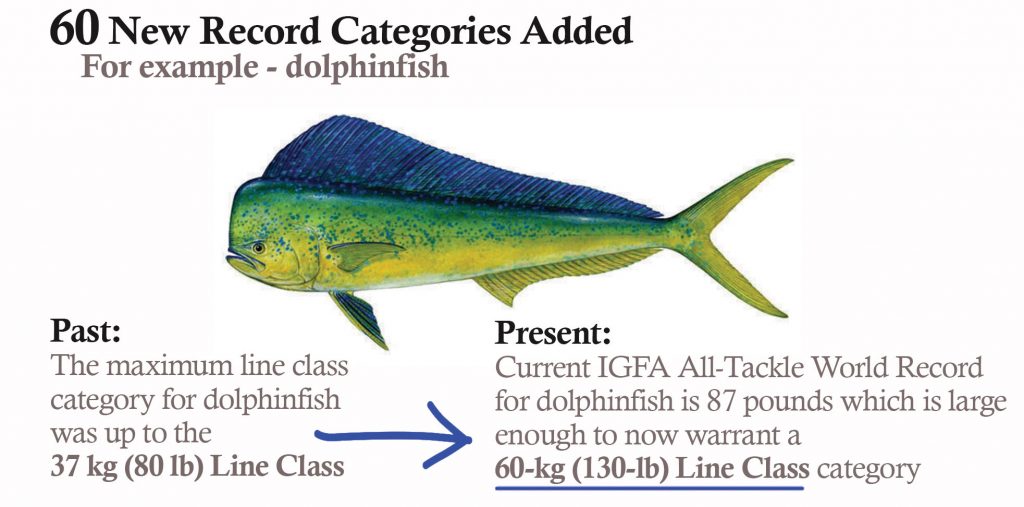 In several cases, the establishment of the minimum ratio requirement described above created inconsistencies with the maximum line class available for eligible species when compared to the IGFA All-Tackle World Record for that species. For example, the maximum line class category for dolphinfish was 37 kg (80 lb). The current IGFA All-Tackle World Record for this species is 87 pounds. So, it is clear that this so species grows large enough to warrant having a 60-kg (130-lb) Line Class category, which would require only a 65-pound fish to qualify for that category (i.e., half the weight of the line class). In total, there were 60 new record categories added during this review. These new categories are vacant, effective immediately, and are listed so online.
On the contrary, there were also some species that needed to have line or tippet class categories removed, based on the IGFA All-Tackle World Record being less than half of the weight of the maximum line class offered. For example, the maximum line class for the bigeye trevally was 37-kg (80-lb), however the IGFA All-Tackle World Record stands at only 31 pounds, 8 ounces. Based on the minimum ratio requirement and the weight of the IGFA All-Tackle World Record, the maximum line class for this species should only be 24-kg (50-lb), as the biggest recorded specimen would not be eligible for the next highest record category, which is 37 kg (80 lb). In total, there were only seven species that warrant the elimination of Line Class/Tippet Class record categories.