2021 IGFA Fishing Hall of Fame Induction Ceremony Wrap Up
Presented by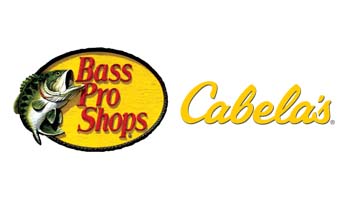 All we can say about the 21st Annual IGFA Hall of Fame is WOW!
That's partly due to the breathtaking location, Johnny Morris' Wonders of Wildlife National Museum and Aquarium, but it's also a testament to a dedicated class of honorees, now listed among angling's finest. The 2021 class joined 131 other legendary anglers, scientists, conservationists, writers and fishing industry leaders whose contributions to sport fishing are preserved and celebrated in the IGFA Fishing Hall of Fame. If you were not able to attend the event, please watch the live recording of the ceremony.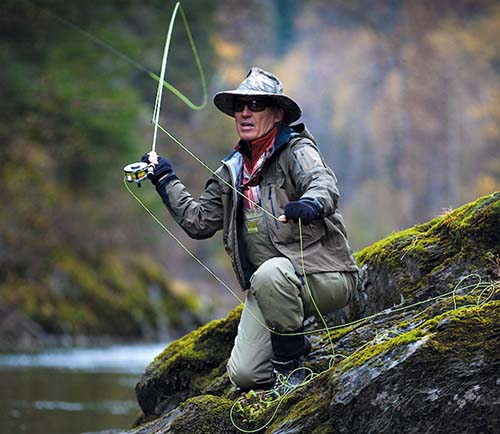 "There is no greater honor than to be inducted into this Hall of Fame. Period," said IGFA Trustee Andy Mill, the night's emcee.
"Tonight, we are inducting five new members into this royal family of fishing. The new class includes pelagic game fish researcher Dr. Barbara Block; famed billfish angler and conservationist Jose Campos; marine conservationist Ken Hinman; legendary Australian angler Patrick Gay; and fly fishing extraordinaire Dave Whitlock.," said Mill.
"They chased that tug, and in doing so, they not only caught a pile of fish, but influenced others, expanded our world of fishing, found new horizons, and vowed to save our precious waters and the fish that swim in them. Tonight, your journeys are celebrated and honored," he continued.
The 21st Annual Induction Ceremony was held Saturday, September 11, 2021, in Springfield, Missouri. The event, presented by IGFA Corporate Partner Bass Pro Shops - Cabela's, drew 120 attendees from across the globe.
"The 2021 IGFA Fishing Hall of Fame inductees are a diverse group who cut a wide wake of accomplishment in the recreational angling community," said IGFA President Jason Schratwieser.
To learn more about the inductees please watch the videos IGFA created for these luminaries of our sport: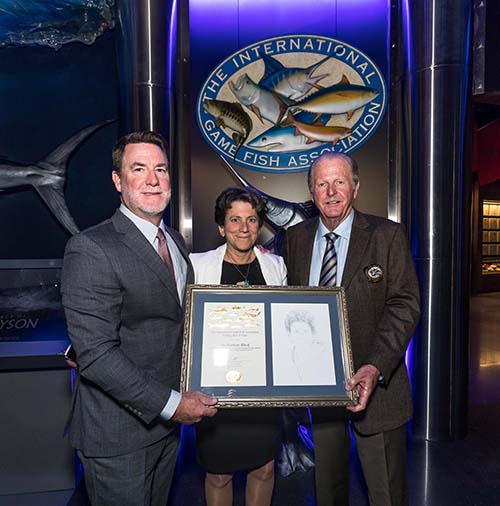 From left to right, IGFA President Jason Schratwiser, Dr. Barbara Block, and IGFA Chairman Roy Cronacher.
Dr. Barbara A. Block holds the Charles and Elizabeth Prothro Professorship at Stanford University. Her research focuses on how large pelagic fish utilize the open ocean spanning from genomics to biologging. She and her team have pioneered the successful development and deployment of electronic tags on tunas, billfishes, and sharks. The combination of lab and field research has led to a rapid increase in the understanding of movement patterns, population structure, physiology and behaviors of pelagic fish and sharks. Dr. Block was Chief Scientist for the Tagging of Pacific Predators program (TOPP), organized under the Census of Marine Life. This international program succeeded in placing 4,000 electronic tags on 23 predators in the North Pacific to understand how pelagic animals use the North Pacific ecosystem. She is also the co-founder of the IGFA Great Marlin Race. Block began her oceanographic career at Woods Hole Oceanographic Institution with Dr. Francis Carey and earned a Ph.D. in 1986 at Duke University. She was an assistant professor at the University of Chicago and joined the Stanford faculty in 1994. Block has published 200 peer-reviewed papers and has received the National Science Foundation Young Investigator Award, a MacArthur Fellowship, a Pew Fellowship for Marine Conservation, the Rolex Award for Enterprise, and a Benchley Award for Ocean Science. Block founded the Tag-A-Giant (TAG) at The Ocean Foundation to elevate the science and conservation initiatives for bluefin tunas globally. Block has helped produce five films with Discovery, Disney and National Geographic, the most recent award-winning film on white sharks is Blue Serengeti.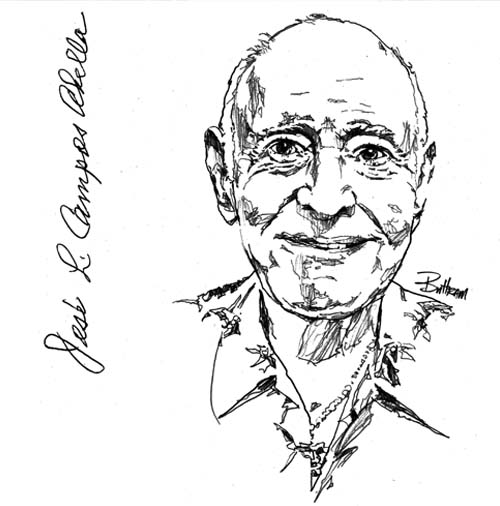 With more than 60 years of offshore experience, Captain Jose Campos is one of Puerto Rico's most accomplished and respected anglers. A past Chairman and Hall of Fame Member of the Club Náutico de San Juan, Campos has been a promoter of both billfish tagging and fishing tourism in Puerto Rico. He presented a paper at the first IGFA World Angling Conference in 1984 and was appointed Navigation Commissioner under the Puerto Rico Department of Natural and Environmental Resources, where he helped enhance the enforcement of Puerto Rico's fishing and boating regulations. As Puerto Rico's representative to the Caribbean Fishery Management Council, Campos was instrumental in the development and implementation of a comprehensive management plan for billfish and other marine species, and in establishing a catch-and-release program for the Caribbean. A skilled angler, Campos has won several prestigious fishing tournaments and was the captain of the team winning the highest point total in the history of the International Bluefin Tuna matches in the Bahamas. As a captain, he has been instrumental in the catch of 1,500 billfish, including 35 marlin over 400 pounds and has personally caught over 300 blue marlin.
From left to right, IGFA President Jason Schratwieser, Ken Hinman, and IGFA Chairman Roy Cronacher.
Ken Hinman has over 41 years of experience working to conserve marine fish and served as president of Wild Oceans (formerly the National Coalition for Marine Conservation) from 1997-2019. A strong believer in fishing and conservation alliances, he is a co-founder of the Marine Fish Conservation Network, Ocean Wildlife Campaign, Menhaden Matter Campaign, and the Take Marlin Off the Menu Campaign.
He has served on several appointed advisory positions to the U.S. government, including the U.S. Advisory Committee to the International Commission for the Conservation of Atlantic Tunas, the Atlantic Highly Migratory Species Advisory Panel, and the federal Ecosystems Principles Advisory Panel. Hinman has published hundreds of articles on marine conservation issues, including monthly conservation columns for Marlin (1986-1997) and Salt Water Sportsman (1997-2005) magazines. He organized the 2nd International Billfish Symposium in 1988, for which he earned The Billfish Foundation's Conservation Award; was given the Carl R. Sullivan Fishery Conservation Award from the American Fisheries Society in 2002, and in 2013 accepted the IGFA Conservation Award for Wild Oceans' work with the IGFA in the development and passage of The Billfish Conservation Act of 2012.
Ken holds a science degree in Environmental Conservation from the University of New Hampshire.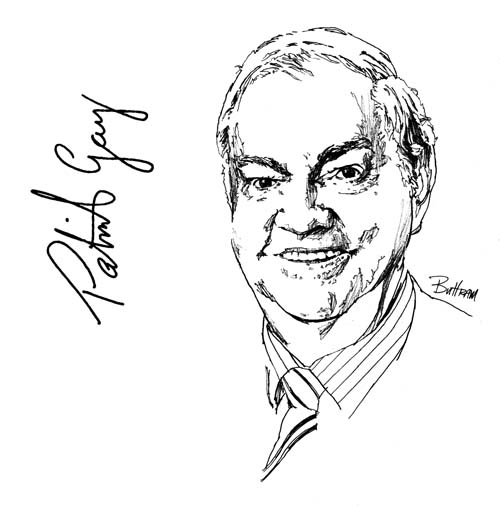 Patrick Gay is one of Australia's best-known anglers, has held many Australian records and has several IGFA World Records to his credit. He is the founder of Gay Constructions and the Gold Coast City Marina and Shipyard. Gay began fishing at an early age and, in 1979, purchased and put into charter the famous Sea Venture, captained by the legendary Captain Dennis "Brazakka" Wallace, recipient of the IGFA's Tommy Gifford Award. Gay was an IGFA Representative in Queensland for 28 years and has held a number of government-appointed positions, including that of the Director of the Queensland Fish Board. Gay was also president of both the Queensland Game Fishing Association and the Game Fishing Association of Australia, served as an original Board Member of the Gold Coast Waterways Authority, and was the founding Governor of the Pacific Game Fish Research Foundation. In 2007, he was awarded the Order of Australia (AM) for his services to the construction industry and the sport of game fishing and was inducted into the Cairns Game Fishing Hall of Fame in 2016.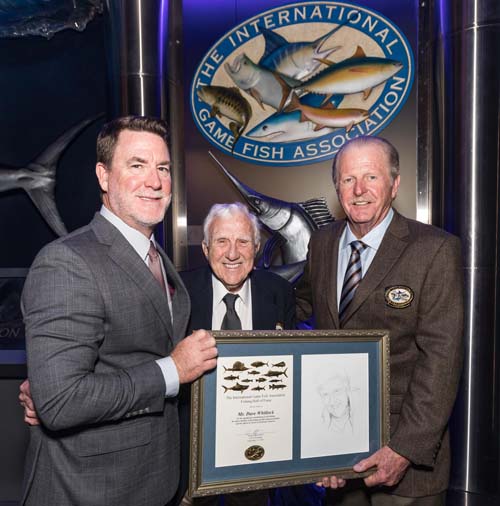 From left to right, IGFA President Jason Schratwieser, David Whitlock, and IGFA Chairman Roy Cronacher.
Dave Whitlock is a native Oklahoman who is well-known in the world of fly fishing for his talents in painting, illustrating, writing, photography, fly fishing, fly tying and lecturing. Dave's art and writing appear regularly in many fly fishing and sports publications such as Fly Fisherman Magazine, Fly Fishing, and Tying Journal, Trout Magazine and others. He's is also the author of five books. He has been the recipient of many awards for his fly-fishing and fly-tying contributions, including induction into the National Fresh Water Fishing Hall of Fame, the Trout Hall of Fame, Catskill Fly Fishing Center and Museum Fly Fishing Hall of Fame and the Arkansas Game & Fish Hall of Fame. Whitlock's other honors include the Max Ander's Wild Trout Award for his work on the propagation of wild trout, the Fly Fishers International Conservation Man of the Year Award, Buz Buzeck Memorial Fly Tying Award and the Dr. James E. Henshall Award for his work in warm-water fishing and conservation. He is also the recipient of the Lifetime Contribution Award from the National American Fly Tackle Trade Association.
Wonders of Wildlife - The home of the IGFA Fishing Hall of Fame
Johnny Morris' personal passion for conservation has positioned Wonders of Wildlife with an opportunity like no other attraction before it to have a positive national impact on wildlife and conservation. Wonders of Wildlife celebrates people who hunt, fish, and act as stewards of the land and water. In a world increasingly disconnected from the great outdoors, it's more important than ever for people of all ages to experience the wonders of nature.