Indo-Pacific Permit - The Golden Prize of Fly Fishing in the Seychelles
By Ilya Sherbovich, multiple IGFA World Record holder and owner of Ponoi River Company, Russia

The Seychelles is a group of tropical islands in the Western Indian Ocean that is known for its beautiful beaches and abundance of marine life. I started visiting the Seychelles in the late 1990s, and quickly discovered that the remote archipelago is also a paradise for saltwater fly anglers.
Over the years, my good friend Keith Rose-Innes, former head guide for the Ponoi River Company and current Managing Partner of Alphonse Fishing Company, has helped me organize numerous unforgettable trips to the best fly fishing in the Seychelles, namely Alphonse Island, Farquhar, Providence Atoll, and others. After several early fishing visits, I must say I cooled off a bit: a typical day back then rewarded an angler with five to seven giant trevally and 30-plus bonefish. Honestly it began to feel as though there were too many fish around – it was as if the fishery was too good.
One fateful trip in 2013 changed my approach to fishing Seychelles in an unexpected way and, since that adventure, I have only targeted one species when I visit the region. This fish, the Indo-Pacific Permit (this is the commonly used name, although it is officially listed as snubnose pompano) has taken hold of me in a significant way, and I have not missed an annual visit to Seychelles since that 2013 season. Some years, I even make the trip more than once.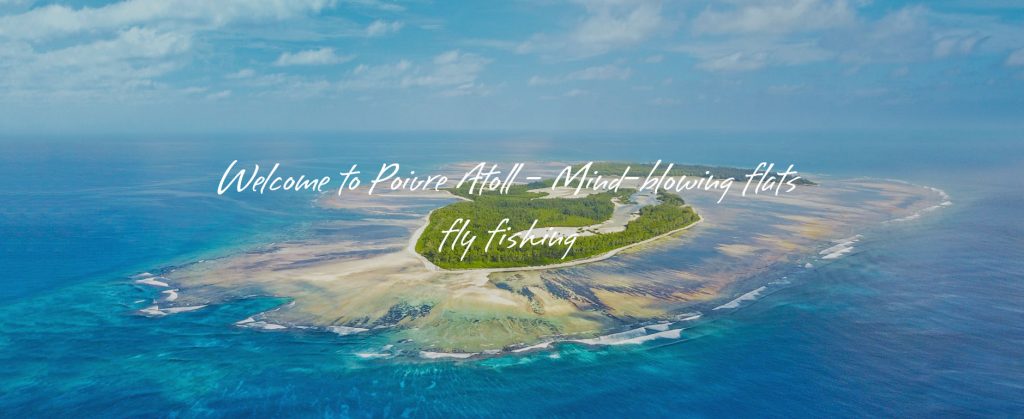 In March of 2013, I was enjoying a beach vacation on Desroches Island with my wife and son. Desroches is part of the Amirantes group of Seychelles Islands. I had booked a day of guided fishing on the nearby flats, as my son Konstantin was seven years old, and I wanted to give him the opportunity to catch his first bonefish. That mission was accomplished within the first 10 minutes of fishing, and Konstantin went on to catch many more bonefish that day. At the end of that highly successful adventure our guide Cameron Musgrave asked if I would like to try something a bit different. He told me about the nearby Poivre Islands where local guides had been seeing good numbers of Indo-Pacific permit. I secured approval from my wife for a day's getaway, and off I went permit fishing.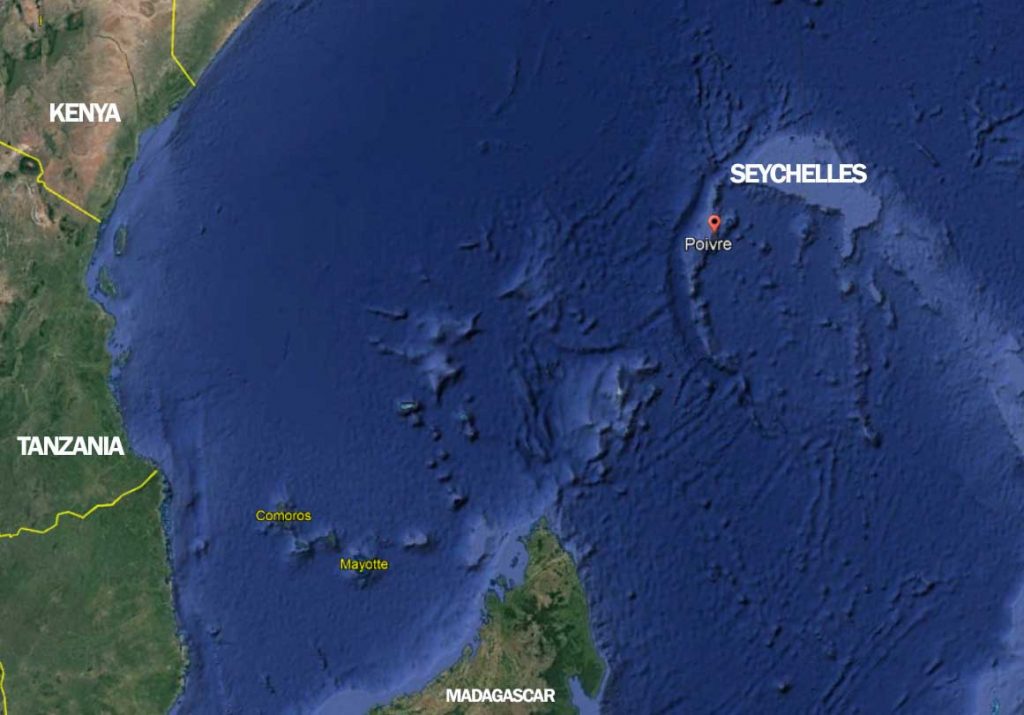 I remember it well. We were wading knee-deep around the Poivre islands and permit were tailing everywhere. The fish were spooky and very difficult to approach on foot, but after two hours of careful stalking I caught my first Indo-Pacific permit. It was by no means as easy as catching a bonefish in Seychelles, but with my early success I had no doubt that I would catch a few more permit that day. We kept fishing, we saw fish in good numbers, and I must have had 30 or more good shots. Nonetheless, despite all of my confidence and best efforts, I hooked nothing. Some of my casts were spooking fish, but even the perfect presentations resulted in nothing… the fish simply refused to show any interest in what I had to offer. Little did I know at the time, it would take me two more years and 14 more full days of fly fishing to catch my second Indo-Pacific permit!
That first day back in March 2013 represented the start of my Indo-Pacific permit addiction. In 2014, I returned to Poivre with a group of friends and spent six days fishing the island. We all blanked. Sure, we saw fish, we casted at them, but even our best presentations elicited no reaction. We started coming up with all kinds of theories about why the fish were ignoring our efforts. Wrong flies? Would longer casts help us avoid spooking fish? Were our shirts perhaps too bright and colorful? We thought through all the scenarios, and in 2015 we returned to Amirantes "fully prepared".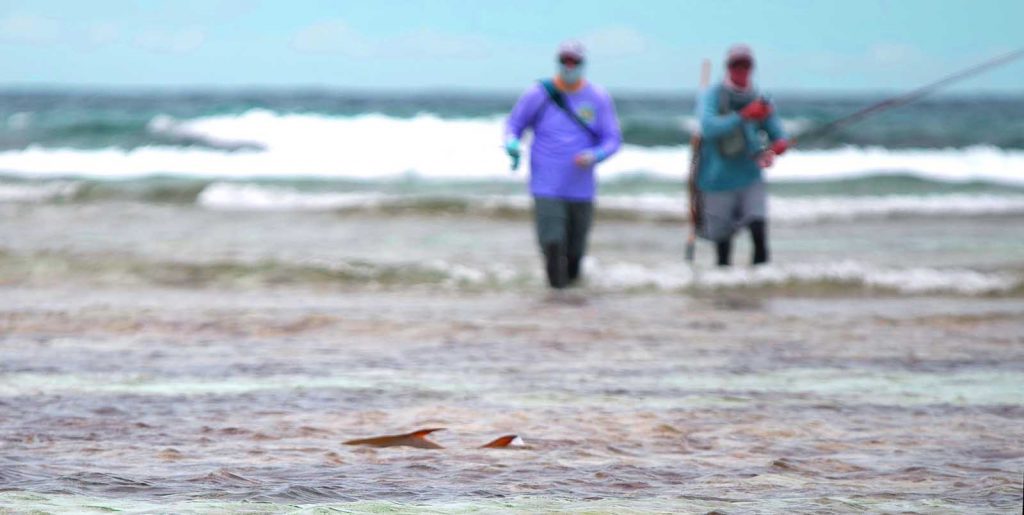 We had improved our casting skills (one of my friends spent the whole year in training), we dressed in flats fishing camo gear, and I even painted my rods and reels in blue-cloud camo on the theory that the glare off the rods and reels were spooking fish! Despite stealthy gear and improved casting, the results we saw in 2015 were not much different than those we had seen the previous year. I managed to catch the only fish of the trip on the last day. At that moment, we were all thinking about giving up; the whole experience just seemed futile.

Nonetheless, I insisted that we return in 2016. Around the same time, the Alphonse Island fishing guides invented a new fly called the Alphlexo Crab. This pattern would prove to be a "game changer" for fly anglers targeting Indo-Pacific permit. Using Alphlexos and leveraging what we had learned about optimizing locations and tides on Poivre, we managed to hook 12 permit and land nine on that eventful trip. Since that time, I have returned each year, and my group has never gone under nine fish per trip.
The Alphlexo Crab fly pattern evolved during those years too. Several Alphonse guides employed their individual tying styles to produce the pattern in a wide variety of sizes, shapes, and colors. Even using the Alphlexo, however, there are no guarantees with these fish. On a typical day fishing Poivre an angler can expect to see 25-30 fish and have shots at 15-20. Even if accuracy and presentation are perfect, it is quite common to see no reaction from these permit.
Catching an Indo-Pacific permit is a big deal, and each fish caught requires a significant celebration at the end of the fishing day! Losing a hooked permit can feel like a personal tragedy. One of my close friends completed his first two permit trips with no fish. He became desperate to catch one, and on day three of his third trip he finally hooked a beautiful fish only to see it eaten by a shark right in front of him. He was heartbroken. Still, he kept at it, and on the following day he landed his first permit, much to his relief.

Grown-up men showcase joy and pride like small boys when the rare gift of two fish in a day occurs for them. Catching any more than two is not easy under our fly fishing rules, which dictate that after any angler in our group lands a second permit on the day, he must give the second rod to his guide. The guide is then allowed to fish next to the client, and whoever spots a fish first has the first shot at it. These Alphonse guides are impossible to beat… they see better and cast better than the most celebrated fly fishermen known to man! Under these circumstances, catching a third fish on any given day is nearly impossible. That said, I am always happy when my guide catches a fish, and the team comes back reporting three permit landed in a single day. I have been very fortunate to fish with several legendary guides from Alphonse: Kyle and Brad Simpson, Cullan Ashby, Yousuf Shaikh, Cameron Musgrave, Scot de Bruyn, Matthew Solon, Stuart Webb, Alec Gerbec, Brandon Poole, and Dean Scott.
"These Alphonse guides are impossible to beat… they see better and cast better than the most celebrated fly fishermen known to man!"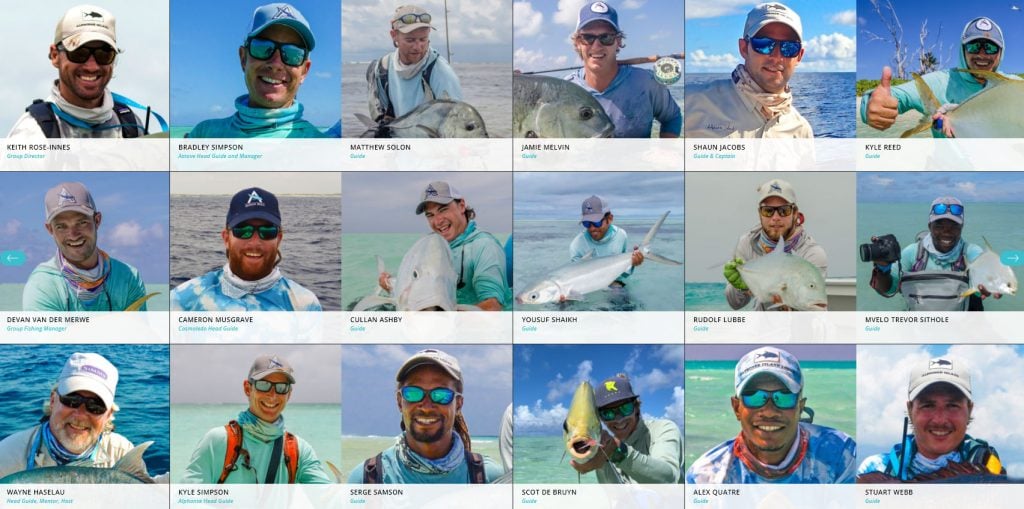 I love our fishing routine on these permit trips. Depending on the tides, anglers spend between four and seven hours wading knee-deep in the most beautiful surroundings imaginable. I personally prefer wading to standing on the bow of a skiff all day with a guide poling me around. While wade-fishing areas, a Seychelles permit angler may walk 8-16 km on the flats, getting pleasantly tired by the end of the day. All anglers eat, drink, and sleep very well after a day wading for Indo-Pacific permit!

I am regularly asked whether one needs to be a great caster to catch Indo-Pacific permit. The answer is not necessarily. Over the last few years my group has learned that accuracy is far more important than distance. I have watched quite a few very good casters who were overcasting, losing control, and spooking fish. Watching each fish very carefully and approaching it from the correct angle is the best tactic, and it makes casting for distance somewhat less critical.
"Watching each fish very carefully and approaching it from the correct angle is the best tactic, and it makes casting for distance somewhat less critical."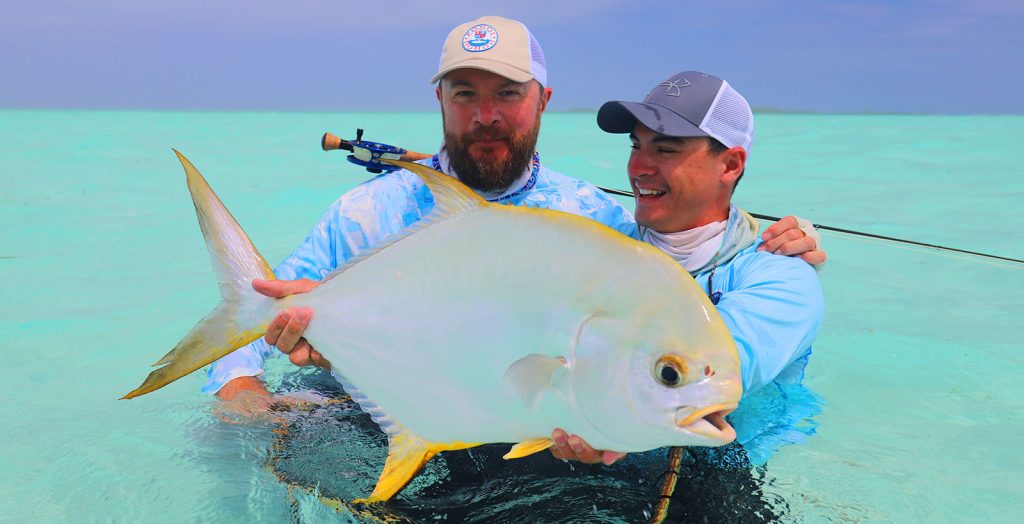 In 2020 year I brought my son Konstantin back to Seychelles, this time to try for Indo-Pacific permit. He made me a very proud father as he landed four fish on his very first permit trip! Among these fish was a Men's 6-kg (12-lb) Tippet Class World Record and Male Junior IGFA World Record!

What challenge awaits my team in our pursuit of Indo-Pacific permit? I have two primary goals on the agenda:
To find new, undiscovered locations with good populations of permit. Our group is planning a trip to a new atoll very soon.
To land a really big Indo-Pacific permit. On average we see permit between five and 15 pounds, but occasionally anglers encounter fish over 20 pounds, and some say 30 pound Indo-Pacific permit are out there somewhere. We need to find them!
Alphonse Island Fishing Company
Alphonse Island boasts a single resort made up of Beach Bungalows, Beach Suites and our newly-built spacious Beach Villas.
Built alongside the water's edge, each accommodation enjoys spectacular ocean views.
A central dining and bar area lets you socialize alongside the sparkling pool and shoreline, with cuisine offering the very best of traditional Creole creations.
Fresh produce farmed on the island and freshly caught fish are always on the menu, but diversity is key, including Asian inspired dishes and sensational sashimi, complemented by a wine list of distinctive variety.
Alphonse Island Resort
P O Box 378, Victoria, Mahé,
Republic of Seychelles
+27 82 496 4570
[email protected]