2021 IGFA World Record Recap
A look back at some of the most incredible world records approved in 2021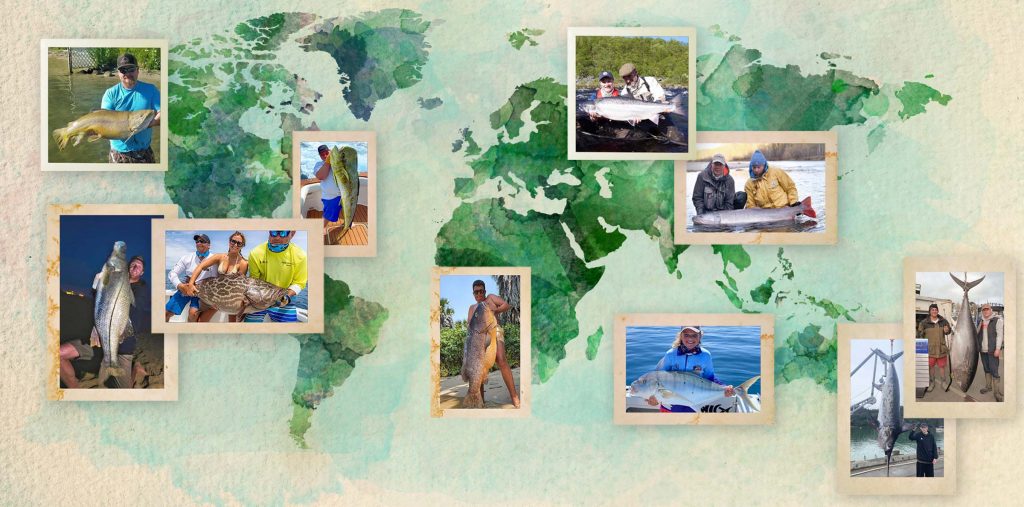 Record keeping has been the foundation of the IGFA since its inception in 1939. IGFA World Records are a vital component of sport fishing and validate some of the most outstanding accomplishments achieved in the world of angling.
This past year was tremendous with nearly 422 World Records approved for catches made from the surf of Cabo San Lucas to the rivers of Russia, and everywhere in between.
The creation of the new All-Tackle Length Fly category led to incredible participation throughout the year. With this memorable year behind us, we now look forward to an amazing 2022 filled with even more IGFA World Record fish.
Join us as we look back on the some amazing records from 2021, breakdown the stats, and highlight some of the most memorable catches that were approved as new IGFA World Records.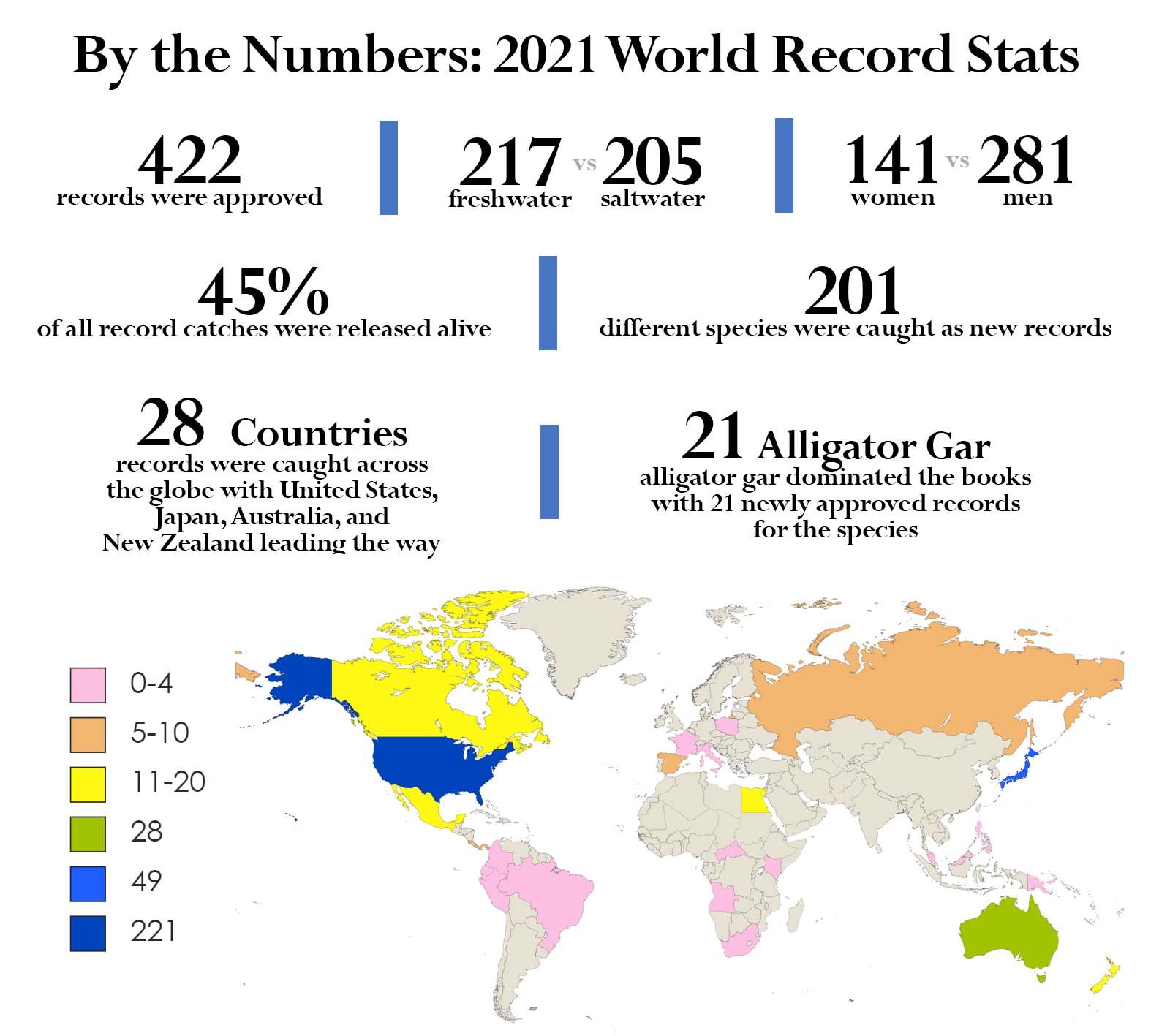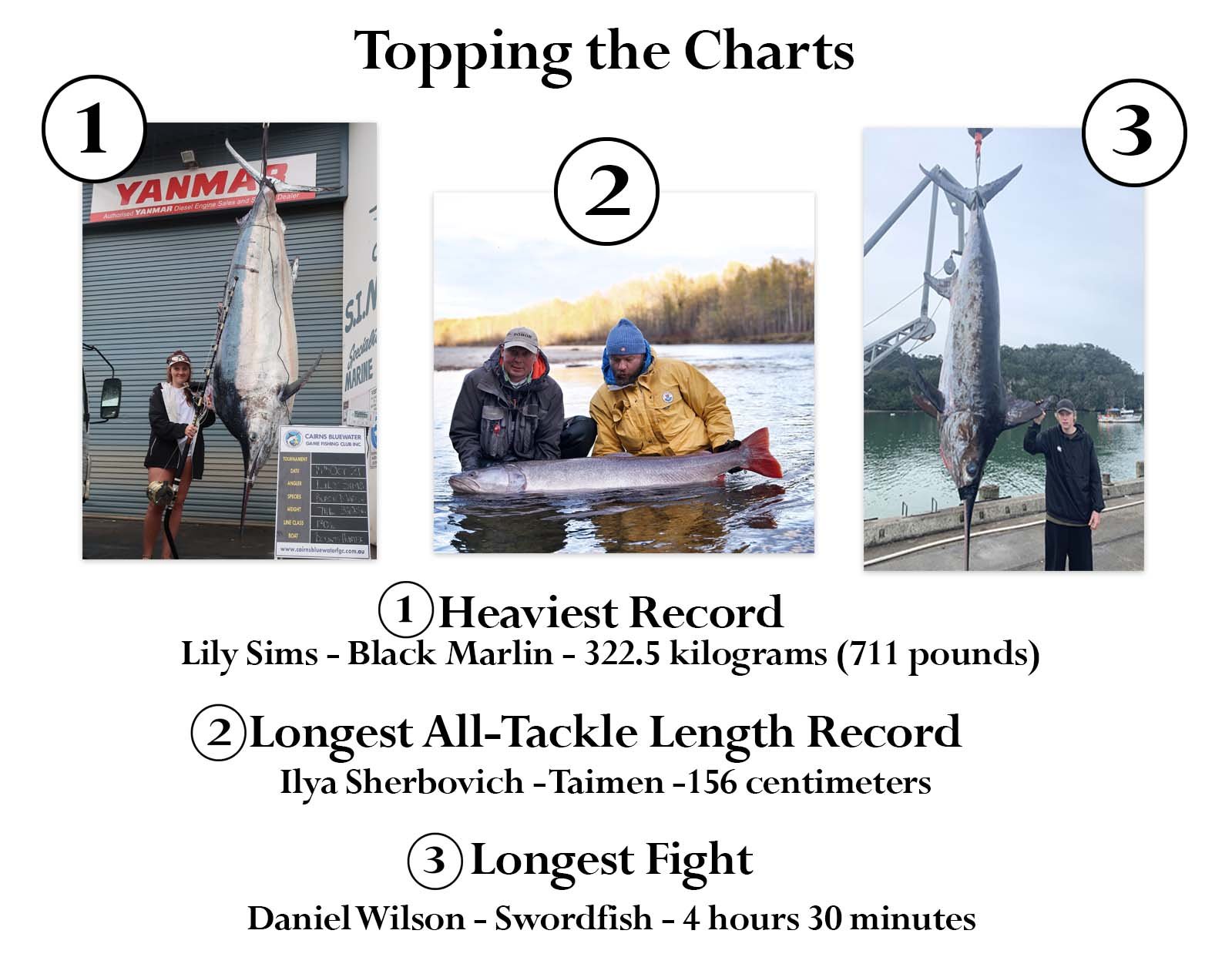 Noteworthy Record Catches from 2021

Brough's Pacific White Snook
Wesley Brough is a very accomplished surfcaster who spends most of his time fishing in Baja, California, specifically around Cabo San Lucas. On June 28, 2021, Wesley hooked this massive 23.27-kilogram (51-pound, 5-ounce) Pacific white snook from the surf in Cabo San Lucas, Mexico. The fish ate a large Savage Gear Mackstick and fought him up and down the beach for 10 minutes. Wesley was able to beach the large snook and take it over to Minerva's Baja Tackle for an official weight. With this fish he was able to set the IGFA All-Tackle World Record for the species, besting the previous fish by nearly four pounds!

Peterson's Tiger Trout
Caylun Peterson was fishing from his family's dock on June 26, 2021, when he landed this massive 11.11-kilogram (24-pound, 8-ounce) tiger trout to set the IGFA All-Tackle World Record for the species. He caught his record catch while fishing on Loon Lake in Washington. The fish ate a live nightcrawler on a weightless hook and took off on a screaming run. Caylun was concerned he may get spooled but, fortunately for him, the fish turned back to shore. After getting the fish under control, he was able to successfully land the record trout. This record retired a 9.44-kilogram (20-pound, 13-ounce) fish caught by Pete Friedland in 1978.

Thompson's Broomtail Grouper
In early July of 2021, Maya Thompson set off on an amazing trip to Tropic Star Lodge in Pinas Bay, Panama. On July 1, 2021, Maya landed this beautiful broomtail grouper while slow trolling a live blue runner aboard the classic 31' Bertram Miss Scandia. The enormous broomtail grouper weighed in at 23.47-kilograms (51-pounds, 12-ounces) and earned Maya the new IGFA Women's 10-kg (20-lb) Line Class World Record for the species. On this trip Maya and her family also landed several IGFA Grand Slams and a few more potential records.

Grasso's Golden Trevally
On November 24, 2020, Aussie angler Max Grasso, age 10 at the time, landed this 13.06-kilogram (28-pound, 12-ounce) golden trevally to set both the IGFA Men's 10-kg (20 lb) Line Class World Record, and the IGFA Men's Smallfry World Record for the species. Max was fishing out of Exmouth, Western Australia, when the record fish ate his jig. After a 15-minute battle he was able to bring the record trevally to the boat. Although caught in 2020, the fish was not approved until 2021 which ended up being an amazing year of fishing for Max that included several more IGFA World Records.

Carmody's Southern Bluefin Tuna
On July 1, 2021, Carl Carmody was fishing out of Hick's Bay, New Zealand, when he landed the fish of a lifetime. This 161.20-kilogram (355-pound, 6-ounce) southern bluefin tuna is the second largest ever recorded by the IGFA, weighing in just 14 pounds shy of the current IGFA All-Tackle World Record. Carl was fishing aboard the Doctors Orders captained by Blake Sheridan when this fish struck a trolled lure. After an hour-long battle, they landed the fish and returned to Waihaw Bay to have it weighed on a certified scale. The impressive tuna earned Carl the IGFA Men's 60-kg (130-lb) Line Class World Record for the species.

Sherbovich's Atlantic Salmon
This past year, Konstantin Sherbovich added to his impressive angling resume with this 100-centimeter Atlantic salmon, which set the new IGFA All-Tackle Length World Record for the species. On June 11, 2021, Konstantin was on a trip to the Yokanga River in northern Russia when he landed this beautiful Atlantic salmon on the fly. The fight lasted nearly 20 minutes before the young angler was able to land the record salmon. After a photo and some measurements taken on his official IGFA measuring device, Konstantin released the salmon safely back into the river.

Cuoto's African Red Snapper
On December 22, 2020, Lucas Couto, age 13 at the time, landed this impressive 32.50-kilogram (71-pound, 10-ounce) African red snapper to set the IGFA Men's Junior World Record for the species. Lucas was fishing out of Kuanza, Angola, when the colossal snapper ate the Rapala lure he was trolling. After an intense fight he was able to boat the record fish. He then brought the fish back to land for an official weight and was able to take this amazing shot on the shoreline. Although caught in 2020, the fish was not officially approved as a record until 2021.

Sherbovich's Taimen
Ilya Sherbovich, who has previously held the IGFA All-Tackle World Record for taimen, set out on October 2, 2021, to reclaim the record for himself. He did just that with this mammoth 52.39-kilogram (115-pound, 8-ounce) taimen that he caught while fishing the Tugur River in Russia. After a tense 25-minute battle Ilya's top guide and friend Max was able to get a net under this true river monster. After properly documenting the giant fish and carefully weighing it from a sling, Ilya released this fish of a lifetime back into the river.

Wilson's Swordfish
Daniel Wilson, age 15, landed this swordfish on May 21, 2021, to set the IGFA Male-Junior Record for the species. Daniel was fishing off Mayor Island, New Zealand, when this gigantic 282.80-kilogram (623-pound, 7-ounce) swordfish struck a deep bait. After a grueling four-hour and 30-minute battle he was finally able to bring the fish to the gaff. When describing the fight, Daniel's father mentioned that his son had said the final 30 minutes of the battle were exhausting. It's safe to say he slept well that night!

Keel's Dolphinfish
Hunter James Keel, age 12, landed this enormous dolphinfish on August 31, 2020, to set the new IGFA Male Junior World Record for the species. Keel's fish weighed in at an impressive 29.48-kilograms (65-pounds) and he landed the record fish while trolling the Washington Canyon off the coast of Maryland, US. The fish struck a rigged ballyhoo and was landed after a 17-minute fight. This dolphinfish beat the previous record by nearly four pounds.
Wrapping up the Year
The beauty of fishing is that every angler has the opportunity, whether planned or not, to score an IGFA World Record fish. Just about any body of water, whether it be a lake, river or ocean, has the potential to yield an IGFA World Record. That said, prior planning in understanding the IGFA's International Angling Rules and World Record Requirements, will help up your chances of getting your name in the record book.
We look forward to 2022 being filled with more incredible catches, shattered records, and new species. After all, records were made to be broken!