Newly Approved Slam & Trophy Fish Clubs
To see all newly approved IGFA Slams & Trophy Fish clubs since December 2021 please view this PDF.
McAdams Inshore Grand Slam

Don McAdams recently returned from an amazing trip to Punta Gorda, Belize, where on January 2, 2022, he accomplished an IGFA Inshore Grand Slam. McAdams accomplished this impressive feat on the fly while fishing out of Copal Tree Lodge where he caught and released a permit, tarpon, and Atlantic bonefish to complete his slam. Congratulations Don on a very memorable day!
Mejia's Trophy Speckled Peacock
On December 17, 2021, while fishing the Cano Bacon in eastern Colombia, Daniel Mejia hooked one of the most remarkable, speckled peacocks ever landed. The fish measured out at an incredible 94-centimeters (37-inches) and was submitted by Daniel for the IGFA All-Tackle Length World Record for the species. Unfortunately, Daniel did not measure the fish on an IGFA measuring device and therefore it does not qualify for the world record. Fortunately, Daniel was able to submit his fish for the IGFA Trophy Speckled Peacock Club shattering the 86-centimeter length requirement. Congratulations Daniel on an amazing fish and an incredible accomplishment!
Mann's Trophy Snook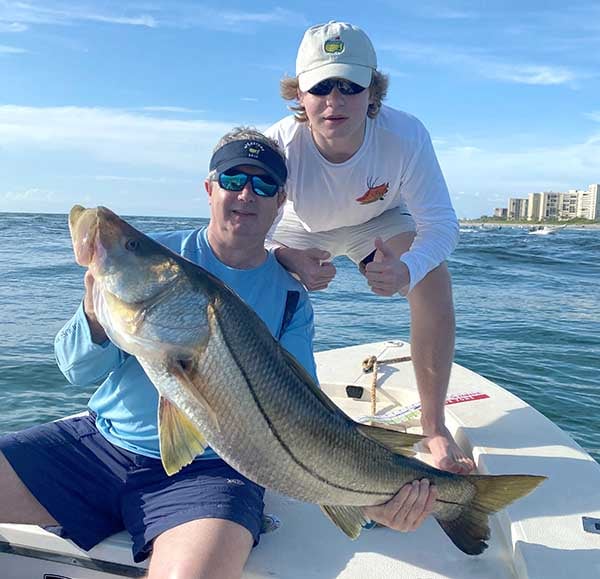 Daniel David Mann was fishing off Jupiter, Florida, US, on July 5, 2021, when he hooked this respectable 112-centimeter (44-inch) snook. Daniel was fishing with a live mullet on 37-kg (80-lb) test line when this snook struck. With this fish Daniel entered the IGFA Trophy Snook Club, and also submitted two others along with it! Congratulations Daniel on some impressive additions to your angling resume!