Fishing for Taimen in Siberia's Far East
By Jan Forszpaniak MD, IGFA International Representative, Naples, FL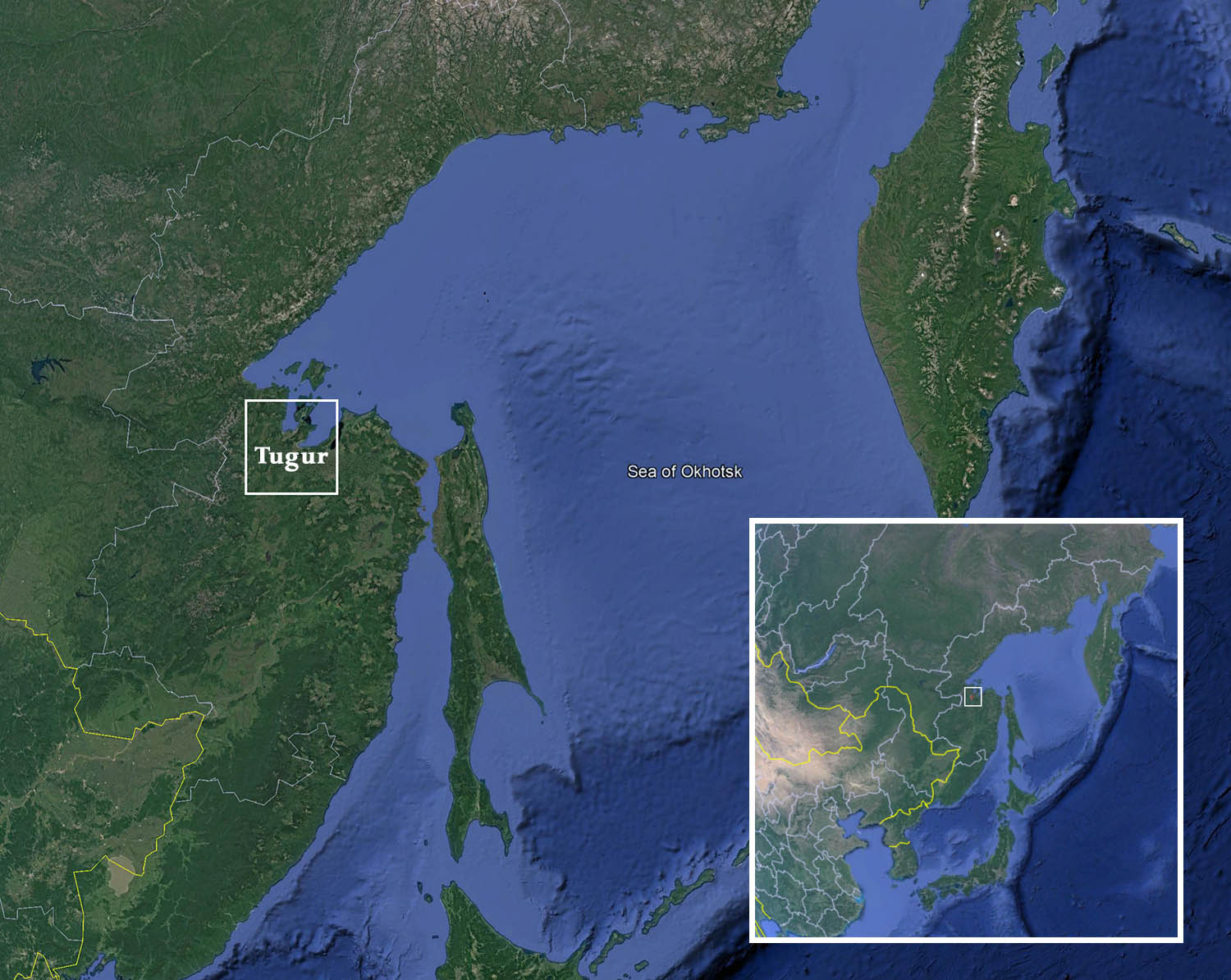 Tugur Bay or Tugursky Bay is a large bay in the Tuguro-Chumikansky District of Khabarovsk Krai, Russian Federation.
Extraordinarily difficult to reach lands and waters that are subject to some of the most extreme weather on the planet, Siberia in Russia's Far East is a wild, hauntingly beautiful, bountiful and nearly untouched sport fishing destination. The pioneers who have managed to explore parts of it have reported enviable catches of taimen, or Siberian giant trout--the largest members of the Salmonids family which average 33 to 66 pounds at maturity. The current IGFA All-Tackle World Record for the species is a 52.39-kilogram (115-pound, 8-ounce) fish that was recently caught in the Tugur River, and there is a report of a 231-pounder caught in Russia's Kotui River in 1943.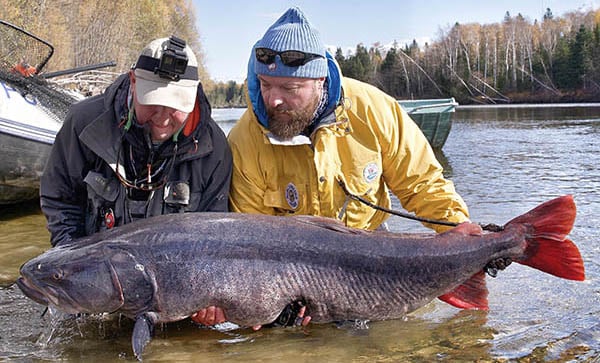 IGFA Trustee Ilya Sherbovich set the IGFA All-Tackle World Record taimen with this massive 52.39-kilogram (115-pound, 8-ounce) taimen. Ilya was fishing the Tugur River in Russia when he hooked the fish of a lifetime on a pink fran fly.

IGFA Representative Jan Forszpaniak discussing fly selection and taimen ecology with Dr. Mikhail Skopets of the Wild Salmon Center.
IGFA Representative Jan Forszpaniak wanted to learn how IGFA can help conserve this important fish which, according to fly fisher/conservationist Mikhail Skopets of the Wild Salmon Center, is undergoing significant decline in the majority of its native river systems mostly from loss of habitat and poaching. Forszpaniak had the chance to travel to Siberia's remote Limuri River for six days of fishing and exploration. The trip was wild, magical, colorful, and spectacular.
Organized by Siberia-based outfitter Za Taimenem (Fish for Taimen), my journey began at New York's JFK Airport with stops in South Korea and Vladivostok before arriving in Khabarovsk, the largest city in Russia's Far East. I hooked up with a group of Serbian anglers and one from Russia who made their own custom taimen lures and planned to shoot a documentary on Siberia's ecosystem.

It took more than 17 hours of bumping along muddy, unpaved tracks through the taiga which lacked modern accoutrements such as Wi-Fi or cell phone service to arrive at our primitive camp on the Limuri, a tributary of the Amur. The camp was outfitted with pontoon boats and staffed by boat drivers, hunters, and a cook, but no professional fishing guides. Tents were comfortable; the menu included fire-roasted local game such as moose and boar-- even caviar-- and there was plenty of vodka. Our water supply came directly from the river.

Without much guidance, the author had to tie his flies based on what he perceived was the best patterns for the river conditions and his fly tackle he had brought with him. He was most proud of the specimen above that he caught sight-fishing in knee-deep water and on one of his improvised hand-tied flies.
As the only fly fisher in the group (and someone who had never before fished for taimen), I had to learn, quite literally, on the fly—with no instruction nor advice. I learned that taimen feed on different species of fish including spawning salmon, but also on small mammals and birds so I tied my fly patterns accordingly. I also learned that during summer the species feeds primarily in deeper pools, near stumps, and in swiftly-moving rapids.

The largest caught during our trip weighed 45 pounds. Forzpaniak's group explored the area from close to camp all the way to 20 miles outside of it.
The Limuri had a healthy taimen population-- mostly fish in the five-to-20-pound range. I found the taimen to be a very aggressive and hard-striking predator. I was catching mostly specimens in the 10-to-15-pound range-- very exciting. Supposedly, the best time to hunt big taimen on fly is late September through October, but heavy rains and snowfall can be impediments. The upside is that spawning salmon tend to vacate rivers in October, so taimen will eat whatever else they can gobble in preparation for the long, cold winter --and that includes dry flies!

Locals told the author that lenok up to 16 pounds have been caught-- larger than the current IGFA All-Tackle World Record of nine pounds.
Taimen weren't the only species we encountered on our expedition. There was a plentiful supply of lenok-- a fish that looks like a cross between a brown and brook trout. Locals told me that lenok up to 16 pounds have been caught-- larger than the current IGFA All-Tackle World Record of nine pounds. Also, in the Limuri there is a huge population of Amur grayling. The fish resemble grayling but are smaller and more colorful. Every night, I saw hundreds of grayling feeding on the surface, eager to take the fly. I was hooking fish on nearly every cast.

We only saw humans outside of our group once during the trip-- five scary--looking men who told us they were digging for gold and were happy to stop and chat and share vodka.
In six days of fishing, our group caught approximately 70 lenok and 40 taimen, mostly on lures. The experience drove home for me (and I shared with the others) the importance of anglers and conservation groups working together to create strong and effective programs to boost healthy, sustainable populations of taimen, including promoting catch-and-release; using barbless hooks; handling fish carefully; giving the species game fish status and conducting more research on its life history; cracking down on poaching; and preserving aquatic habitat.

I was heartened to learn that more than 3,700,000 acres of Siberia's Tugur and Maia tributaries recently have been designated protected zones for salmon, taimen and other wildlife species-- thanks to the collaboration of the Wild Salmon Center; the Khabarovsky government; the Russian Academy of Sciences and others.
Expanding this collaboration on conservation and research with the support of the Russian government is the only way to be able to protect this important and unique ecosystem.