IGFA Fish Art Conservation Award
Last year the IGFA partnered with Wildlife Forever on their highly popular and globally successful Fish Art Contest in an effort to help introduce more children to sport fishing and the importance of conservation. Through the IGFA's sponsorship of the program, we were allowed to create a unique award for participants to pursue. As such, the IGFA Fish Art Conservation Award was created in partnership with Wildlife Forever's Fish Art Contest to promote youth education through fish, fishing, and aquatic conservation. The "theme species" of the IGFA Fish Art Conservation Award this year was billfish to help raise awareness about these highly popular, yet understudied species.

The Fish Art Contest is free to enter and uses art, science, and creative writing to foster connections to the outdoors and inspire the next generation of stewards. Students in kindergarten through 12th grade create original illustrations of a fish of their choice as well as a one-page creative writing piece.
Artists competed for state, national and international recognition, as well as specialty award categories including the Guy Harvey Shark Award, IGFA Conservation Award, Invader Crusader Award, and Western Native Trout Award. Participants also submitted essays eligible for state awards and the Fish Habitat Writing Award.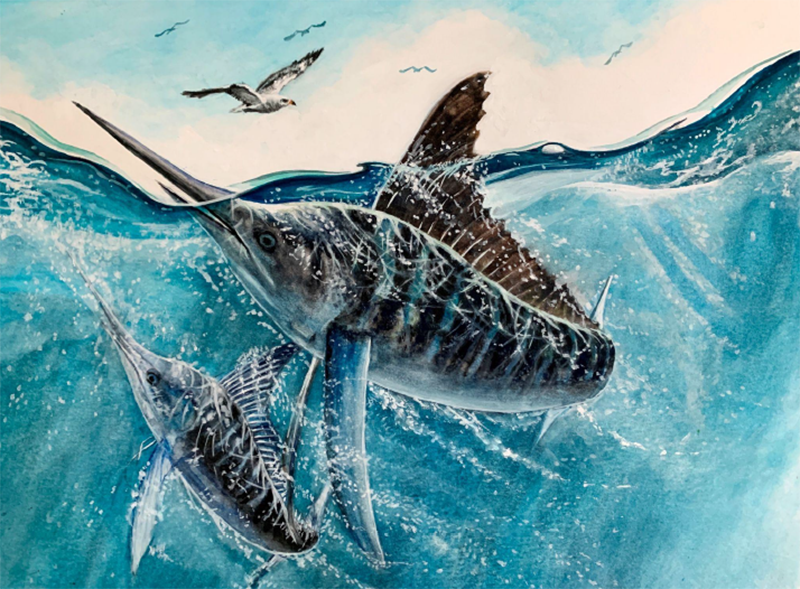 The winning submission for the IGFA Fish Art Conservation Award came from Hannah Hong, a 9th grader from California, US. The beautiful piece of art depicts striped marlin feeding on the surface with incredible detail and attention to their interaction with ocean and their prey. Hong's winning piece was selected by a panel of judges made up of IGFA staff members. Additionally, Hong's striped marlin piece was the overall winner of the 2022 Fish Art Contest.
In addition to winning an impressive IGFA prize pack consisting of various custom IGFA gear, Hannah's winning submission will also be featured in the 2023 IGFA World Record Game Fishes book which is due to be published in April of 2023.
The IGFA congratulates Hannah on this impressive achievement, and thanks all of the participants for their submissions for the IGFA Conservation Award this year.