In Memoriam
John Chibnall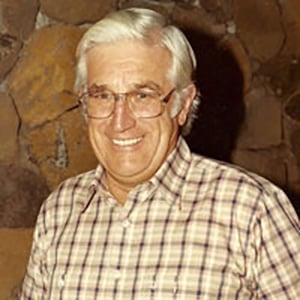 On August 6, 2022, the recreational angling community lost one of its most dedicated members and supporters, IGFA Fishing Hall of Famer John Chibnall.
Born on February 14, 1930, in Hamilton, New Zealand, John Chibnall was well-known and highly respected for his fishing ability, his administrative achievements, his untiring efforts to promote and protect marine resources, and his commitment to furthering the sport of recreational angling.
As a boy, he served as deckhand on a vessel that carried sheep ashore from Slipper Island in the Bay of Plenty. John's field of expertise was transportation and logistics management, specializing in liquid and equine international movement. It was his business that took him around the world -- to places like Mexico, the U.S., Hawaii, South Africa, Fiji and Australia – but while traveling he always made time for fishing adventures. While there are plenty of photos and stories to attest to John's angling prowess, perhaps the most noteworthy is the 1,220-pound black marlin that he landed in Cairns. John's participation in the historic Hawaiian International Billfish Tournament (HIBT) began in 1967 and in 1974 he was appointed to the HIBT's Board of Governors, a position he held until 1999.
However, the fishing grounds of the Bay of Islands are the ones Chibnall knew best. His impressive knowledge and understanding of the country's fisheries kept him at the forefront of management issues since the mid-1960s when he was elected to the Committee of the Bay of Islands Swordfish Club (BOISC). He held every BOISC position including President and Chairman, represented the organization internationally, and was a founder of the first international fishing club tournament in New Zealand. For 55 years he served in a variety of posts on the New Zealand Sport Fishing Council. Chibnall was also instrumental in setting up – and serving as Chairman of for seven years -- the New Zealand Marine Research Foundation, which initiated the first satellite tagging program in the country. And in 1987 John embarked on one of his greatest achievements: the successful lobbying of the government to ban commercial longlining and the sale of marlin caught in New Zealand's economic zone.
Boats were another passion of John's and he built several during his life, including the Aloha Kai and the Lanakai. He is also responsible for the salvage and restoration of the Otehei, one of four boats commissioned in 1926 by the Zane Grey Club; and of Zane Grey's Avalon, which currently resides at Johnny Morris' Wonders of Wildlife Museum & Aquarium in Springfield, Missouri.
New Zealand's legendary waters have been protected and, in many cases, rebuilt by John Chibnall's dedicated actions, and he tirelessly promoted the area as a world-class game fishing venue. More than half of his life was devoted to those causes closest to his heart: to fishing organizations, to Club members, and to everyone who ventures out to sea to drop a line. For his significant contributions and commitment to marine research and recreational angling, he was awarded the Member of the New Zealand Order of Merit (MNZM) during the 2010 Queen's Birthday Honors. John also faithfully served as an IGFA Representative for nearly 40 years and was inducted into the IGFA Fishing Hall of Fame in 2011.