The Pursuit of an
IGFA Trout Grand Slam
By IGFA Angler Recognition Coordinator Zack Bellapigna and multiple IGFA Trout Grand Slam Holder Tyrone Herfel

For most trout enthusiasts, landing three species of trout on the same day would be considered a phenomenal trip. Since the beginning of 2020, Tyrone Herfel has accumulated 26 of those phenomenal trips. He is the first individual to gain admittance to each of the four IGFA Trout Slam Clubs on both conventional and fly tackle. Over the past two years, Ty has become a member of the IGFA Trout Grand Slam Club (three species in the same day); the IGFA Trout Super Grand Slam Club (four species in the same day); and the IGFA Trout Fantasy Slam Club (five species in the same day). After landing so many species in multiple Grand Slams, Ty is a four-time member of the IGFA Trout Royal Slam Club. It's clear that he is more than a skilled trout angler; scoring so many slams on both conventional and fly tackle proves his rare angling versatility. The IGFA recently sat down with Ty to learn more about his recent adventures and to take a deeper look into his methodology of pursuing an IGFA Trout Slam. Pay attention, trout and other Slam hopefuls: the IGFA's improved online application process is now easier and more efficient than ever.
IGFA is excited to announce the launch of its new online submission portals for IGFA Grand Slam Clubs, IGFA Trophy Clubs, and IGFA Catch Certificates. As the leading authority of international angling rules and keeper of world records for more than 80 years, the IGFA continues to modernize its infrastructure to help make the submission for angling recognition applications easier and more efficient for our members around the world.
The new online applications will provide an enhanced experience for anglers while simultaneously improving the IGFA's efficiency of the review and approval process of applications. The online forms mirror the traditional applications and requires the same information to submit for IGFA Grand Slam Clubs, IGFA Trophy Clubs, and IGFA Catch Certificates.
IGFA: Can you give us a quick description of your fishing history?
Ty: I started fishing when I was just a little kid in Wisconsin, US, catching bluegills, other panfish and bass with my dad and two younger brothers. The trout season always started the first Saturday of May-- a special day, but I hated getting up early in the morning. Depending on the stream, we caught brown trout and rainbow trout and the occasional brook trout. As an adult working industrial construction, I travelled coast to coast, border to border and many places in between. In Arizona, I discovered Gila and Apache trout and thought it would be cool to try to catch one. Eventually I did, and it piqued my interest in the different species and subspecies of salmonids, which include trout, char, and salmon. I thought it would be cool to try to catch every species in North America. So that's what I've been doing the past few years and at the same time, completing many different trout fishing challenges. I currently live in Colorado, so I am very lucky to have all these opportunities for trout fishing within a day trip from the house.
IGFA: What interested you in chasing IGFA slams?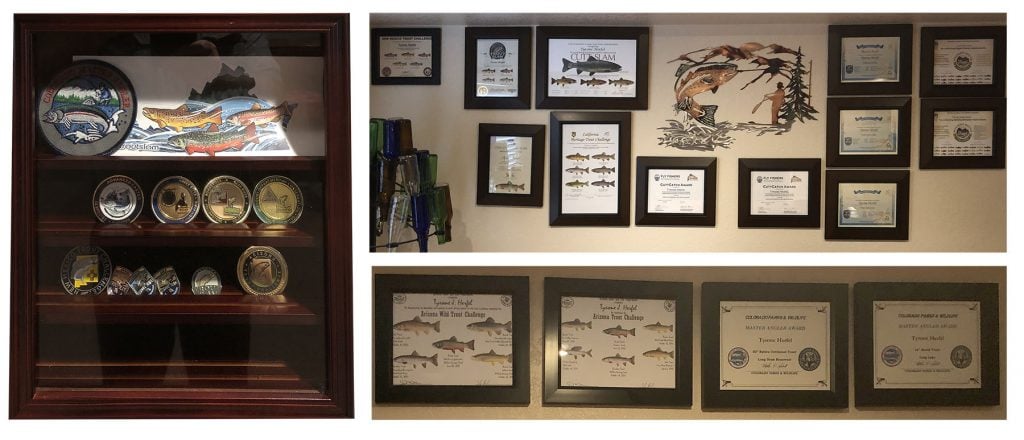 Ty: During the Covid pandemic of 2020, I was at home, twiddling my thumbs and waiting to start a new career. The previous year, I had completed the California Heritage Trout Challenge and the Wyoming Cutthroat Slam. I was doing a little reading on the Nevada Native Fish Slam when I came across an article that mentioned Nevada is one of the only states where you can complete the IGFA Trout Royal Slam. So I did some more research and learned the IGFA also offered the Trout Grand Slam and the other slam categories--Super Grand Slam and Fantasy Slam. I contacted IGFA and learned that I qualified for the IGFA Trout Royal Slam on conventional tackle. After that, I thought it would be fun to be the first person in history to complete all the IGFA Trout Grand Slams on both conventional and fly tackle. Once I had achieved that goal, I took on the challenge of scoring the most slams for each of the IGFA slam clubs.
IGFA: What do you remember about your first slam?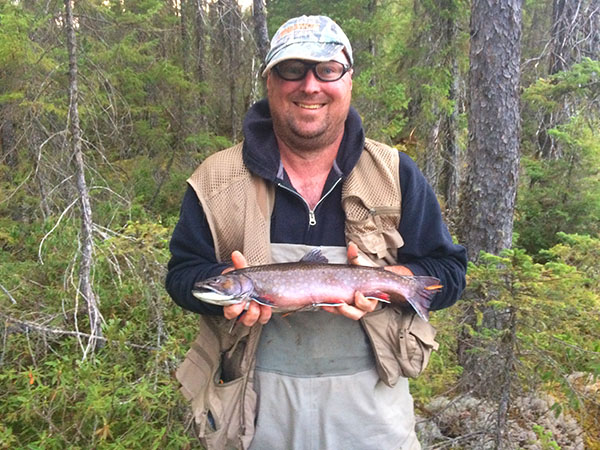 Ty: When I decided to complete my first IGFA Trout Grand Slam on fly, I went to the Cache la Poudre River in northern Colorado, USA, where I had previously caught brown, rainbow and brook trout. I wanted to fish this river before the spring runoff when the water would run too high and fast to fish. I began in a few of the lower areas, but had no luck so I headed a few miles upriver in my truck. I pulled over at a little turnaround pool that I had seen before but never fished and caught two brown trout in a couple of minutes near some large boulders. After about two hours of fishing, I got back in the truck and drove up to the headwaters where I had caught brook trout in the past. It did not disappoint. I was catching brook trout on just about every cast-- typical small-stream fish. After an hour or so of catching the brook trout, I was wondering where I could catch a rainbow or maybe a cutthroat to complete the IGFA Trout Grand Slam. I drove up to a high reservoir that I had never fished but I knew held rainbows. Once I got to the lake, it was no-go; it was frozen over. I knew of one more spot close by in a state park. When I got to the North Michigan Creek Reservoir, I found it about 75 percent covered with ice, but there was a small part of open water near the dam. After a couple of hours, when the sun started to sink behind the mountains, I finally landed my rainbow. It was just a typical stocker trout-- one of millions that Colorado Parks and Wildlife stocks in lakes and streams across the state, but that one fish meant everything to me.
IGFA: Having accomplished every possible IGFA Trout Slam, which would you say was the most challenging?
Ty: I can honestly say that they are all challenging. Sometimes going to your own "hot spot" to catch a couple can be the most frustrating. One week, you get fish after fish and the next you fish for hours and don't even get a hit. However, I would say that the IGFA Trout Fantasy Slam is especially challenging. There are not many places where you can catch five species of trout within a day's drive. Some days no matter how hard you try, it seems like you can't buy a bite. Equally challenging is the IGFA Trout Royal Slam on fly because of the difficulty in catching a lake trout that is typically found in deep water. Without a boat, you have a small window of the year that you can catch one from shore.

IGFA: What is your most memorable day of fishing for an IGFA slam?
Ty: Every time I complete a slam it feels good, but the first IGFA Trout Fantasy Slam on conventional tackle was a special day. I fished all day trying to get a lake trout to complete it. With about 15 minutes of daylight left, I went to another lake where I was lucky enough to get a golden. Once it was in the net and I released it, it was one of the greatest feelings. The other day that really sticks out is this past year when I completed an IGFA Trout Grand Slam on fly, IGFA Trout Super Grand Slam on fly, and an IGFA Trout Fantasy Slam on fly -- all in one morning-- and it happened to be on my 42nd birthday. It was one of those days when the fish were biting, and I couldn't do anything wrong.
IGFA: Do you have a species of trout you enjoy fishing for more than others?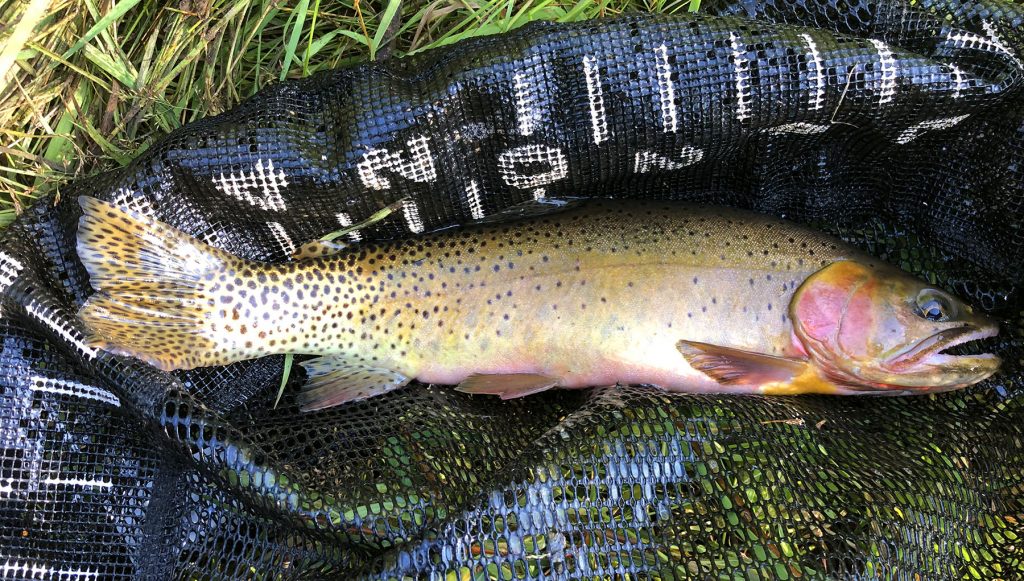 Ty: I just love to go trout fishing. To me, it is great just to get out, enjoy what you are doing and have some fun. I always love to try to catch a new species/subspecies or fish in a different stream or lake to catch something unique. As for a specific species, I think it would have to be cutthroat trout for two reasons: the places where they live, and their amazing colorations. I also like to catch golden trout or brook trout in spawning colors – just stunning, and they look like they should be on a cover of a magazine.
IGFA: What advice would you give to an angler looking to complete their first IGFA Trout Slam?
Ty: First, I would say to become a member of the IGFA to receive the monthly digital International Angler publication and, of course, the IGFA World Record Game Fishes book. Try to attend some of their amazing events and provide feedback as an avid angler to help improve the organization. Do your homework, look at maps, and contact state/federal fisheries biologists about regulations and what species live in certain streams. Get involved with other fishing organizations, too. Explore IGFA's other slam categories-- not just trout. Living in Colorado, trout is the best option for me since there are not too many billfish or tuna in the mountains!
IGFA: Having accomplished so much already, what's next?
Ty: I am just honored to help promote some of these amazing IGFA angling clubs. There is more for me to accomplish as I still need to complete two more IGFA Trout Grand Slams on fly and two more IGFA Trout Royal Slams on conventional. I also want to complete all the fly and conventional slams for salmon as well as the IGFA Salmon Royal Slam Club. For non-IGFA fishing goals, I have the Nevada Native Fish Slam to complete, and I have a handful of different species/subspecies of salmonids in North America that I would like to catch. We would not have all these great opportunities without the IGFA.