In Memoriam
Peter B. Wright and Jack Morrow
The angling world recently lost two legends of the sport, and the IGFA joins the international angling community in celebrating the lives of captains Peter B. Wright and Jack Morrow. Both of these revolutionaries changed the landscape of big-game fishing and left their respective marks on the sport that will never fade. Whether it was guiding anglers to IGFA World Records and tournament wins, or inventing new techniques that challenged the norm, both of these incredible captains and advocates for sport fishing will never be forgotten. Please see below to learn more about the lives of captains Peter B. Wright and Jack Morrow, and the indelible impact they made on sport fishing.
Peter B. Wright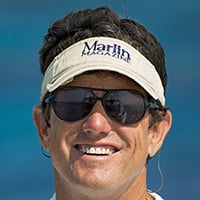 IGFA Fishing Hall of Famer, Gil Keech Heavy Tackle recipient and Tommy Gifford Honoree, Peter B. Wright, was a world-renowned angler, captain, journalist, scientist, conservationist, and consultant. And, he made a living as a model, marine biologist, mortgage banker, high school teacher, and real estate developer. But he was best known for his ability to catch big fish, for he was the man who helped catch more marlin over 1,000 pounds than anyone in history. In a career spanning five decades Wright captured 77 granders and released countless others. Included in that elite group are a 1,442-pound black marlin from 1973 that remains the largest ever weighed in Australia, and the IGFA women's 80-pound black marlin record of 1,323 pounds, still standing after 30 years. Wright set a The Bahamas bluefin tuna record of 972 pounds, and in 1995 guided Stewart Campbell to 73 bluefin that were tagged and released off Cape Hatteras, the most in a single day. Born in Paterson, New Jersey, Peter grew up in Fort Lauderdale, and while still in grade school began working on charter boats out of Hillsboro Inlet. At the age of 11 he gaffed his first blue marlin; by the next year he was fishing with noted Captain Johnny Whitmer. Throughout high school and college he spent summers and weekends on the Miss Jeanne, fishing Bimini and Cat Cay tournaments with great success. In 1965 Peter graduated from Georgia Tech with a degree in biology (and second-place in springboard in the SEC championship). Two years into his graduate work at the University of Miami's Institute of Marine Science, he joined Dr. Gilbert Voss' Antarctic Research Program and spent two months collecting squid and octopus specimens. While awaiting his return trip stateside, Peter traveled the South Pacific. Sixteen months later he was still there. In Sydney, Australia, he found modeling work, and then hitchhiked 1,000 miles to Cairns, home of former Fort Lauderdale skipper George Bransford. George needed a mate for his new boat and Peter, hoping to get a glimpse of a thousand-pound marlin, signed on, spending the first few months assisting with the boat's construction. Sea Baby II's first big fish in 1968 -- and Peter's first big black marlin ever -- weighed 879 pounds, and that year he wired and gaffed two granders. He started out crewing, earning a reputation as one of the most skillful wiremen in the world. In 1970, he had the chance to captain, and from the start he had a huge advantage over local skippers. They had not fished for giant bluefin in the Bahamas during the sport's heyday. Wright had, and it taught him invaluable heavy-tackle and boat-handling skills. He ran the first boat in Cairns to have a tuna tower, transom door, two-speed Fin-Nor reels and curved-butt rods. His tackle and techniques weren't new; Peter simply borrowed them from the only other fishery that had needed them. Sea Baby II, Kingfish, Hooker, Restless, Makaira and Duyfken were just some of the famous boats identified with Peter B. Wright. In 1975, he went to Kona, and together with Jeff Fay operated the Humdinger for five years. When Wright found his dead baits weren't faring well against Hawaiian lures, he began fast trolling using baits soaked in formaldehyde. The Humdinger immediately became competitive, and further design modifications led to soft trolling lures and to Mold Craft's "Softhead" series. From his science training, time on the water, and constant research, Peter Wright accumulated an astonishing amount of knowledge that he was always willing to share. For more than 13 years he wrote the "Sportfishing" column for Motor Boating and Sailing magazine, and also served as editor-at-large for Marlin for several years. Peter was passionate about billfish and tuna management and tag-and-release, and was instrumental in the implementation of archival pop-off tags and circle hooks. He was a recipient of IGFA's Gil Keech Heavy Tackle Award and in September 2007 was inducted into the Cairns Black Marlin Hall of Fame. Peter was most content when sharing his wisdom and guiding anglers to the fish of their dreams.
Jack Morrow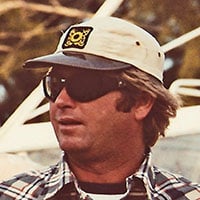 A West Palm Beach, Florida, transplant from New Jersey in 1948, Jack Morrow gravitated toward the local docks as a child and started cleaning boats for small change. His early passion evolved into a successful career that spanned more than 60 years and took him all over the world -- Australia, Venezuela, Panama, Mexico, the US Virgin Islands, Costa Rica, Dominican Republic, and the U. S. East Coast. Morrow's first job as captain was on the Valiant Lady in 1963. He was the first captain to win the International Masters Angling Tournament twice, in 1980 and 1982, and he went on to score many top finishes in other contests.
Career highlights included single-day catches of 54 sailfish on No Problem and 29 sailfish on Sail Ahoy in the waters off Palm Beach, Florida. Other memorable outings include an 823-pound blue marlin, a 1,025-pound bluefin tuna, and seven giant tuna caught in one day with IGFA Hall of Fame Member Johnny Morris on the Pretty Patti.
Morrow led clients to a number of world records, including an outstanding day aboard the One Bull in St. Thomas where they caught nine blue marlin- a record that held for over 15 years.
Never forgetting his start in Palm Beach nor the many colleagues who helped him in his career, Morrow worked as the captain of the Boys R Us for Greg Garvey, alongside his son, Kevin, who served as both his mate and stand-in captain.
The IGFA extends our condolences to both families of these incredible anglers and influencers of our sport.