IGFA Passports to Fishing Update
The IGFA's Passports to Fishing program finished 2022 strong as a prominent feature in major events around the world hosted by members of our international network.
Abu Dhabi, United Arab Emirates
The Abu Dhabi International Boat Show (ADIBS) occurred November 24-27, 2022, in which IGFA Representative Greg Heinricks manned an IGFA booth, and coordinated Passports to Fishing events during the show. As it has over the past few years, the Passports to Fishing drew a great crowd of kids and their families who participated in the various education stations and a hands-on experience with a 20-foot container stocked with locally farmed tilapia!
In total, 115 children were reached over the four-day show. IGFA Representative and Captain, Greg Heinricks commented, "The show is a long one, but the wonderful smiles from the kids and their parents make it all worth it." The IGFA looks forward to ADIBS 2024 as it continues to grow since our initial involvement in the show back in 2018. A special thank you to Greg Heinricks for the hard work, and to ADIBS Show Management for their continued support during the show every year.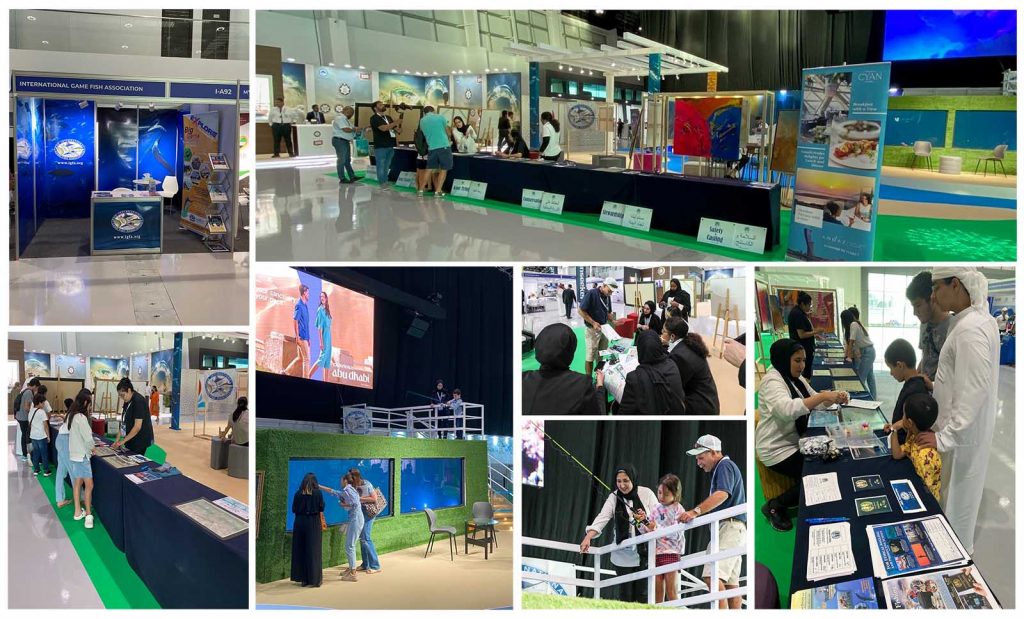 Puerto Lomas, Arequipa, Peru
On November 26-27, 2022, the first edition of the MGX Cup tournament occurred in Puerto Lomas, Arequipa, Peru, and was facilitated by IGFA Representative Marcel Gonndeau and Gianpaolo Scotto, an official instructor for Sportfishing Peru. On the first day during registration, participants arrived and participated in the IGFA Passports to Fishing stations before the competition began. In total, there were 176 participants in the tournament, many of which participated in the Passports to Fishing program. Congratulations to Marcel and Gianpaolo on what appears to be a very successful inaugural tournament and thank you for including the IGFA Passports to Fishing.

Kuala Lumpur, Malaysia
After her successful "proof of concept" in August 2022, IGFA Representative and Education Partner, Shamin Shaimah, officially launched 'Pasar Pancing' (Malay for Fishing Market). This Fishing Expo was held on December 3-4, 2022, at the MATRADE Exhibition and Convention Centre, located in the national capital, Kuala Lumpur. This turned out to be the largest sportfishing event in Malaysia with 100 exhibitor booths covering all fields of angling, attracting over 7,500 visitors from all over the nation and neighboring countries.

The IGFA took center stage with the Passports to Fishing program running in the main center throughout both event days. The IGFA also had a dedicated exhibitor booth showcasing the World Record Game Fishes book, the IGFA Annual Program Report, IGFA International Angling Rules (dual language), Catch Certificates, Digital Membership sign-ups, and more. Since the inaugural event in August 2022, and through The Milkfish Lady Official IGFA Fishing Club, Shamin has pledged that the first 10 IGFA World Record applications from Malaysia will be verified and shipped to the IGFA HQ at no cost. There have been two IGFA World Record applications submitted since, one approved and one pending, which has added to the excitement in Malaysian angling. Thank you for the continued support, Shamin!
France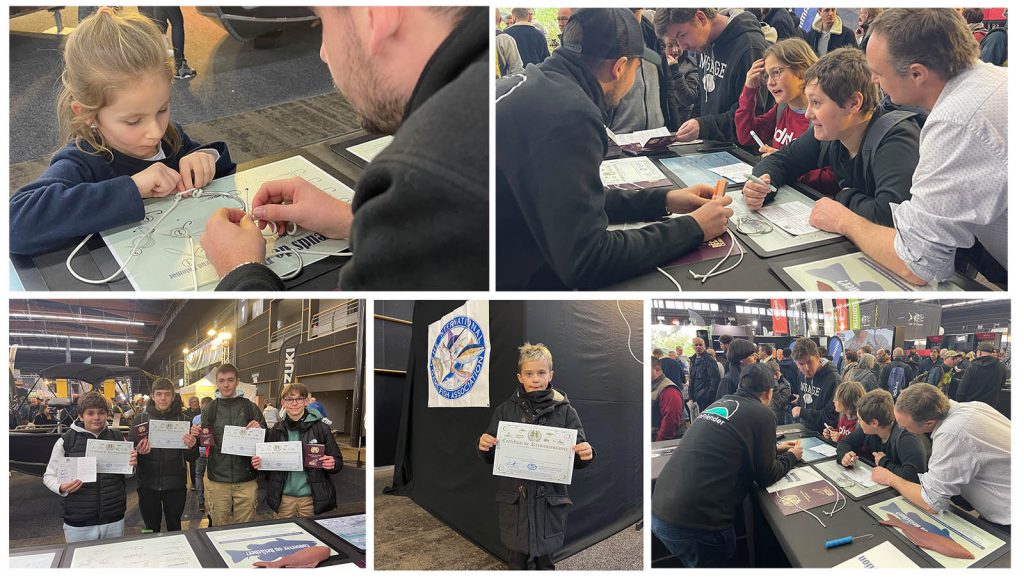 Lastly on January 20-22, 2023, Education Committee Chair of the IGFA Europe & Mediterranean Council Gregory Tordjeman, along with members of the Big Game Fishing Club of France and other members of the IGFA Europe & Mediterranean Regional Council, held IGFA Passports to Fishing sessions for youth at the Carrefour National Pêche et Loisirs show in France. It was great to see the show return in 2023 after a break due to the global pandemic, thank you to Gregory, the IGFA Europe & Mediterranean Council, and the Big Game Fishing Club of France!
The IGFA cannot thank our international network of supporters enough for all your hard work in promoting ethical angling practices around the world, and for your tireless efforts in creating the next generation of conservation-minded anglers! Congratulations on all you have accomplished in promoting responsible recreational angling to members of your community.
If you are interested in bringing the Passports to Fishing program to your community, please contact IGFA's Education Director, Lisa Morse, at [email protected].