Galápagos' Monster Striped Marlin
When fishing this untapped fishery, you can expect to land striped marlin over 200 pounds.
By Pat Ford (patfordphotos.com)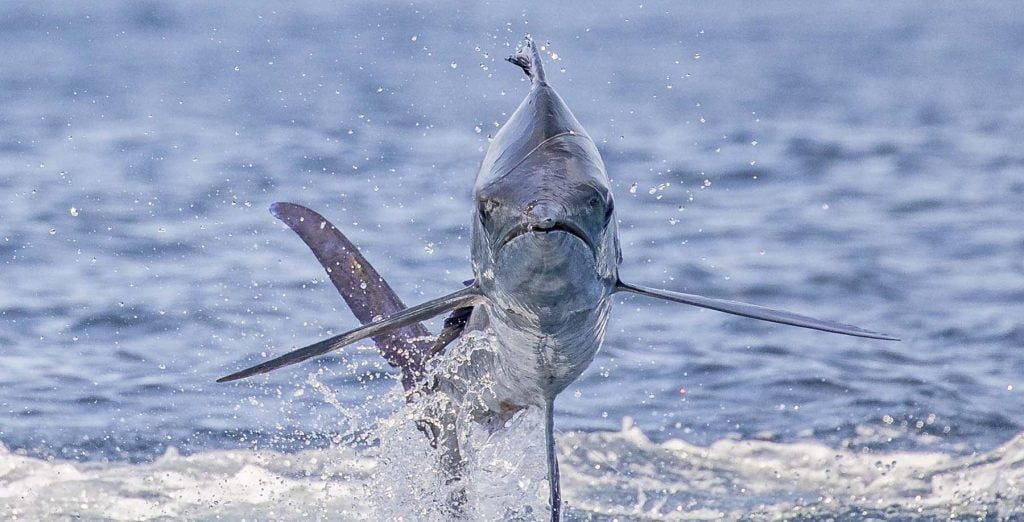 Over the last few years, stories of large striped marlin being caught in the Galápagos have begun to resurface. Five years ago, the marlin population began returning to the island. The marlin bite in the last two years has been as strong and consistent as the islands have had in more than 10 years, according to Javier Guevara, who owns Ecuador Fly Fishing Tours (ecuadorflyfishingtours.com). Javier offers several adventure fishing trips but in 2019 he presented a new offering: San Cristóbol. He operates under a Pesca Vivencial license, which is required to fish in the Galápagos Marine Reserve. I fished for payara with Javier in Colombia, so it didn't take long for me to sign on for his Galápagos trip. My companion this time, Rhona Chabot and I were joined by anglers Chris and Jennifer Lalli. We fished the islands in February, and Javier arranged every detail.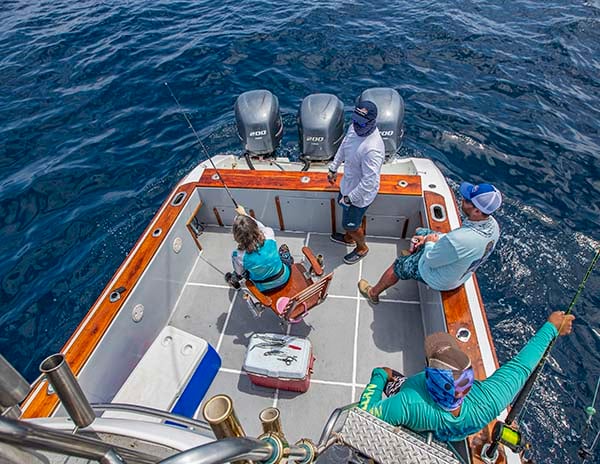 It didn't take long before we learned that there are more rules and regulations in the Galápagos than there are sea lions. For example, you can't use a flash attachment when shooting photos. Paul Abad joined us as our mandatory naturalist guide, and he was extremely knowledgeable about the wildlife and very helpful on the boat.
Our ride was an island-built 33-footer powered by triple 200-hp outboards, a comfortable sportfish with a spacious cockpit and plenty of lounge seating below. We left the dock each morning at 7 o'clock for the 90-minute run to the fishing grounds.
Chris and I wanted to fly-fish, so Javier brought along his offshore fly rods, and Jose Armando Fajardo Perez — an experienced fly-fishing captain from Guatemala — helped with rigging and teasing the marlin to the boat. A master fly angler from Virginia, Chris specializes in muskies — arguably one of the most difficult freshwater fish to take on a fly. However, he had never fished for billfish and was up for the challenge.
Javier brought 14-weight Cam Sigler and Temple Fork Outfitters fly rods with Nautilus Monster and Tibor Pacific reels loaded with Cortland billfish line. We all planned to fish IGFA complaint with 20-pound tippet.
I stepped in and hooked up on the first cast using a fly that had been in my fly box for years. It had a lead lip, which I believe caused it to sink below the prop wash and allowed the marlin to spot it quicker than the poppers. Twenty minutes into the ensuing battle, Jose grabbed the leader and it was a legal catch of an estimated 150-pound striped marlin.

I explained to Chris that teasing billfish into fly-casting range behind a sportfish isn't the kind fly-fishing he's used to. I showed him how to make ready 30 feet of fly line at his feet before dropping the fly into the water when the mate starts working the teaser. When the marlin is sufficiently excited and close to the boat, the captain takes the engines out of gear per IGFA fly fishing rules, and yells, "caaaaast!" Then the mate pulls the teaser out of the water.
Chris took it all in as I continued. "Once the teaser is pulled, get the fly out of the water and flop it back in, directly behind you," I said. "Don't cast at the fish, or you'll cross a teasing line. Make sure you don't have any line on the deck — have it straight to the reel and set the hook with the drag. Be sure not to strip-strike, especially if you have a 20-pound tippet. If the fish hits going right, which they usually do, pull the rod to the left to slide the fly into the corner of the jaw. Keep things as simple as possible."
All that instruction is easier to absorb in a classroom setting than in the cockpit of a boat with a 200-pound marlin in a frenzy and lines everywhere. Chris learned that things get complicated quickly; I think he was 0 for 16 at one point.
While Chris was losing marlin, we decided to rig up a pitch bait on a spinning rod for Rhona and Jen to get in on the action. Rhona had caught her share of billfish, but Jen had never even seen one, and every marlin we raised was in the 200-pound class. Rhona and Jen caught several marlin between Chris' hookups.

Chris finally worked out the kinks and landed a 200-pound-class striped marlin— his first billfish on a fly. The fish gave him a pretty good workout. "It's going to be hard to go back to muskies after that thing," he said, popping open a beer.
We raised 30 marlin that first day, but what sticks in my mind is the incredible bird and bait activity. The flocks of Nazca boobies diving on bait balls of sardines were most impressive. The birds hit the water like arrows, then swam 30 feet down to chase the bait before surfacing. If one of the birds was lucky enough to catch a sardine, it was pounced on by other boobies as soon as it surfaced.

There also were dozens of storm petrels getting in on the action. Sea lions were everywhere, and marlin fins were breaking the surface under the birds. Occasionally, when we were hooked up, the bait ball would run under the boat to hide. The scene was fascinating.
Our second day of fishing started right where we had left off. I was up first and again hooked up on my first cast. But this marlin was much bigger than the one I'd caught the previous day. It took me almost an hour to bring it alongside, as Jose grabbed the leader and retrieved my fly. Almost every striped marlin we hooked was in the 175- to 225-pound category.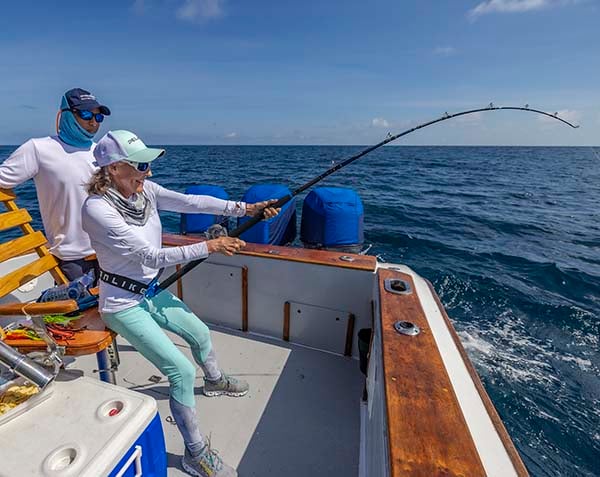 Chris was up next on the fly rod, and Jen and Rhona were on standby with the pitch baits. Conditions were pretty much the same as our previous outing, though the marlin were not as fired up on the teaser. It wasn't long before we put the pitch baits into action.
Jen hooked up first and released her fish, and then Rhona did the same. Both marlin were bigger than those they had caught on the first day — a good bit larger than 200 pounds — and took an hour to land. Chris also hooked a monster on a fly that took him close to an hour to land. It was after 1 p.m., and we'd spent four hours on four fish. We caught several more that afternoon and decided that there must be something special about the lead-lipped fly we were using.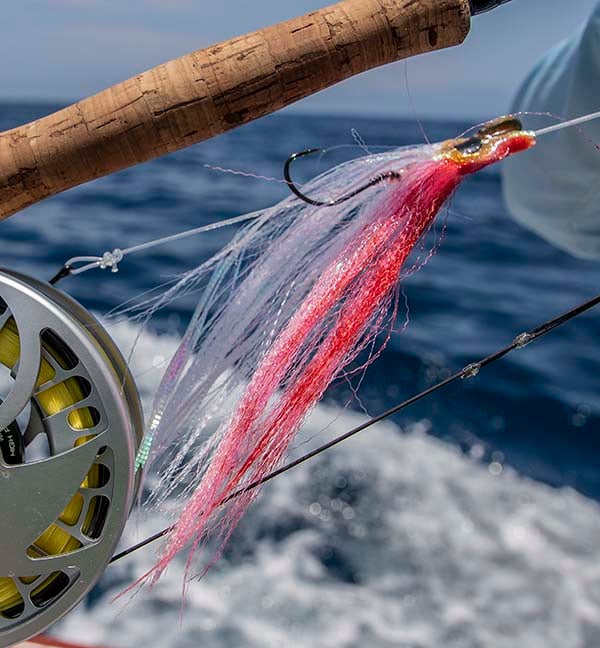 Most everyone I know who fly-fishes for billfish uses Cam Sigler flies, with or without popper heads and with a single or double hooks. However, several years ago in Guatemala, accomplished saltwater fly angler and IGFA Trustee, Nassim Joaquin, had given me the two flies that the striped marlin were crushing in the Galápagos. They're much different than the patterns I had long been using, with fish hair and the lead lower lip. They're difficult to cast, but there wasn't much to the casting.
Chris had a dozen bites on the lead-lipped fly while he was learning the ropes. The marlin hit the Sigler poppers, of course, but they hit this lead-lipped creation with a lot more gusto. I caught both of my fish on one, and Chris caught several on it before it was lost while Jose leadered a very big marlin.
Now Chris is on a quest to figure out how to tie it, and I'm trying to track down my friend Nassim in Cozumel, Mexico, to find out where he got them. Nassim had also given me a blue and a pink fly several years ago, and I finally got around to using them in Galápagos. You never outgrow the need for secret flies.

We'd done so well on marlin those first two days that on the third day we decided to run north to a bank where we hoped to find mahi-mahi, yellowfin tuna and wahoo. Seas were calm again, and after running 35 miles we started to see bird activity on the horizon. The boobies were active, and frigate birds were also in the mix. Sea lions and spinner dolphin were everywhere, and we could see on the surface the ripples from a huge bait ball.

As we got close to the action, the water turned blue with a huge school of mahi-mahi. We glided to a stop, and the bait rushed to hide in our props. It was like watching a feeding frenzy in an aquarium. The mahi-mahi were in the 10- to 20-pound range, perfect for Javier's 10-weight fly rod and medium-grade spinning tackle.
We spent the morning playing with mahi-mahi, and after a lunch of ceviche, we went back to trolling. At times, we could see marlin chasing bait on the surface, but they were indifferent to the teasers. Javier figured there was so much bait in the water that the fish had eaten their fill. We hooked several on the pitch baits and had a few swipes at the fly, but the marlin were not reacting the way they had during the first two days.
Our final day of fishing was on a new moon, and we raised 16 marlin, with seven bites and three released. We had a few light-wire circle hooks straighten out, which didn't help our percentages, but the trip as a whole was an overwhelming success. We raised 98 striped marlin in three and a half days, and they were considerably bigger than the ones I've caught in Magdalena Bay and Cabo San Lucas in Baja California, Mexico.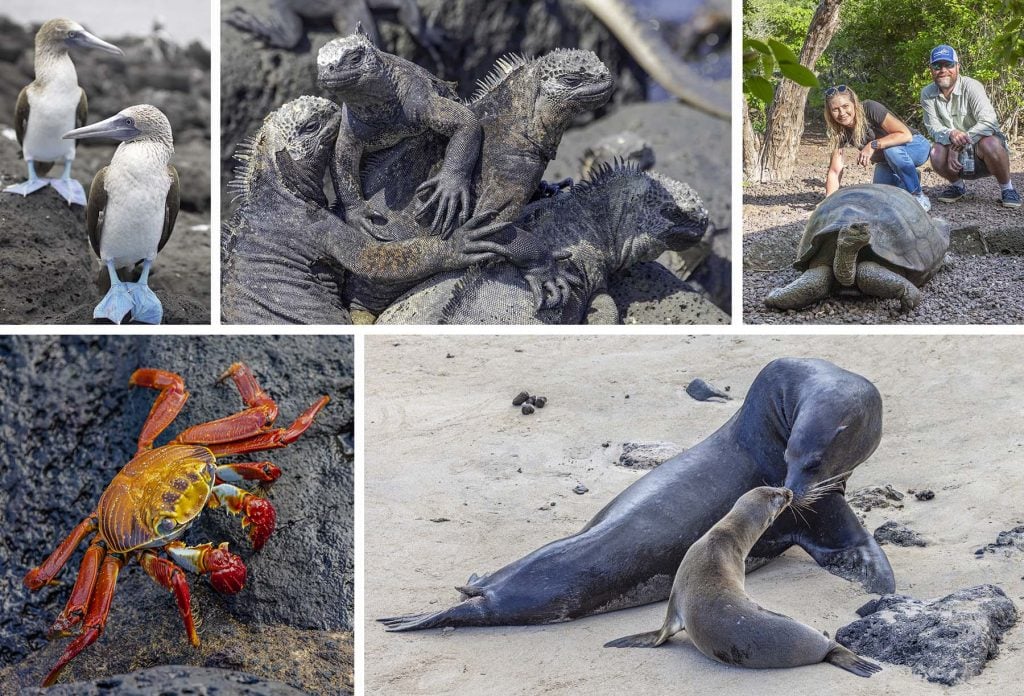 We scheduled one more day for a sightseeing trip around San Cristóbol, which included some inshore fishing. We caught small grouper. The rock formations around the island are interesting, and our naturalist gave us the history of each, along with the pedigree of the blue- and red-footed boobies. Our final stop was a snorkel trip where we saw hammerhead and blacktip sharks, along with eagle rays. Later, we ventured inland and visited a reservation that was home to Galápagos tortoises, which had me wondering how these giant land reptiles made it here from the mainland. I'll leave the hypothesizing to Charles Darwin.
Javier stressed that it's essential to book this trip as far in advance as possible. He says that it's not the boat's availability that's the problem but, rather, the hotel accommodations. There are a lot of tourists in San Cristóbol and very few rooms. The Galápagos is a bucket-list angling destination and a good place to scratch off your bucket-list striped marlin for anyone looking to earn an IGFA Billfish Royal Slam.
For more information, contact Ecuador Fly Fishing Tours at [email protected] or (630) 877-2649. ecuadorflyfishingtours.com.