Herding World Record Sheepshead
By Nick Honachefsky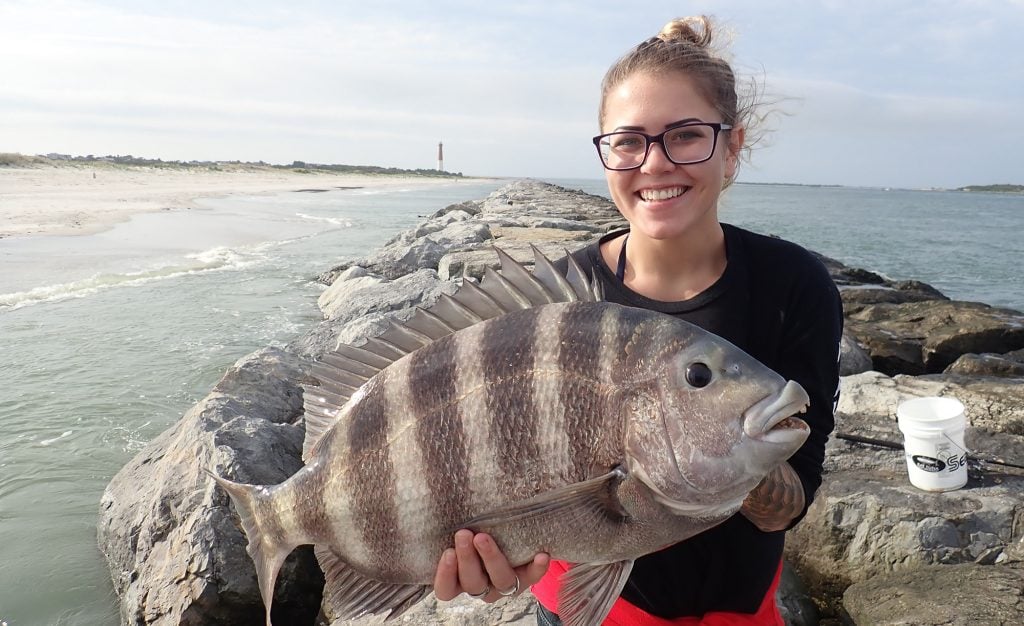 As an angler based out of the northeastern United States, I was always intrigued by sheepshead. After all, they certainly weren't a species I caught in the waters off New Jersey growing up. Perhaps it was the convict-like stripes that attracted me, or the bucktoothed smile that won me over, but whatever it was, sheepshead entered my bloodstream and once they got in, they have forever held a spot.
Sheepshead were generally considered a "southern" species, mainly ranging from Virginia south to northern Brazil. But in a strange turn of events around 15 years ago, something unusual started happening in New Jersey's backwaters. Sheepshead began being caught as bycatch from anglers targeting tautog. It wasn't hot and heavy action, but word got out quickly that the "exotic" sheepshead were starting to show up. Fast forward to the present, and Jersey, along with Virginia, is putting up some notable IGFA Line Class World Records when it comes to sheepshead.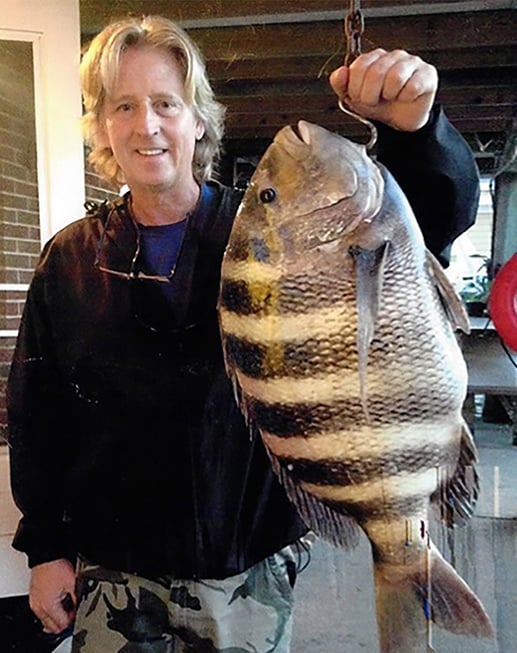 A Quick History
Sheepshead Bay in Long Island Sound, New York, US, isn't named as such because it sounds cool. At the turn of the 20th century, sheepshead used to be common and prevalent in the New York and New Jersey area, much like red drum were at one time. Whether due to warming water trends or a migratory shift, sheepshead can now be targeted specifically in New Jersey, and with some impressive results. The New Jersey state record sheepshead of 19 pounds, 3 ounces was recently caught by William Catino of Ventnor, New Jersey, on October 14, 2014, beating the previous state record by two pounds.
Sheepshead are one of top 50 stocks caught by recreational anglers in the US South Atlantic and Gulf of Mexico; however, the species has potentially been overharvested at times. Across their range it has been necessary to institute fishery management actions such as size/bag limits and other restrictions in an effort to decrease fishing mortality and increase the abundance of spawning fish. The International Union for Conservation of Nature lists sheepshead as a species of "Least Concern".
Captains Orders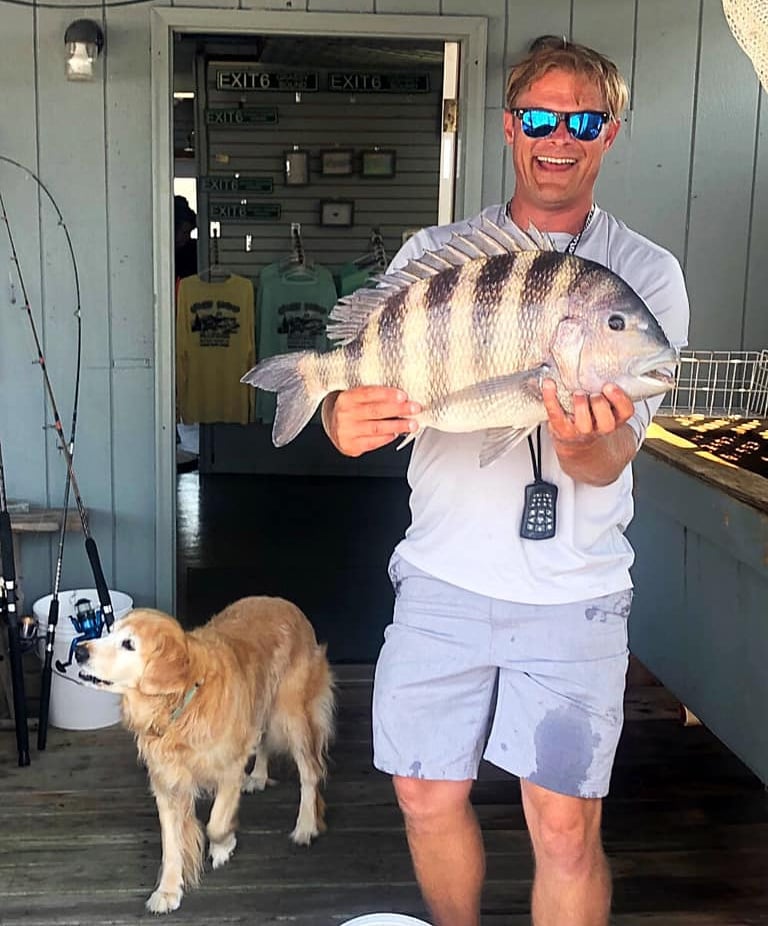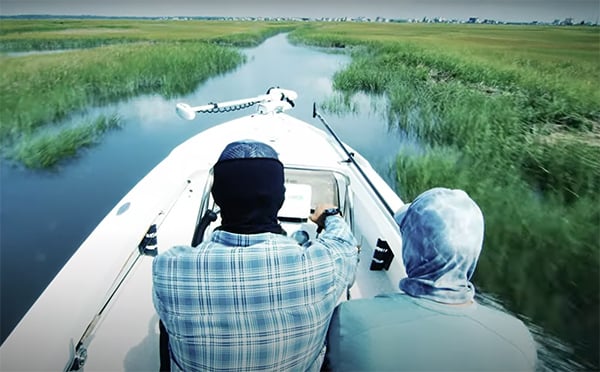 Captain Dan Schafer of the Insomniac guide service is known as the captain that "re-pioneered" sheepshead fishing in the New Jersey. Recently, he has been guiding clients to world record class fish. "I originally found sheepshead when targeting tautog on the south Jersey bridges in 2005, where I put an Aqua-Vu camera down and saw some very large sheepshead," says Schafer. "After that, I dedicated to fishing for them where I landed my first, an eight-pounder, on a regular one hook dropper rig."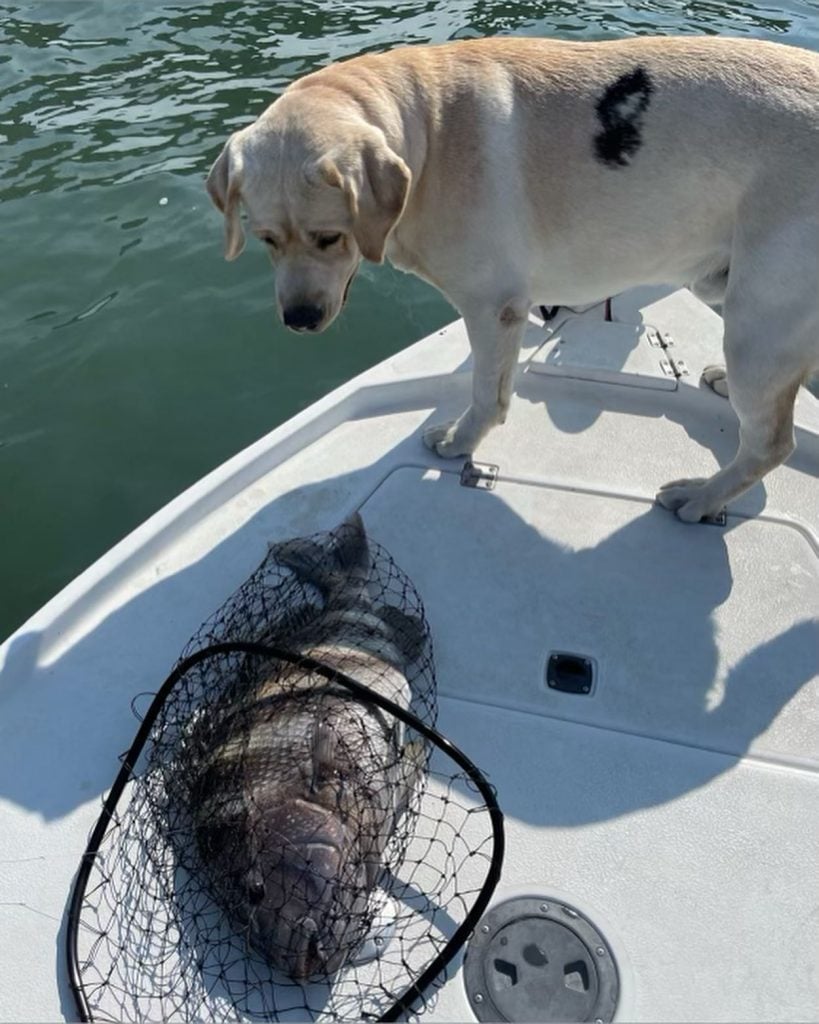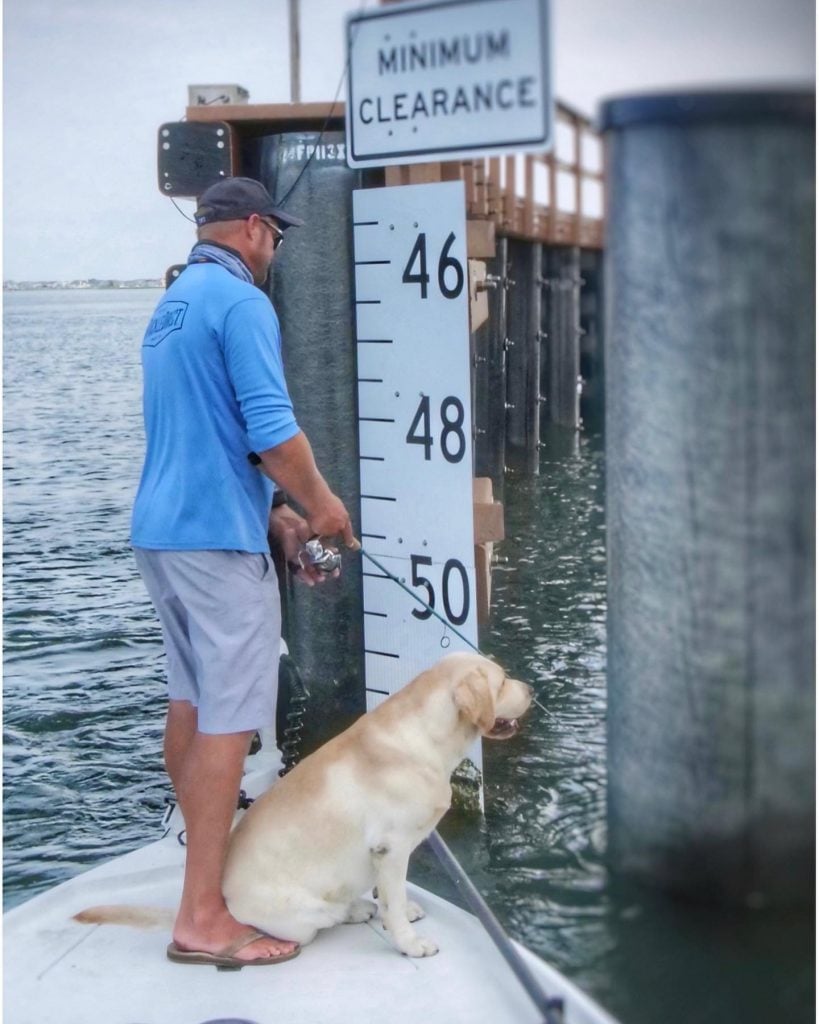 "Many facets go into targeting trophy sheepshead in the New Jersey fishery, but the mantra 'first come, first served' applies big time. Number one, bigger fish of 11 to 14 pounds are found in massive amounts of current. When the current is running heavy, I've come to find that large sheeps feed near the surface. These large adult fish tend to hang on the front windward side of bridge pilings, one to six feet down as their massive flanked bodies can hold in the stiff current where smaller fish cannot. As such, they get first dibs on all the barnacles, crabs, etc. as small fish can't stem the current like the bigger ones, while smaller two-to-six-pound class fish hang on the leeward side of the structure to get the rest of the crabs. As the current slacks up, fish will move deeper into the water column."
Sheepshead guru Khoa Duy Nguyen, of the Tide Chasers podcast and who has studied under Schafer, adds to the swift current hypothesis. "Ideal conditions for targeting big fish are three to four days after a full or new moon from the slack to the outgoing. I hunt the larger sheepsheads on the frontside of a current, which goes completely against what I preach in seminars to fish the backsides of pilings. But the bigger fish can easily stem the tide to feed."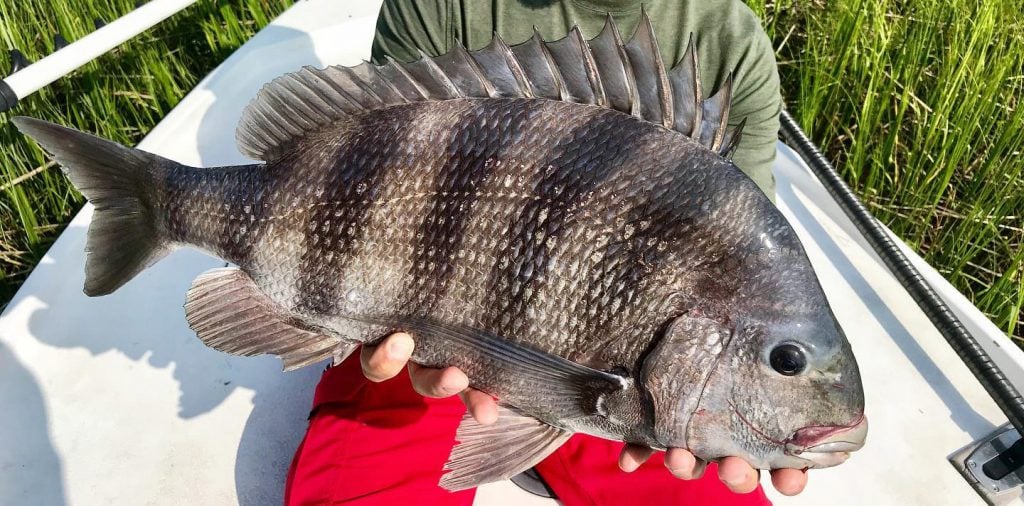 Regarding trophy sheepshead habits Schafer states, "big fish are mature enough to be nomadic so they will stray away from smaller fish. If you aren't finding your target trophies in 15 to 20 minutes, then move. Generally, you have around a 30-minute window of opportunity to target the large fish at one spot, then move to follow the tide at various spots as big fish will move around to capitalize on the first shot at feeding."
Nguyen adds, "All my bigger fish from 12 to 14 pounds are solitary creatures by nature. I notice that they hang with the blackfish schools by bridge pilings and the rocky inlets. Once you get that one hit and hookup with a large sheepshead, then you have to move to find another, because he was the big boy there and chances are there are no other large ones around."
Why New Jersey?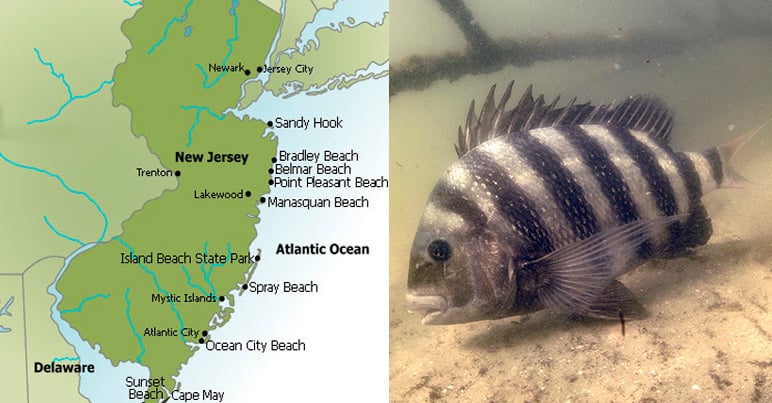 Schafer has some deductive reasoning why larger sheepshead are moving northward. "Larger fish can handle the cooler temperatures where smaller fish cannot. Genetically superior fish can stand the cooler temps, and correspondingly, it takes more effort to move north and feed." The season for Jersey sheeps in the backwaters is late May to October, as sheepshead tend to show up when waters hit 57 degrees and stick around up to 75 degrees, staying throughout the summer and into the fall.
Tackle Up
Schafer has guided angler Maureen Klause to four IGFA line class records. While most of Schafer's clients use spinning gear, Klause prefers conventional reels set with super light drags matched with a 6-1/2-to-7-foot medium action G Loomis rod with pretested mainline line tied via uni-to-uni knot to 20-pound fluorocarbon, all compliant to IGFA standards.

"When we start out targeting line class records, it's a bit of a gamble what to start with 2-, 4-, 6- or 8-pound line. We need to know the size class of fish we are targeting (i.e., 4 or 10-pound class fish, etc). We don't just go out looking for a 15-pounder, though that is always welcomed. I find we never see the same class fish twice in one spot, they seem to move each day."

Schafer employs his own custom-designed and built Bottom Sweeper lead jigs as his "go-to" method for targeting sheepshead. "We go as light as we can go. Usually, it's a ¼ ounce Bottom Sweeper Jig, tipped with an Asian shore crab or fiddler crab. Mostly we are using 2 to 4-pound test monofilament that tests for IGFA tensile compliance as the thin line cuts through the water."


The Technique
Regarding hooksets with such light monofilament, Schafer offers some tips. "Don't wail back on the rod, let the fish lay on it, have him hook himself with the resistance from the run. They may rob a lot of your baits before you dial in the bite and how they are feeding. I had Mike "Ike" Iaconelli on the boat, and he had to solve the puzzle with the hookset and slow down and adjust his Bassmaster hooksets accordingly to set the hook depending on how they are hitting the jig."
"Don't wail back on the rod, let the fish lay on it, have him hook himself with the resistance from the run."
Records in the Books

The newly added sheepshead species in IGFA's saltwater line class and tippet categories has dominated the record books with 28 approved records throughout 2022, and submissions are still coming in hot. It is going to be a toss-up between most likely New Jersey or Virginia as to where most of the records will come from for the remainder of 2023. Below are a few of the notable catches since the sheeps became eligible for line class and tippet world records, and off course, the biggest, baddest sheepshead record of all time, Wayne Desselle's 21-pound, 4-ounce monster that came from the St. John Bayou in New Orleans, Louisiana on April 16, 1982, over 30-years ago.
Desselle's Sheepshead
All-Tackle World Record
9.63-kilogram (21-pound, 4-ounce)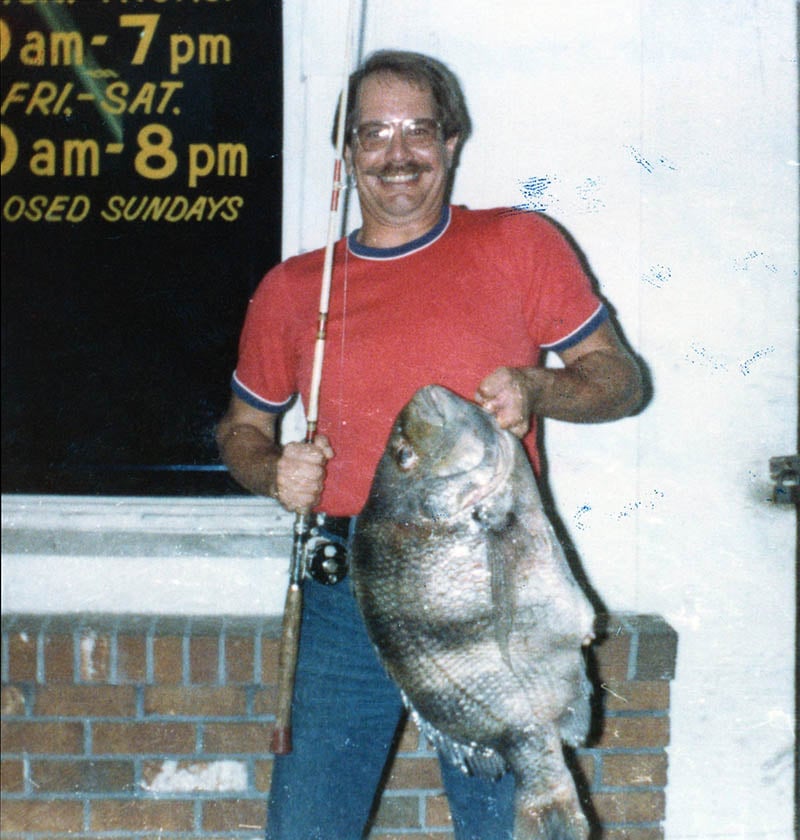 On April 16, 1982, Wayne Desselle was fishing the St. John Bayou in New Orleans, Louisiana when he landed this incredible 9.63-kilogram (21-pound, 4-ounce) sheepshead. Wayne was soaking a shrimp for bait and was able to land the fish after a brief battle. Desselle then brought the fish to Jefferson, Louisiana to record an official weight on a certified scale. As well as being the All-Tackle record, Wayne's Sheepshead is also the Louisiana state record.
Foster's Sheepshead
4.88-kilogram (10-pound, 12-ounce)
IGFA Men's 10-kg (20-lb) Line Class World Record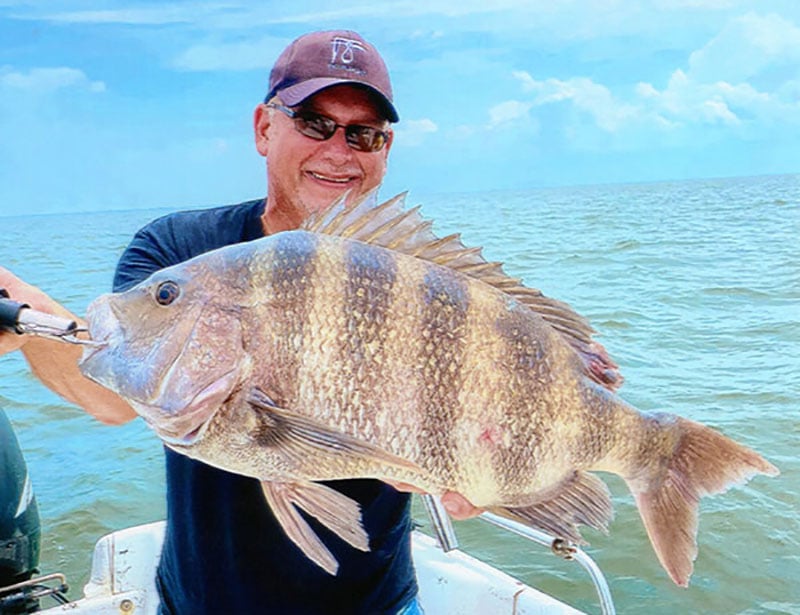 On July 27, 2022, Mark Alexander Foster was fishing the Chesapeake Bay in Virginia, USA, aboard the GoFishVa captained by Joseph Kennedy, when he caught this 4.88-kilogram (10-pound, 12-ounce) sheepshead to set the IGFA Men's 10-kg (20-lb) Line Class World Record. Mark was using a fiddler crab when the sheepshead struck and landed the fish after a quick eight-minute fight.
Morton's Sheepshead
3.88-kilogram (8-pound, 9-ounce)
Men's 8-kg (16-lb) Line Class World Record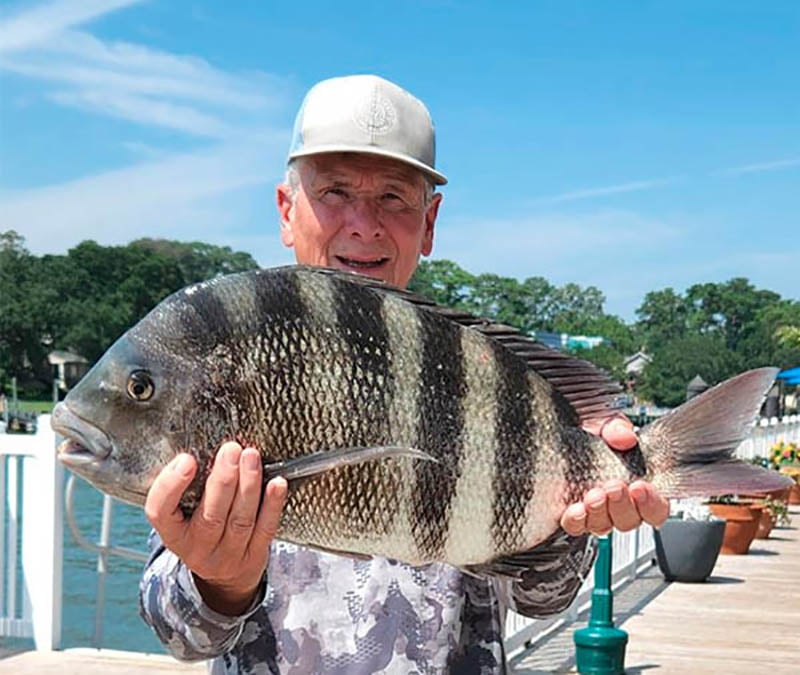 Angler Randy Morton has taken full advantage of the newly introduced line class categories for sheepshead, with submitting seven record applications for the species this past year. On July 23, 2022, Randy was fishing the Chesapeake Bay Bridge Tunnel in Virginia, USA, when he landed this 3.88-kilogram (8-pound, 9-ounce) sheepshead, setting the IGFA Men's 8-kg (16-lb) Line Class World Record for the species. He weighed the record fish at Long Bay Pointe Marina in Virginia Beach, Virginia. Randy's tactic of choice for sheepshead is is fishing with fiddler crabs on a jig head.
Hanzlik's Sheepshead

0.91-kilogram (2-pound) Women's 1-kg (2 lb) Tippet Class World Record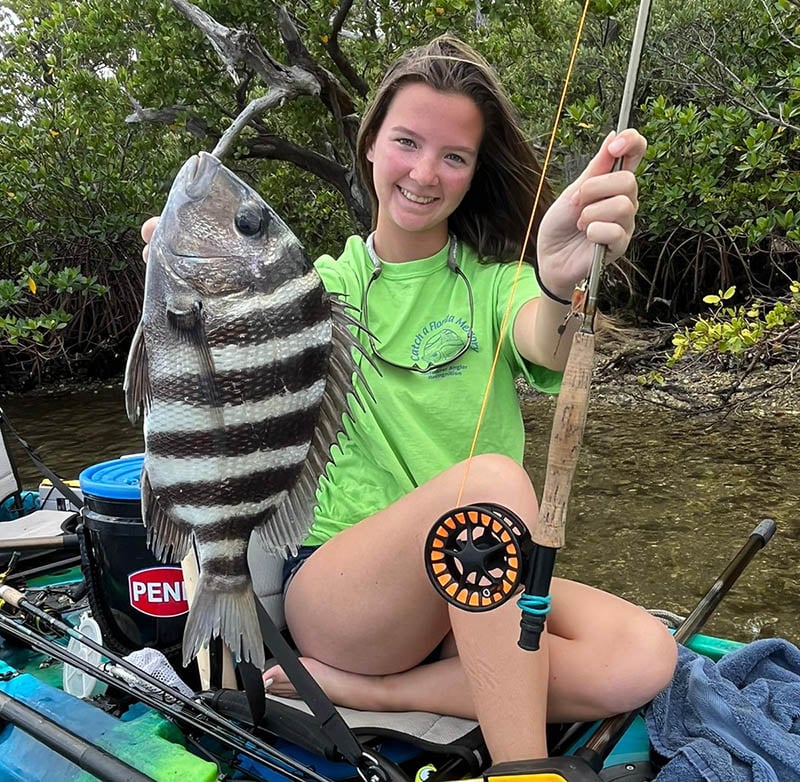 Sheepshead an also be targeted on IGFA compliant fly fishing tackle (learn what you need to know regarding IGFA rules for fly fishing). In her kayak, Emily Rose Hanzlik stalked the mangroves edges of the local waterways in North Palm Beach, Florida where on March 17, 2022, she sighted this 0.91-kilogram (2-pound) sheepshead. She enticed the fish to eat her fuzzle shrimp fly. The catch earned her the IGFA Women's 1-kg (2 lb) Tippet Class World Record for the species. After recording the weight on her certified scale, she released the fish safely.
Klause's Sheepshead
Multiple sheepshead world records
Over the past two decades 2016 IGFA Bob Herder Light Tackle Award recipient, Maureen Klause, has set more than 20 light tackle world records on some of sport fishing's most prized saltwater game fish, mostly in her home waters of Ocean City, New Jersey. Recently while fishing with captain Daniel Schafer aboard the @insomniacguide she has racked up an impressive suite of world records for sheepshead. To her and captain Schafer's credit, they have released all the record sheepshead after being properly documented for world record consideration.
Captain Dan Schafer/Maureen Klause IGFA Sheepshead World Records.

Now's the Time
If you're a sheepshead angler, there has never been a better time to catch an IGFA World Record. With the IGFA opening up line class and tippet records categories for sheepshead in March of 2022, creating dozens of record opportunities on conventional gear, fly tackle, and for junior anglers.
Since the announcement, the IGFA has approved records from throughout the entire range of the species, from the marshes of Louisiana to the Chesapeake Bay in Virginia. Anglers have landed record sheepshead employing a variety of methods, from jigs tipped with crab, to shrimp imitations on fly.
For more information regarding current sheepshead records and vacancies, reach out to Zack Bellapigna, the Angler Recognition Coordinator at the IGFA at [email protected].