The International Game Fish Association Launches
Annual IGFA Great Marlin Race Campaign
World's largest citizen science billfish satellite tagging project
unites anglers and scientists for conservation
The IGFA is thrilled to announce its annual IGFA Great Marlin Race campaign, uniting anglers, researchers, and conservationists from around the globe to support the research and preservation of billfish stocks worldwide.
A groundbreaking initiative that combines the thrill of sport fishing with scientific research and conservation efforts, the IGFA Great Marlin Race has become a landmark program among angling and marine research communities. Using cutting-edge satellite tag technology, organizations or individuals can sponsor a satellite tag to be deployed during a recreational angling trip or tournament. The specially designed satellite tags collect information for up to 240 days on movement, depth, temperature, and more providing invaluable data on the migration patterns, behavior, and conservation needs of billfish.
At the end of each season, data is compiled from all satellite tags and the marlin that has traveled the farthest distance is declared the IGFA Great Marlin Race winner for that year. In addition to sponsoring a tag, anglers interested in contributing to the IGFA Great Marlin Race can donate directly to the initiative to help ensure a future for billfish.
Since its establishment in 2011, the IGFA Great Marlin Race has provided valuable information to resource managers and policymakers responsible for ensuring the long-term conservation of billfish.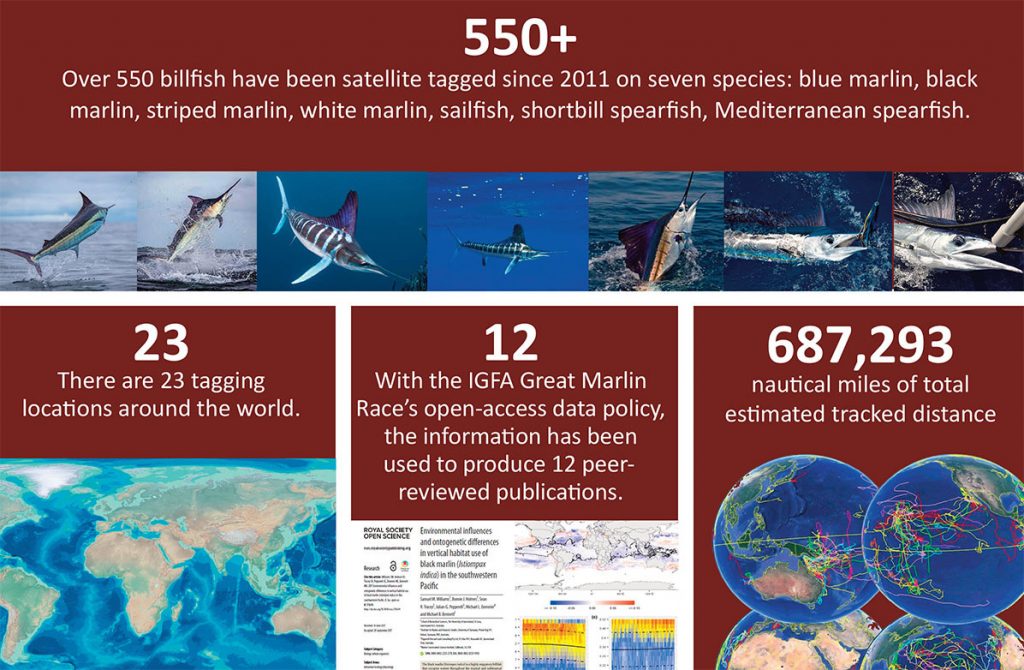 "As an organization dedicated to the conservation and sustainable management of game fish and marine resources, we are excited to invite anglers from around the world to join us in supporting the IGFA Great Marlin Race," said IGFA President Jason Schratwieser. "By leveraging the passion of recreational anglers and the knowledge of marine scientists, we're making significant strides in protecting billfish around the globe."
For a limited time, anglers interested in supporting the IGFA Great Marlin Race initiative can receive some incredible incentives for their next fishing adventure. Donors at the $100 level will receive an IGFA marlin logo hat and a custom YETI 20 oz IGFA Marlin Logo Rambler; donors at the $500 level will receive those benefits and their choice of COSTA Sunglasses; and donors at the $1,000 level will receive blue and pink IGFA marlin logo hats, two custom YETI 20 oz IGFA Marlin Logo Ramblers and two pairs of COSTA Sunglasses of their choice.
To learn more about the IGFA Great Marlin Race Annual Campaign or to make a contribution, please click here.