2023 IGFA Fishing Hall of Fame Induction Ceremony Wrap Up
Presented by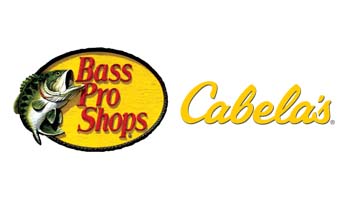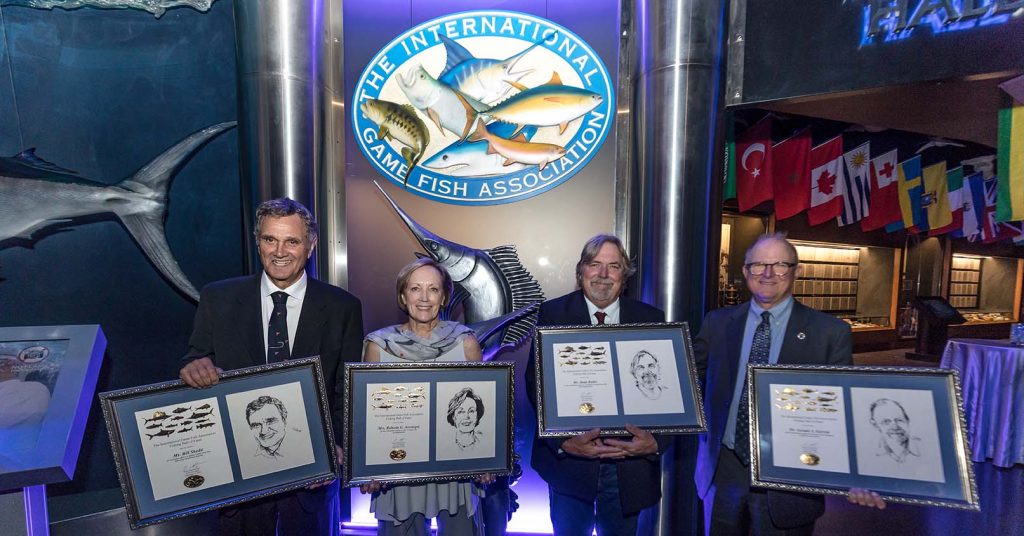 All we can say about the 24th Annual IGFA Fishing Hall of Fame is WOW!
That's partly due to the breathtaking location, Johnny Morris' Wonders of Wildlife National Museum and Aquarium, but it's also a testament to a dedicated class of honorees, now listed among angling's finest. The 2023 class joined 141 other legendary anglers, scientists, conservationists, writers and fishing industry leaders whose contributions to sport fishing are preserved and celebrated in the IGFA Fishing Hall of Fame. If you were not able to attend the event, please watch the live recording of the ceremony below.
The IGFA would like to thank all the sponsors that supported the evening, Bass Pro Shops and Cabela's, IGFA Trustee and Chairman Roy Cronacher, IGFA Fishing Hall of Famer Tom Evans, AFTCO, The Tuna Club, Coastal Conservation Assoociation, and IGFA Trustee Mike Criscola.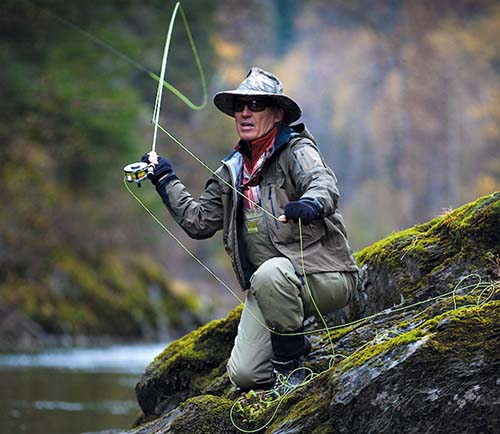 "There is no greater honor than to be inducted into this Hall of Fame. Period," said IGFA Trustee Andy Mill, the night's emcee.
"Tonight, we are inducting five new members into this royal family of fishing. This year's inductees include IGFA World Record consummate and tournament champion Roberta G. Arostegui; fly fishing adventurer and trailblazer, Kay Brodney; conventional and fly fishing master angler, captain and writer Dean Butler; distinguished Avalon Tuna Club member and conservation advocate, Gerald A. Garrett; and marine resources champion and fishing tackle and apparel pioneer Bill Shedd."
The 24th Annual Induction Ceremony was held Saturday, September 9, 2023, in Springfield, Missouri. The event, presented by IGFA Corporate Partner Bass Pro Shops - Cabela's, drew 100 attendees from across the globe.
"The 2023 class of the IGFA Fishing Hall of Fame exemplifies the breadth and diversity of this esteemed recognition," stated Jason Schratwieser, President of the IGFA. "Among these inductees are exceptional anglers, dedicated conservationists, trailblazers in fishing tackle and apparel design, and unparalleled champions and proponents of our sport, each of whom has indelibly shaped the world of sport fishing. It is our privilege to extend a warm welcome to them into the distinguished ranks of the IGFA Fishing Hall of Fame."
To learn more about the inductees please watch the videos below that IGFA created for these luminaries of our sport.
Born in New Bedford, Massachusetts, on October 15, 1951, Roberta G. Arostegui's fishing journey began in her childhood, thanks to her mother's lessons on catching perch using bread balls. The family's strong connection to the ocean, rooted in her great-grandfather's seafaring heritage, laid the foundation for her illustrious angling career.
In her early 20s, Roberta relocated to South Florida, where she met her husband, IGFA Fishing Hall of Fame member Dr. Martin Arostegui, who elevated her fishing skills. While raising three children who inherited their parents' passion for fishing, Roberta explored remarkable fishing destinations worldwide. Initially taking on the role of a "boat elf," she transitioned to pursuing her own angling goals, spurred on by her husband, IGFA staff, and the International Women's Fishing Association (IWFA) members.
Over her angling career, Roberta achieved remarkable success. She earned 236 IGFA World Records across 54 species in 10 countries, becoming the first woman to secure 200 IGFA World Records. In 2015, she received the IGFA Lifetime Achievement Award.
Beyond IGFA recognition, Roberta excelled in the Metropolitan South Florida Fishing Tournament, winning the Women's Master Angler Award three times. She also received the Kay Rybovich Award from the IWFA twice, recognizing her outstanding releases of various species. In 2020, Roberta became the sole IWFA member to attain the prestigious IWFA Master Angler Award, a remarkable accomplishment requiring 500 monthly awards.
Roberta's contributions extended beyond awards; she served in various capacities on the IWFA board, emphasizing her commitment to giving back to these organizations that have enriched her life.
For Roberta, fishing brought immense happiness, cherished moments in nature, and an opportunity to instill environmental awareness in her children, shaping their careers in fields related to conservation and marine science.
Kay Brodney, a trailblazing fly-fishing pioneer born in Fond du Lac, Wisconsin, in 1920, left an indelible mark on the angling world. Her lifelong journey in fishing began at her family's cottage on Green Lake. The Great Depression forced her family to make this cottage their permanent home.
In 1948, during a casting competition at Golden Gate Park in San Francisco, Kay discovered her passion for fly-fishing. Despite her remarkable casting skills and placing third in the 1950 Western Championship distance casting competition, she faced disqualification simply for being a woman. Undeterred, she persevered, winning the National Association of Accuracy Casting Ladies Dry Fly competition in 1956. These competitions ignited her love for steelhead fishing, leading her to live as a "fishing bum" along the Northern California coast before settling in Seattle, Washington.
Kay's adventures extended beyond competition and into the realm of global fishing. She is believed to be one of the first to catch a dorado on a fly and famously landed a 137.6-pound tarpon on 12-pound tippet in the Florida Keys in 1962 while fishing with IGFA Fishing Hall of Fame Inductees Stu Apte and Ted Williams.
Her academic pursuits led her to the University of Washington, where she earned a bachelor's degree in zoology in 1965. Seeking to support her fishing passion, she embarked on further studies and earned a master's degree in library science from Rutgers University. Subsequently, she worked as a librarian at the Library of Congress in Washington, D.C., eventually heading the Life Sciences Subject Catalog Section. Her readings at the Library of Congress inspired her to explore unique fishing destinations worldwide.
Kay embarked on daring fishing expeditions to remote regions of South America, often in primitive conditions, pursuing peacock bass and other species on a fly. Her remarkable adventures were featured in Sports Illustrated in Clive Gammon's 1981 article, "Please, Don't Fall in the Water."
Beyond her career at the Library of Congress, Kay served on the American Museum of Fly Fishing Board of Trustees from 1974 to 1983. In her later years, she couldn't fish herself but accompanied fellow anglers, including her friend and IGFA Fishing Hall of Fame member Joan Wulff.
Kay's life took a difficult turn when she contracted a circulatory disease from an insect bite sustained during one of her South American expeditions. She passed away in 1994. Her legacy as a trailblazing pioneer for women in the sport and a global angling adventurer continues to inspire.
Dean Butler, a celebrated member of the IGFA Fishing Hall of Fame, earned praise from Lefty Kreh as the world's best all-around fisherman. Born in Melbourne, Australia, on February 18, 1962, Dean's fishing journey began modestly. At seven, he made his first catch—flathead in a local bay, accompanied by a family friend. His teenage years saw him and a friend venturing to catch trout in a nearby river, kindling his passion for fishing.
Dean's introduction to big game fishing happened at 18 when he landed a tuna during a charter outing, forever sealing his love for the sport. In his early twenties, while working for his father's bearing manufacturing company, he seized every opportunity to fish and explore Australia. The call of fishing was strong, and at 23, Dean embraced his passion as a career. The legendary Australian fly angler Rod Harrison extended the opportunity by inviting Dean to collaborate on fishing videos in the late 1980s. It was during this time that Dean encountered Lefty Kreh, a friendship that broadened his fishing horizons.
In the early '90s, Dean set his sights on IGFA World Records, primarily targeting fish on fly. A trip to Papua New Guinea with friends unveiled an opportunity to chase dogtooth tuna on fly. After nearly three years of dedicated pursuit, Dean secured his first dogtooth tuna record. On April 20, 1996, he achieved another milestone, landing a 199-pound, 8-ounce striped marlin, earning the IGFA Men's 20-lb Tippet Class World Record.
Word of Dean's fly-fishing records spread, attracting charter clients interested in his expertise with large game fish on fly. Over subsequent decades, he guided prominent anglers, including IGFA Fishing Hall of Fame Members Tom Evans and Enrico Capozzi, to numerous IGFA billfish records on fly, including the largest striped marlin ever caught on fly—a 240-pound fish on 20-lb tippet.
Dean's connections with these anglers allowed him to explore the world's premier fishing destinations. Yet, for him, it's not just about location; it's the unspoiled nature of a fishery that captivates him. Dean's passion lies in exploring remote, untouched corners of our oceans and fishing where few have ventured. Fishing is not merely a pursuit for Dean; it's his life. His multifaceted career has encompassed roles as a fishing photographer, journalist, tackle salesman, consultant, guide, deckhand, and captain. Throughout his journey, Dean has cherished every aspect of the fishing industry, rubbing shoulders with its legends along the way.
Gerald A. "Jerry" Garrett, a sportfishing enthusiast for over 75 years, was born in Los Angeles, California, in 1937. His passion for fishing ignited during his early years when, in the summer of 1945, his family rented a house on Balboa Island in Southern California. Young Jerry spent his days catching calico bass from the local wharf and learning from experienced local fishermen. His father also played a pivotal role in nurturing his love for angling, and in 1953, during a trip to Cabo Blanco, Peru, Jerry landed his first marlin, a massive 700-pound black, following a grueling 2-hour and 15-minute battle.
In 1952, Jerry's father introduced him to the esteemed Tuna Club of Santa Catalina Island, an association he joined in 1959. The club's experienced members imparted invaluable knowledge to the young angler, leaving a lasting impact on his fishing journey. On the family boat, Jeramar, Jerry personally experienced the importance of conservation, guided by the boat's mantra, "Take only that which you can use," a principle he carried throughout his life.
Within the annals of the Tuna Club's history, Jerry Garrett stands as one of its most accomplished anglers. He was the first member to earn the Silver Frame medal for catching a marlin on 12-pound Dacron line and pioneered the Ruby Frame Medal by being the first to land a marlin on 8-pound Dacron. His accolades include being named Tuna Club Angler of the Year and earning 10 out of 12 possible buttons offered by the club, a feat unmatched in its history. Beyond the Tuna Club, Jerry's remarkable achievements include setting the IGFA Men's 80 lb line class record with an 813-pound swordfish. At the age of 64, he conquered this behemoth after a grueling 14-hour battle lasting through the night and into the next morning.
Jerry's angling legacy is deeply intertwined with his family. Ten members of the Garrett family have tagged and released marlin in their lifetimes. His wife, Vicki, often accompanied him on fishing trips and served as the captain of the Jeramar for remarkable catches, including becoming the first woman to land a marlin on 8-pound Dacron line.
A devoted IGFA member for over five decades, Jerry was appointed as an IGFA Representative in 2012. His conservation efforts include advocating with IGFA Fishing Hall of Famer John Chibnall and former IGFA President Rob Kramer to prohibit the sale of marlin in New Zealand. Jerry testified before the New Zealand Ministry, emphasizing the greater value of marlin in the sport fishing industry compared to commercial sale.
Bill Shedd, CEO and Chairman of the American Fishing Tackle Company (AFTCO), was born in North Hollywood, California, in 1952, inheriting a legacy of angling and conservation from his legendary father, Milt Shedd, an IGFA Fishing Hall of Famer. Bill's introduction to fishing occurred at the tender age of four, marked by a memorable trout fishing outing in the rain, igniting a lifelong passion.
Growing up, Bill explored various fishing opportunities, from calico bass around California's offshore islands during high school to Pacific barracuda catches that left an indelible lesson about conservation, emphasizing the importance of selective harvesting.
Bill's angling journey took him across the globe, from battling giant marlin to chasing largemouth bass. His memorable catches include a 400-pound plus swordfish on standup gear, satellite tagging a 250-pound bluefin tuna, landing a 45-pound white seabass from a kayak, and assisting IGFA Trustee Neil Patrick in catching, satellite tagging, and releasing a giant black marlin that could have secured an IGFA World Record.
After Bill purchased AFTCO, his father's health issues led him to step in as President, transforming the company into a global tackle industry leader. His father's wisdom echoed in his ears, emphasizing the importance of giving back. Thus, Bill dedicated countless hours and resources to conservation efforts.
Bill's commitment to conservation manifested in various roles, from serving as Chairman of the IGFA Conservation Committee to founding the Coastal Conservation Association of California, where he serves as Chairman. He also contributes as a board member for organizations like the Hubbs/SeaWorld Research Institute, Center for Sportfishing Policy, and the California Artificial Reef Enhancement program.
Bill's achievements include spearheading California's white seabass hatchery program, initiating the AFTCO TAG FLAG program to promote tag and release, and advocating for the removal of indiscriminate longline gear from California waters. His influence was pivotal in the banning of destructive gillnets in California, earning him accolades such as the American Sport Fishing Association Lifetime Achievement Award and the IGFA Conservation Award.
In Bill's own words, these accomplishments were collaborative efforts, a testament to his leadership and ability to connect with people, stating that "you must be aware of people's needs. Put your hand out first, and people will do great things."
For his relentless dedication to marine conservation and the enhancement of recreational fisheries, the IGFA proudly inducts Bill Shedd into the IGFA Fishing Hall of Fame.
Wonders of Wildlife - The home of the IGFA Fishing Hall of Fame
Johnny Morris' personal passion for conservation has positioned Wonders of Wildlife with an opportunity like no other attraction before it to have a positive national impact on wildlife and conservation. Wonders of Wildlife celebrates people who hunt, fish, and act as stewards of the land and water. In a world increasingly disconnected from the great outdoors, it's more important than ever for people of all ages to experience the wonders of nature.