Celebrating IGFA's Representatives

Since the IGFA was established nearly 85 years ago in 1939, IGFA Representatives have been among the most dedicated supporters of the organization and have been essential in shaping the IGFA's reputation as the world's most prestigious international angling and conservation organization.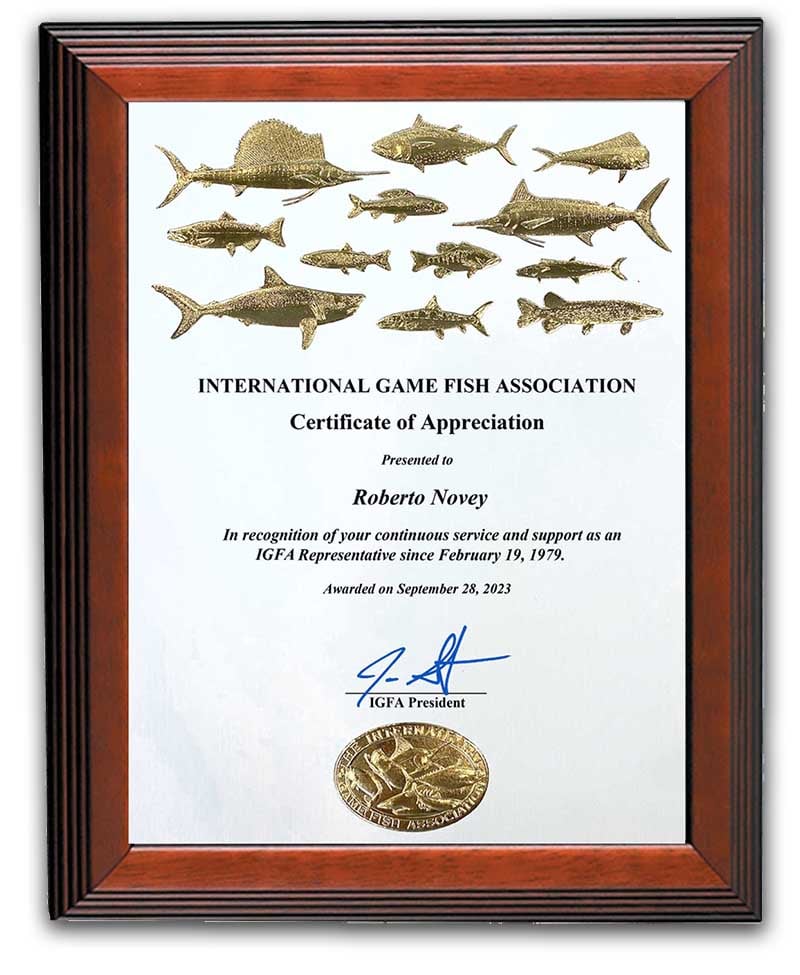 Currently, the IGFA Representatives Program has over 200 members in 72 countries and territories across the world. These exceptionally dedicated volunteers play a vital role in the expansion of IGFA programs and initiatives on an international level. Whether hosting Passports to Fishing programs for children and their families, assisting IGFA Headquarters with groundbreaking fisheries research projects, speaking about the IGFA at local clubs and events, translating IGFA Angling Rules and membership materials, or serving on one of the newly formed Regional Councils, IGFA Representatives are truly bringing our mission and vision to life around the world.
It is important to note that IGFA Representatives are not paid employees of the IGFA. They receive no financial compensation for the enormous amount of time and resources they invest in the organization. In the simplest sense, they are volunteers. But they are more than that. IGFA Representatives embody the spirit of the organization and promote the IGFA in their regions through their actions. They are ambassadors for the IGFA and our sport, and without this network of passionate individuals, the IGFA would not be where it is today.
The IGFA would like to thank all our dedicated Representatives. And we would especially like to recognize the hard work and dedication of those IGFA Representatives who have served for 10 years, or more, for their tireless support. Each of these individuals will receive a custom, hand-signed certificate to commemorate their service to the IGFA, and moving forward, each IGFA Representative will receive the certificate upon their 10 year anniversary.
To all our IGFA Representatives: Thank YOU for being at the core of the IGFA!
IGFA Representatives Who Have Served Over 10 Years
Over 40 Years of Service
Roberto Novey 2/19/1979 Panama
Colin Cunningham 9/23/1982 USA
Over 30 Years of Service
Gary Sherman 1/23/1985 USA
Erwin Bursik 3/14/1988 South Africa
Jack Tapscott 2/28/1989 USA
Hansjöerg Dietiker 4/24/1989 Switzerland
Tsutomu Wakabayashi 10/12/1989 Japan
Tony Hill 1/26/1990 New Zealand
Merritt Benson 8/14/1990 USA
Charles Powell 3/21/1991 USA
Felix Lairet 3/21/1991 Venezuela
Luca Bonfanti 4/24/1991 Italy
John Barnes 7/24/1991 Bermuda
Jaime Fullana 12/5/1991 Puerto Rico
Paolo Sala 12/9/1991 Italy
Giuseppe Omegna 10/22/1992 Cuba
Doug Olander 1/18/1993 USA
Minerva Saenz 9/23/1993 Mexico
Doug Kelly 10/19/1993 USA
Over 20 Years of Service
William Sawynok 1/24/1994 Australia
Gary Graham 9/27/1994 Mexico
Larry Dahlberg 3/23/1995 USA
Pete Barrett 4/24/1995 USA
Rick Gaffney 7/31/1996 USA
José Miguel Díaz Escrich 1/10/1997 Cuba
Philippe Dolivet 2/19/1997 France
Robert Eakes 3/6/1997 USA
Sahiaoui Fouad 8/1/1997 Morocco
Robert O'Dea 2/17/1998 Papua New Guinea
Esteban Graupera 4/3/1998 Spain
Jeff Merrill 6/11/1998 USA
Didier De Stoppeleire 6/11/1998 New Caledonia
John Brownlee 7/24/1998 USA
Mohamed El-Sehrawy 2/4/1999 Egypt
Andrew Mezirow 5/14/1999 USA
Syed Aziz Agha 6/23/1999 Pakistan
Donnell Tate 10/19/1999 USA
Gerard 'Frothy' De Silva10/29/1999 Portugal
Enrico Capozzi 3/28/2000 Italy
Bill Hall 6/7/2000 USA
Ernest Maher 7/11/2000 Australia
William Boyce 8/11/2000 USA
Ricky Jaen 8/25/2000 Puerto Rico
Jose Oriol Ribalta 10/10/2000 Spain
Over 20 Years of Service (continued)
Kevin Clark 12/6/2000 USA
Nicola Zingarelli 1/15/2001 Spain
Tom Irizarry 4/23/2001 Puerto Rico
Richard Richardson 6/10/2001 USA
Philip Yung 10/12/2001 China
Ron DuQuesnay 12/12/2001 Jamaica
Kim Stuart 3/26/2002 China
Mal Linthwaite 5/1/2002 USA
Marcos Seabra 5/14/2002 Brazil
Harvie Probert 6/16/2002 Fiji
Alberto Salvini 12/28/2002 Monaco
Steve Yatomi 2/18/2003 Guyana
David Wirth 3/10/2003 USA
Francisco 'Paco' Saca 4/18/2003 El Salvador
John Campbell 5/15/2003 USA
Tomonori Higashi 6/19/2003 Japan
Jason Alexiou 7/22/2003 Tanzania
Gianmaria Cogliati 8/15/2003 Spain
William Sword 8/15/2003 American Samoa
Mark Hemingway 8/15/2003 New Zealand
Rocky Franich 9/12/2003 USA
Dale Miles 9/26/2003 USA
Over 10 Years of Service
Roberto Ripamonti 11/13/2003 Italy
Steve Campbell 2/28/2004 Tonga
James Young 3/15/2004 USA
Peter Santini 4/13/2004 USA
Angel Requejo 8/30/2004 Mexico
Mike Fuller 10/15/2004 U.S. Virgin Islands
Elvio Pennetti 10/15/2004 Turkey
Ian Arthur De Sulocki 10/15/2004 Brazil
Gregory McIntosh 3/14/2005 USA
James Scott Hood 3/22/2005 USA
David Wong 7/25/2005 Trinidad and Tobago
Catherine Miller 9/2/2005 USA
John Burgess 11/22/2005 Australia
Horacio Clare 1/16/2006 Panama
Julie Ball 5/2/2006 USA
Karel Dawson 8/15/2006 Suriname
Jason Pipe 3/30/2007 Spain
Yann Colas 4/27/2007 Mauritius
Bopanna Pattada 5/17/2007 India
Jeff Romeril 7/3/2007 New Zealand
Ramiro Ortiz 7/16/2007 Nicaragua
Gene Nigro 8/21/2007 USA
Gianfranco Santolini 1/10/2008 Italy
Giacomo Forti 2/22/2008 Italy
Johan Pettersson 2/29/2008 Sweden
Yasunori Haraguchi 5/29/2008 Japan
Xavier Perez 5/29/2008 Ecuador
Christopher Tan 9/11/2008 Malaysia
Rachel Lightbourne 9/11/2008 Bahamas
Over 10 Years of Service (continued)
John Pledger 10/2/2008 South Africa
Tim O'Brien 11/17/2008 USA
Chris Baty 11/17/2008 Australia
Alvis Birkovs 1/22/2009 Latvia
Jeff Harkavy 1/22/2009 USA
Bruce Holder 4/21/2009 Guadalupe
Mark Melnyk 4/21/2009 Canada
Ezequiel DaSilva 6/30/2009 Brazil
Ken Neil III 7/10/2009 USA
Pekka Salo 2/1/2010 Finland
Masutoshi Ishimaru 2/9/2010 Japan
Kiichiro Nagashiki 2/9/2010 Japan
Sung-Su Kim 2/9/2010 Korea
Karl Anderson 5/26/2010 USA
Richard Keller 5/26/2010 USA
Steven Zhang 7/20/2010 China
Endrik Tõnsberg 9/19/2010 Estonia
Eric Arbogast 4/28/2011 Luxembourg
Jeff Cooper 4/28/2011 Australia
Bruno Tuband 8/10/2011 Gabon
Andrew Nightingale 8/10/2011 Kenya
Ahmed Shaker 10/25/2011 Saudi Arabia
Marcel Gondonneau 10/25/2011 Peru
Joaquin Hernandez 11/15/2011 Spain
Ichiro Takahashi 11/21/2011 Japan
Albert Threadingham 2/28/2012 Australia
Patrick Brown 3/10/2012 Uruguay
Laurie Wright 4/10/2012 Australia
Juan Carlos Torruella 5/18/2012 Puerto Rico
Jerry Garrett 5/18/2012 New Zealand
Scott Tindale 6/30/2012 New Zealand
Greg Heinricks 9/14/2012 United Arab Emirates
Pedro Rodriguez 9/14/2012 Colombia
Jose Martinez Jenssen 9/14/2012 Peru
James Gowans 11/5/2012 USA
Tim Simpson 11/5/2012 Australia
Ben Patrick 1/14/2013 Australia
Chico Fernandez 2/13/2013 USA
Evan Jones 2/13/2013 Australia
Sally Kurz 3/1/2013 USA
Gil Muratori 3/1/2013 USA
William Evans 3/22/2013 USA
Xavier Autrey 4/15/2013 Mexico
Terry Lacoss 4/15/2013 USA
Chris Peterson 5/15/2013 USA
Philip Weinman 8/2/2013 Sri Lanka
Serdar Gunseren 8/2/2013 Turkey
Wendy Tochihara 8/23/2013 USA
Jorge Sinibaldi 8/26/2013 Guatemala
Marc McElrath 9/2/2013 Fiji