IGFA and NPS Unite for Youth and Family Fishing Adventures

Early in 2023, the IGFA and the National Park Service (NPS) joined forces to launch innovative fishing programs aimed at connecting children and families with the great outdoors through recreational angling. Building off an earlier collaboration on the Junior Ranger Angler program and made possible in part by a grant from the National Park Foundation (NPF), this exciting initiative has resulted in diverse in-person events that introduced participants to recreational fishing and ethical angling practices at National Parks. In addition to the in-person events done in association with this partnership, this program will also feature a virtual component as the IGFA fished and filmed each experience that will be housed in the Fishing the United States series expected to launch in 2024.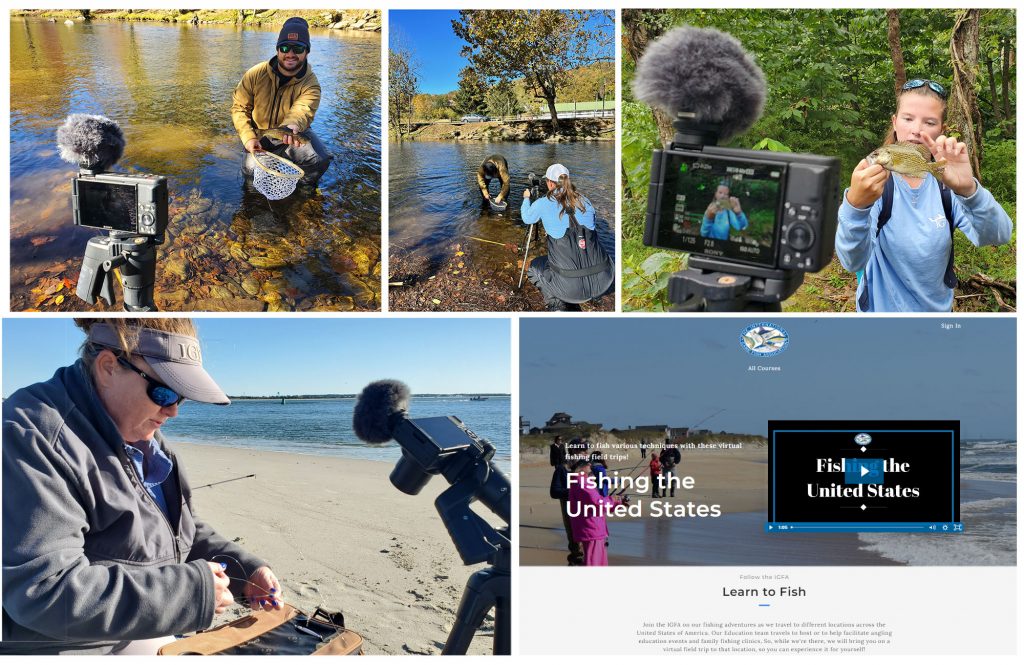 One of the goals of this partnership was to assist National Park sites that have already been trained and equipped with an IGFA Passports to Fishing kit during the initial pilot program that occurred between 2020-2022. In May 2023, staff and educators from the IGFA traveled to the Ninety Six National Historic Site in South Carolina, US, to offer education stations for youth and their families as part of the annual Fishing Derby at the site. More than 100 participants went through the stations, and the IGFA assisted with measuring and documenting the catches.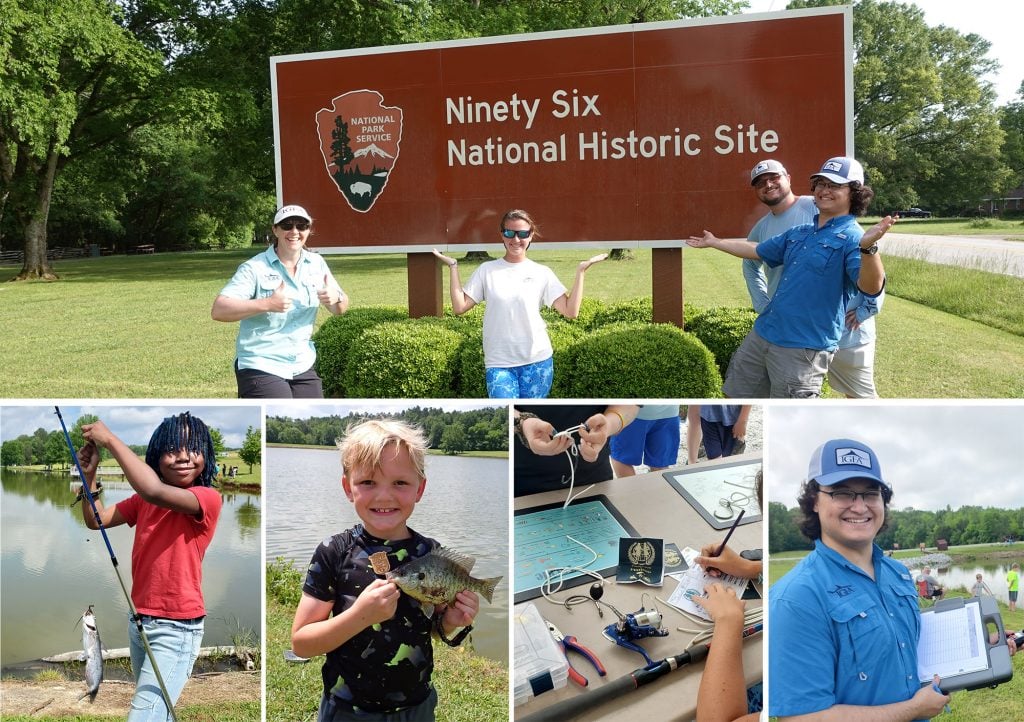 In August 2023, IGFA staff traveled to West Virginia, US, to assist the staff of the southern division of the New River Gorge National Park and Preserve at Camp Brookside where they host many angling events for "grandfamilies," families where the grandparents are raising the children. The IGFA is happy to have assisted with their largest group to date during the trip!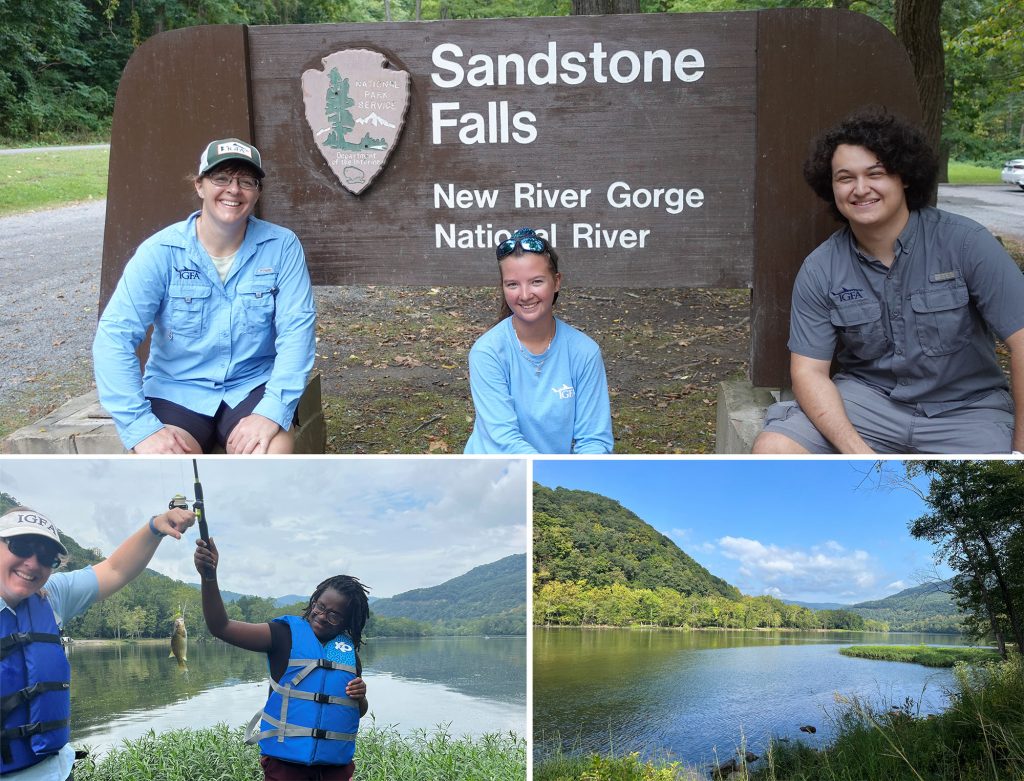 The other primary focus for this new partnership in 2023 was to host events outside the southeast region of the US, where the initial pilot program had been focused. As such, the first event outside of southeast region occurred in May 2023 at Rocky Mountain National Park in Colorado, US. The IGFA teamed up with the Environment for the Americas to help teach this year's Fish & Feathers interns the basics of fishing in a "train the trainer" model. Fish & Feathers is a 12-week summer internship program that provides national parks with trained talented and diverse interns ready to engage with local communities through fishing, birding, and other outdoor recreational activities. Many interns did not know how to fish, so the IGFA hosted a spin fishing clinic for them at the YMCA of the Rockies and then guided them in facilitating a public fishing event for youth and families at Lake Estes. This gave the interns their first experience teaching youth and families to fish, something that many of them would continue during their 12-week internship.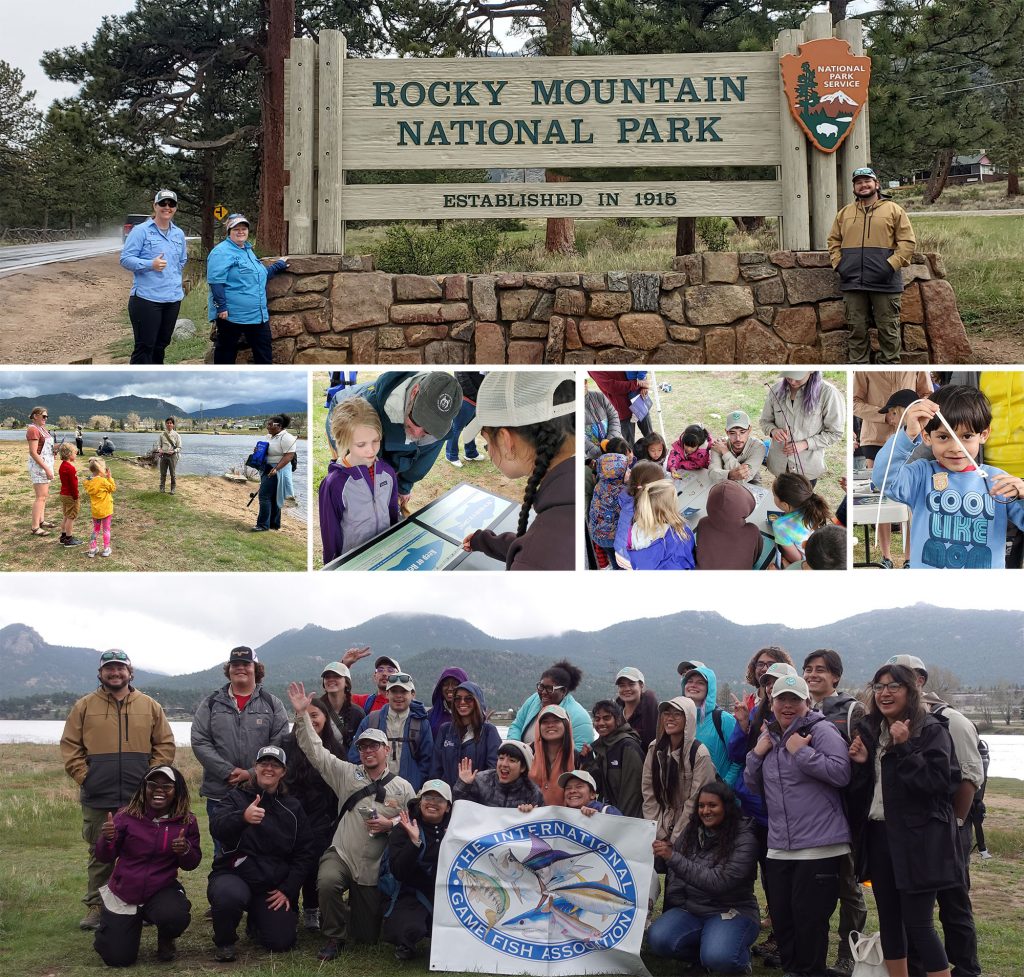 The IGFA team then traveled to Arkansas, US, in June 2023, to facilitate a Learn-to-Fish Clinic at the Buffalo National River, America's first National River, for a license fee-free day for Arkansas. Despite enduring some unfavorable weather, the team managed to execute a great event that included training and equipping park staff for future events, and helping several young anglers catch their first fish!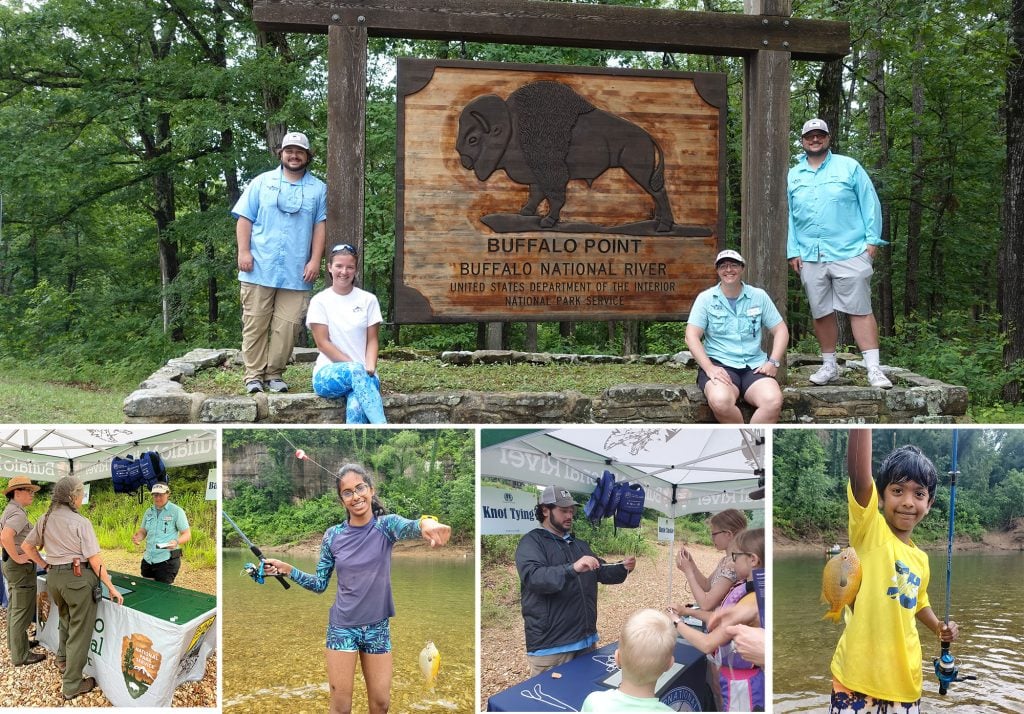 The next new event occurred on September 23, 2023, for National Public Lands Day at Padre Island National Seashore in Texas, US. National Public Lands Day celebrates the connection between people and green space in their community, inspires environmental stewardship, and encourages use of open space for education, recreation, and health benefits. What better way to use the open space of one of our National Seashores than by learning to surf fish?
This inaugural event was a major success with more than half the over 80 participants learning to surf fish for the first time, and most being adult anglers. Many species were caught including a beautiful 89-centimeter red drum! A special thanks goes out to IGFA Captain Rod Spivey and the Coastal Bend Guides Association for assisting with this event.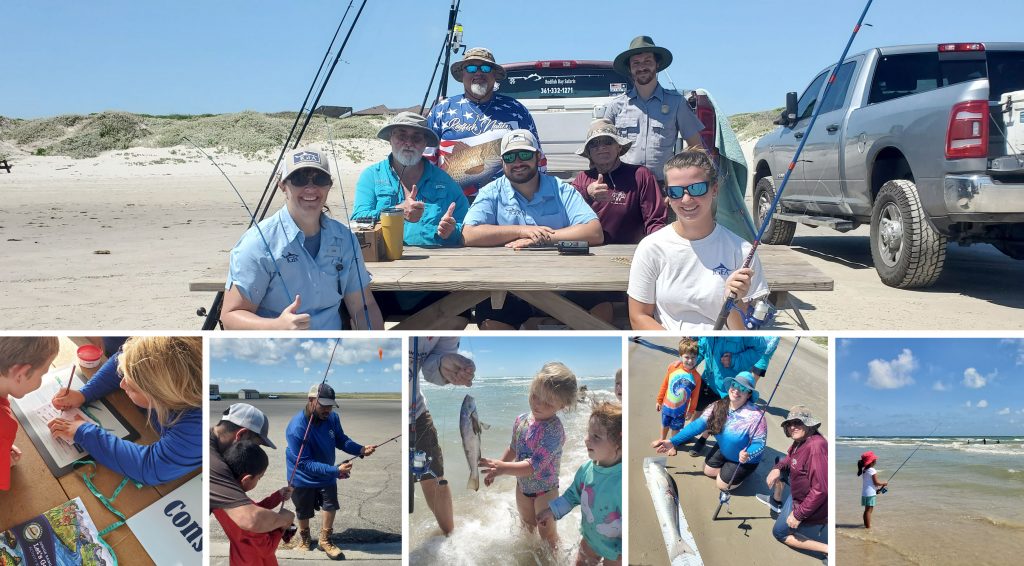 The IGFA hosted events at two new National Park sites in October 2023, both of which took place in North Carolina, US. On October 7, 2023, the IGFA teamed up with Ebony Anglers and Cape Lookout National Seashore to facilitate a Legacy Camp where young girls and boys who participated in one of Ebony Anglers' Fundamentals Camps could join on this day-long excursion from the Raleigh-Durham area of North Carolina to the coast. This was a jam-packed day of exploration, fun, and of course, fishing! Some young anglers came very close to setting IGFA All-Tackle Length Junior World Records, and a total of 18 young anglers were sworn in as Junior Ranger Anglers at the end of a great day at Cape Lookout National Seashore.

Finally, the last event for the 2023 season occurred on October 21, 2023 at the Great Smoky Mountains National Park on the North Carolina side. A Learn-to-Fish Clinic was held for 36 participants at the Oconaluftee Visitor Center fishing for trout in the Oconaluftee River.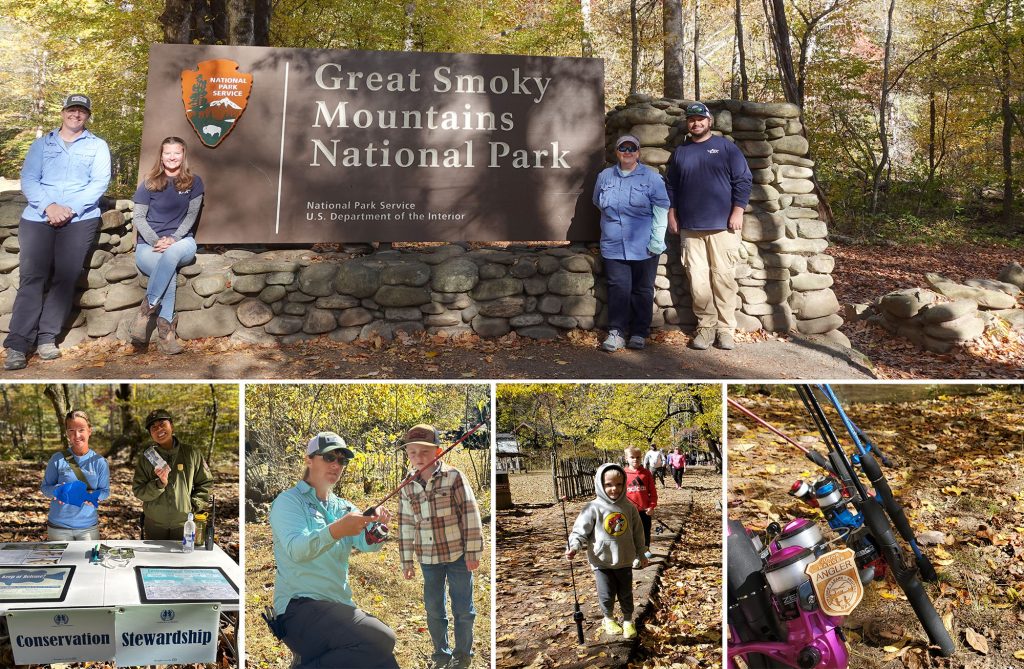 The IGFA looks forward to continuing this expansion with NPS next year and introducing more anglers to the outdoors through fishing at National Parks. Every site has been different and expertise with recreational fishing has varied. So far, this has been a great "train-the-trainer" program, which has also helped the IGFA Education team amplify the number of individuals the program and mission of the IGFA can reach. Collaborations have been key to not only train the necessary staff, interns, and volunteers to facilitate these events, but they have also been key to ensure that each event is as successful as possible when it came to catching a multitude of different game fish species and providing a memorable experience for all in the great outdoors.
Thank you to the National Park Foundation for your support in this endeavor as this project was made possible in part by a grant.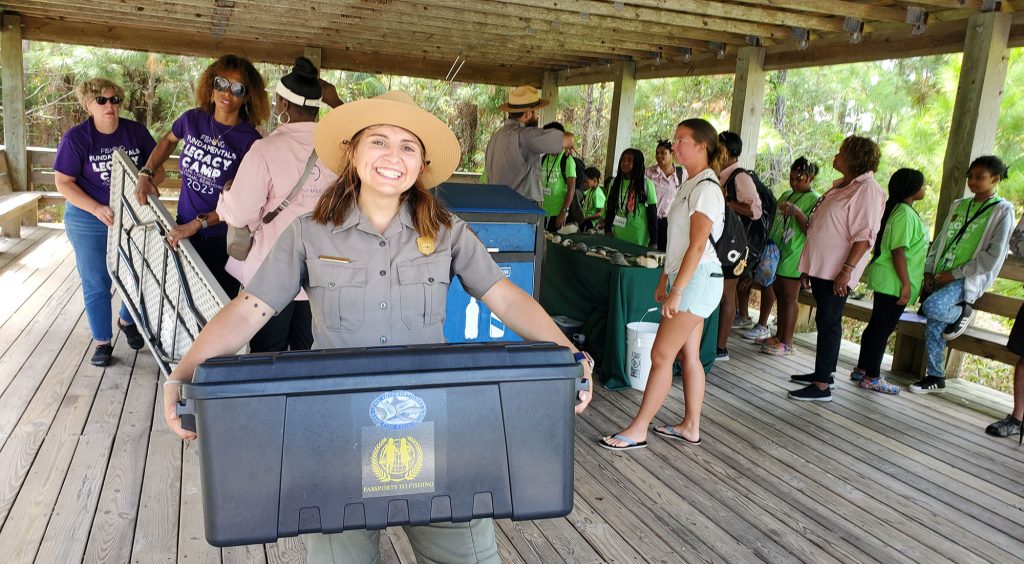 Lastly, thank you for all product partners of the IGFA's Passports to Fishing program: