Nick Smith's Quest
500 Blue Marlin on Fly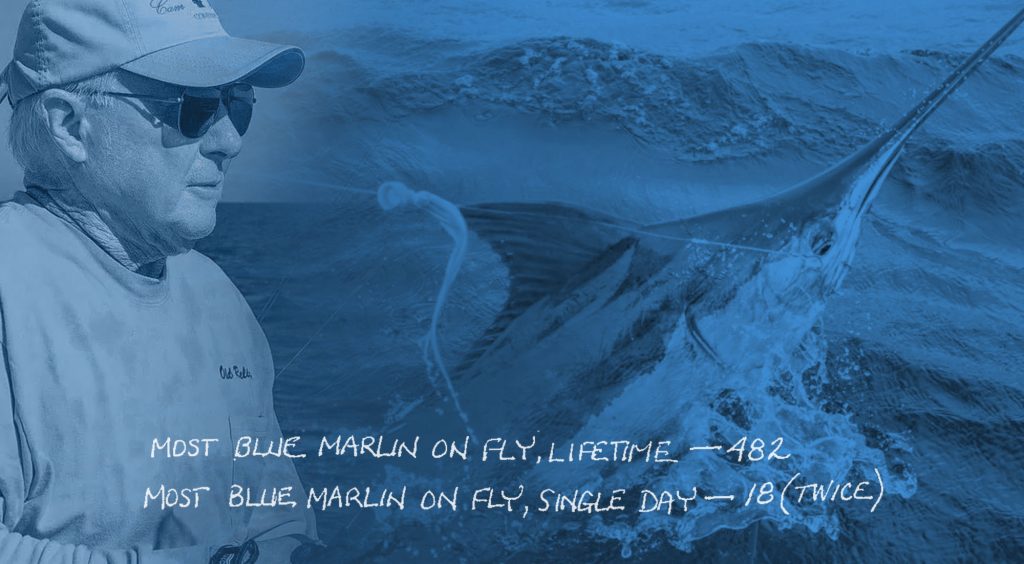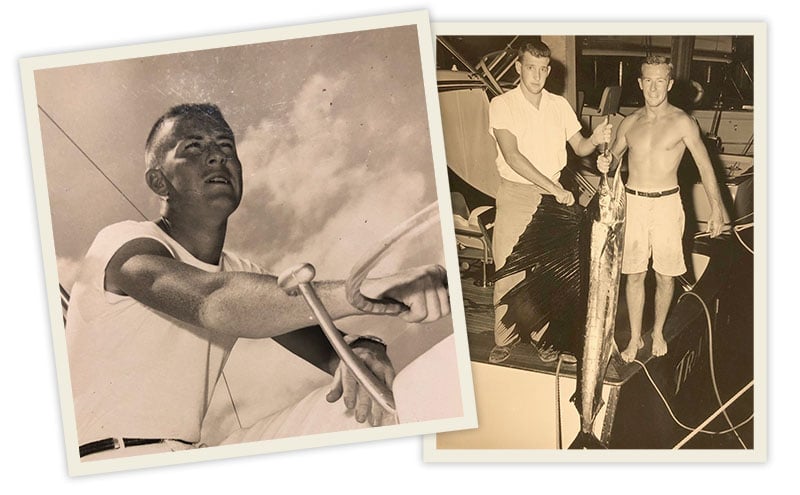 A passionate angler and businessman, Nick Smith possesses an unyielding drive, insatiable curiosity, and unwavering attention to detail, traits that have led him to incredible success and innovation in both his professional and angling careers.
Nick's angling journey for billfish began off Palm Beach, Florida, in 1955 but took a captivating turn towards fly fishing in November 1999. Since then, he has solidified his position as a frontrunner in the sport of catching billfish on fly, boasting over 6,800 billfish (and counting) caught and released using IGFA-compliant fly tackle. His accolades in tournaments, awards, and angling accomplishments are impressive, to say the least, underscoring his enduring pursuit for catching billfish on fly.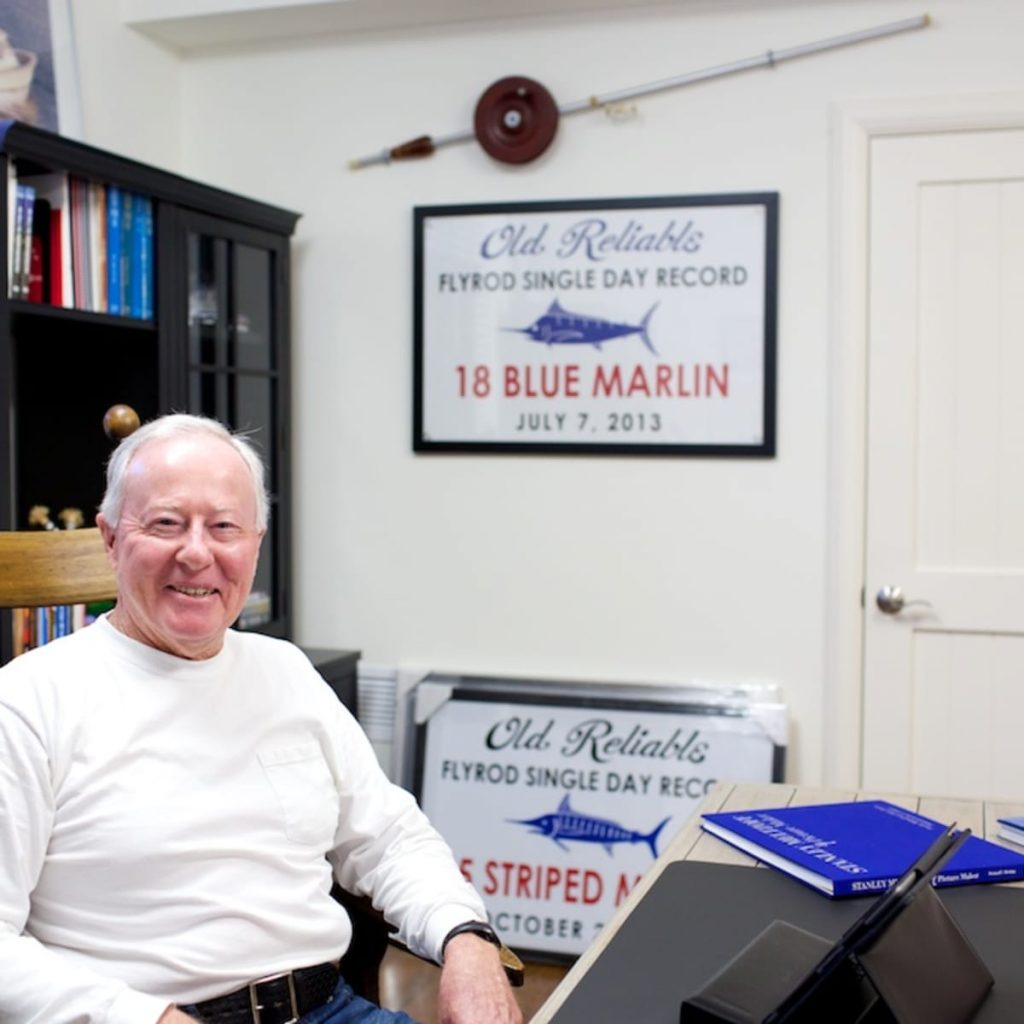 Smith's pre-flyfishing angling achievements include six victories (the most by any angler) in the world's oldest sailfish tournament, the Silver Sailfish Derby held annually in Palm Beach, Florida. He's also claimed the West Palm Beach Fishing Club's top sailfish release award, the Tracy Schneider Memorial Trophy (1994, 1995, 1995, 1997, and 2000), numerous Metropolitan South Florida Fishing Tournament awards, and most recently in 2023, the IGFA Bob Herder Light Tackle Award. Yet, Nick's contributions go beyond numbers and trophies. He's been a pioneer in developing fishing techniques, tackle modifications, and boat designs, and his commitment to the sport continues to grow. Notably, he's on the verge of a remarkable milestone: approaching 500 blue marlin on fly.
To truly grasp what has driven Nick Smith, one must delve into his extraordinary life. Nick's passion for angling was ignited at the age of four by his father Bev's early introduction to fishing in Michigan. His father instilled in him a love for catching brook trout, a fierce competitive spirit, and a passion for sports – qualities that Nick carried with him throughout his life. By age 12, he was already mastering the art of catching species like snook, pompano, and Spanish mackerel in Palm Beach. And frequent visits to the Palm Beach Pier, Bob Kleiser's Sport Shop, and the West Palm Beach Fishing Club introduced him to the world of fishing and brought him in contact with influential figures in the sport.
Although initially hesitant to venture offshore, Nick's father's enthusiasm for offshore fishing eventually led him to a charter trip in 1955. It was aboard the Adventuress with Captain Bob Haines Sr. that Nick received his first hands-on experience with sailfish. The exhilaration of feeding his first sailfish and the awe of seeing it leap from the water left a lasting impression on him. From there, Nick urged his father to buy a boat, a suggestion he repeated incessantly. He researched tirelessly, visiting the Trojan dealership multiple times before settling on a 20-foot inboard Seabreeze, which they stored at Rybovich and Sons in West Palm Beach.

Immersing himself in the Rybovich yard, Nick began to learn from captains who were pioneering fishing techniques in various parts of the world, including St. Thomas, Venezuela, and other locations in Central and South America. His relentless pursuit of knowledge continued, as he quizzed the Rybovich's about boat design and construction, all the while encouraging his dad about the possibility of owning a Rybovich. This eventually culminated in the acquisition of a used 28-footer, followed by a new 31-foot build and a 37-footer, all named Tranquil and designed and built by Tommy Rybovich.

On these many boats, Nick developed an affinity for catching sailfish off South Florida, dedicating 60-70 days each year to following the fish's migrations. Along the way, he forged friendships with experienced captains like Bouncer Smith, John Dudas, and Ray Rosher. Nick especially found a kindred spirit in Rosher and together they dominated the West Palm Beach Fishing Club's Silver Sailfish Derby. Nick also secured victories in the Miami Billfish Tournament on two occasions with Rosher. He also triumphed in the Fort Lauderdale Billfish Tournament in the late '80s and early '90s, first with his 37' Knowles captained by Nick himself and then again with Rosher at the helm.

Along with Nick's many tournament achievements, his standout accomplishment has been the conception, design, and development of the sportfisher walk-around concept, a project he has meticulously refined over the years with repetitive builds. In the process of developing the walk-around sportfisher, Nick sought guidance from his old friend Johnny Rybovich, who connected Nick with Bob Sherbert of Daytona Boat Works who was also deeply intrigued with the walk-around concept. In 1983, Sherbert built the first walkaround sportfisher to Nick's design and specifications. In 1984, Michael Rybovich and his father, Emil Rybovich, established Rybovich International with the vision of crafting exceptional sportfishing boats. Their inaugural creation, Ruthie, a 32' Walkaround, drew inspiration from Nick Smith's concept for the 30' Daytona Boat Works, which Nick had conceptually designed and constructed. Ruthie proved to be an outstanding fishing platform, capable of navigating challenging waters like larger vessels. Since then, Nick has collaborated with and contributed design insights to several boat builders, including working alongside Mike Matlack on his range of walk-around Gamefisher vessels, offering guidance to Joe Neber for Contender boats, providing input to Jim Gardner for the Egret 30 boat (now known as the Birdsall 30), and assisting Tim Winters in the development of his line of walk-around boats. Over the years, Nick also owned several trailer-able Contender center consoles, ranging from 25 to 31 feet.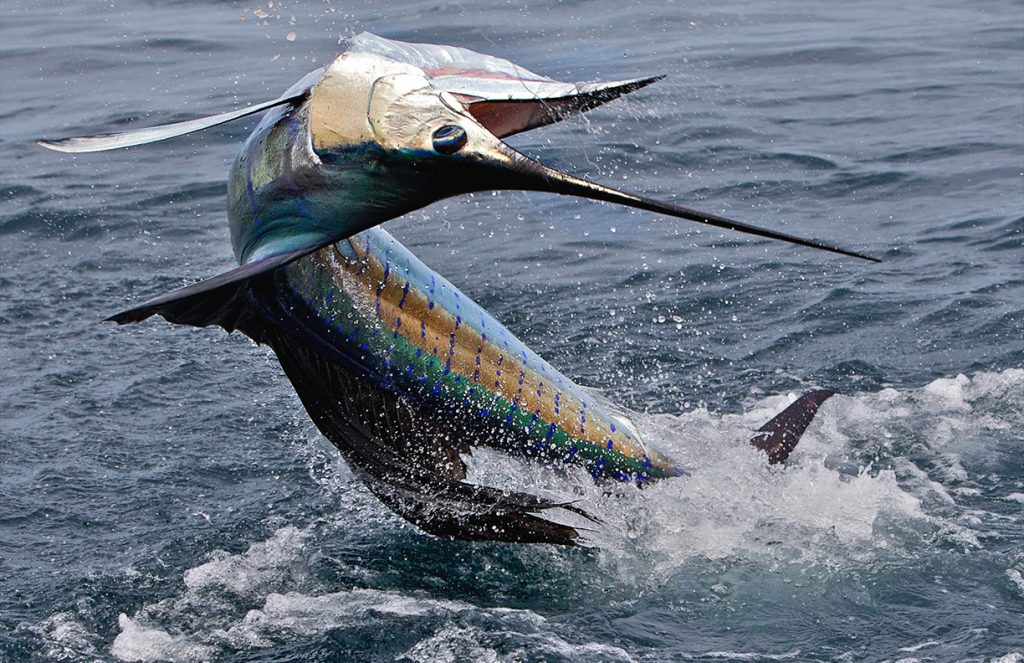 Nick's competitive drive has led him to continually refine his techniques to maximize results. This drive was further fueled when he caught his first sailfish on fly in November 1999 with Captain Bud Gramer aboard the Intensity in Guatemala. Interestingly enough, Nick's first catch on fly was accidental, and nearly embarrassing as Nick had never held a fly rod before. He recalls on his first try that the fly hit the forward deck on the back-cast, rolled down along the rail and fell into the water past the transom. A frustrated and hungry sailfish in the spread pounced on the fly, hooked itself, and as they say in the story books, "the rest is history."
However accidental it may have been, this introduction to fly fishing marked the beginning of an incredible journey for Nick, as he has gone on to release thousands of sailfish and on fly, solidifying his reputation as one of the top fly anglers for billfish in the world.
From there, a passionate flame was ignited within him, and sailfish were no longer enough. He wanted a blue marlin on fly. On May 1, 2002, he achieved just that by catching his first on fly in Venezuela. Prior to that, he had caught two black marlin on fly in Australia with Laurie Wright, but his experience in Venezuela made Nick realize the need to refine his skills for targeting blue marlin. He had six blue marlin bites that he states made him feel like an amateur. According to Smith, the blue marlin represents the ultimate challenge in fly fishing, surpassing even the black marlin. Their explosiveness, blinding speed, and sheer strength set them apart, humbling even the most seasoned angler.
After that first memorable experience, Nick struggled to find destinations with a high quantity of blue marlin for fly fishing. He regularly fished out of Guatemala, where the opportunities to raise blue marlin on fly were only incidental. He also fished Venezuela and the Dominican Republic where he racked up a few blues on fly but to consistently target them on fly was very much a challenge. Nick's breakthrough came in 2013 when he and his captain Chip Shafer learned about the seamount fishery off the coast of Costa Rica from IGFA Captain Jake Jordan, opening a robust opportunity for fly fishing for blue marlin in great numbers.
He understood that fly fishing for blue marlin differed significantly from conventional methods. Efficiency in controlling the spread and teasers is crucial. The lessons he learned while fly fishing for blue marlin compelled him to work harder to improve his skills. "I firmly believed in the adage that there's always a way to build a better mousetrap," says Smith. "I'm continually trying to figure out better ways to to do it."
"I firmly believed in the adage that there's always a way to build a better mousetrap. I'm continually trying to figure out better ways to to do it."

To maximize his odds of success, Nick uses both outriggers in their "out" or fishing position, a technique that is different from the norm where most captains put one outrigger up to facilitate right-handed casting, typically keeping the port outrigger up. Experimenting with this approach, Nick also realized the need to use more teasers. Until then, most crews in Guatemala used a long-left rigger and a short teaser, followed by a right intermediate teaser. Nick believes that by widening the spread and incorporating more teasers, his area of influence is greatly increased.
When hooking and fighting blue marlin on fly, Nick is a strong advocate for frequent drag management. He exclusively uses Mako fly reels, because of their repeatable drag settings. With his five different drag marks on the side plate, he knows exactly where the drag is set, ranging from 12 ounces to 8 pounds, which allows him to precisely adjust it during the fight. At the hook set, he typically uses 5-pounds of drag but quickly reverts to a lighter setting, particularly during the initial, high-speed run, often dropping the resistance to the 12-ounce setting, just enough to prevent backlash.

All of Nick's drag testing is done at the reel, not from the rod tip. While battling a fish he will also pull the drag off the reel to ensure it "feels" correct. Smith avoids using scales to test his drags and relies on dead weight off the reel from lead weights to set his drags. For example, a 3.5-pound drag at the reel translates to roughly five pounds of drag at the rod tip. He believes that five pounds is the maximum setting for the hook set, as the ferocity of the strike sometimes necessitates an instantaneous reduction in drag.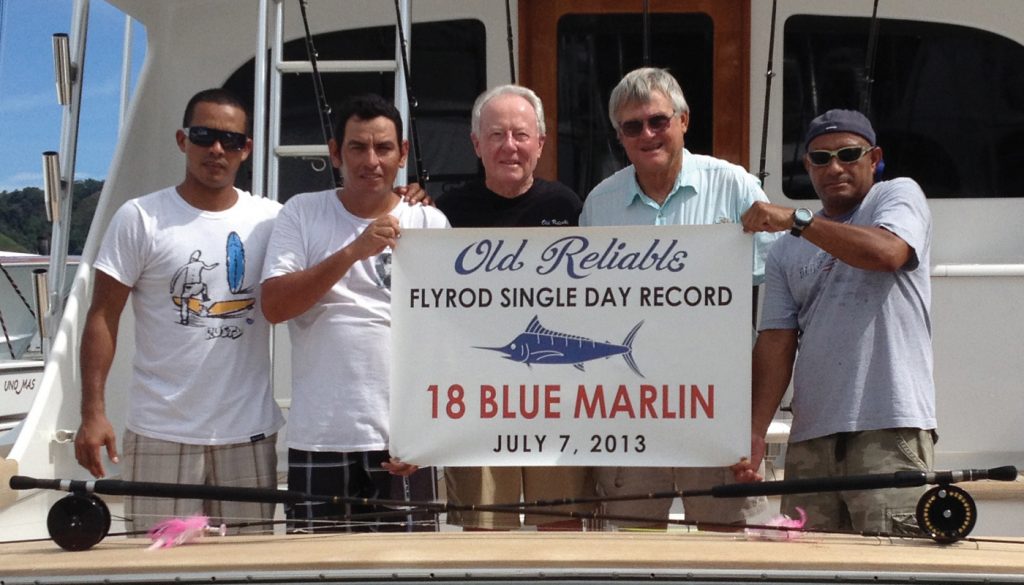 Employing these and other tactics learned through extensive trial and error, Nick and his crew have produced remarkable statistics for blues on fly including two occasions where they caught 18 blue marlin in a day. The first instance occurred on July 7, 2013, when Nick caught 17, and his mate, Greysel Moreno, caught the other one. The second time was on July 19, 2019, during which Nick was slightly disappointed that the 19th fish he hooked was a 200-pound striped marlin, not a blue!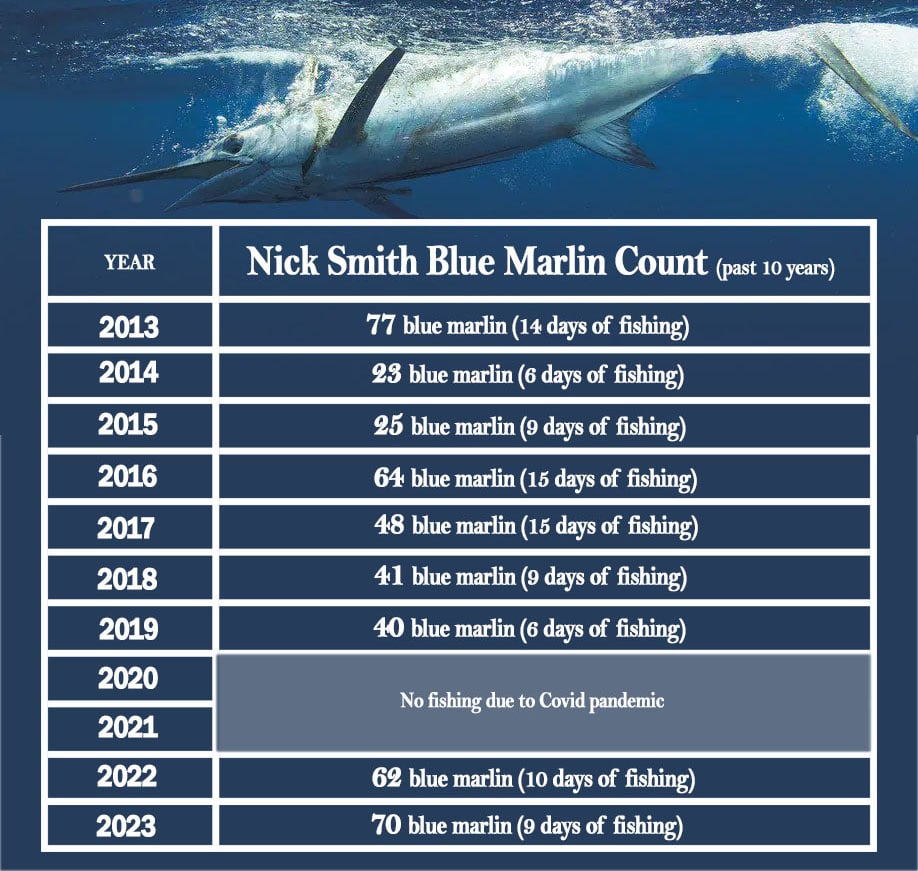 For perspective, the graphic shows the numbers of blue marlin released by Nick and the Old Reliable team over the past decade. Despite the limited fishing window in Costa Rica, typically from June to September, Nick and his team consistently delivered outstanding results.
The onset of the COVID-19 pandemic forced a temporary pause in Nick's blue marlin fly fishing endeavors, with no fishing activities in 2020 and 2021. However, in 2022, he made a strong comeback, releasing 62 blue marlin in just 10 days of fishing. This season, he has continued his impressive streak, accumulating 70 releases. These achievements have brought him ever closer to the coveted 500-mark, with a current tally of 482 blue marlin caught on fly.
Nick Smith approaches fly fishing for blue marlin with unwavering dedication, considering it a profound love affair. "I am truly fortunate that my father introduced me to fishing and encouraged my passion from an early age," shares Smith. And it is this feeling that has motivated Nick to give back to the sport by supporting several local and international efforts that help introduce children to sport fishing.
Throughout his remarkable fishing journey, Nick also acknowledges the invaluable role played by his dedicated captains, steadfast crew members, and supportive friends. "Their unwavering assistance, guidance, and camaraderie have been instrumental in these successes," states Smith. "These individuals have not only shared their knowledge and expertise but have also become an integral part of my life through the adventures we have shared in angling."
Nick considers himself truly lucky to have transformed his passion into a lifelong pursuit, one that has taken him to extraordinary places and offered him unforgettable experiences. His fishing journey stands as a testament to the power of dedication, camaraderie, and the deep connection he shares with the ocean and its majestic blue marlin. According to Smith, "It is a journey that remains exceptional and profoundly fulfilling."
Catch a Blue Marlin on Fly with Jake Jordan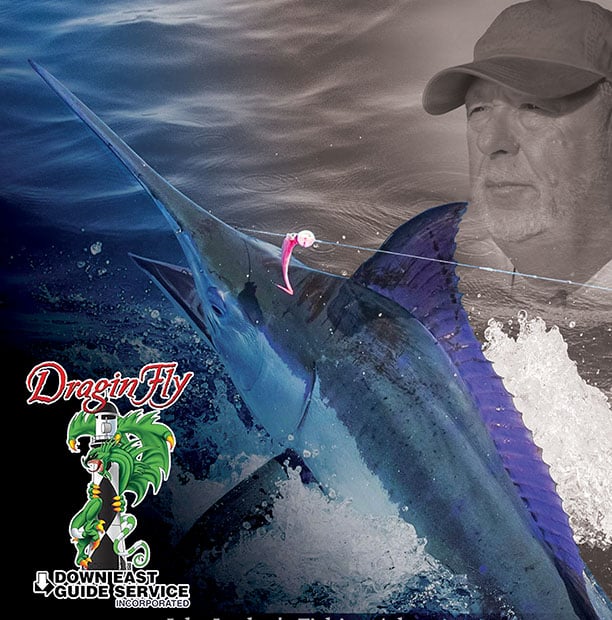 Nick Smith's dear friend, IGFA Captain Jake Jordan, an esteemed fly-fishing guide, instructor, and IGFA Chester-Wolfe awardee, stands as one of the select few fly anglers who have achieved the impressive feat of releasing nearly 100 blue marlin using a fly rod. With 94 blue marlin on fly to his name, Jake serves as the driving force behind the prestigious Costa Rica Blue Marlin Fly Fishing School, a meticulously crafted program aimed at educating anglers in the art of capturing billfish with a fly rod while strictly adhering to IGFA Angling Rules. His remarkable contributions have played a pivotal role in advancing the domain of big game fly fishing, wherein he not only demonstrates exceptional fishing skills but also imparts his knowledge to countless aspiring anglers, thereby ushering them into the world of big game fly fishing.
As a testament to the effectiveness of Jake's blue marlin fly fishing school, a notable milestone was achieved in 2022 when IGFA Trustee Chad Moss, who had never before caught a billfish on fly, remarkably released an astounding 13 blue marlin and one striped marlin during one of Jake's trips. Moss had secured this opportunity by winning the trip at IGFA's International Banquet earlier that year. For more information visit www.jakejordan.com/billfishschools.html.