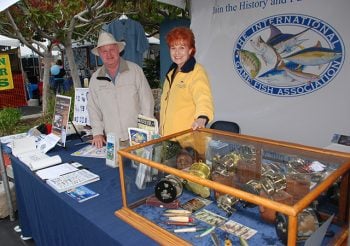 Michael L. Farrior
Michael L. Farrior is Historian for both The International Game Fish Association (IGFA) and the Tuna Club of Santa Catalina Island, California.
Mike's interest in the rich history of sportfishing began in the late 1980s when he discovered an old fishing reel in a California antique store. The lack of information about this reel inspired Mike to research old books and catalogs and, eventually, to track down and interview the living pioneers of the sport.
Today, Mike's antique saltwater angling artifacts and tackle collection includes photographs, books, catalogs, reels and rods, lures, and other memorabilia dating from pre-American Civil War through the mid-1930s. Portions of the "Farrior Collection" have been displayed at the Avalon Tuna Club, The International Game Fish Association, maritime and California historical museums, conventions, tackle and boat shows, restaurants, and cultural centers. He generously allowed his rare Hemingway artifacts to be displayed in Japan for a fundraiser benefiting the Kobe earthquake victims.
Born in Los Angeles, Farrior lived and fished for 15 adventurous years in remote Alaska. Returning to Southern California, he became a San Diego businessman, now residing in Rancho Santa Fe. Farrior serves as CEO of Pacific Properties Service, which he founded in 1975. In addition to achieving success in his landscaping business, he has achieved extraordinary expertise in his life's interests: angling, painting, writing, angling history and politics. Graciously giving back to the world around him, Mike has become a mentor to many; his research has been an inspiration to those who have followed in his footsteps and who often defer to him as the leading authority on the history of saltwater angling.
Farrior authored the award winning "History of the Tuna Club 1898-1998," which established Southern California as the birthplace of big game saltwater fishing. Much of this work was done during the club's Centennial Year during his tenure as Vice President and Chairman of the Centennial Committee. All proceeds from the sales were donated to the Tuna Club Foundation, which supports numerous Santa Catalina Island charities.
Elected President of the Tuna Club in 1999, Farrior has served as the club Historian for 25 years. He is one of only three members to receive the McCarthy Trophy for Outstanding Service on two separate occasions. When IGFA's Board of Trustees visited the clubhouse, Farrior provided the definitive discourse on the club's history, which demonstrated that Catalina was where the first rod and reel captures of tuna, marlin and broadbill swordfish took place, as well as numerous tackle inventions. His documentation proved that the angling rules established by the club's founders were adopted by subsequent angling clubs the world over, including the IGFA, and forever elevated the sport.
Farrior was elected as Trustee of The International Game Fish Association in 2002 and elected as Secretary in 2008. He also served as Chairman of the IGFA International Representatives Committee with an excess of 300 representatives in 120 nations at the time, and served on the IGFA Fishing Hall of Fame, Membership and Trustee Nominating Committees.
In 2009, while fishing the Hawiaan International Billfish Tournament (HIBT)in Kona, Hawaii, Mike received a certificate from former IGFA President Rob Kramer proclaiming, "For your extraordinary leadership as an IGFA Trustee and your passion in promoting fishing and conservation, we hereby declare that you are a National Treasure." Michael Farrior's nomination as a National Treasure read in part, "he is dedicated to researching and uncovering fishing history to share with anglers in California and around the world – bringing it alive for this generation and generations to come."
This honor was soon followed by a similar proclamation by the United States Congress. Farrior has received numerous State Assembly and Congressional certificates, including a California State Assembly proclamation recognizing his work with the military and his many contributions and to chronicling the angling history of California and the world. Farrior was inducted into the California Outdoor Hall of Fame in 2010.Mike and his wife Susan were among the first to charter party fishing boats for wounded U.S. Marines coming home from Iraq in 2005. The Farriors are actively involved in numerous other charities, including Secret Santa for the Marine Corps, the United Service Organization, Wounded Warriors, and Combat Veterans for Congress. Farrior was honored by the Marlin Club of San Diego as namesake of the annual Michael Farrior Junior Anglers Tournament. Hoping to help inspire the younger generation, he underwrites a large party boat to take local and inner-city kids out fishing - many for the first time. Mike is involved with the San Diego Shelter Island Pier Fishing Tournament for young anglers as well as several agricultural and animal programs.