The Founder of Mercury Marine

Mercury Marine founder Elmer Carl Kiekhaefer was born in 1906 in Mequon, Wisconsin. Throughout his life, he was a uniquely successful individual. He graduated high-honors from Cedarburg High School and attended the Milwaukee School of Engineering for one year, taking extension courses in electrical engineering from the University of Wisconsin. Kiekhaefer was hired in 1927 by Evinrude Motors, but was soon terminated for alleged "frequent, disquieting and brazenly insubordinate arguments concerning design and product development." Post Envinrude, Kiekhaefer filed 200 patents, won 52 NASCAR races that resulted in championships in 1955 and 1956, and founded Kiekhaefer Marine, the company that would become Mercury Marine and help change the boating industry forever.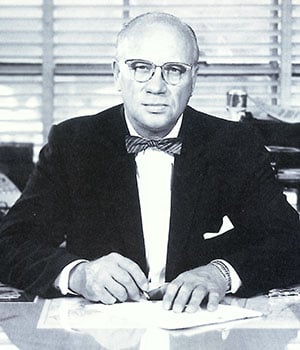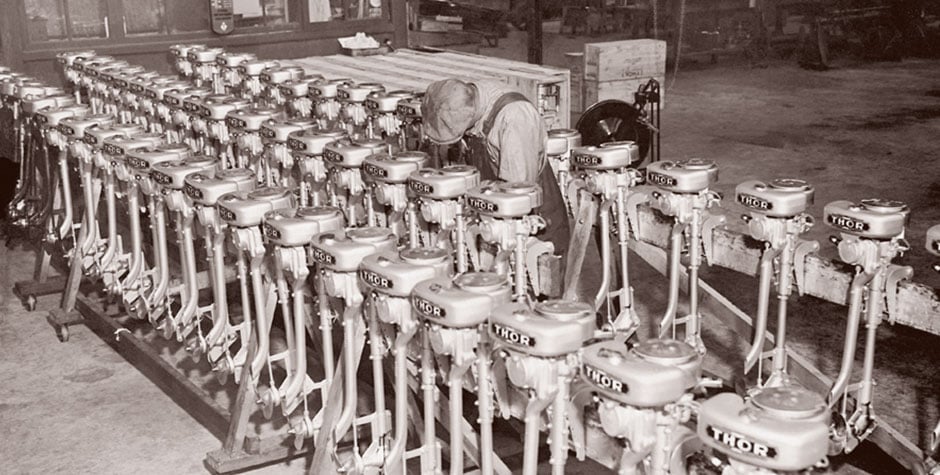 Mercury Marine's Roots
In 1939, Kiekhaefer purchased a defunct engine manufacturing plant in Cedarburg, Wisconsin, not far from the Kiekhaefer family farm. Included in the plant assets were 300 outboard engines that had been rejected by a large mail-order retailer due to defects and operating problems. Instead of selling the engines for scrap, Kiekhaefer decided to make the most of them. He transformed the engines into capital needed for the future business he envisioned by turning them into magnetic separators for the dairy industry
The rejected boat engines were Thor Outboards, named after Thorwald Hansen, founder of the original engine company. The name was to evoke images of Thor, the God of Thunder, but these poorly designed engines more often evoked images of broken-down boats.
On Feb. 8, 1939, two weeks after assuming control of the bankrupt manufacturing plant, Kiekhaefer sketched a rendering of the improved engine and sent it to a retailer who went on to place an order. He and his team focused on redesigning the engines into outboards described as, "a motor heavy enough to drive your boat, regardless of wind, weeds, waves, and weight." They replaced the original low-quality crankshafts with a stronger forged version. The Thor Engines were then offered under the trusted Mercury brand name, initiating his entry into the outboard motor business. In April of 1939, Kiekhaefer introduced the new line of outboard engines at the Milwaukee Sentinel Sportsman's Show.
Mercury meets Brunswick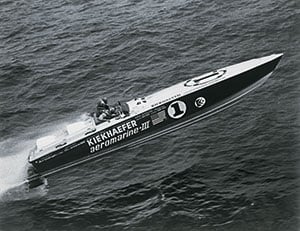 The 1950s were growth years for Mercury Motors and Kiekhaefer allegedly received dozens of merger and acquisition offers from larger companies. He was dedicated to and possessive of the company he built, and while he understood the benefits of merging with a financially stronger partner, he stoically resisted. However, near the decade's end, Kiekhaefer's resolve began to crumble from the continuous wave of prospective partners.
Suitors included a virtual "who's who" of American business, including Borg-Warner, Motorola, Brunswick, American Machine and Foundry (AMF), and even the Chrysler Corporation. Solid proposals eventually flowed from AMF, Chrysler and Brunswick Corporation. Brunswick became a frontrunner, not just monetarily, but also because Brunswick president Ted Bensinger seemed determined to buy Mercury, and was willing to structure a deal that provided Kiekhaefer latitude in running the company.
On August 1, 1961, Mercury became a division of the Brunswick Corporation. The relationship between Kiekhaefer and Brunswick proved contentious, and the Mercury founder eventually resigned and founded a new company, Kiekhaefer Aeromarine. Following Kiekhaefer's death in 1983 in Fond du Lac, Wisconsin, his son Fred purchased Aeromarine and later sold it to the Brunswick Corporation, bringing all of Elmer Carl Kiekhaefer's innovations under one roof. Today, Mercury Marine remains a powerful entity of the Brunswick Corporation.