Henry Chee

Henry Chee began carrying anglers to sea in the 1930s. He was one of two skippers in Kona during the early days of the sport, when conditions were primitive and tackle a handicap. Caring for linen line was a full-time job, and communication between boat and shore was by carrier pigeon. Marlin fishing required supreme effort and sacrifice. But catching marlin in Hawaii is what Henry Chee did, and he did it better than anyone.
Born in Honolulu in 1910, Henry and his wife Ellen moved to Kona in 1931, where he was hired by Charles Finlayson for his sportfishing business and soon began running the Malia. The venture thrived until the December 7, 1941 attack on Pearl Harbor. Recreational angling came to a standstill, and Henry found himself operating tugboats in Honolulu Harbor for the Defense Department.
After the war he returned to Kona, which was becoming a popular big-game fishing destination. In the 1942 book Pacific Game Fishing, Kip Farrington had sung the area's praises, even recommending "two very good sport fishing cruisers, owned by Charley Finlayson."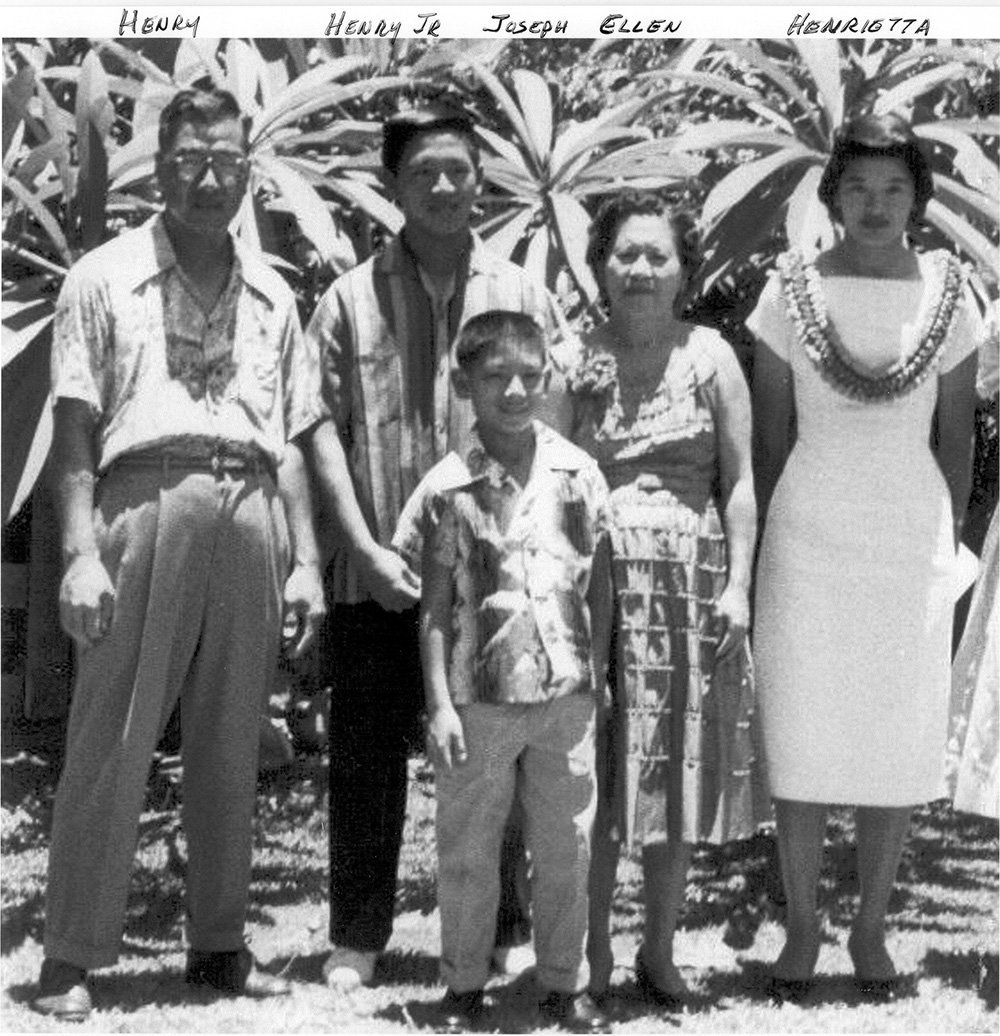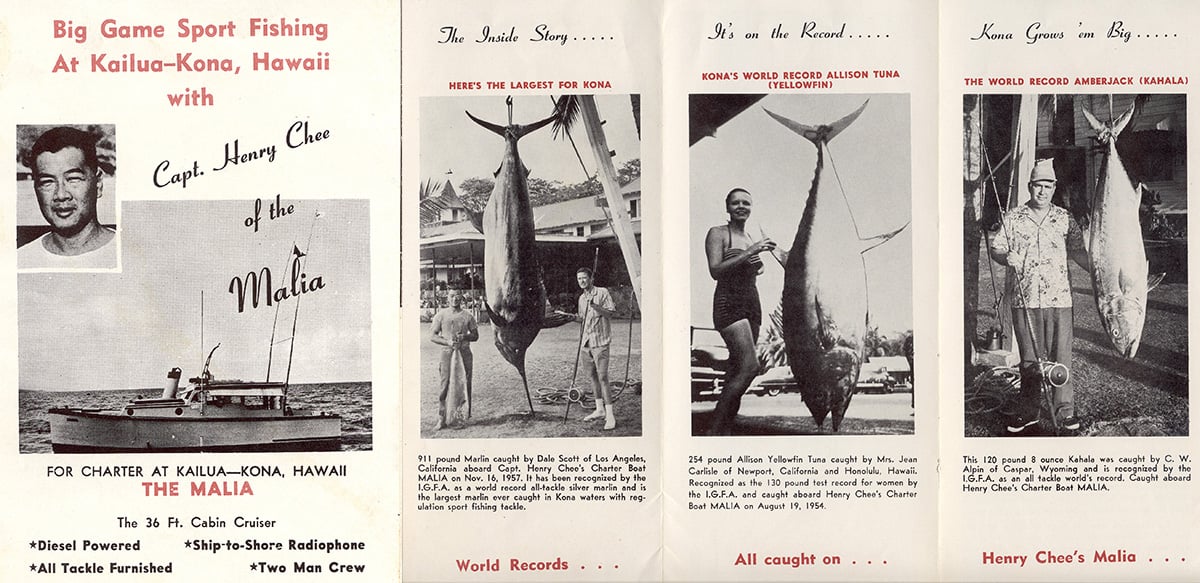 By the mid-1950s Kona's charter fleet had grown to seven boats and their skippers were known as the "Magnificent Seven." Henry quickly established his pre-eminence, capturing nearly half the fleet's total marlin catch year after year. He had several fish close to the grander mark, topped by Jack Whaling's 1,095-pound All-Tackle Pacific blue marlin caught in 1964. There was no doubt Henry Chee knew how to find big fish.
Plastic was new in 1949 and Henry was one of the first to experiment with it. Intrigued when he came upon a screwdriver embedded in resin hardened in a jar, and using the family kitchen as his laboratory, Henry borrowed bar glasses for molds; inserted copper tubing, doll eyes and shell (for color and reflection); poured in fiberglass resin; boiled the glass on the stove; and removed the hardened blank. He turned it on a lathe and hand-cut the attack angle with a miter box -- all by eye so no two of his "straight runners" were exactly alike. Skirts were made from red inner tubes, fish skins and oilcloth tablecloths. Each lure was tested in the most scientific way: if it caught fish, he kept it; if it didn't, he didn't.
Henry Chee had created the offshore trolling lure as we know it today. Eventually his secret got out and copies began appearing, some taking on strange shapes and sizes. But the current models are nearly identical to Henry's original, with straight-sides, center-pull, and flat-face bevel.
While these "Chees" were attracting international attention, Henry was building upon his reputation. The Honolulu Advertiser frequently ran photos of him with his anglers and their record catches. Notable figures came to fish with Chee -- Arthur Godfrey, Lucille Ball, Roy Rogers -- but President Franklin Roosevelt missed his chance when he couldn't be transferred from his warship to the Malia.
Henry Chee was a student of fishing his entire life. He spent hours absorbing the knowledge of elderly Hawaiians. He traveled daily to the best fishing spots, observing changes and collected data. He compared moon and tide information and made notes of currents and weather patterns. His research on fish behavior enabled him to get more bites, and he was as effective with live bait as he was with lures, knowing precisely when to make a change.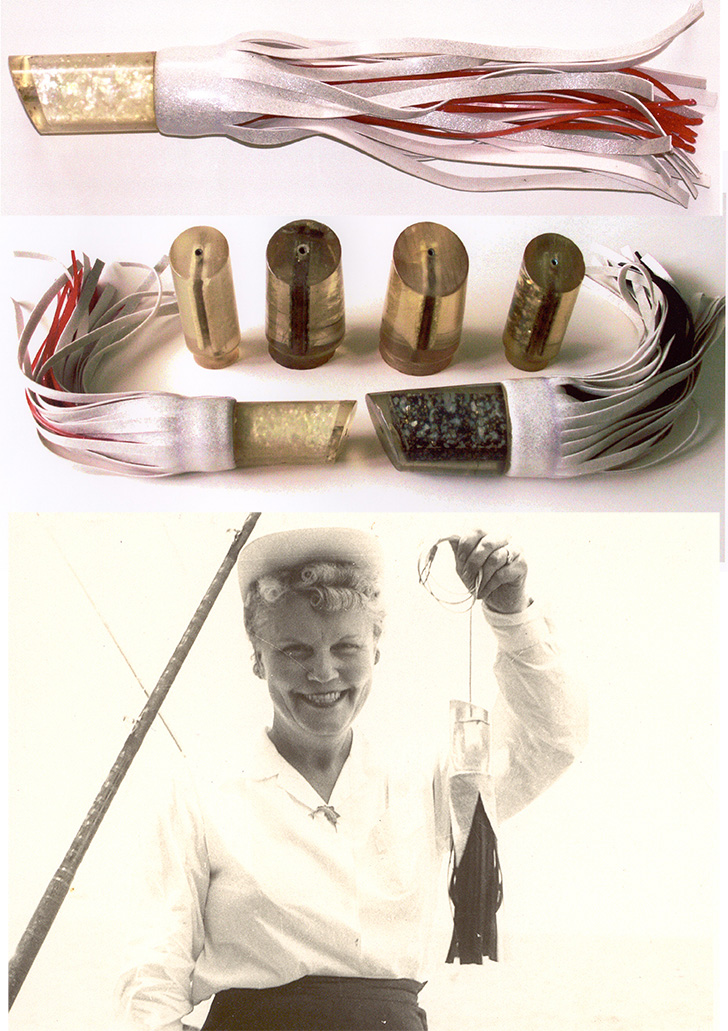 Mrs. Lou Thompson in 1952 with one of Henry Chee's famous handmade lures.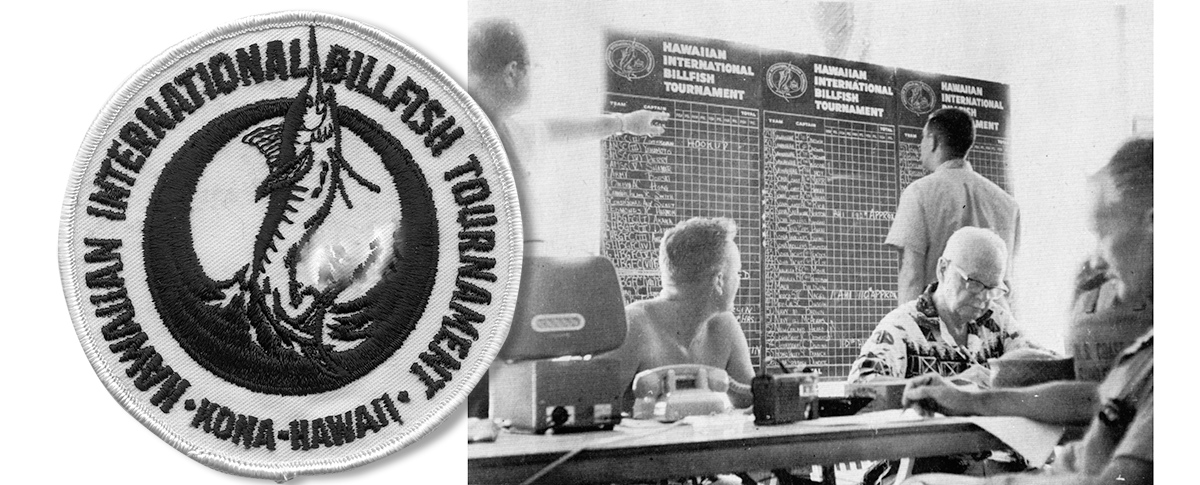 Just one day after arriving in Kona in 1955, IGFA Hall of Famer and former Trustee Peter Fithian met Henry. They became good friends, fished together often, and determined that a tournament was needed to bring international attention to the area. In 1959 the first Hawaiian International Billfish Tournament was held. Anglers from around the world participated and took local lures and techniques home. Chee fished the first six tournaments, and the HIBT's Henry Chee Award continues to honor his life and accomplishments.
Kind and self-effacing, Chee was the most unassuming of Kona's skippers. In photos he was usually barefoot, in white t-shirt and rolled-up jeans. He raised orchids, took local Boy Scouts on outings, and worked tirelessly to get a marina for Kona's captains. He was just 55 years old when he died from a stroke after hauling a 335-pound marlin onboard his beloved Malia. It was an untimely passing of the man who developed marlin fishing on the Kona coast and taught everyone how to do it. "Henry Chee always knew where he was going," said Phil Parker, one of the "Magnificent Seven" skippers. "The rest of us were only guessing." Chee was inducted into the IGFA Fishing Hall of Fame in 2008.