IGFA's Original Logo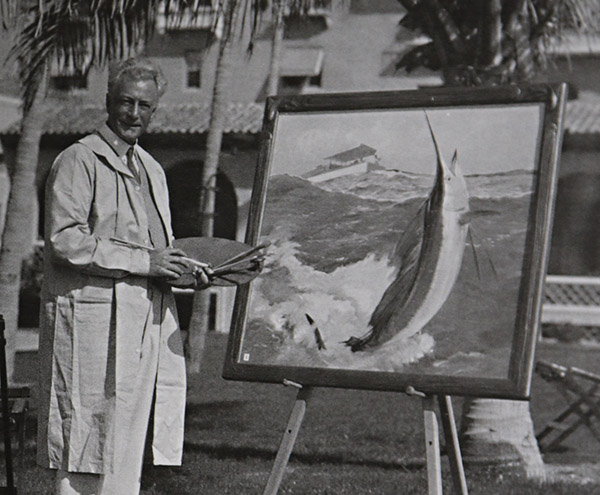 In 1939, Michael Lerner persuaded celebrated wildlife artist Lynn Bogue-Hunt to design the first IGFA logo at no cost. Angler, hunter, and above all artist, Lynn Bogue Hunt was the most popular and prolific outdoor illustrator in mid-20th century America. From magazine covers to book jackets to posters to postage stamps and calendar illustrations, Hunt's legacy as a sporting artist remains unequaled. Born in upstate New York, Hunt moved with his family to Michigan when he was twelve. He learned taxidermy as a teenager, then studied art for three years at Albion College. After a short stay in Detroit, Hunt sold a magazine cover to Field & Stream, which set his course for decades to come.
He moved to Staten Island, New York, to be close to the nation's major sporting publishers and built a stunning career. He painted a record 106 covers for Field & Stream magazine in addition to numerous covers for other publications; illustrated dozens of books on waterfowling, upland bird hunting, and saltwater fishing (not coincidentally, his three main interests as a sportsman); and published several portfolios of his paintings to enormous acclaim.
He was a bon vivant, too. Perpetually tanned and angularly handsome, he cut a dashing figure in any company. He was as comfortable twisting a lemon peel into a martini at a poolside cocktail party as he was rigging a complicated trolling bait on the deck of a pitching sport fisherman.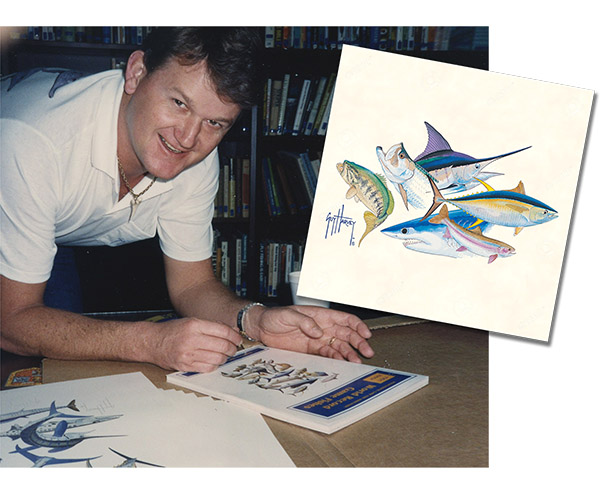 By the early 1990s, the IGFA's original logo had been diluted by various modifications over the years. To better symbolize the organization's new scope, IGFA Trustees finally adopted an updated logo in 1996 after eight years of discussions. Created by noted marine artist and IGFA Trustee Dr. Guy Harvey, the new artwork included six animated fish in a global domain. A variety of species were chosen to represent the range of IGFA record-keeping, and the look was distinctive and fresh. Ornamented with the colorful new logo, the International Angler newsletter was also given a makeover and subsequently went to a full-color format two years later.
For IGFA's 80th Anniversary we are excited to release a limited edition line of high performance Pelagic apparel products with a commemorative original Lynn Bogue Hunt IGFA logo.
All IGFA Members receive a 15% discount on all items in this limited edition "Conservation Collaboration." Use Promo Code IGFA15 when checking out to get your exclusive discount!
A portion of all proceeds purchased through the "Conservation Collaboration" will be donated to support the IGFA's work in the field of game fish conservation.