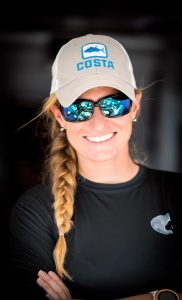 Amanda Sabin
Amanda Sabin of Ormond Beach, FL owes her love of fishing to her father who introduced her to the sport as a toddler and taught her the value of conservation and stewardship for both the resource and the sport throughout her life. That dedication to conservation led Sabin to start her career at Costa Sunglasses where she now serves as the Senior Brand and Community Manager. A University of Florida alum, she received her B.A. in Business and her Master's degree in International Business. She is an IGFA Lifetime Member, a Donor Society Member and has an IGFA Billfish Royal Slam to her credit. She enjoys traveling the world in pursuit of the next fishing adventure with her husband Rob and their 1-year-old son RJ.
Amanda's passion for offshore fishing pushed her to lead the successful resurrection of the prestigious Cat Cay Tuna Tournament in 2013. She also produced Bluefin on the Line, a film showcasing the history of the Merritt family and bluefin tuna fishing in Cat Cay and its ties to the IGFA. She is a member of the Costa C1 Tournament Fishing Team where she realized a need to promote tournament fishing to a wider audience of female anglers and subsequently created the Reinas de Costa, an all-female sailfish team to empower fellow females to follow their passions through fishing.
Amanda is also a board member of the Perryman Family Foundation that supports the promotion of conservation and education to young anglers.