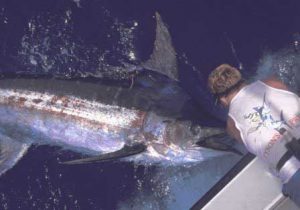 Johan Zietsman
Prior to being elected to the IGFA Board of Trustees in January 2020, Johan Zietsman served as an IGFA Representative in Ghana, Africa for 20 years. He began fishing at age five and has fished for a wide range of fresh and saltwater species from all across the globe. Since 1990, he has competed in numerous professional billfish and International Light Tackle Tournament Association (ILLTA) tournaments globally, and became a Masters Invitational Tournament angler in 1998. Zietsman pioneered Blue Marlin Fishing Charters off Ghana, Africa that made global headlines with 950 blue marlin released with an average weight of 500 pounds over five years with an average of two boats fishing at a time.
Zietsman a former Naval Officer, served as a South African diplomat across Africa for 16 years. After resigning, he entered real estate investment and developed shopping malls, casinos, and offshore oil and gas support service companies.
Zietsman has caught both blue and black grander marlin and 25 marlin over 800 pounds. He has written multiple articles on blue marlin and tuna fishing for the IGFA World Record Game Fishes book. As Trustee he is committed to help establish the IGFA's Africa Regional Councils to promote ethical sport fishing and the conservation of marine resources.