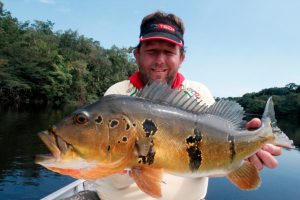 Juan Pablo Gozio
Juan Pablo Gozio's first fishing memory was at age three fly-fishing with his father on a lake in the Patagonia region of Argentina, where he recalls spending hours imitating his father's technique with an old radio antenna, a small piece of monofilament and a hookless fly, day-dreaming of catching his first trout.
At age 30 Gozio was named the President of the Argentine Fly-Fishing Association, one of the most prestigious fishing clubs in the nation. In his role as President, Gozio developed and launched the first catch-and-release regulations for golden dorado in Argentina. In 2010, he founded the Argentine Lure Fishing Association where he still serves as President. Committed to the promotion of the sport in Argentina, Gozio has published multiple articles in prestigious national and international fishing magazines, and for the past five years he has been an organizer of multiple fishing seminars which have attracted hundreds of anglers from all over South America.
Gozio is a six-time golden dorado fly-fishing champion and a four-time fly casting national champion for Argentina. He holds the Argentine record in distance casting since 2009 with a 44.17-meter cast. In recent years he started chasing IGFA records and has achieved two IGFA World Records for trahira and golden dorado on 1-kg (2-lb) tippet.
After a 20-year career working with multinational oil and gas companies and spending a few years teaching at the University of Buenos Aires, Gozio decided to pursue a new career aligned with his passion for fishing. In 2009, he founded TECH TACKLE, a tackle company where he spearheads the design of rods and lures.
Gozio is a Lifetime Member of the IGFA and in 2013 he was appointed as the IGFA Representative for Argentina. While serving IGFA as a Representative, Gozio's primary focus was to promote the conservation of his beloved golden dorado, and other game fish, by educating local anglers, captains and guides on the importance of ethical angling practices and proper fish handling.
As the IGFA prepares to launch a new signature research initiative focused on golden dorado, Gozio has volunteered to help facilitate this project in Argentina and surrounding countries. Additionally, Gozio has volunteered to help spearhead the establishment of the IGFA South America Regional Council, which he now chairs, by hosting the initial meeting to be held in Buenos Aires in April, 2019.