The IGFA Announces Annual Awards for 2019
The International Game Fish Association (IGFA) is proud to announce the winners of the IGFA Annual Awards for 2019. These prestigious awards recognize individuals for their accomplishments and contributions to sport fishing.
Gil Keech Heavy Tackle Award: Peter Pakula
The Gil Keech Heavy Tackle Award acknowledges outstanding angling accomplishments with heavy tackle. In 1975, Pakula developed a line of trolling lures. The lures, revered by captains, remain one of the most popular and successful lure collections available.
Captains Laurie Wright and Skipper Gentry cited the Pakula Sprocket and Pakula Paua Hothead Mosquito lures as top producers in Marlin magazine's 2018 list of the world's best marlin lures. The Pakula Lumo Sprocket was also ranked third in Marlin magazine's Top Ten Lures of All Time.
In addition to developing lures, Pakula is also considered an authority on rigging and effective fishing measures. He freely shares his knowledge, tactics, and techniques through numerous seminars and publications.
Bob Herder Light Tackle Award: George Hogan Jr. and Liz Hogan
The Bob Herder Light Tackle Award acknowledges outstanding accomplishments with light tackle. George has 26 IGFA World Records to his name; all were caught using line no heavier than 8 pounds. Some of Hogan's notable records include a 202-pound Pacific blue marlin caught on an 8-pound line, a 141-pound Pacific blue marlin on 4-pound line, a 139-pound tarpon caught on 6-pound line, and a 132-pound striped marlin caught on 2-pound line.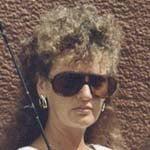 Concurrently, Liz has 28 IGFA World Records for 15 different species to her credit, with the majority caught on 2, 4, 6 and 8-pound line. Some of her notable catches include a 445-pound black marlin on 16-pound line, a 141-pound, 9-ounce tarpon on 8-pound line, a 211-pound, 10-ounce blue marlin on 12-pound line, and a 111-pound, 5-ounce striped marlin on 2-pound line.
IGFA Conservation Award: Tina Harris
The IGFA Conservation Award acknowledges those who have made significant and outstanding contributions to the freshwater, saltwater, and fly fishing communities. For over 25 years, Harris has promoted billfish conservation and advocated for other game fish species through education and data collection as the Director of the African Billfish Foundation (ABF) in Kenya. Through Harris' efforts with the ABF, catch and release practices and billfish tagging has become more prevalent in East Africa.
To date, the ABF has recorded over 62,000 tagged fish with nearly 4,000 tag recoveries, resulting in one of the most comprehensive recreational billfish databases in the Indian Ocean. Harris also mentors young Kenyans and provides funding for the next generation of billfish scientists.
Chester Wolfe Outstanding Sportsmanship Award: Peter Fithian
The Chester Wolf Outstanding Sportsmanship Award acknowledges an angler's commitment to fair play, merit, and ethical behavior while fishing a tournament. Fithian, an IGFA Trustee Emeritus, is the founder of the venerable Hawaiian International Billfish Tournament (HIBT), which is currently in its 60th year. The HIBT, predicated on good sportsmanship, sets high standards for fair play maintaining a strict adherence to the IGFA's International Angling Rules.
In addition to running a storied tournament, Fithian was instrumental in the creation of the IGFA Great Marlin Race.
Congratulations to all!