Newly Approved IGFA World Records
To see all newly approved IGFA World Records since July, 2023, please click here.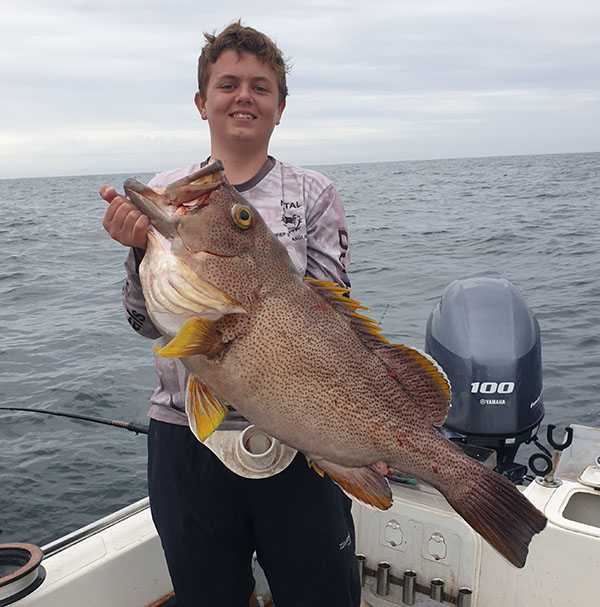 Doman's White-Edged Grouper
On December 11, 2022, Jethro Doman was fishing with his father Graham aboard their boat Teraglin out of Durban, South Africa. While bottom fishing with live bait, Jethro hooked into a very large fish. After a 10-minute fight he boated this 11.28-kilogram (24-pound, 13-ounce) white-edged grouper. After returning to shore, the father son pair brought the fish to the Durban Ski Boat Club for an official weight on a certified scale. With this fish, Jethro has set the IGFA All-Tackle World Record for the species.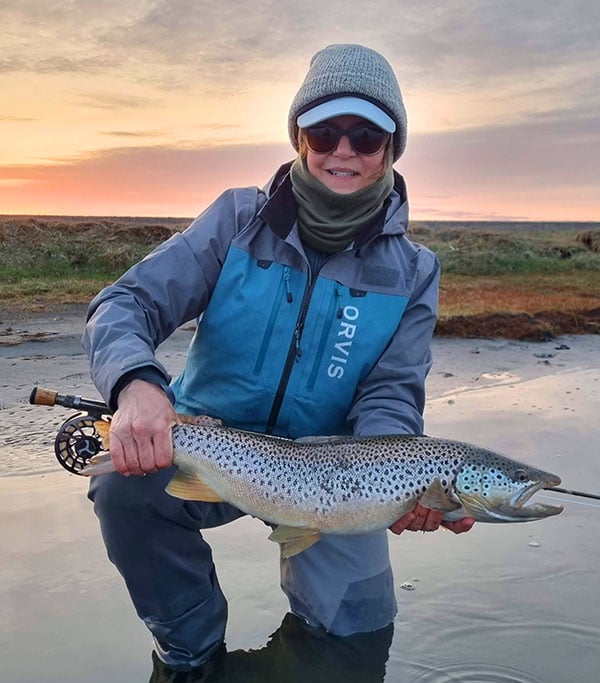 Moss' Brown Trout
Pamela Moss returned from Iceland this past May with several impressive IGFA World Record applications. On May 22, 2023, Pamela landed this beautiful 2.66-kilogram (5-pound, 14-ounce) brown trout while fishing in Langanes, Iceland, to set the new IGFA Women's 2-kg (4-lb) Tippet Class World Record. She was fishing with guide Matthias Hakonarson and landed the record fish on a streamer. After recording the proper documentation and snapping a few photos, the duo released the fish safely.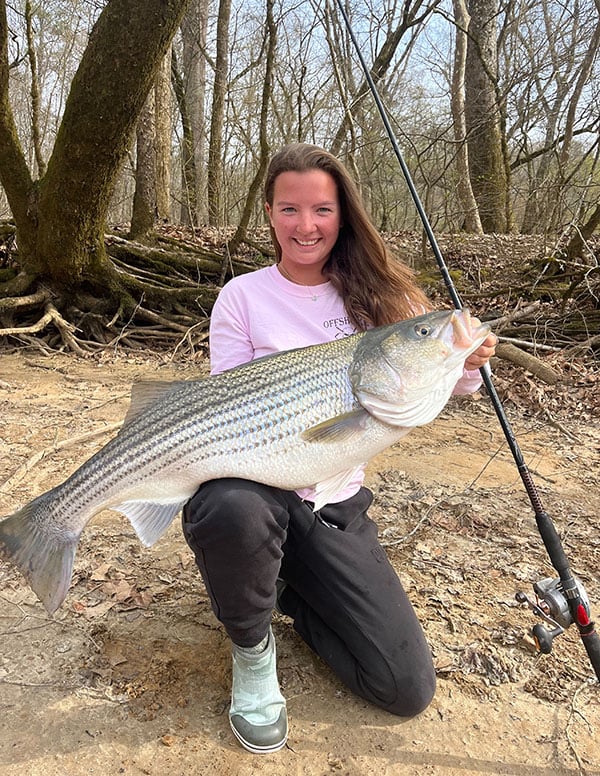 Hanzlik's (Landlocked) Striped Bass
On March 27, 2023, Emily Hanzlik traveled to Lake Allatoona, Georgia, U.S., where she caught and released this 10.26-kilogram (22-pound, 10-ounce) landlocked striped bass while drifting a live shad. With this catch, Emily set the IGFA Women's 8-kg (16-lb) Line Class World Record for the species. Emily was fishing with guide Marty Petza of River Fishing Adventures, and she released the record striper after the fish was properly weighed and documented.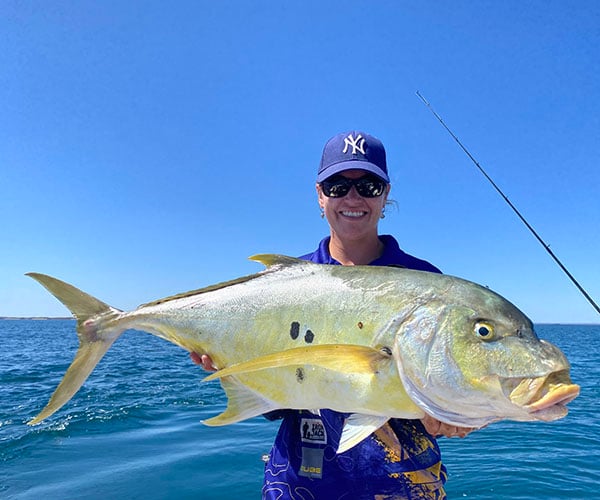 Dodd's Golden Trevally
On February 7, 2023, Tameeka Dodd was fishing in Dampier, Australia, when she landed this 7.88-kilogram (17-pound, 6-ounce) golden trevally to set the new IGFA Women's 10-kg (20-lb) Line Class World Record. Dodd was fishing with Captain Luke Leech and landed the record trevally after the fish ate the live pilchard she was using for bait.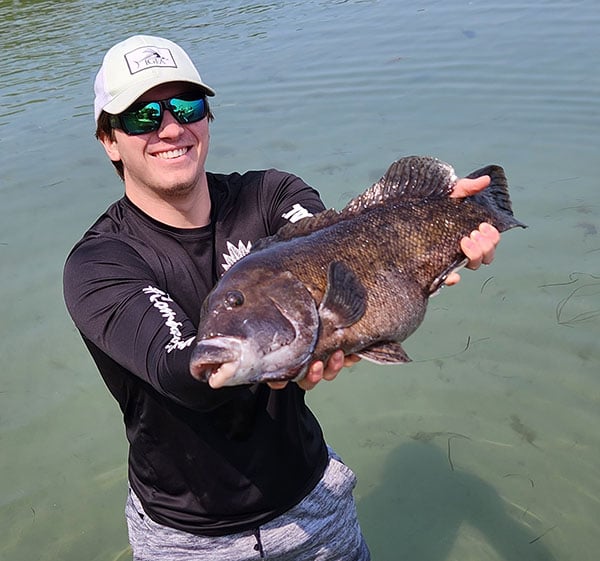 Cantelmo's Tautog
On May 24, 2023, while fishing with his father Captain Craig Cantelmo of FinAddict fishing, Jackson Cantelmo landed this 2.83-kilogram (6-pound, 4-ounce) tautog, setting the IGFA Men's 6-kg (12-lb) Tippet Class World Record for the species. Cantelmo while fishing the shallow flats around Suffolk County, New York, U.S., the record 'tog fell for a custom, hand-tied fly. After weighing the fish on land and properly documenting the catch, Cantelmo released the fish alive.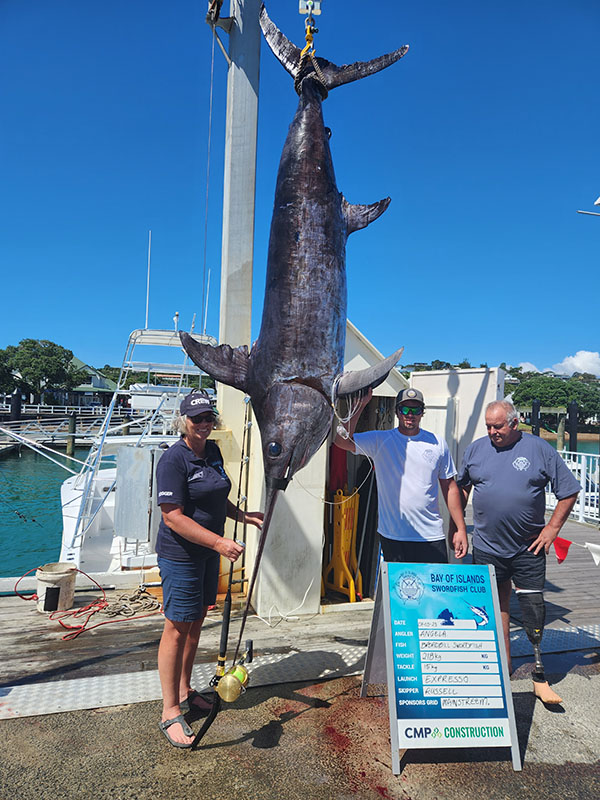 Greenhalgh's Swordfish
Angela Greenhalgh was fishing off the Bay of Islands, New Zealand, on March 1, 2023, when she landed this massive 218-kilogram (480-pound, 9-ounce) swordfish, setting the IGFA Women's 15-kg (30-lb) Line Class World Record for the species. Greenhalgh was fishing aboard the Expresso captained by Russell Greenhalgh and bested the record swordfish after a 2-hour and 15-minute fight. Greenhalgh's fish bests the previous record by more than 100 pounds (45 kilograms) which was set in 2017.