IGFA Captains and Guides
Africa Region
Bertrand Bouchard
Captain Bertrand Bouchard is owner and operator of Makaira Adventures offering fishing charters in Cape Verde, BomBom Principe Island, Nova Scotia and Gabon, Africa. All Makaira Adventures sportfishers are custom-built G&S boats crewed professionally with top-of-the-line tackle. Based in BomBom Principe his "Makaira Lodge" has luxurious amenities for the most discerning clientele.
Henry H. Henley
Captain Henry Henley specializes in organizing guided fishing safaris all over east Africa for species like Nile perch, trout, and tiger fish and also offers offshore guided fishing trips on the Indian Ocean along the Kenya coast.
Manuel Amat
Based out of Madagascar, captain Manuel Amat specialized in catch-and-release fishing the Indian Ocean fishery for 11 years.
Yann F. Colas
Enjoy fishing aboard the Black Marlin and Legend, both 50' sportfishers with a crew of up-to three and up to five anglers. Captain Yann Colas offers customized fishing trips for Rodrigues, one of the best multi-fishing destinations where you can troll, live-bait, jig, and also be offered the possibility of popping all over the island or the East Bank (East Bank is 50 nautical miles from Rodrigues or 85 nautical miles to Hawkins Bank). Potenial IGFA World Record opportunities abound with nine world records having been documented there in the last five years.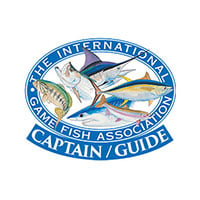 Michael Towler
Captain Michael Towler operates a charter fishing operation out of Lagos and specializes in targeting the various inshore and offshore game fish species in the region, including barracuda, billfish, dolphinfish, grouper, jacks, mackerel, tunas and wahoo.
Timothy W. Christy
Captain Timothy Christy's operations are located at Port St. Francis, Eastern Cape, South Africa. Pelagic species are the main targets and he specializes in tuna fishing.
Mark Taylor-Memmory
Mark Taylor-Memmory owns and operates Taylor's Tiger Fishing Tours, based out of Zambia. Taylor-Memmory specializes in targeting tigerfish on the Lower Zambezi River, Zambia.